Right now, my husband is working from home for the immediate future. I'm pretty much always home, working part-time on creative work and taking care of the household. This could be a huge challenge for our marriage if we weren't already so consistent with practicing self-care in marriage. (However, having Dan's steady income, and living in a house with plenty of space, certainly contributes to our comfort).
Your marriage should always be a priority, no matter the extenuating circumstances. One way to prioritize your marriage is to practice self-care, together. Even if you and your spouse only have time to work on self-care once a week, that's still time that you're devoting to each other and to your marriage.
Note: This post contains affiliate links. If you click on one and make a purchase, I might earn a commission at no cost to you. See my full Disclosure policy for details.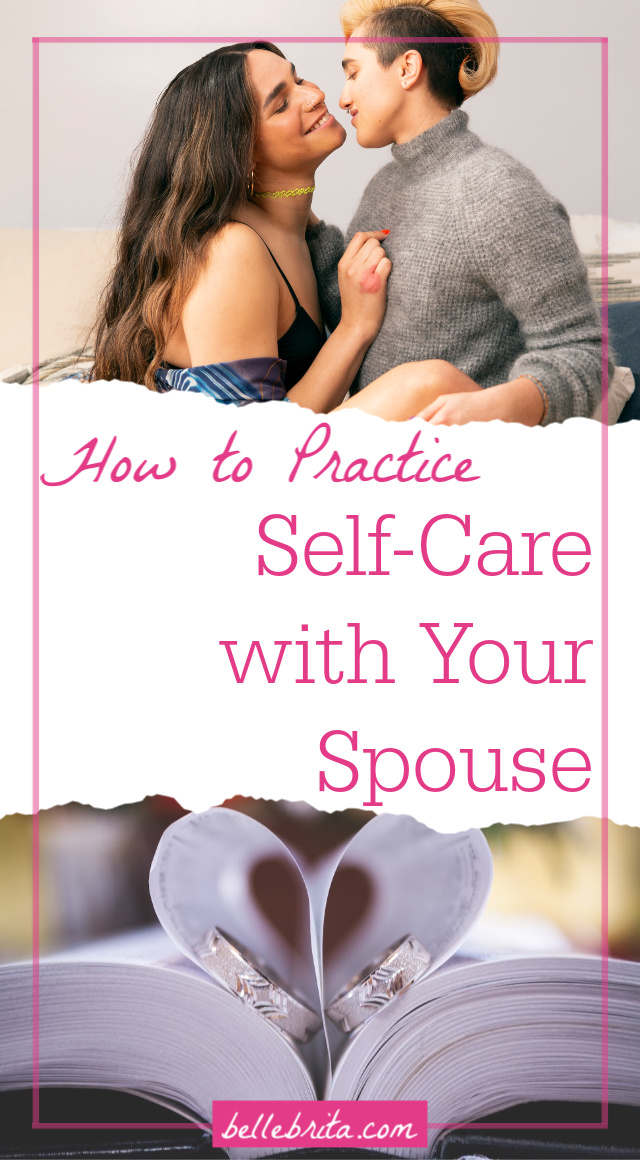 Inspiration for Self-Care in Marriage
These self-care ideas are intended to do as a couple. Keep in mind that for these self-care ideas to benefit both of you, both of you have to be interested. Consent still matters in a relationship, even for non-sexual activities. It's not exactly a self-care activity if you have to be badgered into doing it.
Learn Each Other's Love Language
Long-time readers know that I'm a huge fan (with one minor exception) of Gary Chapman's book The 5 Love Languages. The basic premise is that everyone has a primary love language. That's how you express love to others. When someone uses your love language, you feel most loved.
The concept is more detailed than that, but I've written so much on it that I don't want to repeat myself extensively! Learning your own love language, and learning your spouse's love language, can help the two of you communicate better and express love with greater intention. These resources will help if you want to learn more about love languages.
Give Each Other Massages
First of all, decide together if these massages are just for relaxation and/or pain relief, or if they are a prelude to sex. You don't want to be disappointed by a simple misunderstanding after your massages!
If you don't know how to give a good massage, there are amazing resources online. I particularly appreciate Couples Massage Courses! I've taken a few of their courses, and I definitely became better at giving Dan a massage.
Light some candles, get out some body lotion or massage oil, ask Alexa to play spa music, and give each other massages.
If you don't have time for the full romance, you can also give each other foot massages or neck rubs while watching TV.
Cuddle and Talk
My husband and I are affectionate all day long, but there's nothing quite like dedicating a few minutes to cuddling and talking. This is a great way to start or to end your day. Just you and your spouse, no other distractions. If you're not sure what to talk about, ask a few tried and true questions. How are you feeling? What are you thinking? What can I do today to make your life better?
Related: 20 Questions to Spark Vulnerable Conversation
Splurge on a Subscription Box
Last year I received (free for a review) the spring subscription box for Amazing Intimacy, a quarter subscription box program for couples. Each quarterly box has a different theme designed to help couples build love and intimacy. "Here Comes the Sun," the box I received, included all sorts of fun goodies! Dan and I particularly appreciated the portable Bluetooth speaker which we used on vacation to enjoy music outside. You can get the same box at the introductory rate of just $29.99 (normally $59.99) using code THESUNBOXSALE
Be Silly
Marriage isn't the end of fun! Be playful with your partner. Run through the sprinklers. Dance in the kitchen. Play video games or board games. Share silly jokes. After all, laughter is the best medicine!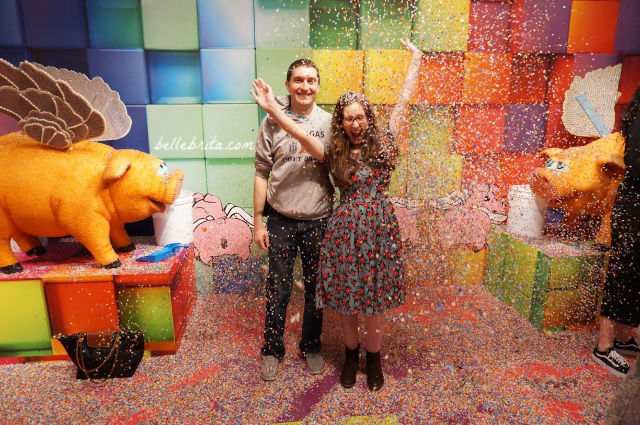 Unplug Your Devices
You and your partner need some screen-free time together! Dan and I recently had to cancel our anniversary trip, so we celebrated at home instead. While we did watch two movies, I insisted that both of us put away our phones and laptops while watching films together. With constant notifications, mobile game challenges, and more, it's so easy to focus more on your phone than on your spouse. Dedicate time to the two of you without your devices.
Prioritize Date Night
It's so important to take time that's just about you and your spouse. Date night is a great opportunity to relax and rewind. Plan a fun activity. Don't talk about work or the kids. Here are a few date night posts to inspire you!
Go on a Walk
If the weather is nice, take a walk! Hold hands. Talk about your life. The fresh air and the easy exercise will do you both some good.
Spend Quality Time Apart
Confused? That's okay! Just like quality time together should be intentional–Netflix and Chill doesn't count–quality time apart should also be intentional. When you and your spouse spend time on self-improvement, or you focus on quality time with friends or family, you're spending quality time apart. It's good to have your own hobbies. It's healthy to have your own friends. Your partner shouldn't be your sole source of companionship.
After quality time apart, you and your spouse will better appreciate quality time together.
Related: Why My Husband and I Spend Quality Time Apart
Set Goals Together
Dan and I have some big dreams. Dreams of extensive travel, dreams of a big pink house with a multi-car garage, dreams of kids and homeschooling…
It's fun to dream big, especially about the distant future. But Dan and I also set realistic goals for the immediate future. We've accomplished three of our big goals during our six years of marriage.
In 2016, we spent two weeks in Europe.
We bought a house in 2017.
In 2018, we spent two weeks in Japan.
Big goals take time, and they usually take money too. In addition to setting long-term goals, you and your spouse should also break them down into medium-term goals.
Marriage goals aren't all financial, though! You can also set goals to focus on self-improvement or goals to build intimacy. Here are a few ideas to get you started.
Workout together X times per week
Join a book club together
Attend church together X times per month
Go on a weekly date night
Related: 15 Goals You Can Set to Make Your Marriage Better This Year
Show Affection All Day Long
Sometimes self-care in marriage is really just about the little things. Show affection to your spouse throughout the day. Send a cute text. Give a quick neck massage. Kiss right before going to bed.
Related: 25 Simple Ways to Show Affection in Marriage
Go to Bed at the Same Time
Dan is naturally an early bird, while I am naturally a night owl. Over our six years of marriage, we've worked to align our sleep schedules more closely. Most nights, I try to be in bed before he falls asleep so we can cuddle a bit first. Then I read (or play games on my phone–FAIL) for a bit before I'm ready to fall asleep.
Sometimes we're both tired at the same time, and we fall asleep cuddling. This is the absolute BEST feeling, but it's not usually practical with our different sleep schedules. Still, it's nice to be in bed together at the end of the day, before either of us falls asleep.
Talk About Your Sex Life
Sexual intimacy can absolutely be an amazing form of self-care… But you and your partner need to talk about it periodically. The playlist below can help you and your partner start the conversation. It includes videos on mismatched sex drives, tips for your first time, advice to improve your sex life, and more.
Look at the full playlist with your romantic partner. Decide which videos you want to watch together. From there, talk about your sex life. What's working? What could be better?
Related: Couples That Talk About Sex Have Better Sex
Reevaluate Your Assumptions About Sex
What does sex mean to you?
What does sex look like to you?
It's easy to be trapped in the mindset that 1) sex is limited to intercourse (coitus), and 2) sex ends with the male orgasm. Sometimes that mindset might include the misguided demand for 3) female orgasm caused by male activity.
This mindset can come from poor sexual education, strict religious beliefs, porn, and even the portrayal of sex in film and TV.
But there is so much more that you and your partner can discover about sex! Here are a few resources to get you started:
Enjoy a Sexual Encounter with Your Partner
Now that you and your partner have discussed sex, and you've both reevaluated what sex looks like, it's time to have fun!
Additional Self-Care Resources
I am blogging about self-care all week long! Check back in daily for new posts filled with self-care ideas for different people and lifestyles. Until then, I recommend you read my other self-care blog posts to find self-care inspiration.
While self-care in marriage should also include just regular SELF-focused self-care, it's also important to enjoy your marriage together. Practicing self-care with your spouse allows the two of you to relax as you improve your intimacy.
How do you and your spouse practice self-care?