Thank you to Crescent for sponsoring this blog post. All opinions are my own. 
My husband and I recently celebrated four years of marriage and one year of homeownership! Time flies when you're having fun–and when you own a house. Our to-do list never ends. At times I'm overwhelmed by all the work our house still needs.
Owning a house is a big responsibility. Dan and I want to treat it well. We want to make all the small and big improvements to transform a house into our perfect home.
It would be easy to throw all our attention and free time into the house. But our marriage is more important than our house. Dan and I need to dedicate time and attention to our marriage just as we do our house.
Date night helps us prioritize our marriage. Sometimes date night is sharing a romantic dinner at home and playing a board game. Other times it's more of a date day, with a Saturday spent watching a movie, playing Pokémon Go, and grabbing a fun lunch.
Crescent understands the importance of dating your spouse. They also know how easy it is for couples to fall into a rut. Crescent offers the perfect solution: a date night concierge service. Just pay a nominal booking fee, fill out a few date preferences, and let Crescent book the perfect date!
Dan and I recently tried out Crescent for a Saturday date.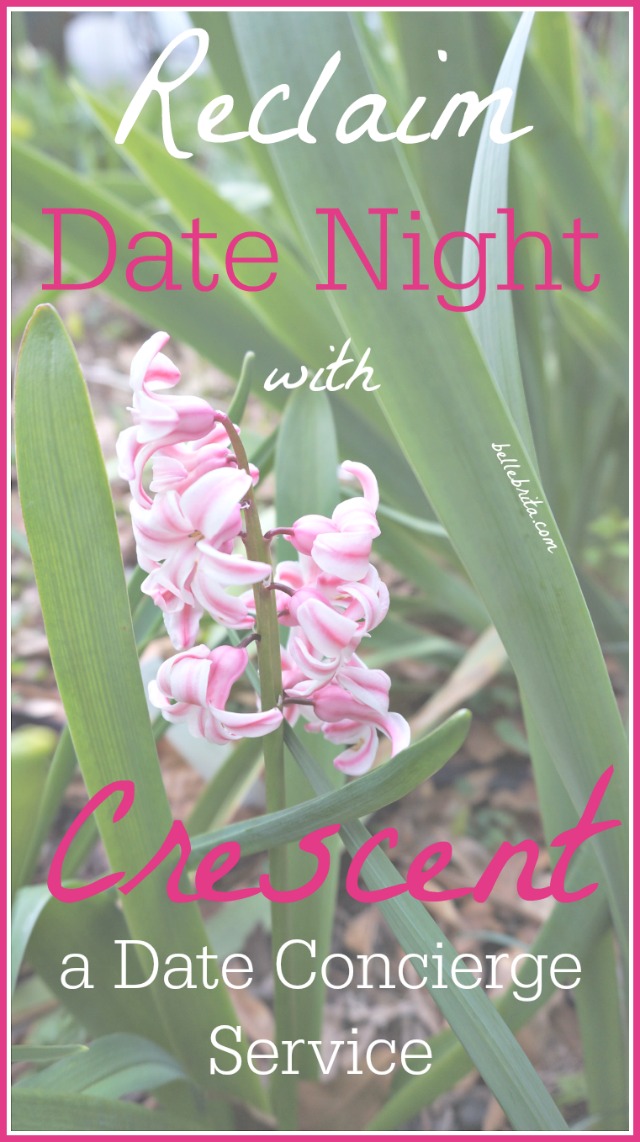 How to Use Crescent for Date Night
Using Crescent to book a date was incredibly easy. Dan and I spent less than 15 minutes filling everything out, and part of that time was us discussing how to respond.
Creating a Crescent Profile
It's free to sign up for an account with Crescent.
Under Settings, you fill out basic information about yourself and your partner, where you live, any allergies or physical limitations, and why you're using Crescent.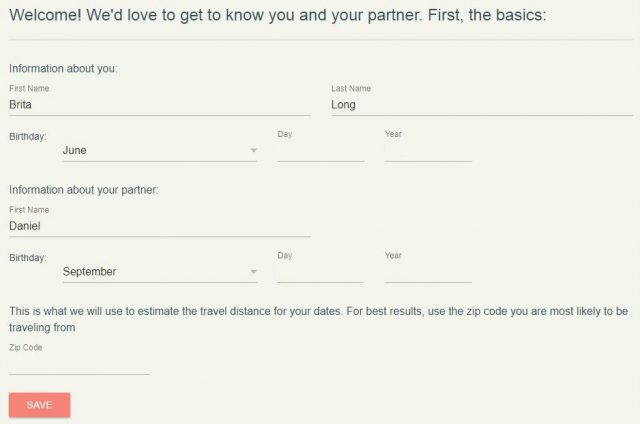 Under Preferences, you look over a list of date activities and give either a thumbs up (Wine Tasting, Hiking) or a thumbs down (Ice Skating, Swimming). Dan and I also chose not to give a preference one way or another to several activities, such as Yoga and Concerts.
Scheduling a Date
To schedule a date, you first choose what type of date you and your partner would like to have. Crescent offers three different categories for dates:
Energizing Experience
Enriching Experience
Epicurean Experience
Or you can choose to be surprised!
Dan and I opted for an Enriching Experience.
From there you select parameters for your date. Day/time, budget, travel distance, and meal options.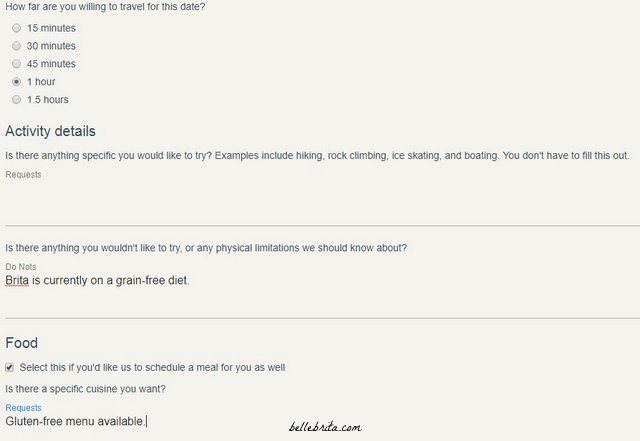 Dan and I chose a few Saturdays and Sundays with a $100 budget. Since we live in a rural area, we opted to travel up to an hour away for our date. Finally, we also asked Crescent to schedule a meal as part of our date.
After you submit your date request, Crescent responds with a date suggestion within 48 hours. You can then choose to accept or refuse the date suggestion. If you don't like Crescent's date suggestion, you can request a revision.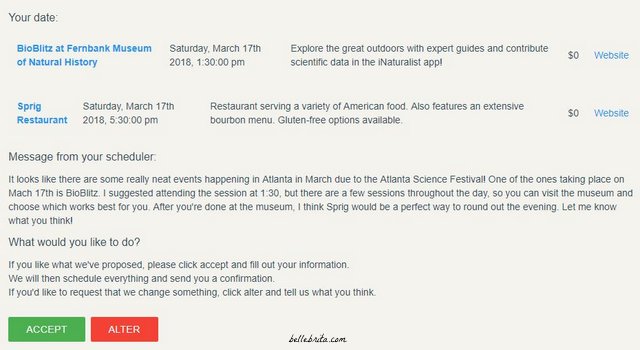 Dan and I both liked the initial date idea suggested by Crescent, so we accepted!
Booking a Date
Once you accept a date suggestion, you can choose for Crescent to book everything for you. If you do that, then you pay upfront for any costs. For example, if Crescent suggests a museum date, then you pay the cost of the museum tickets. (Note: Crescent bought our museum tickets, which is why the cost is listed as $0 in the screenshot above).
I recommend doing this if your plans are unlikely to change, or if an event might sell out of tickets. It's just nice not worrying about anything! For any meals, you just pay at the restaurant like you normally would.
Our Crescent Date
Crescent planned a museum date and dinner in Atlanta, the perfect Saturday for Dan and me. The only snafu was the weather, but the rain cleared up at the last minute.
Fernbank Museum of Natural History
Our date started at the Fernbank Museum of Natural History. Dan and I have talked about visiting this museum ever since we moved to Georgia three years ago, but we just never got around to it.
Crescent suggested this museum because of a special event going on that day called BioBlitz. "Explore the great outdoors with expert guides and contribute scientific data in the iNaturalist app!"
When Dan and I arrived at the museum, it was pouring down rain. We weren't sure if we wanted to explore the great outdoors in the rain, but we had over an hour until our BioBlitz time of 1:30pm. We spent that time exploring Fernbank's exhibits.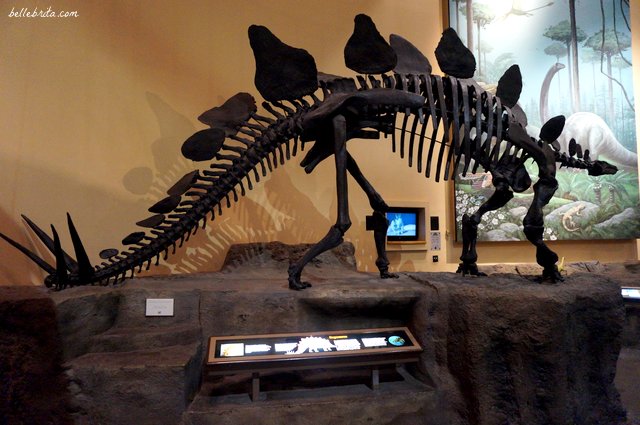 Luckily the rain cleared up just in time for us to go outside. We joined a group of expert employees and volunteers, plus other museum guests. Our group took a guided walk through Fernbank Forest and learned about the different trees growing. It was so cool to be in a natural habitat in the middle of Atlanta.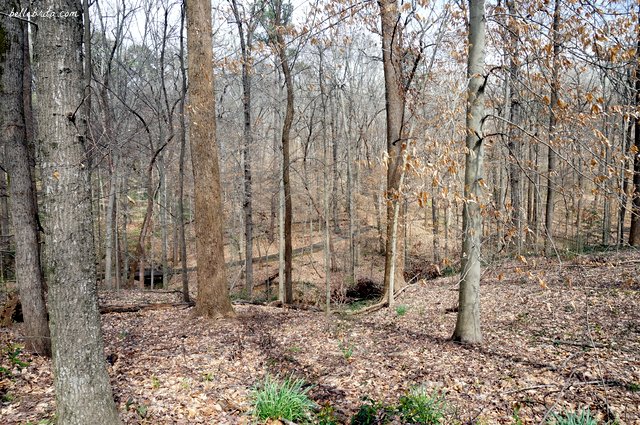 After the nature walk, Dan and I toured the temporary exhibit, The Secret World Inside You. I enjoyed learning more about bacteria!
Sprig Restaurant
Dan and I arrived early for our dinner reservation at Sprig Restaurant. Next to the restaurant was a cute park and garden. We played Pokémon Go, but we also used the iNaturalist app to look up the trees.
The weather was still nice, so we ate dinner outside on a charming patio. The drink menu featured several creative cocktails. I splurged on a vodka lemonade with fresh rosemary.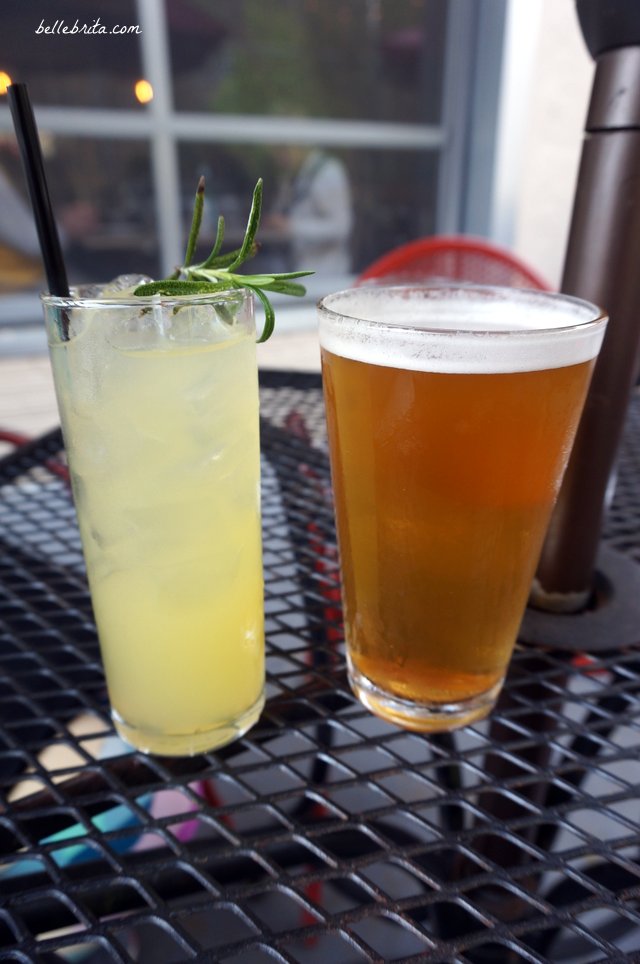 It was hard to choose what I wanted for dinner, but the special that night was rabbit. Rabbit is delicious, but most restaurants don't serve it. I was sold! Dan ordered the salmon.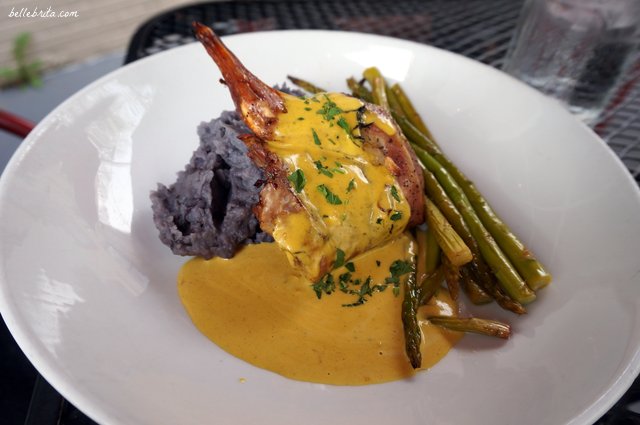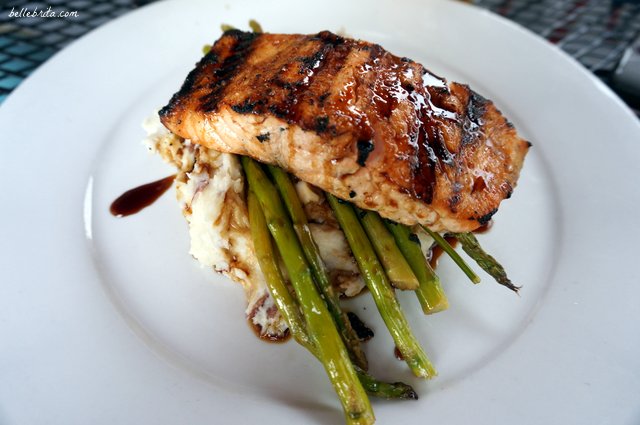 Dan and I both greatly enjoyed our dinner. Good food, good atmosphere, good service!
Crescent Review
I honestly liked Crescent so much that I plan on paying to use their service in the future. It's really that good. I felt such freedom at letting someone else plan a date for my husband and me.
We didn't spend hours debating different things to do. Nor did we resort to a typical date of antiquing or window-shopping and playing Pokémon Go. I mean, we did play Pokémon Go, but that was only a small part of our date!
There's only one small downside to booking a date through Crescent. When choosing possible days, you select at least ten days in advance. There's no way to predict the weather that far in advance. If you choose an outdoor activity, and the weather is bad, you're stuck with a miserable experience.
If you're booking an outdoor date, I would choose to let Crescent plan the date, but not have them book it in advance. That way, if the weather doesn't work out, then you can decide to do something else, or reschedule.
Overall, Crescent's date concierge service is a great idea. It's easy to do and affordable. I can't wait to try it out again!
If you want to book a date with Crescent, use code BELLEBRITA to get 20% off your first booking fee!
How do you prioritize your marriage? What's your typical date night? Would you use Crescent to plan a special date for you and your partner? Share your thoughts in the comments!