I'm writing this late at night, or early in the morning, depending on your perspective.
A year ago today, I couldn't sleep either. It's like I knew what would happen.
The phone rang, the sound muffled from my dad's room across the hall. I could hear him answer it, but not hear his words.
Still, I knew.
Daddy came to my room a few minutes later and gave me the news. My mother's soul had departed this earth.
We held each other and sobbed. Even though we'd known her death was coming, the news still hurt more than any of us could have imagined.
I called Dan and left him a voicemail. I knew he would drive back to Greenwood as soon as he woke up.
Daddy and I drove to the hospice center, where Harry and Celia had stayed the night with Mom. Jeremy had already said his final good-byes to Mom.
Mom still looked like Mom, but it wasn't really her. My mother was gone.
And now, she's been gone for a year.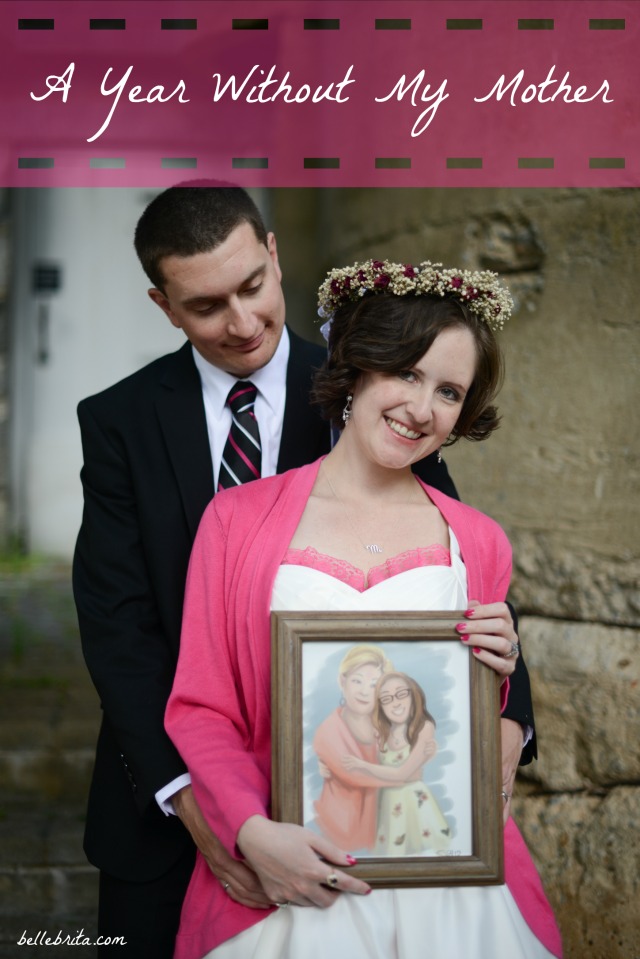 Since then, Harry and Celia have celebrated their first wedding anniversary. Dan and I went to Disney World. Our family celebrated my parents' wedding anniversary and my mother's birthday without her. Dan and I traveled to Texas. Jeremy moved to Vietnam.
In February, Jeremy was the first to celebrate his birthday without Mom. Last month, Harry, Daddy, and I all celebrated our birthdays without her.
We've been through the first Halloween, the first Thanksgiving, the first Christmas, the first Valentine's Day, and the first Easter without Mom.
And now it's time to start counting the second special occasions without her.
It's been a really hard year. Even when I'm happy, I'm sad. Every moment of joy is tinged with sadness because I can't share it with my mom.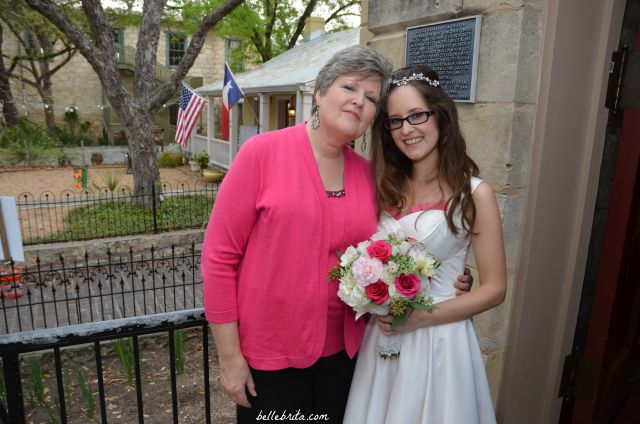 It's a new year. The second year without my mom.
The year when I share more about my mom with the world.
She self-published a book of prayers in February 2000, Muddling Through… Prayers and Reflections for a Woman's Journey.
The forward of her book reads:
I see waves, lapping at the bottom of a cross. It is the tide, coming and going out, each small cycle bringing the sea closer to the rough-hewn wood. There is no hurry, no rush, no fear, just the calm rhythm of the water advancing and retreating, advancing and retreating.

The water finally touches the cross. The sky lightens into gloriousness. I realize you've shown me my life; coming closer to the cross, then falling back, closer, then away, but each time advancing, until the day I truly touch the cross. You have shown me that my life is muddling through…… to the light.
She accepted death so calmly last summer, with such surprising peace in her heart. But she had known for years that our time on earth is just temporary, just a brief moment in the life everlasting. Her book indicates a great comfort in her belief in the afterlife.
Her book of prayers is divided into nine chapters.
Thanksgiving and Adoration
Confession and Repentance
Children
Christmas
A Closer Walk
Crisis
Everyday
Marriage
Weariness and Rebellion
The prayers of Crisis and of Weariness and Rebellion resonate with me now. I feel what my mother once felt, more than 15 years ago.
I still feel too low to take comfort in the life everlasting, but I do find peace in my mother's faith. My mother went through so much in her 60 short years, including a crisis of faith. At times I feel separated from God, even though I know She is with me. But I believe in my mother, who fervently relied on God, even when she couldn't feel God's presence. I endeavor to do the same.
I'm still sad, and that's okay. None of us will ever be the same again. That's okay too.
We're still learning to live our lives without Mom. And honestly, I'll spend the rest of my life missing her.
A year of grief has taught me that grief never really goes away; it just becomes easier to manage.
And that really is okay.