I kind of dropped the ball in my series on dating, relationships, and sex. If you're new to my blog, check out my post on bad sex advice first. Good sex advice can be hard to find, but I've compiled the most important tips below.
Note: Some of this stuff is heteronormative, either because I'm discussing pregnancy or I'm addressing issues that tend to be specific to male-female, cisgender couples. As I do not feel equipped to address issues specific to transgender or intersex individuals, my discussion of biology is limited to cisgender men and women.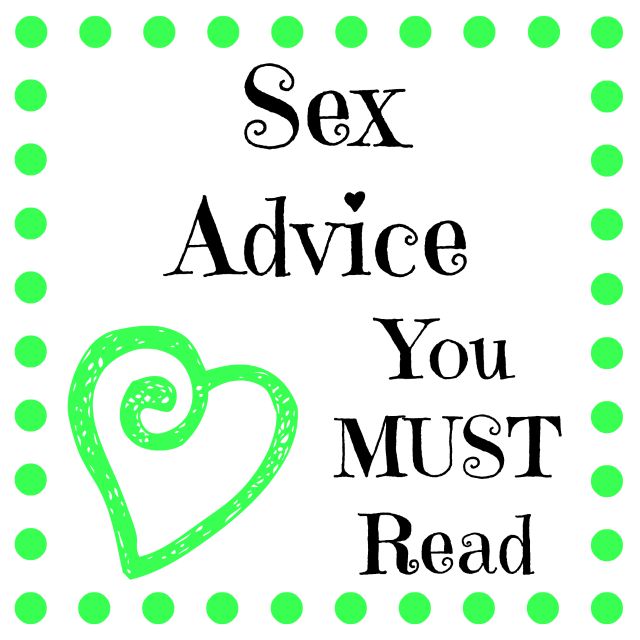 Good Sex Advice for Everyone,
from Virgins to Old Married Couples
You Need to Talk About Sex
How do you know if you and your partner are ready to engage in sexual activity? If you and your partner can talk about it first. If you can't discuss the following topics with your partner, you shouldn't engage in sexual activity yet.
Contraception, Pregnancy, and STDs: What form of birth control will you use? Who will pay for it? What will you do if a condom breaks? What will you do if you or your partner gets pregnant? Have you both been tested for STDs? Even if you save sex for marriage, you and your partner need to discuss how you feel about contraception and pregnancy. Preferably, you should do this prior to an engagement.
The Meaning of Sex: If you're saving sex for marriage, you and your partner probably agree sex is an intimate expression of love best saved for marriage. Or something similar. If you're taking someone home from the bar, you two probably agree sex is a fun, casual activity. Or something similar. There is a lot of in-between, though. You want to be on the same page as your partner on how you feel about sex.
Boundaries: You and your partner should discuss boundaries early in your physical relationship. This is especially true if you want to wait a significant amount of time before having sex. Your boundaries are always okay. If your partner doesn't respect your boundaries, you shouldn't be with that person. Boundaries might include no touching below the waist, or no anal sex, or sex only with a condom. It's much better to set these boundaries in advance of sexy times rather than trying to stop in the middle.
If you need a little help bringing up condoms with your partner, check out this helpful and hilarious video from Laci Green.
---
Consent is Mandatory
Consent is fucking mandatory.
Have you had sex before? Still need consent.
Are you married? Still need consent.
Was she flirting with you all night? Still need consent.
You need enthusiastic consent every step of the way. Verbal consent is not always necessary, especially if you're in an established relationship, and you've both discussed nonverbal consent. Still, if you have any doubts, err on the side of caution and establish verbal consent before proceeding.
What is consent, exactly?
At this point, you've possibly heard about the genius tea metaphor at Rockstar Dinosaur Pirate Princess. If not, click on that link and read the whole post. But without the metaphor, this writer breaks down consent quite simply.
…before you have sex with someone, and that's every time you have sex with them, make sure they want to have sex with you. This goes for men, women, everyone. Whoever you are initiating sexytimes with, just make sure they are actually genuinely up for it. That's it. It's not hard. Really.
Is asking for consent awkward? Will it ruin the moment?
Real talk here.
If you can't figure out a way to ask your partner for consent before sexual activity without "ruining the mood," one of two things is the problem. Either you're REALLY BAD at being sexy or communicating well, or your partner is REALLY immature or high maintenance. In either of those scenarios, you and your partner probably aren't ready for sexual activity.
Have you heard Ellie Goulding's hit "Love Me Like You Do"? Listen to the lyrics very carefully next time it's on the radio. The lyrics are basically a beautiful, sexy version of a woman giving consent while asking her partner for sex. I'm not embedding the video in this post because it includes clips from the film 50 Shades of Grey, which does NOT promote consent. However, if you want to listen to the song, you can open the video in Youtube.
More resources on consent:
How to Ask for Enthusiastic Consent in a Sexy Way When You Don't Want to "Ruin the Mood"
First College Course: Consent 101
---
GGG
Sex columnist Dan Savage first coined the term "GGG" to describe how people should approach partnered sex. To quote him:
GGG stands for "good, giving, and game," which is what we should all strive to be for our sex partners. Think "good in bed," "giving equal time and equal pleasure," and "game for anything—within reason."
Dan Savage has some biphobic, transphobic, and racist issues, and he uses a slur in the column where I found this quotation. His advice on being GGG is right, though.
Good in Bed
Not everybody does sex in the exact same way. I've kissed a wide variety of folks, and each of them had a different approach and style to kissing. I enjoyed some of those encounters more than others, but my preferences are my preferences. What I enjoy in a good kiss will be different than what someone else enjoys. Sex is the same way.
Communication is a big part of being good in bed (and a necessary part of consent). If you're engaging in sexual activity for the very first time, or if you're with a new partner, you and your  partner need to communicate about what you both like.
Just because you enjoy receiving something doesn't mean your partner will enjoy receiving it. Just because your ex loved a certain move doesn't mean your current partner will love it. Most importantly, just because you saw something in a porno once doesn't mean your partner will actually appreciate that in real life.
Being good in bed means being open to constructive criticism. Ideally, your partner will make suggestions in a loving and sexy way. Even if your partner provides tactless feedback, overcome your wounded pride and adjust accordingly.
Giving Equal Time and Equal Pleasure
In an established relationship, I interpret this as overall equal time and equal pleasure. Not every sexual encounter will result in a female orgasm, for example. (Some men also have difficulty coming to orgasm).
One attitude I often find among men who are waiting-til-marriage stems from a misunderstanding of the female anatomy. In online forums, I've read from many of them a strong reluctance to include sex toys. Some of them are also opposed to oral sex and manual stimulation.
Why? Mostly because they feel like the penis should provide sufficient pleasure during sex. They express fears of inadequacy if they need to do something other than penetrative intercourse for their wife to orgasm. A few expressed the idea that anything other than coitus is a sin, which is a whole other hurdle to overcome.
Most women need clitoral stimulation to orgasm. Men, there is nothing wrong with you or your sexual prowess if your female partner needs additional help in order to orgasm.
And if she just doesn't orgasm each time, and she's okay with that, let it be. While I love that men are vocally concerned about their female partner's orgasm, don't make it all about you.
The moral of the story is to focus on bringing your partner pleasure, even if it requires trying something new. Which leads us to the final G…
Game for Anything–Within Reason
"Within reason" will vary greatly depending on the individual and on the couple. That said, some very reasonable things to try include:
Sex toys, especially vibrators
Oral sex, which for many women is the main way to achieve orgasm
Extended foreplay prior to intercourse
Nonsexual touch throughout the day
Science suggests that being "game for anything" can improve overall relationship satisfaction. In 2012, researchers at the University of Arizona and Hanover College looked at "sexual transformations." That is, they studied what changes individuals might make for their sexual partners and how those changes affected the overall relationship.
Men and women who felt more positive about the sexual changes they made generally reported higher levels of relationship satisfaction. To me, this aspect of people's feelings about their changes goes back to being game – after all, being "game" for switching up one's sex life isn't about begrudgingly going down on someone or role-playing with a bored look on one's face. Being game is about being willing to give something a whirl, and happily so. It's about bringing your A-game to bed, about not knowing how you'll end up feeling about it but being willing to give it your best shot, with an open mind and heart.
To be clear, "game for anything–within reason" should never include something that violates your boundaries. Furthermore, your partner should never use GGG to pressure you into something you're not comfortable doing.
---
There's so much more to write about good sex advice. What else would you add to my list?