You are so gorgeous.
The words hit me quickly, quietly.
Panic rose up in my throat even as I kept pushing my cart down the aisle. My heart racing, my anxiety spiking, an adrenaline rush of fear–all in a split second, before my mind could even process.
Did that just happen?
I immediately started second-guessing myself.
I heard wrong.
Those words weren't directed at me. He was on the phone, or he was admiring something delectable on the frozen foods aisle.
Turn around, Brita, and you'll see a middle-aged white man grabbing a pie from the freezer.
I paused at the end of the aisle and glanced over my shoulder.
On the opposite side of me, he just stood there, looking straight at me.
No cart. No groceries in hand.
He knew what he was doing. He knew what he did. It wasn't just what he said, but how he said it.
The leer muttered so deliberately that no one could overhear, even if another person had been nearby.
The leer timed so perfectly that we had already crossed paths and continued in opposite directions by the time my mind processed the encounter.
I immediately resumed pushing my cart, turning down another aisle thankfully filled with people, moving on autopilot while my mind raced with indecision.
Should I abandon my cart and go home? Check out now with my few groceries? Continue the full trip?
Am I sure that he actually said that? Why is my body still on high alert? Am I overreacting? What's wrong with me?
What's wrong with me?
What's wrong with me?
The Grocery Store
I've always enjoyed grocery-shopping.
As a kid, I accompanied my mom or my dad, fetching forgotten items in a different part of the store so they didn't have to double-back. They taught me how to pick out fresh produce and compare the unit price of items. How often did my mom and I split a Twix or Reeses on the car ride home, hiding the wrapper in her purse so my brothers wouldn't know? One time my dad and I made the mistake of shopping while hungry, which meant he was susceptible to my suggestions of sweet potato pie and other goodies not on our list.
When I was a teenager, my parents paid me $10 to put together a grocery list and pick out groceries. My mom would drop me off at the store, and I would call her when I was almost done. She would meet me at the front and buy our groceries. At home, we would put them away together.
When I was in college, my parents still paid me $10 for the chore, but they also indulgently allowed me to choose some groceries to take back to school.
Now that I'm married, getting groceries can even be part of date night. Sometimes Dan and I visit the fancy Kroger (the one with a bar inside). We'll pick up sushi or chicken tenders from the deli section, enjoying a cheap meal with cheap drinks. We always spend a bit more on groceries when we're tipsy, but that's part of the fun! (And yes, we linger long enough at the store that Dan is perfectly sober to drive us home).
Shoppers share a social contract at the grocery store. Tall people offer assistance to short people, or people in wheelchairs, who need an item off the top shelf. We all keep our carts to one side of the aisle while looking for something specific so other shoppers can pass. If you have a coupon about to expire, but you can't use it, you give it to another shopper or you leave it on the shelf for someone to find. And, if you find yourself at an awkward impasse with your carts, you smile to acknowledge the awkward dance of moving your carts.
Learn to Take a Compliment
Years ago I did the awkward dance with a black man who was roughly my age, maybe a bit older. I moved my cart right, but he moved his cart left… I moved my cart left, but he moved his cart right. In recognition of the social contract, I smiled at him, a universal sign of realizing the sitcom-style humor of our situation. We disentangled our carts and went our separate ways.
A little while later, we encountered each other once again. This time, he spoke, smiling at me. "Hey, I just wanted to let you know that I was having a down day, but your beautiful smile lifted my spirits. Thank you so much."
I smiled back at him and said something kind in response.
That was an appropriate compliment, from a stranger, at the grocery store. We had a brief interaction, and when our paths crossed again, he kindly referenced that interaction. He made eye contact with me, and he spoke at a normal volume.
Sexual Harassment
You are so gorgeous.
It took me a long time to shake off my discomfort. Even now, as I write this, my heart rate is elevated once more.
My body immediately understood this was wrong, even as my mind tried to rationalize it away.
Only when I got home and complained to Dan did I finally feel justified in my response. I told him that an older man had sexually harassed me at Kroger. I described it briefly.
He passed by me, and I heard the words, "You are so gorgeous." It happened so fast, and he was so quiet that at first, I wasn't sure what had happened. I thought maybe I was imagining things, but I glanced back, and he was just standing there, staring at me.
The expression on Dan's face as I shared my experience, and his verbal frustration after, reassured me that I was right.
An older white man sexually harassed me at Kroger.
So. Gorgeous.
Gorgeous is a special compliment. My friends and family have called me gorgeous when I was dressed up for my sorority formals, for my own debutante ball, for other debutante balls, and for my wedding. My husband calls me gorgeous much more often–as he should!
My twin brother and his friends once described gorgeous as the ultimate compliment, the perfect combination of beautiful and sexy. I don't know who else agrees with that definition, but their words stayed with me. I even remember the first time a guy called me gorgeous after I learned my brother's definition. My best friend Russell, who was my date for my freshman sorority formal, said I looked gorgeous.
Gorgeous is not a casual remark you mutter under your breath to an unknown woman as you pass by her on the frozen foods aisle.
What I Was Wearing
It's April. Spring. Beautiful, sunny weather. I often enjoy wearing a pretty sundress with nice sandals or heels. For more than a decade now, strangers have occasionally stopped to compliment me on my colorful spring attire. In fact, earlier this month on a solo trip to Gibbs Gardens, I lost track of how many people complimented my outfit!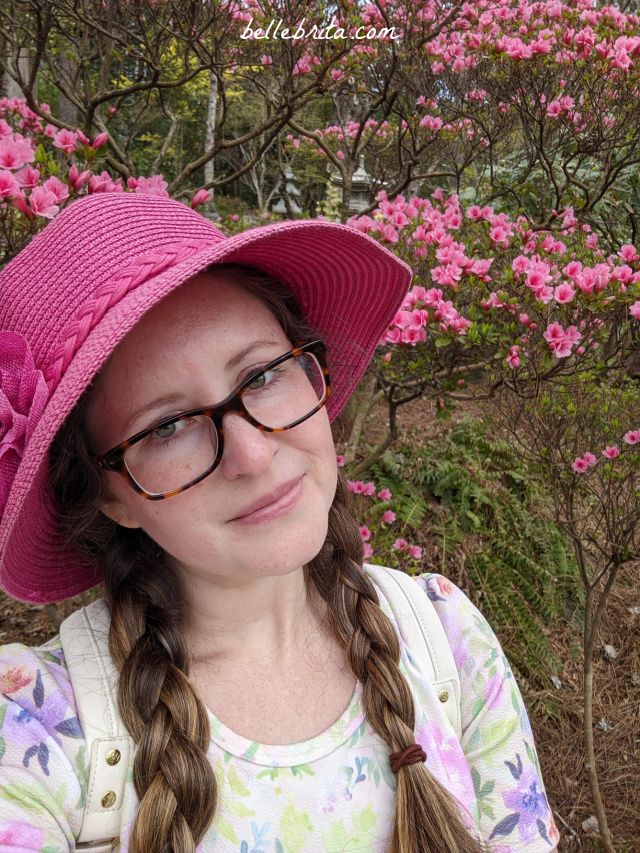 One woman said I looked like I belonged in an English garden. Someone else stopped me to share how much they loved my hat. Several other people exclaimed over my entire outfit. (Not pictured is the full skirt of my dress, my pink leggings, and my pink ballet flats).
I don't recall anyone broadly complimenting my appearance, but it's possible someone said I was pretty.
These compliments were all said to my face, by people smiling at me and making eye contact. Everyone was reacting specifically to my outfit. If anyone that day had called me gorgeous–to my face–it would have been an odd vocabulary choice, but acceptable in context.
This is what I was wearing at Kroger when a man sexually harassed me.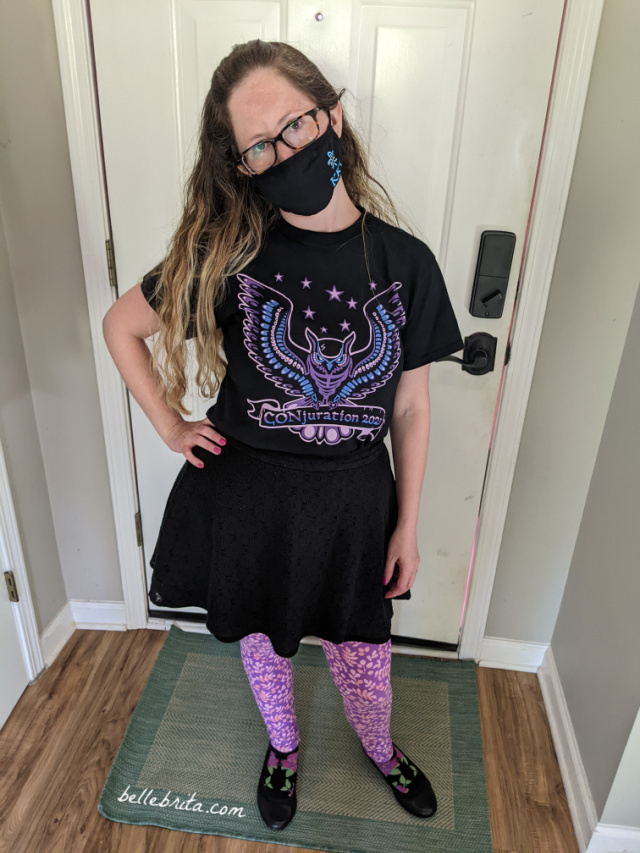 To be clear, a person's clothing or appearance never justifies sexual harassment. I'm not sharing my outfit to protest my innocence or to suggest a different woman deserved sexual harassment. I'm sharing my outfit to explain that "so gorgeous" was not at all a contextually appropriate comment to make.
And, again, he muttered this comment under his breath, exactly when we were briefly side-by-side.
Not a compliment.
Sexual harassment.
Awkward Old Men
He could have smiled at me. Complimented my hair. Said my t-shirt was cool. Made an awkward sexist joke about being a good housewife getting groceries. Even done the awkward sexist old man thing of saying something like, "Aren't you just as pretty as a picture!"
Those latter two comments still wouldn't be appropriate, but they could be understandably excused as something older sexist men say.
(I live in the South. These interactions happen often. I've learned when to push back gently, and when to smile awkwardly and shake my head).
This was not an awkward old man, trying and failing to be nice.
This was a creep, deliberately harassing me.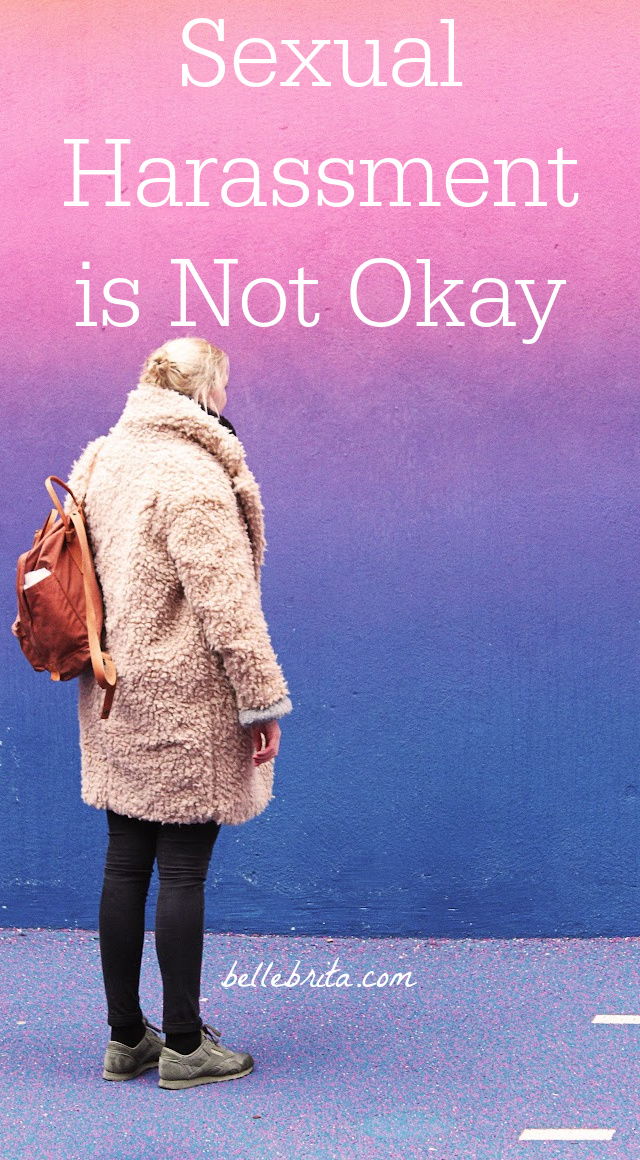 Final Thoughts
In the grand scheme of things, this was a brief and minor incident of sexual harassment, but it's important to talk about anyway.
Sexual harassment is insidious.
When anyone excuses sexual harassment, or diminishes it, they are only contributing to a culture that emboldens aggressors and silences victims.
If you want to learn more about rape culture, here are other pieces I've written.