Dan and I just got back from a leisure/business trip to Orlando. He has a conference there every spring, and we usually arrive early to enjoy a mini vacation. This year we spent a day at EPCOT before the conference began. Then I worked from our hotel room all week while Dan attended the conference.
This means we haven't done much on our guest bedroom makeover! However, between last week's "before" photo and this week, Dan and I actually spent a lot of time decluttering both the guest bedroom and other rooms in the house.
Cleaning Out My Clothes
When you have a chronic illness like Crohn's Disease, you become accustomed to weight fluctuations over the years. For this reason, I tend to keep a few favorite (and often expensive) clothes that don't fit. However, now that I'm pregnant, which I could only do because my Crohn's got better, I'm pretty sure I won't be underweight again. And I also probably won't return to the very low end of a healthy weight for me either.
For this reason, I cleared out almost all of my clothes that I haven't worn since 2016.
I also cleared out all of my fancy dresses, including my one pageant dress from high school and my debutante dress. I could have sold some of my fancy dresses (especially my JCrew bridesmaid dress), but 1) I don't need the money and 2) I just don't have the time.
Dan and I also each got rid of one winter coat each.
Oh, and I've had a box of things to donate, just sitting in the guest bedroom for years. I finally actually donated it!
Next Steps on the Closet Cleanout
I honestly need to take everything out of my closet and decide what to keep. I've heard that this is a lengthy process, but it makes it easier to actually get rid of things. The idea is to hang back up what you love. Obviously you get rid of anything that doesn't fit or is beyond repair. Then you evaluate what's left. What's worthy of staying in your closet?
By decluttering my regular closet, I'll have room for the fancy dresses I decided to keep. Then those can leave Dan's office closet and go into my bedroom closet. Then the family heirlooms that are currently in the guest bedroom closet can move into Dan's office closet.
Picking Out Nursery Essentials
If you know Dan and me at all, then you won't be surprised to hear we have a spreadsheet for planning out what we need to acquire for a baby. Much of this will go into our baby registry, but we're also looking to buy items secondhand.
First up is the bassinet! Dan did the research on these options and picked out the Bassinest Swivel Sleeper by Halo. Then he found this exact bassinet locally, secondhand, through Facebook Marketplace. We were able to buy it for just $50!
The other nursery items we definitely need are:
Rocking chair or glider (we're visiting Buy Buy Baby tomorrow to try out options)
Mattress (we're not doing a crib, but a floor mattress–read more about the Montessori floor bed)
Sheets
Blackout curtains
Baby monitor
Noise machine
Changing pad
Changing pad liners
Diaper pail
This is just a list of things for the nursery, and this list doesn't include figuring out how to organize all the baby stuff in the nursery, like clothes and diapers.
Guest Bedroom to Nursery Progress
Here is everything Dan and I have done so far to transform our guest bedroom into a nursery.
Take down all filming studio elements. I often filmed YouTube videos in our guest bedroom, so Dan had installed umbrella lights and sound muffling panels. We also had a green screen, a plain white cloth, and pink pom poms hanging up as different backgrounds.
Remove most bathroom accessories. Dan has been renovating our ensuite bathroom, so a whole bunch of bathroom things ended up in our guest bedroom. We have removed most of these. What's left is a set of drawers that used to be in our bathroom. Dan cleaned out everything in the drawers, but now we need to figure out where to put the set of drawers. Or where to relocate what's in the drawers.
Return lamps to our friend. A good friend of ours downsized his home years ago, and he let us pick out what he wanted from his house, on a long-term loan. This included two beautiful dark lamps with an orange/bronze accent. I absolutely love these lamps, but they don't work for a nursery. Dan asked our friend if he wants them back, and he said yes. We've set them aside downstairs to return to our friend.
Remove our suitcases. We mostly needed to do this to travel! I think we're keeping the suitcases in Dan's home office now?
It's not a lot, but it's a start.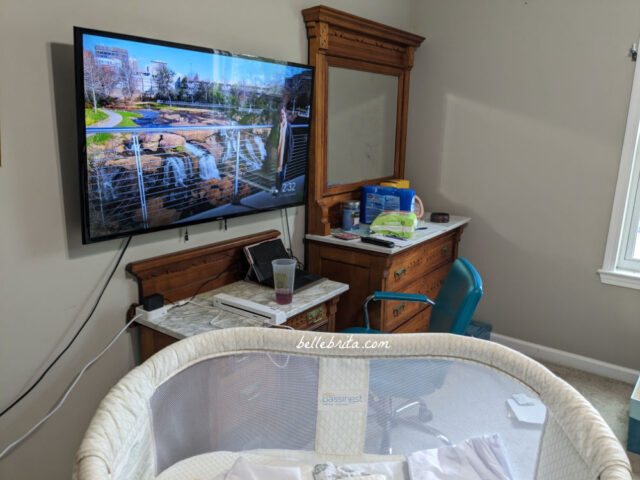 Learn about the One Room Challenge and see the other participants!