This week, I'm in North Myrtle Beach with my parents, brothers, and sister-in-law. Dan was here for the weekend, but he had to return to Duluth.
I packed light for the trip. A few sundresses, jeans, a skirt, shorts, and an assortment of tees and tanks.
Oh, and three bikinis.
Being in the Myrtle Beach area at the end of April is a new experience for me. This is definitely the off-season, as the chilly wet weather proved over the weekend.
The blogosphere is in its off-season too, at least in regards to opinions about bikinis. But any day now, someone will write another earnest piece about why girls should just save up their baby-sitting money to buy a cute modest swimsuit. Someone else will write another sanctimonious piece about how she's totally not judging women who wear bikinis, but she refuses to wear them because she's better than those bikini-wearing harlots.
Us ladies might even be lucky enough to hear yet another man's authoritative voice plead for women to help their weaker brothers in Christ by not wearing bikinis at the beach. Shockingly, he will not think to suggest that men who struggle with lust just avoid the beach.
Since I'm wearing my bikini a few weeks before beach season, I might as well write about my bikini now and beat those other bloggers to the punch.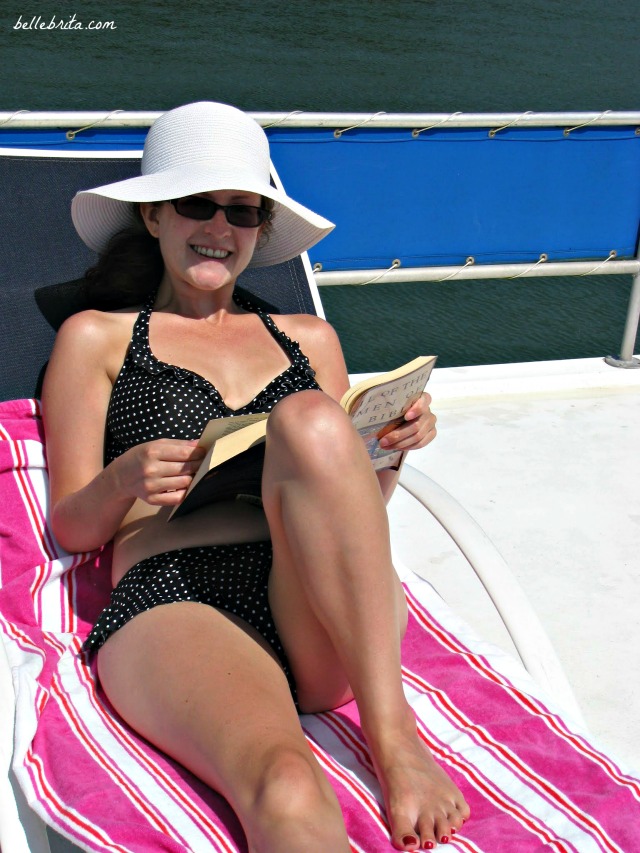 3 Reasons Why I Wear My Bikini
My Bikini Fits My Body
When I was 19, my mom visited me at college and took me shopping. Furman University's Beach Weekend was just a few weeks away, and my mom wanted to buy me a new swimsuit, preferably a one-piece or a tankini.
We went to a nice department store and carefully went through the expansive women's swim section. My mom and I both picked out an armful each of cute one-pieces and tankinis for me to try on. I had my heart set on a light blue and dark blue one-piece with a small rhinestone bow on the bodice, the perfect swimsuit for a Kappa!
One by one, I tried on the swimsuits and modeled them for my mom.
One by one, they didn't fit.
For my beloved Kappa swimsuit, I tried it on in two sizes. In the smaller size, it fit my waist and my pelvis perfectly… But my boobs burst out the top. In the larger size, my boobs were properly covered and even well-supported… But the bottom half was so loose that my crotch was on display.
Eventually I tried on bikinis, and my mom admitted they were actually more "modest" on my body than any of the "modest" choices. She ended up buying me a white and navy two-piece, with a medium bikini bottom and an extra-large halter top.
At 25, my body was very different than it had been at 19. I was still curvy, but without the effects of prednisone, I carried my weight differently, plus I weighed a few pounds less overall. I needed a new swimsuit, and I thought maybe my body would finally fit into one of the fun retro-style tankinis or one-pieces.
At Target, I repeated my teenage actions. I tried on so many different swimsuits, in multiple styles, in multiple sizes.
The only option that fit was a small bikini bottom paired with an extra-large halter top.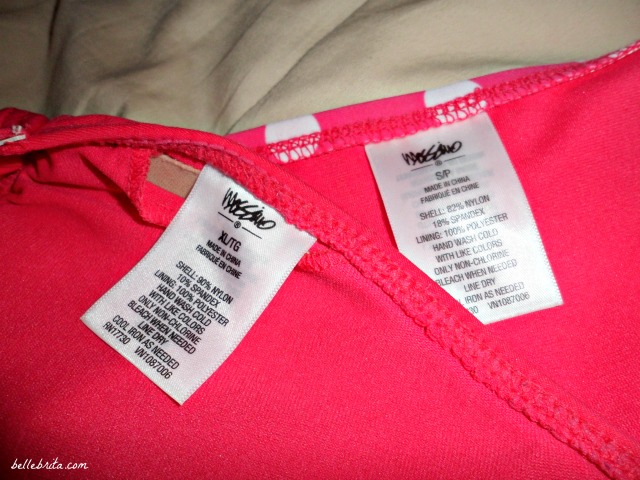 My Bikini is Cute
I own three bikinis.
A black and white polka dot bikini with ruffles by Freya
A coral bikini from Target
A blue and coral floral bikini by Cleo
My Freya and Cleo bikinis are my favorites. The tops are based on UK bra sizes, with a band size and a cup size, not just a small or medium.
The patterns and the colors are so pretty and feminine. I feel happy while wearing them.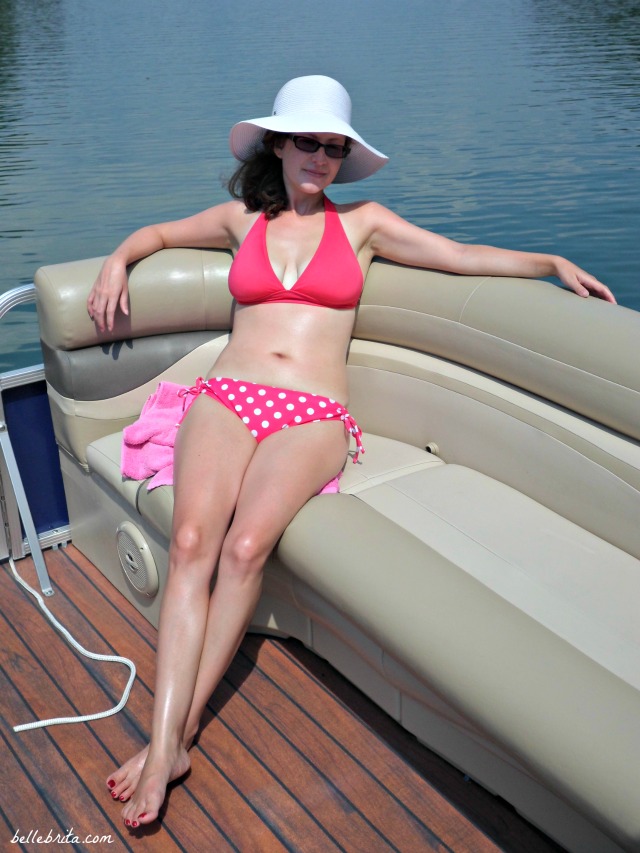 My Bikini Keeps Me Comfortable in Hot Weather and Allows Me to Move Freely
The beach is hot. Maybe not so much in April, but overall, when I'm at the beach (or the pool, or the lake, or a water park), it's hot outside. Wearing a bikini in the heat is comfortable.
While I spend a fair amount of beach time reading, I also enjoy taking long walks on the beach and splashing around in the ocean. A bikini is appropriate clothing for these activities. Extra fabric doesn't hinder my movement, nor does it cling to me while wet.
3 Bullshit Reasons Unrelated to Why I Wear My Bikini
My Bikini Allows Me to Flaunt My Body
My body is my body. My body is obviously a female body. I have boobs. I have a butt. I have hips.
The existence of my body in a bikini does not mean I'm "flaunting" it.
Tweet: The existence of my body in a bikini does not mean I'm "flaunting" it.
My decision to wear a bikini has nothing to do with how I feel about my body. Just because I wear a bikini does not mean I'm trying to show off my body.
I Wear a Bikini Because I Care About Men's Opinions of My Appearance
Maybe you wear or used to wear a bikini because you liked the attention men gave you. Or maybe you wore a bikini hoping men would notice you.
Maybe you like when women wear bikinis because you want to ogle their bodies. Maybe you assume women wear bikinis solely for your viewing pleasure.
Your thoughts and feelings on women in bikinis have nothing to do with me and my bikini.
Ladies, we are not all the same. We do not all do the exact same things. If we do, they're not all for the exact same reasons. Your motivation for wearing a bikini is completely unrelated to why I wear one.
Men, including my husband, my bikini isn't for you. Yeah, you might notice me, but as long as you don't harass me, I don't care.
https://instagram.com/p/1WarrYro58/
I Wear a Bikini Because I Don't Care About Men
There's this bizarre line of thought within Christian Modesty Culture that men are weaker than women. Men are just so visually-stimulated, so prone to lust, so helpless that women must help their weaker brothers in Christ by capitulating to their every demand to cover our bodies.
If women really understood how much men struggled with lust, we'd immediately change all of our clothing choices so men won't "stumble" in "their walk."
More than that, if a woman dresses a certain way, and a man lusts after her, she has sinned too.
Um.
What?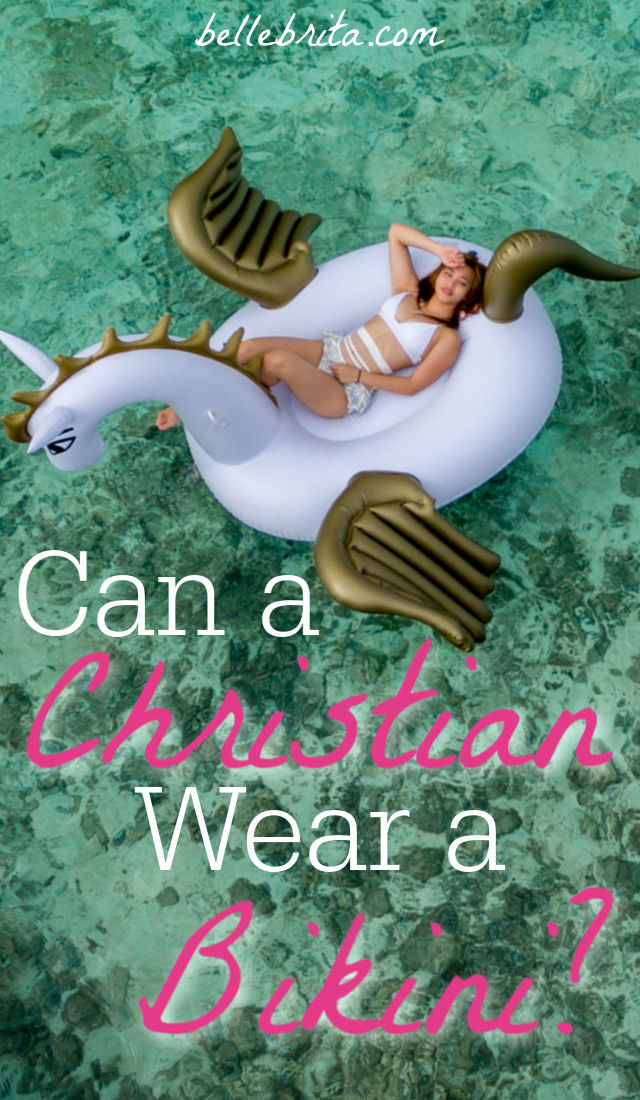 Here's the deal.
If you, male or female, find yourself sexually objectifying people, if this is really a struggle for you, I truly am sorry.
If seeing a woman in a bikini, or a man shirtless, makes it difficult for you to treat that person like a human being, I truly am sorry.
But if this is the honest-to-goodness truth, stop going to the beach.
Don't go to the pool.
Avoid the water park.
Skip the lake.
If you lust after a person wearing a certain kind of swimsuit, stop going to places where people wear swimsuits.
It is not the responsibility of half the world's population to change our habits to accommodate you.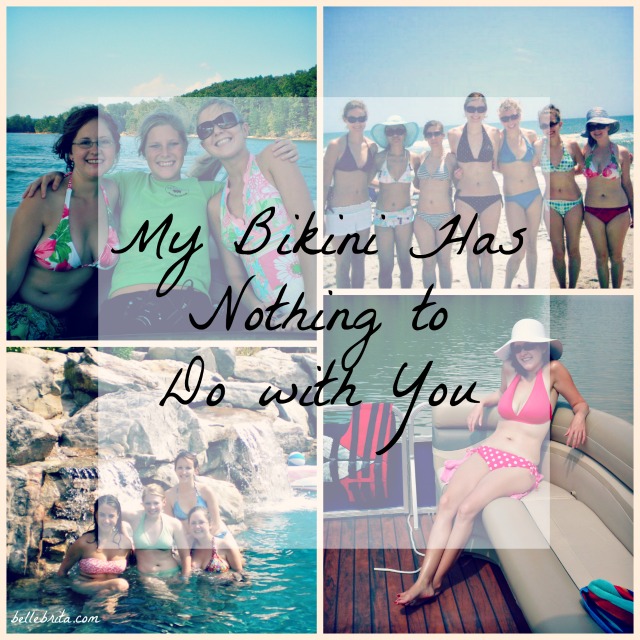 ---
With any luck, no one will blog this summer about how Christian women can't wear bikinis. Alas, that has not been the case for at least several years. I hope this piece illustrates the poor logic used to defend those posts.
Ladies, do you wear a bikini at the beach? Why or why not? I'd love to hear your thoughts!