2015 was certainly a tumultuous year. Dan first moved to Georgia in January, and I followed in March. I left my job in May. I struggled with my Crohn's Disease and started new treatments in June. Worst of all, my wonderful mother died in July from brain cancer.
But 2015 wasn't all bad. I was able to spend a lot of time with my mom before she died. We attended a women's conference together last spring. Dan and I celebrated Easter with my parents and Jeremy in Greenwood. Our family spent a week together in North Myrtle Beach in April. Once my mom entered hospice care in June, I essentially moved back home for the summer. Being a caretaker, even part-time, was certainly a challenge, but I wouldn't trade those last few days with my mother for anything.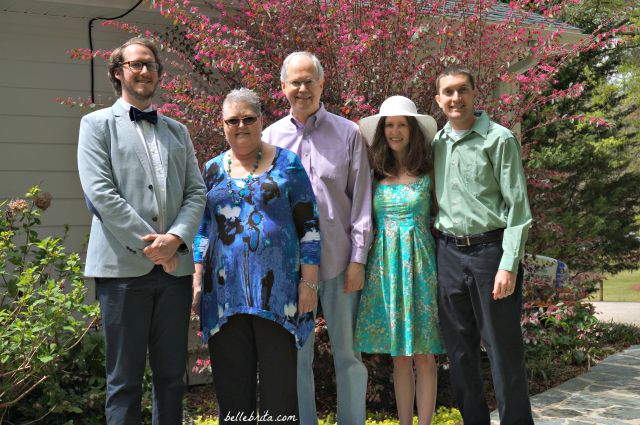 Dan and I love living in Duluth. We've become good friends with our initial landlord, Rich, from when we temporarily lived in Suwanee. I've reconnected with Chelsea, a good friend of mine from college. Dan and I have also gotten closer to my friend Leah and her husband Ben. We absolutely love our townhouse, and it's slowly coming together as our perfect home.
Even though we miss everyone in Ohio, we've been lucky enough to take two trips back this year. In September, we finally met our first nephew, Nathan, who was born in July. In November, I actually spent two whole weeks in Ohio, city-hopping to see as many friends and in-laws as possible, before Dan joined us for Thanksgiving weekend.
Finally, Dan and I were lucky enough to take several fun trips this year! We celebrated our anniversary in the Georgia mountains. In May, we traveled to Montreal for my best friend Chantal's wedding, when I also reunited with my best friends Amelia and Jessica. In September, Dan and I spent a weekend in Savannah. Our big trip of the year was one of my 30×30 vacations in October. We spent three days in Disney World and two days in Universal Studios/Islands of Adventure, followed by a weekend in Tampa with our friends Lee and Ashleigh.
What good things will 2016 bring?
Continued improvement with my Crohn's Disease (I hope). My gastroenterologist would like to take me off my 6mp, aka my second immunosuppressant.
More travel! Dan and I have already booked our plane tickets for a long weekend in Dallas this month. We have two weddings on the calendar. Charleston looks like a possibility for our anniversary…
…because in 2016, we'll celebrate two years of marriage! It's amazing how time flies. I love Dan more every single day. I can't believe he's been in my life for so many years now.
Dan's 30th birthday! Yes, in September, Dan turns the big 3-0. He's not much of a party person, but I see steak, beer, and board games in our celebratory future.
More focus in my writing. I mostly stepped back from my blog in December to grieve my mother. This month I'm stepping back to figure out what I really want to do this year.
Come back to the blog on MONDAY for my monthly goals post! What was supposed to be an introduction to my January Goals // December Recap turned into its own blog post.
What were your 2015 highlights? What are your 2016 plans? Share your thoughts in the comments below!