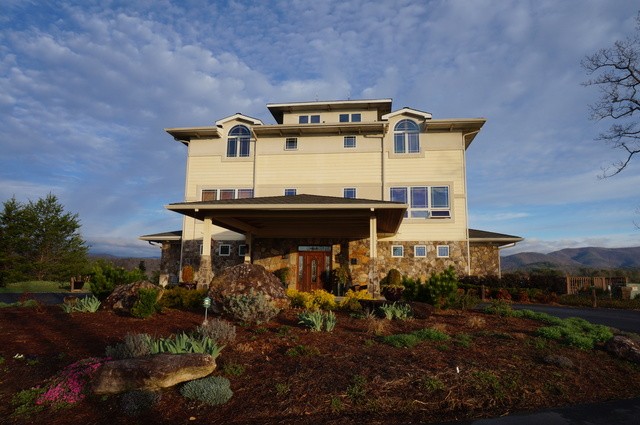 For our first wedding anniversary, Dan and I wanted to do something special. A quick Google search revealed Lucille's Mountaintop Inn & Spa in Sautee Nacoochee, Georgia. A bed & breakfast, less than two hours away from Atlanta, in the mountains, with its own spa? Need I say more?
Dan and I immediately realized it was the perfect romantic weekend getaway for our anniversary. We booked our room for Friday and Saturday night, plus we booked a 90-minute hot stone couples' massage for Saturday morning.
After the stresses of moving, and dealing with work, and figuring out health insurance, when Friday rolled around, Dan and I were ready for a whole weekend focused just on each other.
We checked in Friday evening, and I quickly fell in love with our room. Soft, warm neutrals, a beautiful view, and a huge bathroom set the tone for the whole weekend.
My sweet husband wanted to exchange gifts at the beginning of the weekend. I opened a tiny box to reveal a blue diamond necklace! It is dainty, beautiful, and looks wonderful with my blue diamond and sapphire engagement ring.
Dan seemed pretty excited when I told him his present: two tickets to see Weird Al this summer!
After our gift exchange and many happy kisses, we were ready to eat. The front desk clerk recommended a few restaurants, including a pizza place. Dan and I both LOVE pizza, so we headed to the Nacoochee Village Tavern & Pizzeria for dinner.
When we arrived, we overheard a family complaining about the wait times as they walked back to their car. Dan and I worried about a long wait, but apparently there was plenty of seating for parties of two! We didn't wait at all for a table. We each ordered a beer and the Carnivore pizza to share, substituting bacon for the meatballs.
It was easily one of the best pizzas I ever had. The basil was a really interesting flavor I never would have thought to add to a meat-laden pizza.
Back at Lucille's Mountaintop Inn & Spa, Dan boiled water for tea using the Keurig in the dining room. I helped myself to an oatmeal cookie and a raspberry bar, two of the three fresh desserts that night. In our room, we drank hot tea and watched Star Trek while I ate my dessert.
Yes, we pack our own Celestial Seasonings tea while we travel. Doesn't everyone?
Saturday morning we woke up early enough to catch the end of the sunrise. Dan and I climbed up into the belvedere to admire the 360-degree views of the mountains and valleys while the sun rose. Dan took a million beautiful pictures!
We headed down to breakfast early–Dan with his camera, me with my book. I was fully aware that breakfast did not start until 8:30am, but I planned to make some hot tea–Fast Lane by Celestial Seasonings–and read my book.
Two different members of the staff apologized to me that breakfast wasn't ready. They both reassured me that breakfast would be ready soon. One cleaned out the Keurig filter to make sure it wouldn't taste like coffee. The other offered Dan and me a selection of juices.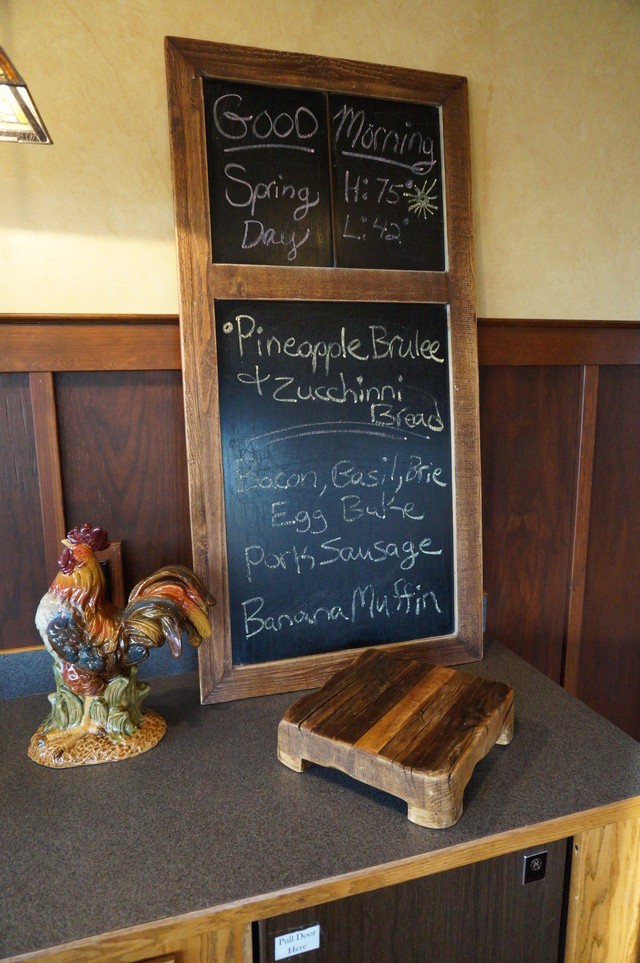 Our server brought us our first course promptly at 8:30am. Yes, breakfast came out in two courses! Picky Dan didn't touch his, but I was in heaven. Banana and pineapple brulée with zucchini bread? That could have been my last meal on Earth, and I would have died happy. I ate my fruit and Dan's fruit, but just one piece of zucchini bread. It was delicious, but with my appetite, I wanted to save room for the second course.
https://instagram.com/p/0fX6hNroy8/?taken-by=belle_brita
Dan's second course was different than my own since he doesn't like vegetables. My plate was tomatoes (which I don't eat either), egg with feta, basil, and ham, a banana chocolate chip muffin, and two sausage links. Dan had a cheese omelet and three sausage links.
After breakfast, we took our remaining orange juice upstairs, popped open a bottle of bubbly, and drank mimosas in our room. Soon enough, it was time for our massages!
The spa is adjacent to the inn, less than two minutes walking, and that includes going down all the stairs from our top floor.
Our couples' massage was so relaxing that I had to help Dan get up off the table. We didn't feel like getting dressed, but luckily our massage therapists had suggested we wear spa robes back to the inn. We finished off the sparkling wine and ate leftover pizza while recuperating from our massage. It was truly a glorious morning and early afternoon.
Finally we were ready to explore! My favorite shop was the Lavender Cottage & Garden. I wanted to buy everything! Dan and I restrained ourselves by only buying some cool handmade Scrabble decor for our mantle.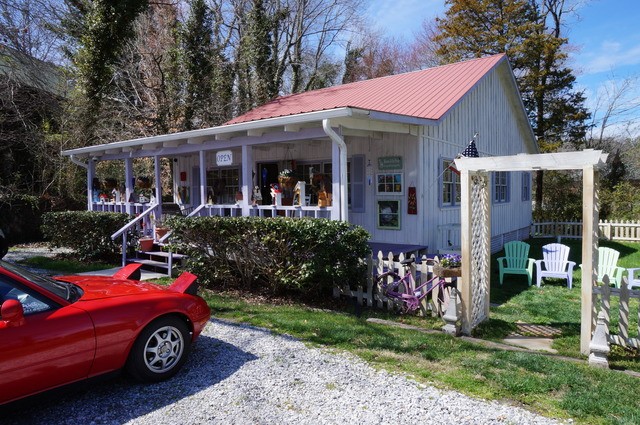 Then it was onto the first winery! Our anniversary weekend coincided with the 2015 Wine Highway event! I bought my ticket for $40 at the first winery and drank four delicious dry reds that were out of my price range.
The wine tasting continued on Sunday, so we only went to one tasting on Saturday. Dan and I really wanted to visit Anna Ruby Falls while it was still light outside.
The hike to the two waterfalls was not too bad, although it did remind me how out-of-shape I am. The waterfalls were absolutely stunning! And Dan had fun explaining the science behind some of the water flow.
We then poked around Helen a bit. At the glass shop we bought a light-up polar bear ornament, perfect for our polar bear collection. If you've never been to Helen, it is a hilariously-charming tourist trap modeled after Germany.
We ended our night with dinner at Hawg Wild BBQ and Catfish House, which was underwhelming after our other weekend food. Dan and I both have high standards for barbecue that were not met.
Sunday morning was another delectable breakfast! Fresh strawberries and cinnamon French toast followed by cheese-scrambled eggs (since neither of us wanted the fancy eggs with onions in them), lemon-blueberry muffins, and bacon.
Checking out from Lucille's Mountaintop Inn & Spa was bittersweet. I think I could have moved in permanently! But Dan and I were excited to take a scenic drive through the mountains with the top down in the Miata before the wineries opened on Sunday morning.
The scenic drive was absolutely perfect. It was cool, but not cold; cloudy, but not raining. The road twisted up and down the hills, but was practically deserted. And the views were magnificent! We stopped twice to get out, stretch, and enjoy the morning mountain air. (Dan's note: I was in heaven… and usually a gear or two below Sunday driving).
I might have eventually lost count of how many wineries we visited. I tried some truly delectable wines, and I could even afford three of them! Yes, we bought a bottle of each of the affordable ones, but they're still pricey enough to save for special occasions. I even tried a $50 Cabernet that was one of the most delicious, full-bodied, complex reds I've ever had… But I just cannot justify spending more than $15 on a bottle of wine when I love so many cheap wines.
Finally we headed back home, where we had one more anniversary surprise waiting…
A dozen gourmet cupcakes from my best friend Libbi! They have been so much fun to eat this week!
Dan and I truly had the best possible first wedding anniversary, all thanks to the wonderful service at Lucille's Mountaintop Inn & Spa and the majestic beauty of the Georgia mountains in spring.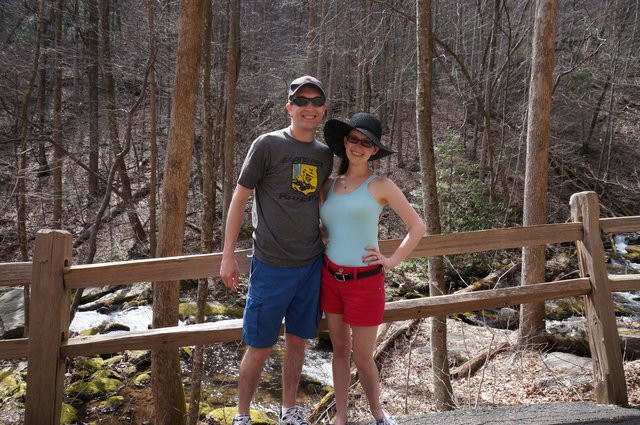 ---
Fellow southerners, what's your favorite part of Georgia? Fellow couples, how did you celebrate your latest anniversary? I'm always looking for ideas–leave me a comment!