The first time I ever visited Savannah, Georgia, I was 13. My girl scout troop spent a long weekend in Savannah, learning more about the history of scouting and our founder, Juliette Gordon Low.
I visited Savannah for a second time during my spring break freshman or sophomore year of high school. I had convinced my parents that a family trip to Savannah would be the perfect spring break vacation.
Only recently have I been able to take a romantic weekend getaway in Savannah. Dan's new job lets him work 9-hour days, with every other Friday off. Dan and I celebrated his first free Friday with a romantic weekend getaway in Savannah. It was Dan's first time visiting the historic city!
Dan and I arrived in Savannah early Friday afternoon. I insisted that we begin our weekend by walking along Savannah's River Street. We treated ourselves to sugary snacks at Savannah Candy Kitchen. I bought caramel popcorn. Dan bought ice cream.
https://instagram.com/p/8EKIicLo7-/
After exploring about half of River Street, Dan and I took the scenic route walking back to our car. Then we checked into our hotel. (We saved a ton of money by staying at the Holiday Inn Express NOT in the historic district). Dan figured out a fun place for us to have dinner, The Pirates' House.
Unfortunately my Crohn's decided to rear its ugly head. At dinner, I only managed to eat half of my bowl of she crab soup. It was truly delicious, though! With my stomach out of sorts, I didn't ask Dan to take pictures of our dinner. So you'll just have to trust me that our dinner at The Pirates' House was delicious!
While Dan and I were in Savannah for a romantic weekend getaway, I also recommend The Pirates' House for families. The menu is fine dining, but they also have a kids' menu, and the atmosphere is playful.
After dinner, Dan and I had some time to kill before our ghost tour. We decided to wander around the Colonial Park Cemetery to put ourselves in a ghostly mood. As residents of Gwinnett County, we enjoyed finding the grave of Button Gwinnett, signer of the Declaration of Independence.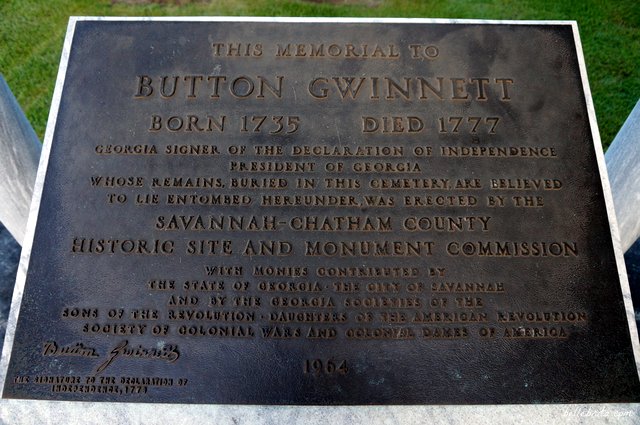 Then we met up for our ghost tour! I'd made reservations in advance for the City of the Dead Tour with Blue Orb Tours. This is their "family-friendly" option. I chose the City of the Dead Tour because it started at 8pm, earlier than most Savannah ghost tours. It also only lasted 90 minutes, whereas many of the tours were 2 hours.
Ghost tours are my favorite way to take historic tours of old cities. I love history way more than the average person. That said, regular guided tours tend to be a bit dry. Ghost tours cover the main points of a city's history, with spooky storytelling.
I definitely enjoyed the ghost tour, but my Crohn's meant that I spent the entire tour in pain. I definitely threw up on our way back to the hotel. #CrohnieLife #LifeWithCrohns Etc., etc.
Dan planned out Saturday morning. We started by visiting Fort Pulaski. The day was absolutely beautiful. Dan and I both enjoyed the cannon firings!
Then we went out to Tybee Island to climb the lighthouse. I am so not as young as I used to be. I did manage to reach the top of the lighthouse. It about killed me, though.
Our visit to Tybee Island coincided with their fall festival. Alas, it wasn't as good as we thought it would be. We grabbed a snack of nachos and made sand art. Then we headed back to historic Savannah to find a real lunch.
Savannah features an incredible shopping and dining area called City Market. It was so hard not buying anything! But new clothes and accessories are not a financial priority for me.
We bought massive slices of pizza at Vinnie Van Go-Go's. We also took advantage of Savannah's lax alcohol laws. Yes, you can drink in the streets! I treated myself to some amazing peach sangria to-go from another restaurant. Dan grabbed a beer from the pizza place.
After lunch we wandered around City Market looking at art and boutiques. Everything was so charming!
Back at the hotel, we took a quick nap, showered, and dressed up a little for dinner. I wanted one fancy meal during our romantic weekend getaway in Savannah. I wore my new Lilly dress. Unfortunately, with my healthy weight gain, it's a smidgen tight. I might see if a seamstress can let it out a little or add in a zipper. It fits fine on, but it was a challenge to wiggle into.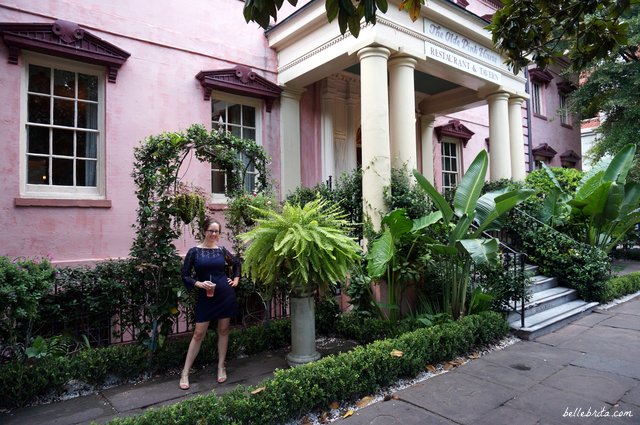 I chose The Olde Pink House for our one fancy meal. The menu looked good, but not so fancy that my picky husband wouldn't enjoy it.
I had inquired on Friday night about Saturday night reservations. Alas, I should have done so much earlier. The only reservation The Olde Pink House had for Saturday night was after 9pm. Luckily, they offer two first-come, first-served dining areas as well. The Friday night hosts encouraged Dan and me to come back Saturday night right at 5pm for our best chance at getting a table.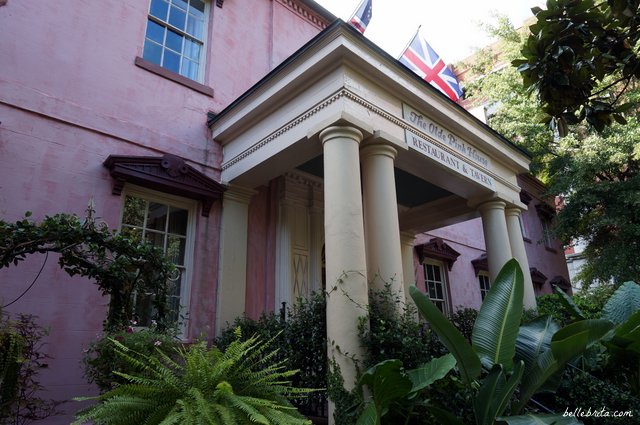 We did that, and it's one of my only regrets from the weekend. Since Dan and I ate pizza around 1pm, we just weren't that hungry at 5pm. We didn't have to wait at all, when we'd been under the impression that even showing up at 5pm would result in a wait for a table.
First strike against our romantic dinner.
Dan and I sat in an open-air dining room and bar. I was a little surprised that a nice restaurant would have a big TV showing football. I guess that's what happens when your bar area doubles as a dining room. I loved the idea of the open-air setting, but it was honestly so hot that night. They had fans going, but I was glistening, to say the least.
Strike two.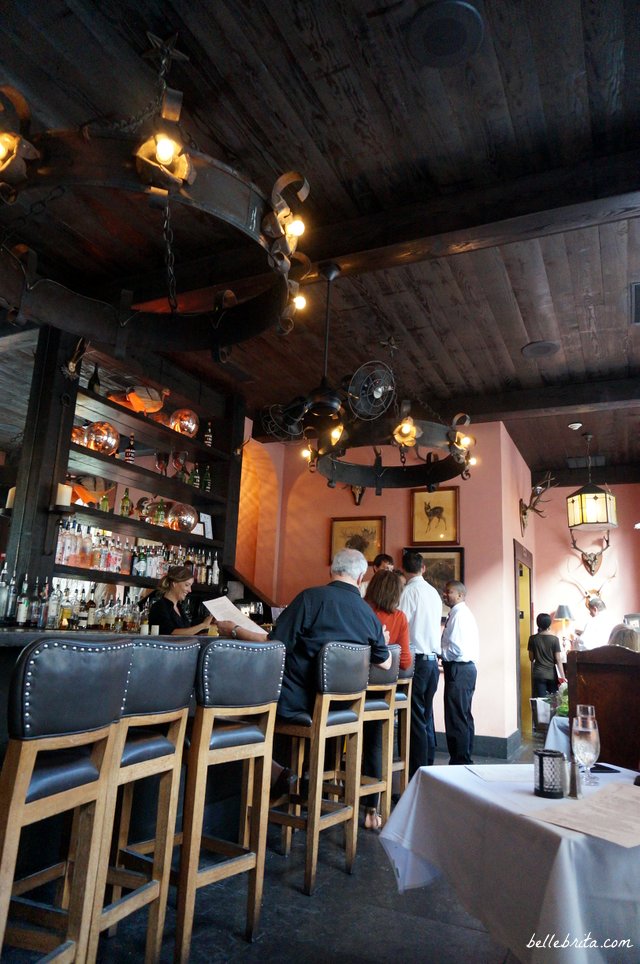 Dan and I ordered two appetizers to split, plus an additional appetizer just for me. I also chose our appetizers based on what would keep well in the hotel fridge to eat again for breakfast. The food was absolutely delicious. Our appetizers lived up to the hype of The Olde Pink House.
For me, I devoured my Goat Cheese Stuffed Artichoke Fritters with Red Pepper & Honey Mustard Sauces. Dan and I split the Pulled Pork Sliders with 'Cheerwine' Barbecue Sauce, Vegetable Slaw & Bread. I ate very little of mine, though. We both nibbled on the Cheese Plate with Savannah Bee Honeycomb, Seasonal Fruit, but mostly saved that for breakfast the next day.
Unfortunately, our server was less than stellar. I guess since Dan and I were just ordering appetizers, and no alcohol, she dismissed us as unworthy customers. Maybe she had too many tables in her section. I don't know. She barely checked on us the entire time. I had to request a refill for my Arnold Palmer.
And when I asked if I could have an Arnold Palmer to-go, at the same time that we asked for our check, she said that would be fine. She brought us our check and my to-go drink. We paid our bill… and she brought us another check. Apparently the Arnold Palmer didn't have free refills, so we had to pay another $2 or so.
Even if that's true, if your customers have already settled the bill (and still tipped your sorry service 20%), don't shove another bill at them.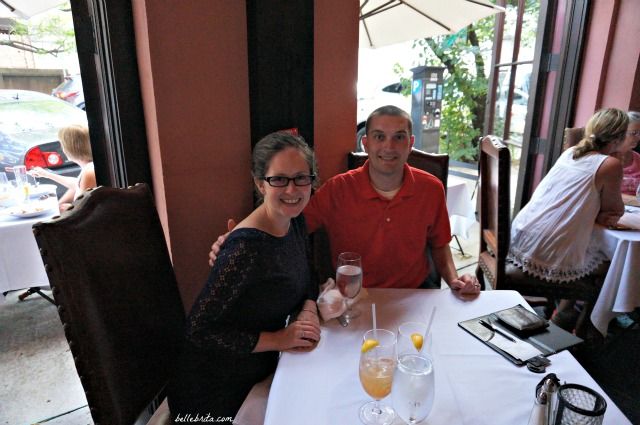 At least the service was good enough that our server boxed up our leftovers herself. I mean, that's a sign of a fine dining establishment.
Or so I thought until I looked at our leftovers in the hotel. She'd just dumped everything from the cheese platter in the box. The honeycomb, the three cheeses, the fruit, the chips, and the preserves were all mixed up together in our to-go container. Would it really have been so difficult to put the honeycomb and the preserves into small, plastic containers within the to-go box?
The poor service was strike three.
On our next romantic weekend getaway to Savannah, I'm not opposed to eating at The Olde Pink House again, simply because the food was really that good… But only if we can get an actual reservation. Maybe if we order a real meal, with a reservation, we'll be treated like wealthy customers. I just felt like our server completely dismissed us as a young, broke couple scraping together a few dollars for a nice meal. Even if that had been true, you should always treat your customers as potential repeat customers.
After dinner, Dan and I were so worn out from our long day that we just went back to the hotel and went to bed early.
Sunday was our last day in Savannah. We went to River Street one last time. This trip, we did a little shopping! I bought a small hand-lettered sign for my office. We found the cutest mosaic owl to hang in our living room. I loved the Christmas store, but I didn't see anything that I really wanted. Back at the candy shop, Dan bought an R2-D2 tin stuffed with salt water taffy.
Dan and I also treated ourselves to one last nice meal. I really wanted shrimp & grits, a southern specialty. Dan really wanted fish & chips. We found both at River House Seafood! Our food was delicious, and the service was superb. It was truly a great way to finish up our romantic weekend getaway in Savannah.
---
Have you ever taken a trip to Savannah? What was your favorite part? Where else in Georgia should Dan and I visit for our next romantic weekend getaway?