The problem with being a writer is that I only want to share the perfect words. But how can I describe something as heartbreaking as my mother's death? What words are worthy of the beautiful life my mother lived?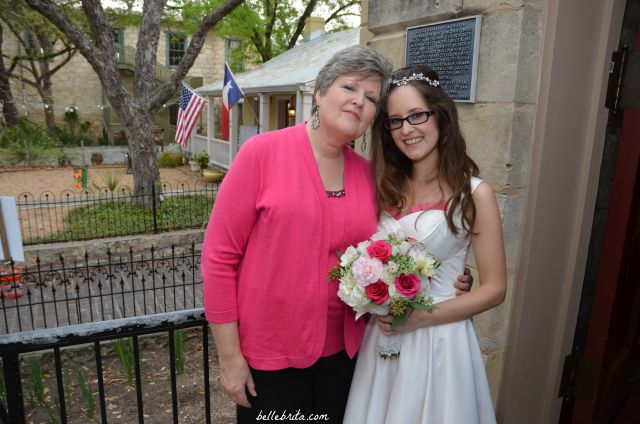 Sunday morning, after consulting with our weekend nurse from Hospice, Daddy made the difficult decision to move Mom to Hospice House. She had spent most of Saturday sleeping, and Sunday morning, Daddy was unable to get her to eat.
Our whole family spent Sunday afternoon with Mom: Daddy, Harry, Celia, Jeremy, Dan, Uncle Marshall, and me. Mom continued to sleep. Occasionally she spoke garbled speech in her sleep, but at one point, she clearly called out, "Brita! Brita! Brita!" several times. I went to her side, held her hand, kissed her head, and told her I was there. I told her we were all there, we all loved her, and we would all take care of her.
When I left a few hours later, kissing her forehead good-night, I didn't know that would be good-bye.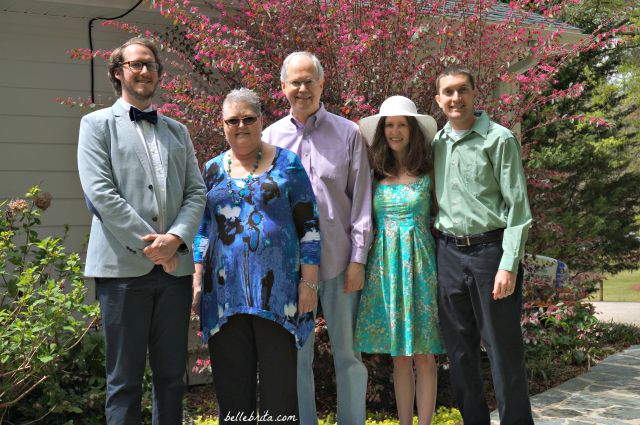 I couldn't fall asleep that night, which has been my new normal for the last six weeks.
Around 2:30am Monday morning, I heard the phone ring. I knew that was the moment, but it didn't really hit me until several minutes later, when Daddy knocked on my door and told me she was gone. The last time I cried that hard was six weeks ago, when Mom and Daddy told me her final diagnosis.
Dan had driven back to Duluth Sunday night, but he came back immediately Monday morning. When he lost his job last year, I honestly couldn't see how such a miscarriage of justice could be part of God's plan. But I'm so glad that we live in Georgia now, that we have both been able to spend so much time with my parents. I'm also glad that his new job is letting him work remotely this week. My husband is my rock. I need him right now.
Our whole family has felt very fortunate to have Mom home with us over the last six weeks. We've all enjoyed reading books to her, listening to her stories about her life, and sharing her thoughts on dying with Facebook and CaringBridge. I have also taken up the slow-going but cherished task of transcribing Mom's messy handwriting for her short book, The Gifts of Brain Cancer.
I also cannot say this enough, but all of us are grateful for the outpouring of love that we have received. Thank you for the flowers, the food, the phone calls, the visits, and–most importantly–the prayers.
Please continue to keep all of us in your prayers. I ask especially for prayers for the Haugens far and wide. Pray for the ones who are traveling, that they are able to make arrangements easily and travel safely. Pray for the ones who are unable to come out for the service to find comfort and closure from afar. I know how hard it was for me to miss Grandma's memorial service last year.
We have two refrigerators full of food right now, so please consult with me, Harry, Jeremy, or Daddy before sending us more food. All of us (but especially me, who's still underweight) have been grateful for the group effort of feeding us this summer! I'm up to 108 pounds, just 7 pounds away from my goal weight of 115.
Daddy and I have been finalizing Mom's obituary, although she wrote most of it several weeks ago. Apparently it is customary to include information regarding memorials, so I will mention that here as well.
Memorials can be made to the Greenwood ARP Church, where both of my parents have been heavily involved over the last 20 years (even if our family disagrees with the ban on women's ordination). Our church family has been incredibly loving and supportive not just in this difficult time, but in everything, ever since we moved to Greenwood.
We are also indebted to the wonderful people of HospiceCare of the Piedmont, who took such excellent care of my mom over the last six weeks. Memorials can be made to them as well.
Of my own volition, I also suggest donations to the American Brain Tumor Association. Brain cancer has struck twice in the Long family, affecting not just my mom but my twin brother as well.
Finally, I know some families make remarks along the lines of "in lieu of flowers," but I have found much peace and joy in the flower deliveries this summer. I did my best to keep the vases filled with fresh water, and I made new arrangements when some flowers lasted much longer than others. Mom and I both appreciated the bright colors and heavenly fragrances.
I've also done my best to maintain the orchids and houseplants we've received, under Mom's tutelage. If Daddy okays it, I plan on taking one of the orchids and some of the houseplants back to Duluth with me next week. Mom had a beautifully green thumb, and I asked her as many gardening questions as possible during our last few weeks together.
People keep saying, "If I can do anything, let me know." If you're a gardener with some free time, I might soon be calling upon you to help me weed Mom's gardens.
Mom's memorial service will be this Saturday, July 18th, at 2pm, at the Greenwood ARP Church. A visitation will follow the service in our church's social hall. I recommend carpooling if at all possible, since the list of out-of-town friends and family is already growing long. Luckily our church does have contingency plans in case of overflow, which my mom actually helped put together several years ago. Mom always displayed humility, even in her last few days, so I doubt she ever anticipated needing those contingency plans at her own memorial service.
Finally, to all who have reached out to me, I have read every single one of your emails, messages, posts, comments, and tweets. Please know that even if I am unable to respond, your kind words mean everything to me.
Other Posts from My Grief Journey
When Life Continues to Be Hard
Giving Myself Grace for My Incomplete Goals
Thankful Thursday: Dealing with My Mother's Death
13 Lessons My Mother Taught Me about Womanhood