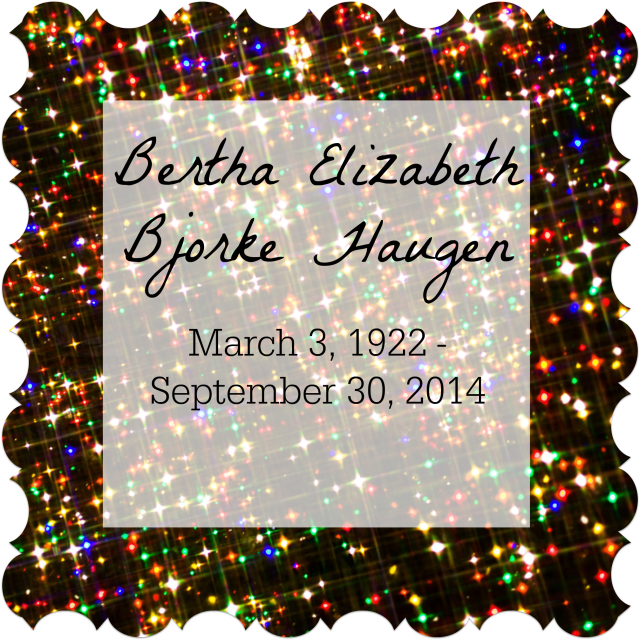 Written September 30th.
My mom said to cry and to write. I've done enough of the former, so it's time to try the latter.
In the 1890s, the Original Brita emigrated from Norway to live in America. She was my great-great-grandmother. In America, she anglicized her name to Bertha and also named her daughter Bertha, who was my great-grandfather's sister. My great-grandfather Martin then named my grandmother Bertha. The name skipped my mom's generation, and then my parents named me Brita Marie, after both of my grandmothers, Bertha Haugen and Mary Long.
If Dan and I are lucky enough to have a baby girl one day, we will name her Brita Jadzia Long-Fleck. (Okay, Dan has only agreed to three out of those four names. I'm still working on his approval of Jadzia from Star Trek: Deep Space Nine).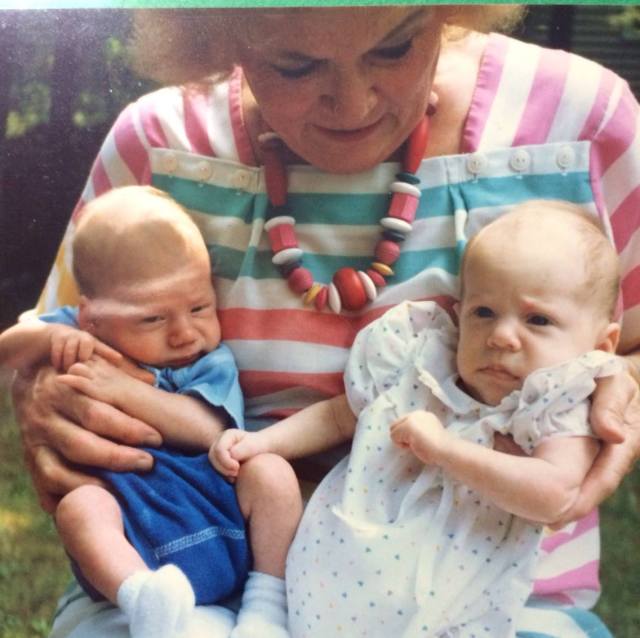 I'm Bertha's namesake, but I'm only a small part of the legacy she's left behind.
Grandma died this morning after being in hospice care since my birthday in June. Grandma B was my last surviving grandparent.
Logically, I've known her death was coming. Her health has been in rapid decline the last five years or so. She finally moved to an assisted living facility about a year ago.
But a small part of me always thought Grandma would live forever.
It sounds cliche, but Grandma was the strongest person I'd ever met. Her Christian faith never wavered, and if it did, she certainly never showed it. She demonstrated love and forgiveness in levels unparalleled by anyone else.
There isn't really a way to describe how awesome Grandma was without mentioning a few of the life changes she endured.
When my mom was 12, Grandpa divorced Grandma, who became the primary caretaker of my mom and my mom's older sister Beth and her younger sister Kari.
When my mom was 16, Beth died from Hodgkin's Lymphoma.
Grandma worked well past the age of retirement. Aside from her "day job," she played piano at fancy events all over Denver each December, including the Denver Broncos' Wives Christmas party. One year, John Elway was in attendance, and he approached Grandma for a picture.
Grandma might not have been playing the piano professionally in 2012, but she still clunked out a few tunes for our family when we visited for Christmas.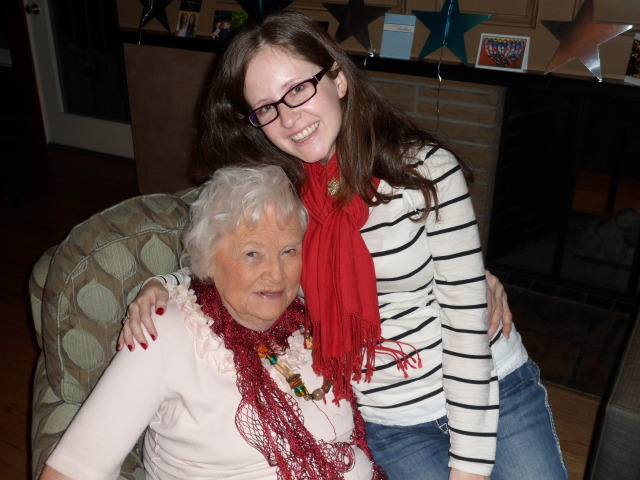 Grandma still wore sequins in her 80s and 90s. She even flew out to South Carolina for my debutante ball back in 2006. I've taken this family picture with me all over the world, ever since my parents first sent it to me in a care package when I was studying abroad in Versailles.
During my study abroad trip, my friends found my love of all things sparkly highly amusing. Then my parents visited me for my last week in Paris, and my mom commented excitedly about a sequined LBD in the window of Zara. I laughed, suddenly remembering why I love all things that glitter. Grandma, Mom, and I have all shared a fondness for sequins and rhinestones.
I had a pink glitter pen in middle school. I used to write letters to Grandma with it. I didn't really think about the fact that her eyesight might have a little trouble reading the sparkly ink. I just knew that if anyone would appreciate a handwritten letter in pink sparkles, it would be her.
I was 16 the only time Grandma disappointed me (not that I ever told her). Mom and I were in Denver for Mom's 30th high school reunion. Mom had made us a reservation at the historic Brown Hotel for high tea. We both dressed up as much as possible from our suitcases, and I expected Grandma to really glam up. Instead, she wore a plain turquoise sundress with a long strand of white beads. While she was certainly more vibrant than most grandmothers, her outfit was so boring compared to her usual fancy outfits.
Grandma was never old. She had a joie de vivre of someone in her 20s. When I was 7, my family drove from California to South Carolina. We stopped in Denver for a week. On that trip, we went to a famous, Olympic-sized swimming pool. The pool had a big slide. I was too scared to go down it, but Grandma went down the slide twice.
I wish I had more pictures from my debutante ball. My date (and best friend) Russell rightfully thought Kari and Grandma were amazing. He danced with both of them, and Grandma pretty much stole the show on the dance floor.
When Dan and I visited Grandma during Labor Day weekend, we showed her our wedding pictures. With her failing eyesight, I'm not sure how much she was able to decipher, but she told me I was beautiful. She had a handy magnifying glass for reading the newspaper, so Dan and I also showed Grandma my engagement ring and our wedding bands under the magnifying glass.
On that first visit, Grandma told me: "You know, out of all the times you've seen me, this is the first time I haven't been well."
Grandma had been using a walker and a wheelchair for years, and she had suffered from IBS for even longer. But only a few weeks before her death did she think of herself as not well.
I had to say good-bye to Grandma on Sunday, August 31st. My parents and Jeremy came with Dan and me on that visit. Dan took a few last pictures of Grandma, Mom, and me together.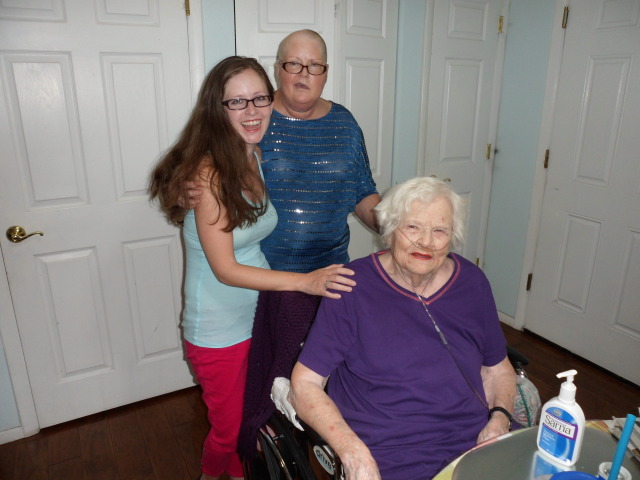 When we said good-bye, I walked outside and started bawling.
That was it.
That was good-bye.
Good-bye to my last surviving grandparent.
Grandpa died after being in a bad car accident when I was only 10. Nana, who I've always loved as my third grandmother, died unexpectedly when I was 16. They left behind three adult children (Kristen, Jon, and Annie), plus my mom and Kari, and eleven grandchildren, including Kari's kids, my brothers, and me.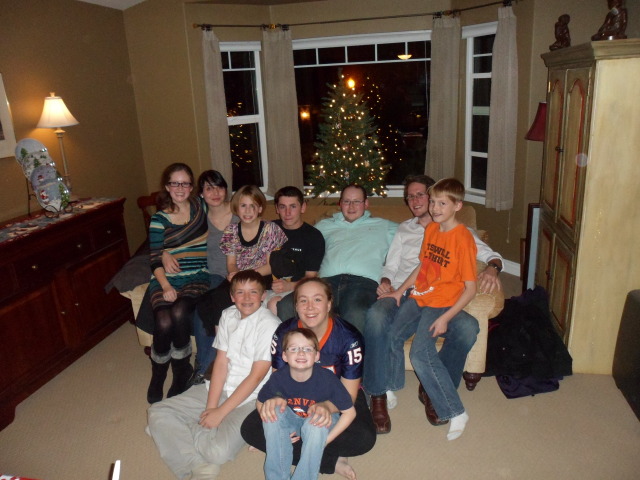 What did Grandma do? She swooped in and loved my six cousins as though they were her own biological grandchildren.
You can't teach that kind of graciousness, but you can model it, and hope your children and grandchildren learn it.
I think we have.
I hope I have.
I hope to always be worthy of being Bertha's namesake.