Is your Instagram feed flooded with badass women posting black and white photos of themselves and writing out Challenge Accepted?
My pinktastic, feminist soul initially loved this celebration of womanhood, especially the way my friends took part. My friends who decided to post are women who do volunteer work in their communities, who use their voices on a regular basis to champion women's rights, who already support fellow women.
Four of my friends nominated me, and I'm glad to know I inspire them all in some small way.
My favorite posts among friends have actually talked about the unique struggles of pregnancy, childbirth, and early motherhood, and the importance of female friendship during those short difficult years. Challenge Accepted inspired these women to open up about a vulnerable moment in their lives as women.
Challenge Accepted has been a positive experience in my immediate circle, among my true friends. The individual posts celebrating women have been from women who do this always, often without a great deal of fanfare.
But that's not true on a larger scale.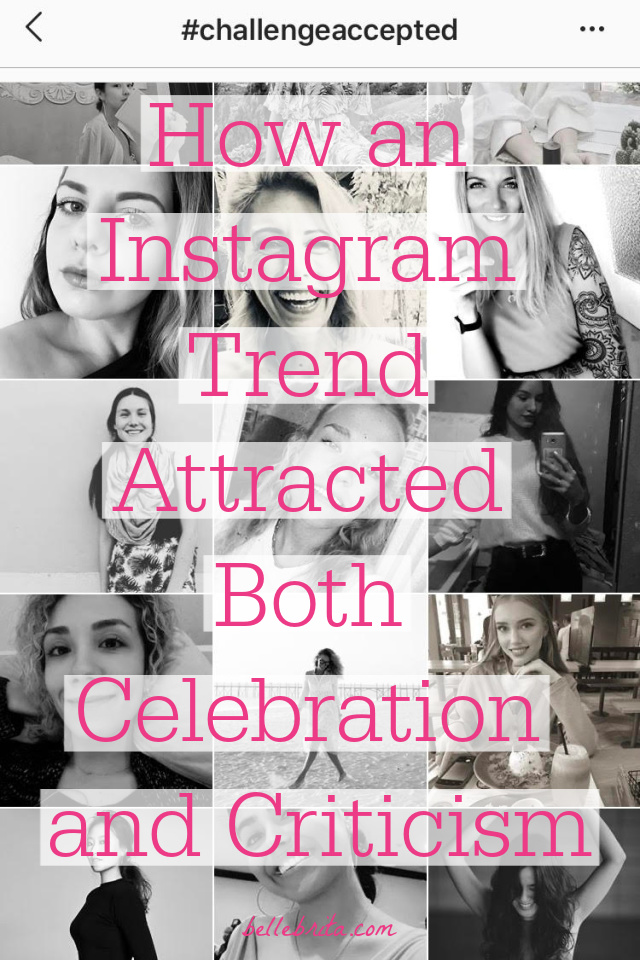 Over the past week, I've read many thinkpieces, and reported articles, and long Instagram captions, and Twitter rants about this current Challenge Accepted Instagram trend.
I posted some lengthy thoughts on Instagram in my own pinktastic twist after several friends nominated me for Challenge Accepted.
This blog post is an expanded version of those thoughts.
What is Challenge Accepted on Instagram?
Over the last week or so, women have been posting black and white photos of themselves with the words "Challenge Accepted" somewhere in the caption.
Some women have chosen to explain the importance of womanhood and sisterhood in their captions.
Many celebrities have participated too. Including celebrities *coughIvankaTrumpcough* who actively support powerful people who harm women.
The origins of the Challenge Accepted Instagram trend
Variations of this challenge date back to 2016, when somehow posting a black and white selfie raised awareness for cancer. (Yeah, I don't get it either).
According to Instagram, this latest iteration started on July 17th with the Brazilian journalist Ana Paula Padrão, although I do wonder if anyone tagged her to post, or if she just reignited this challenge on her own.
The hashtag itself is not limited to black and white photos of women. Challenge Accepted is a joke from the TV series How I Met Your Mother, which then became its own meme.
We live in a global community, and Instagram is a global platform. It's not impossible for the Challenge Accepted trend to reappear in two parts of the world at the same time.
Challenge Accepted in Turkey
Women in Turkey have also been posting black and white photos of themselves. However, their challenge is raising awareness about violence against women. An article in Vox summarizes this well (all links original):
In recent days, Turkish feminists and activists have claimed that the influx of black-and-white photos was intended to highlight Turkey's concerning femicide rate and the violence Turkish women face in their daily lives; the decolorized filter is a reference to how the media features black-and-white photos of women who have been found dead. In 2019, 474 women were murdered in Turkey by men, according to the women's rights group We Will End Femicide, and femicides have steadily increased in the past decade.

The death of 27-year-old Pınar Gültekin, a student who was murdered by her ex-boyfriend, triggered a fresh surge of activism in the country as women rallied for greater governmental protections and enforcement of the Istanbul Convention. The convention, which was ratified by Turkish officials in 2012, established a legal framework for European countries to prevent gender-based violence, protect victims, and prosecute perpetrators.
Many Instagram users have argued that the Turkish version of Challenge Accepted is the original trend.
However, in addition to reading the statement from Instagram, I also painstakingly went backwards through multiple celebrity posts to track the age of posts. I came across many dead ends (private accounts), but multiple posts from a week ago, plus this one from July 20th and this one from July 23rd.
Gültekin's body was found on July 21st. If her death sparked the Challenge Accepted activism in Turkey, then it can't be the same Instagram trend that an author posted about on July 20th. At this point, due to the global nature of Instagram, the trends have absolutely intersected.
What is wrong with the Challenge Accepted Instagram trend?
There are multiple criticisms of the Challenge Accepted Instagram trend, some more valid than others. I've broken down each of these.
Women already support each other
Some Instagram captions have either implied or explicitly said that women don't support each other. There's a lot wrong with this belief.
Generally speaking, women already support women. We already collaborate. We already show up for each other. I personally used this challenge to keep doing what I've been doing for years. In my post, I publicly promoted several women I follow on Instagram. I shared why I follow them, and I limited my promotion to women with less than 10,000 followers.
But I don't support all women uncritically. Women should call out problematic behavior by other women. We should acknowledge when other women use their privilege to oppress fellow humans. After all, 47% of white women voted for Trump. I'm not supporting that choice under the guise of feminism.
What about women who aren't nominated?
Challenge Accepted is a bit of a popularity contest. I have noticed a few large Instagram accounts share in their Stories all the people who nominated them. Of course a woman with tens of thousands of followers will have dozens of nominations. How does that empower women?
I didn't see this happen firsthand, but I saw a criticism of B-list celebrities using this challenge to suck up to A-list celebrities. (That video criticism was in a Twitter thread, started by someone I don't even follow, so there's no way I can find that video again).
Four of my friends have now nominated me to participate. I do believe their nominations are genuine. One woman is my best friend. The other three are all fellow content creators, and I've collaborated with every single one of them. All of them have supported me with my grief, my depression, my Crohn's Disease.
But if my anxiety were a lot worse, I would ask myself about all my friends who didn't nominate me. Do I not inspire them?
It makes me wonder how women feel if no one nominates them. How are they empowered by a popularity contest that ignores them?
How do secret nominations empower women?
The weirdest part of Challenge Accepted is the way nominations work. You privately contact the women you admire, but you publicly thank the women who nominated you.
This weirdness is why I'm a little cynical about small influencers nominating big influencers. If the big influencers participate, then they shoutout the small influencers who nominated them.
Secret nominations just give a small confidence boost. They don't empower women.
A better challenge would publicly acknowledge the women you admire. That's what I did.
Even though I greatly admire hundreds of women on Instagram, there's little benefit to me acknowledging the women who already have 100,000 or more followers. I can leave honest and positive comments on their posts when I want to appreciate them. But for my own Challenge Accepted post, I limited my public promotion to women with less than 10,000 followers.
How do hot selfies empower women?
What is the point of this #ChallengeAccepted thing? Do people not know you can just post a hot selfie for no reason?

— Camilla Blackett (@camillard) July 27, 2020
What does a self-congratulatory pat on the back do to empower women? To be clear, this criticism is NOT at all true of every post for two reasons.
One, I've seen so many beautiful and thoughtful captions. Also, it's good to be proud of who you are and what you've done. In fact, I think more women should be honest about their accomplishments. It's not bragging to tell the truth!
Two, I've seen so many real and vulnerable black and white photos. Not all posts are hot selfies. Up above I shared my friend Leah's post, taken shortly after she recently gave birth to her second child. (Which she did without her husband, who was self-isolating after a positive COVID-19 test). Some women have posted photos of their scars, of their stretch marks, of their real and unedited bodies. This does empower women to love their bodies.
These exceptions aside, plenty of Challenge Accepted posts are just hot selfies with vapid captions. This does nothing to empower women worldwide.
Even if you did a meaningful post, what else can we do as women to work for gender equality worldwide? Female empowerment is important, but it's also the concern of relatively privileged women. Awareness of global issues affecting women can start on social media, but activism needs to be more.
If you're not sure where to start, you're in luck! I've written a great deal about feminism, and I've put together multiple blog posts with action steps and resources.
The Challenge Accepted activism in Turkey
As mentioned above, there has also been some conflation with a simultaneous challenge happening in Turkey. Violence against women is a global problem. The issue in Turkey is particularly complex right now.
White people have a history of jumping into social media "activism" without doing their research first. (See: black squares with #BlackLivesMatter). Understandably, activists in Turkey feel frustrated by Challenge Accepted posts that don't talk about violence against women.
As mentioned above, they are actually separate, simultaneous Instagram trends. That said, the coincidence is surprising. It's easy to assume that women outside of Turkey have taken a feminist challenge and watered it down. Even though it's not true, many people believe this.
Challenge Accepted might be two separate trends, but one is performative activism. The other brings necessary awareness to violence against women. You can understand them as simultaneous social media trends and still criticize one in comparison to the other.
Final thoughts on Challenge Accepted
Performative activism frustrates me.
BUT
I don't think self-empowering selfies are performative activism.
Women should be proud of themselves.
Women should feel grateful for female friendship.
My friends and I already support one another. Most women I know already support other women.
I don't see the harm in spreading a positive message about women.
Can women do more for gender equality? Yes, absolutely.
But in a world that tells women to shrink ourselves to become more palatable for men, it's okay to proclaim our awesomeness on Instagram.
What do you think of Challenge Accepted? Did you post a black and white photo? Did you do your own twist on the trend like I did? Share your thoughts in the comments!