This feminist book list is as much for me as it is for you. I have read many of these feminist books, but not all of them. Disclaimer: this post contains Amazon affiliate links.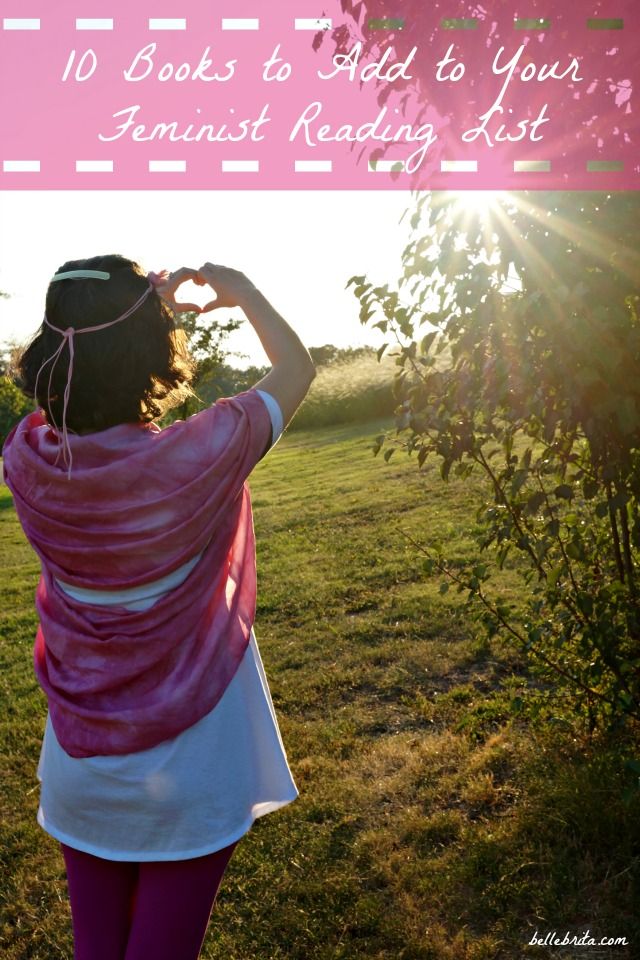 What to Read as a New Feminist
I haven't actually read these books. I'm largely a self-taught feminist who had to figure things out first on my own, and eventually through my WGS classes. These books are on my own feminist reading list!
We Should All Be Feminists by Chimamanda Ngozi Adichie. From Amazon:
Argued in the same observant, witty and clever prose that has made Adichie a bestselling novelist, here is one remarkable author's exploration of what it means to be a woman today—and an of-the-moment rallying cry for why we should all be feminists.
My thoughts: I can't believe I still haven't read this essay. It's not even a full book!
Feminism Is for Everybody by bell hooks. From Amazon:
In this short, accessible primer, bell hooks explores the nature of feminism and its positive promise to eliminate sexism, sexist exploitation, and oppression.
My thoughts: Each time I see a someone ask what to read first as a feminist, someone else suggests this book. I need to read this. I'm embarrassed that I haven't yet.
A Room of One's Own by Virginia Woolf. From Amazon:
Her message is a simple one: women must have a fixed income and a room of their own in order to have the freedom to create.
My thoughts: My mom actually gave me a version of this book. "A Room of One's Own" is a long essay, not a full-length book itself. My book includes essay responses from other writers. I still haven't read it, though.
Bad Feminist by Roxane Gay. From Amazon:
Bad Feminist is a sharp, funny, and spot-on look at the ways in which the culture we consume becomes who we are, and an inspiring call-to-arms of all the ways we still need to do better.
My thoughts: I've heard amazing things about this collection of essays.
Books for the Teenage Feminist
Really, a teenage feminist can enjoy any of the books from this list. However, I read these novels as a tween/teenager myself, and they helped me in my own feminist journey.
Speak by Laurie Halse Anderson. From Amazon:
In Laurie Halse Anderson's powerful novel, an utterly believable heroine with a bitterly ironic voice delivers a blow to the hypocritical world of high school. She speaks for many a disenfranchised teenager while demonstrating the importance of speaking up for oneself.
My thoughts: I read this book when it was first published. I was only in middle school, and Speak introduced me to sexual assault. While my mom had talked to my twin brother and me about consent during The Talk, she didn't tell us about sexual assault. I honestly don't know the best way to bring that up with kids, but having them read age-appropriate literature like Speak is certainly one way.
The Handmaid's Tale by Margaret Atwood. From Amazon:
The Handmaid's Tale is funny, unexpected, horrifying, and altogether convincing. It is at once scathing satire, dire warning, and tour de force.
My thoughts: I really need to reread this as an adult. I read it in high school when I found it on display during Banned Book Week. All I remember is that I liked this book very much, and that it helped shape my thoughts on pregnancy and motherhood. I honestly remember little else, hence the need to reread!
A Great and Terrible Beauty by Libba Bray. From Amazon:
A Victorian boarding school story, a Gothic mansion mystery, a gossipy romp about a clique of girlfriends, and a dark other-worldly fantasy–jumble them all together and you have this complicated and unusual first novel.
My thoughts: As a fan of fantasy fiction, historical fiction, and feminist fiction, I can't help but love The Gemma Doyle Trilogy. I recommend the whole trilogy, but I only read the first book as an actual teenager myself.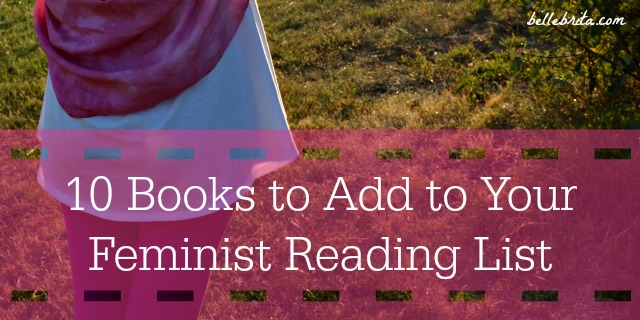 Christian Feminist Reading List
Not only have I read all of these, I even own all of them.
A Year of Biblical Womanhood by Rachel Held Evans. From Amazon:
What does God truly expect of women, and is there really a prescription for biblical womanhood? Come along with Evans as she looks for answers in the rich heritage of biblical heroines, models of grace, and all-around women of valor.
My thoughts: At times, I laughed so hard that Dan demanded to know what was so funny. At other times, I cried for the duration of an entire chapter. The Bible is a beautiful, complex piece of literature. For Christians, the Bible guides us in every aspect of life. But learning to interpret the Bible for modern living, and figuring out how to reconcile the violence with the love, can also be a life-long challenge for Christians. Evans approaches this challenge both literally and thoughtfully in her book.
Jesus Feminist by Sarah Bessey. From Amazon:
Through a thoughtful review of biblical teaching and church practices, Bessey shares how following Jesus made a feminist out of her.
My thoughts: One of my first blog posts was a full book review of Jesus Feminist. I opened that review by writing, "Reading Jesus Feminist by Sarah Bessey was like a soothing salve for my soul. I have never read any religious or feminist book quite like it. Jesus Feminist honestly changed my entire perspective on what it means for me to be both a Christian and a feminist."
Damaged Goods by Dianna E. Anderson. From Amazon:
Provocative and engaging, she will revolutionize the way you think about sex, abstinence, politics, and faith.
My thoughts: I've also reviewed Damaged Goods! As I wrote then, "As a young woman with a somewhat unique sexual journey myself, not once in Anderson's writing did I feel judged or maligned for the romantic and sexual choices I've made over the years. This is actually why Christian feminism in particular is so important to me."
What are your feminist recommendations?
Honestly, I could have added so many more books to this list! But 10 is a nice, easy number, so let's start with these.
What's on your feminist reading list? Have you read any of these books? What else should I read? Share your thoughts in the comments!