Note: I received two pairs of Pact in exchange for my review. This post also contains affiliate links, meaning if you click on one and make a purchase, I might earn a small commission at no cost to you. However, my Pact organic cotton leggings review is based entirely on my own opinion.
I've been a fan of the brand Pact ever since I first did an Instagram collaboration with them several years ago. Since then, I have made multiple Pact purchases. Their underwear is my all-time favorite, and I literally have not bought underwear from any other brand or company since trying out Pact's underwear. When Pact offered to send me their organic cotton leggings to review, I jumped at the opportunity!
Pact send me two pairs of organic cotton leggings to review:
Pocket Legging in Rosewood
Go-To Legging in Black
If you are a NEW Pact customer, you can take 20% off your first order with code bellebrita20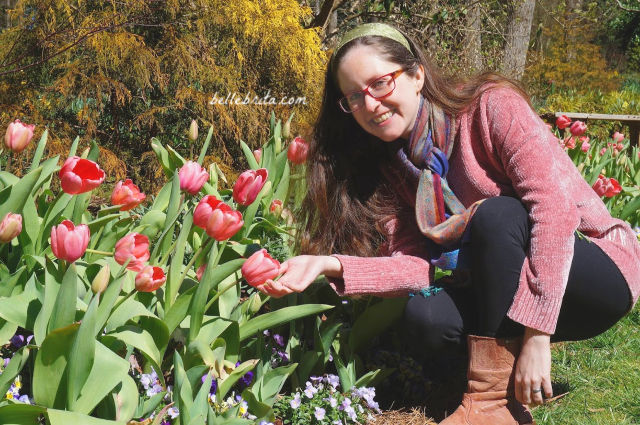 Pact Pocket Legging Review
Color: I obviously love this pink color. It is so pretty, and it matches a lot of my existing wardrobe. You can also order the Pact Pocket Legging in four other colors.
Fit: I'm 5'2 and about 115 lbs. I ordered the Pact Pocket Legging in a size Small. These leggings are still a little long on me, but I don't mind having fabric bunch around my ankles. If that bothers you, you could always have your leggings hemmed. These leggings are also quite tight. Not uncomfortably so, but if you prefer a looser fit in leggings, size up.
Edit October 2020: I've put on some weight in quarantine. I'm about 128 lbs right now. These leggings still fit comfortably!
Edit June 2021: I'm about 132 lbs right now, and my leggings are officially too tight.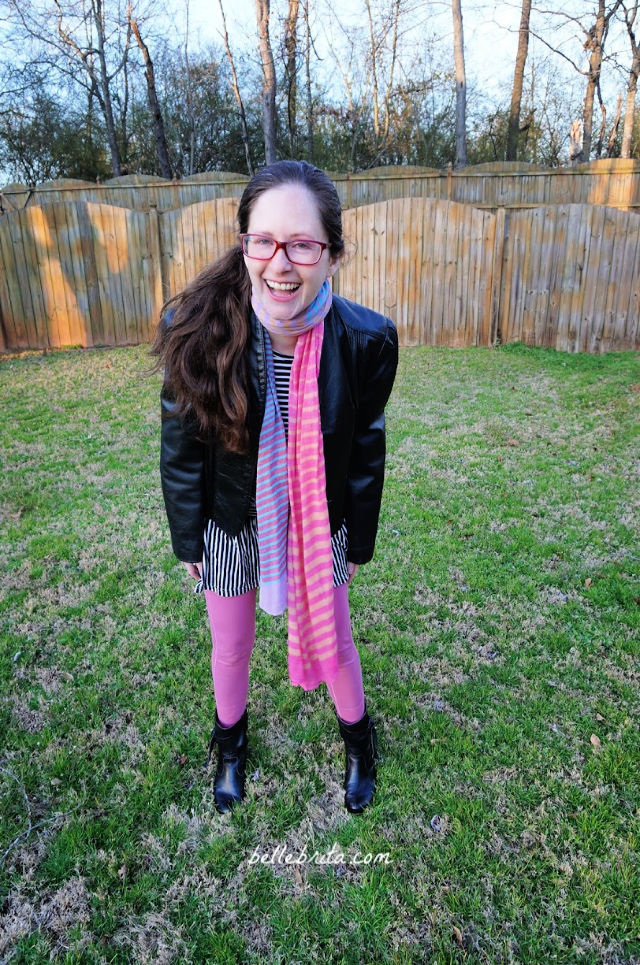 Quality: These are thick, soft leggings. I wore them three days in a row, and they didn't start to sag or stretch out. Even with the pale pink color, these leggings are not at all sheer. (Granted, I was wearing Pact bikini underwear in the color Almond).
Price: At $40, the Pact Pocket Legging is reasonable, but not cheap. For the quality, this is a great price.
Are leggings pants: FOR ME PERSONALLY, I do not like to have visible pantylines. Unfortunately, even with the thick material, these leggings still showed a pantyline on my behind. However, everything in the front was fine.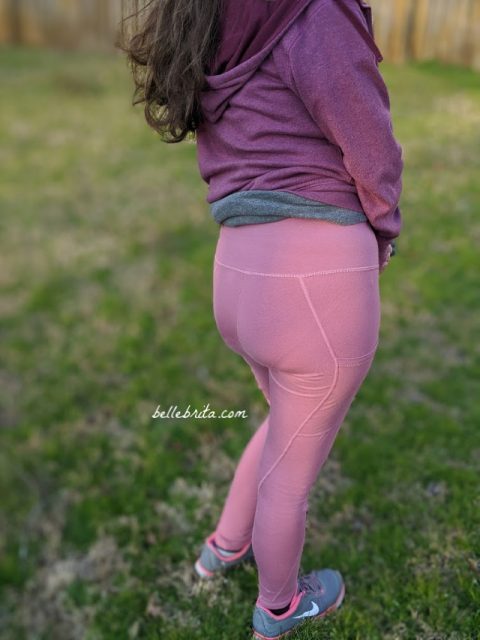 Pact Go-To Legging Review
Color: I chose the Go-To Legging in Black. It's a true black, and the color is still good after one wash. It's currently available in eight colors total, including a pretty pink.
Fit: Again, I'm 5'2 and about 115 lbs. I also ordered the Pact Go-To Legging in a size Small. Again, these leggings are still a little long on me, and they are quite tight. However, again, these leggings are very comfortable!
Edit October 2020: I've put on some weight in quarantine. I'm about 128 lbs right now. These leggings still fit comfortably!
Edit June 2021: I'm about 132 lbs right now, and my leggings are officially too tight.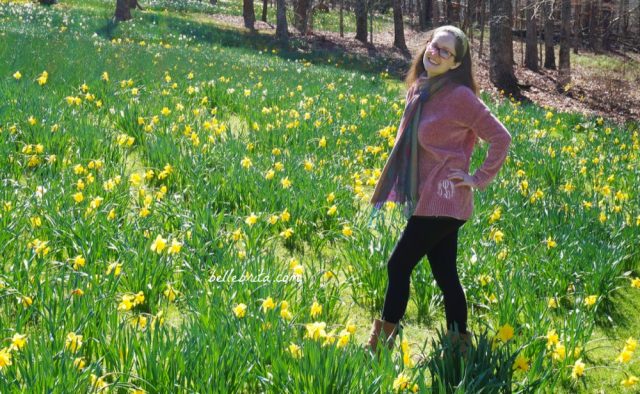 Quality: These are also thick, soft leggings. I haven't worn them as much as my pink leggings because I did my pink load of laundry a few days before my dark load of laundry. These leggings are not at all sheer.
Price: At $20, the Pact Go-To Legging is a steal. You can't find leggings of this quality at a better price. Trust me, I've looked!
Are leggings pants: I don't know if it's a difference in design, color, or both, but I can wear these leggings without showing a visible pantyline! Things are a little bit tighter in the frontal region than I would like, but that still gives me the option of wearing these leggings with a long top that covers my front, even if it doesn't cover my entire backside.
Get FREE shipping on orders of $50+ at Wearpact.com!
Why I Love Pact
For the last few years, I've been trying to follow a more sustainable lifestyle. I've slowly replaced most traditional household cleaning products with eco-friendly alternatives. Dan and I have sourced much of our furniture secondhand. I'm still not great about buying less in general, but that's one reason I'm following a low-spend challenge this year!
Pact has been my go-to sustainable brand for replacing basics in my wardrobe–primarily socks and underwear. I also bought a few dresses last year which weren't a Large Need, but they were a small need for professional events.
Pact uses certified organic cotton in their clothing. Why does this matter? According to Pact's website:
Organic cotton uses up to 95% less water than conventional cotton during the wash phase and doesn't contain the harsh chemicals, bleaches or dyes that conventional cotton uses. Additionally, conventional cotton often requires the use of chemical-laden pesticides that increases the debt burden on the farmer and leaches into the land and water.
Pact adheres to Fair Trade standards, and whenever products can be Fair Trade certified, they are. What does this mean?
When you purchase Fair Trade, you're supporting better conditions for cotton farmers. For each product sold, they earn a premium to invest in social development projects and to fight poverty in their communities.

If our product can bear the Fair Trade logo, then it will! Fair Trade Certification isn't applicable in certain countries that already have union and wage protection in place for workers. No matter where your PACT item is made, you can rest assured knowing that all our clothing is manufactured in safe facilities and is always sweatshop-free and child-labor-free.
I like knowing that when I buy Pact clothing, I'm getting cute clothes made with sustainable materials by people paid a living wage.
How Pact Could Do Better
My one criticism of Pact is the use of plastic in shipping. Every individual item of clothing–even underwear!–is wrapped in its own plastic bag. This is unnecessary and bad for the environment. For quality assurance, I understand the usage of some plastic, but everything in an order could be wrapped within a single plastic bag.
Update: A Pact representative told me these plastic bags are compostable, BUT they compost best in a landfill or industrial compost.
Are Pact Organic Cotton Leggings Right for You?
Part of living a more sustainable lifestyle isn't just about buying new things that are made from sustainable materials. Sustainable living also requires a shift in your mindset. What are your needs vs. your wants? What can be mended instead of replaced?
If Pact organic cotton leggings fill a hole in your wardrobe, then I encourage you to try them out! However, if you've purchased leggings recently, or if your old leggings are still going strong, maybe wait awhile before buying new leggings from Pact.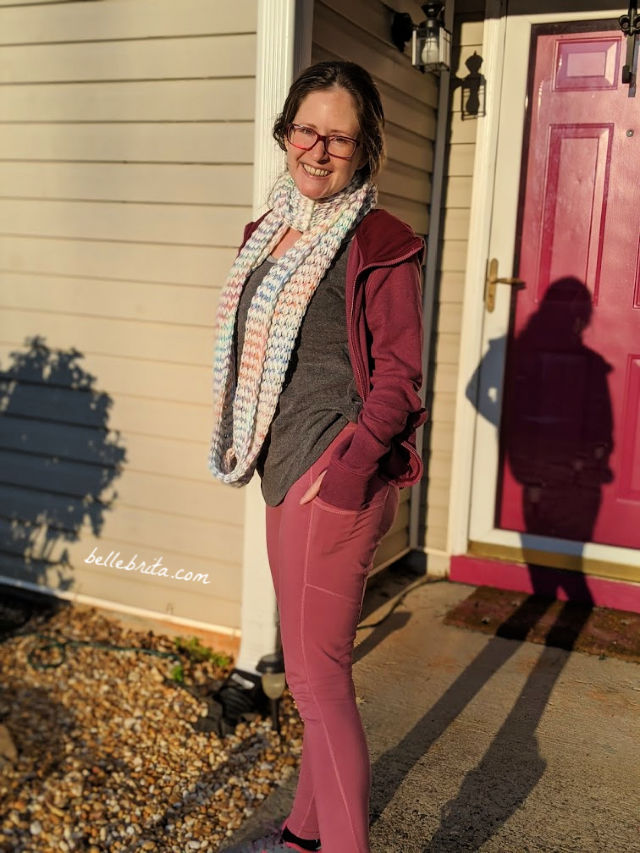 I hope my honest review of Pact organic cotton leggings helps you decide if these are the right leggings for you. I absolutely love my own, and I'm grateful for the opportunity to try them out. I've been looking for good black leggings for awhile, so these are a much-wanted (if not needed) addition to my wardrobe.
The pink leggings are my first pair with pockets, and I'm excited to wear them out with my husband when I just need to carry a few things and not my whole purse. Previously during casual outings in leggings, I always had to carry my purse because I lacked pockets for my phone, ID, and credit card. These pink pocket leggings will fix that problem.
First time ordering organic cotton clothing from Pact? Use code bellebrita20 to take 20% off your order!