Are you interested in pursuing a more sustainable lifestyle? It's never too late to start! As the proverb goes, "The best time to plant a tree is twenty years ago. The second best time is now."
That makes today the perfect time to make a few sustainable changes in your life. These simple sustainable changes take just a little effort, but they can have a big impact on the world around you.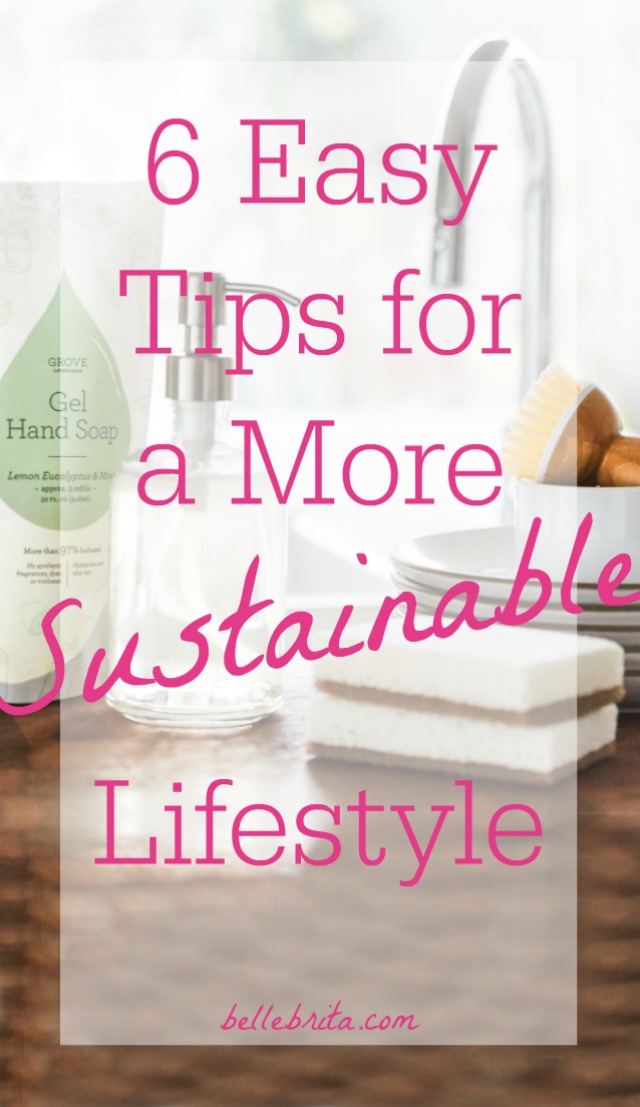 Note: This is a post written in collaboration with Grove Collaborative. This post also contains affiliate links. If you make a purchase, I might earn a small commission at no cost to you. I've been a paying customer of Grove Collaborative for about three years now. I only recommend products that I genuinely support. 
6 Sustainable Changes for a Brighter Future
If you're looking to greenify your lifestyle, start with one of these six sustainable changes.
Reusable shopping bags
Reusable grocery bags first gained popularity over a decade ago. There's really no excuse to keep using plastic bags at the local supermarket. Every major grocery store I've visited even sells their own reusable bags. Buy a few of these. Or order some super-cute ones on Amazon! Keep most of them at home to take with you on scheduled shopping trips, but keep one or two in your car for any unexpected stops at the grocery store. This is one of the easiest sustainable changes you can make in your life.
The grocery store isn't the only place to take reusable shopping bags. You can also use them when shopping for clothes! I have a few canvas bags that I take with me to the mall.
Not sure which kind of reusable shopping bags to buy? This article on going green in the kitchen includes a great breakdown of the different types of reusable shopping bags available.
Reusable snack and sandwich bags
Over the past two years, I have slowly added more reusable plastic baggies to my supply of kitchen goods. My husband and I still use the disposable plastic bags, but we primarily use them to freeze raw meat. Even though we eventually throw away these baggies, we use them for longer, and we use them when it would be difficult to sanitize the bags afterward.
Our reusable plastic baggies are perfect for packing snacks on a picnic, storing leftover bacon or sausage from Saturday's breakfast, and keeping open cheese fresh.
Natural cleaning products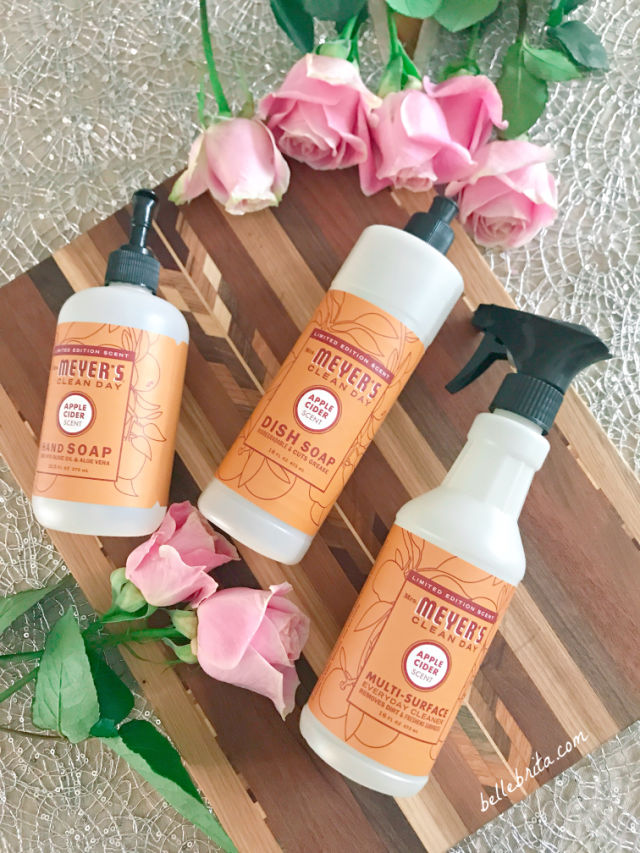 Okay, so I get that "natural" means different things to different people, and it's not a word that's regulated by the FDA. But hopefully you understand my overall intent here!
First of all, chemicals aren't necessarily bad just because they're created in a laboratory or have long names. But some cleaning chemicals can be harmful to your body, which is particularly concerning if you have small children crawling around the house!
A simple sustainable change is to upgrade your cleaning products as you run out. You're probably okay using up what you already have, unless you're particularly concerned with a product or ingredient. Once you use up a traditional cleaning product, replace it with a more eco-friendly alternative.
I order my natural cleaning products from Grove Collaborative. They have their own line of products, but you can also order Seventh Generation, Method, and Mrs. Meyer's, among other brands.
A few of my favorite products are:
Mrs. Meyer's – Hand Soap
Mrs. Meyer's – Dish Soap
Want to try out Grove Collaborative for yourself? With your first purchase of $20 or more, you earn a FREE gift! New customers can choose from multiple gifts. I've written a full guide to Grove Collaborative free gifts if you're looking for more information. Right now, one of the current promotions is a free Grove Sustainable Starter Set!
Existing customers will get a free set of walnut scrubber sponges. Instead of synthetic materials, they're actually made from crushed walnuts and all-natural vegetable cellulose! I've been using these sponges for years and love how easily they clean up sticky counters.
Sign up with Grove Collaborative today!
Not sure if Grove Collaborative is right for you? Read my comprehensive review of how Grove works, the products I buy the most often, and the few negatives about the company.
LED light bulbs
Whenever my husband and I move into a new home, one of our first sustainable changes is all the light bulbs. Dan goes through the house and swaps out most of the existing light bulbs for LED light bulbs. When we rented, he then carefully stored away the original light bulbs and then re-replaced them once we moved out.
LED light bulbs use a fraction of the energy of incandescent light bulbs. They also last considerably longer. The upfront cost is more, but you save money over time through reduced energy costs and reduced replacement costs.
Loose-leaf tea
I drink hot tea, not coffee, every morning. I have quite the wide selection of teas, but some are more sustainable than others. I'm no longer replacing my individually-wrapped tea bags. They produce too much unnecessary waste.
Slowly I've been buying more loose-leaf teas, which leave behind almost no waste. I also still buy tea from Celestial Seasonings, who package their teas in natural fiber, pillow-style tea bags that don't need a string, tag, staple or individual wrapper.
If you're a tea-drinker, start buying tea with less packaging. It's another simple sustainable change!
Refillable hand soap dispensers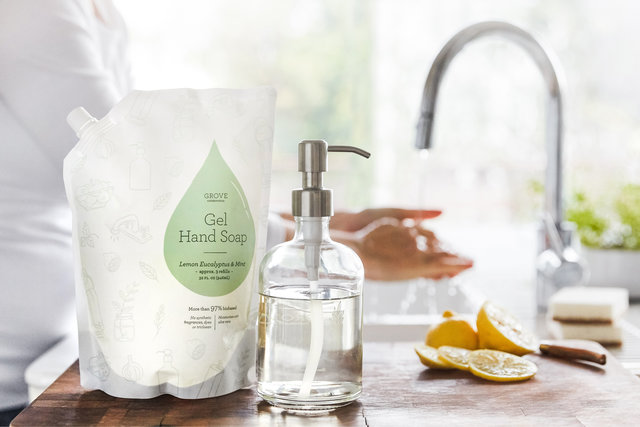 Raise your hand if you wash your hands religiously all winter long!
*raises a recently cleaned hand*
Trying not to get sick is practically a full-time job, one that I manage by washing my hands frequently. I go through a lot of hand soap–but I don't go through a lot of hand soap bottles.
I grew up in a family that used hand soap refills, so once I began living on my own, I wanted to do the same. Yes, I occasionally enjoy ordering the latest seasonal scent from Mrs. Meyer's, but most of the time, I order soap hand refills. Grove offers an amazing selection of hand soap refills, plus beautiful glass hand soap dispensers.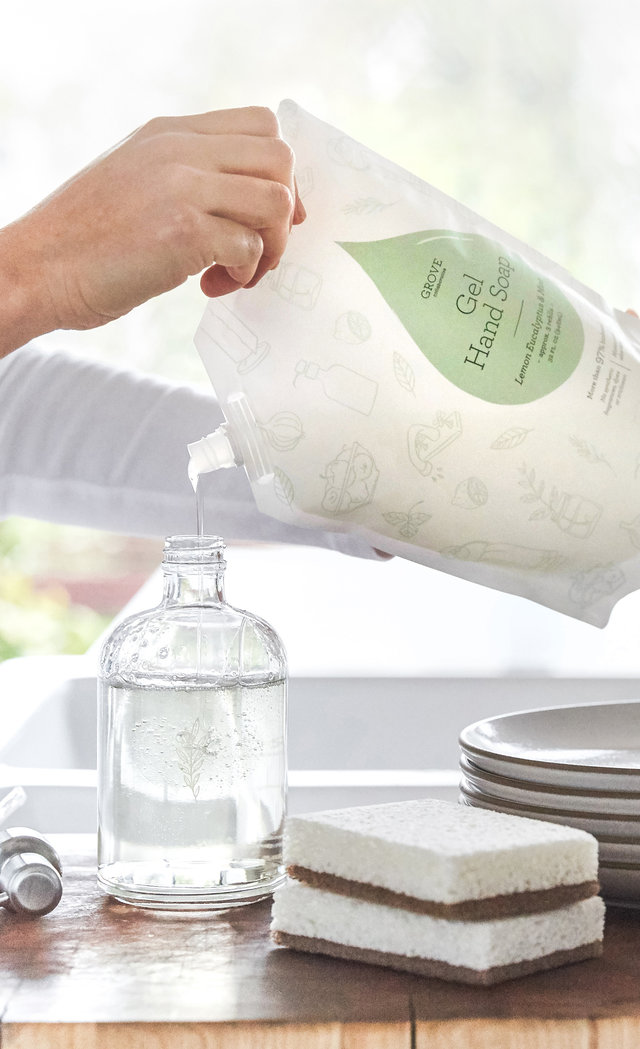 Hand soap refills are an easy way to save money AND reduce plastic waste. Instead of a single-use dispenser that you toss after a few weeks, you can refill this glass dispenser year after year. Grove's hand soap pouches use 60% less plastic than a bottle of the same size and contain approximately 3 refills. That's a total win for your wallet AND the environment!
I love Grove's hand soap pouches and hand soap dispensers so much that I even ordered their limited-edition Pomegranate Guest Bathroom Set. It looks perfect in my guest bathroom!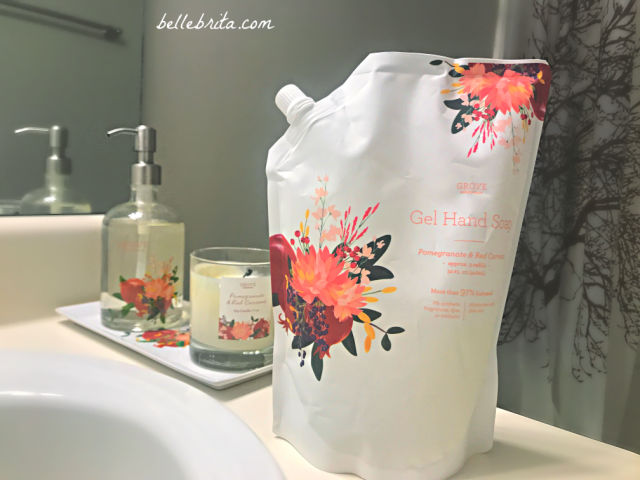 Looking for even more ways to lead a sustainable lifestyle? This article suggests additional sustainable swaps to make!
Is sustainability important to you? If so, I'd love to hear your advice! What are some easy sustainable changes that you've made in your life? Leave a comment!