Damaged nails are the worst. Dry and peeling, rough and ugly, damaged nails can happen for multiple reasons. On two separate occasions last year, I damaged my nails by getting two gel manicures in a row. The removal process is rough on nails, and weeks later, my poor nails still looked awful. Luckily, damaged nails don't have to last forever! Learn how to heal damaged nails with just a little TLC.
Note: This post contains affiliate links, meaning if you click on one and make a purchase, I might earn a commission at no cost to you. These links to not affect my reviews and recommendations. I also received products from Barielle in exchange for my review. All opinions are my own. 
4 Ways to Heal Damaged Nails
You have multiple options to heal damaged nails, especially if the damage is just due to acrylic nails or gel manicures. However, if you injured your toes or your fingers, and thus damaged your nails as well, you might need to see a medical professional.
When to See a Doctor for Damaged Nails
Most of the time, you do not need to see a doctor for damaged nails. It's normal to experience certain irregularities in your nails, like little white marks or even dark discoloration after an injury. These usually go away on their own. You also might have yellow discoloration after wearing dark nail polish, even if you used a base coat. Again, this is normal.
However, for the following changes to your nails, you might need to see a dermatologist.
Dark streaks without having had an injury.
The nail lifting up so it's no longer completely attached to your finger.
Redness and swelling around a nail.
Greenish-black discoloration.
Pits or tiny dents in your nails.
Thick, yellow nails.
Thick, overgrown nails.
Thin nails that dip in the middle like a spoon.
Learn more from the American Academy of Dermatology Association.
Use a Nail-Strengthening Cream
One of the best ways to heal damaged nails is by applying a nail-strengthening cream, like Barielle's Nail Strengthener Cream. This is what I used to heal my damaged nails after getting two gel manicures in a row. My nails were thin and peeling, but after applying Barielle's Nail Strengthener Cream for about six weeks, my nails returned to normal.
While that might seem like a long time, part of the issue was user error: I didn't use my nail-strengthening cream daily. Barielle recommends applying it multiple times per day, with results noticeable in 3-4 weeks. Also, keep in mind that nails grow slowly. You can't heal damaged nails overnight.
Barielle's origin story is pretty incredible. Their product was initially designed to condition the hooves of thoroughbred racehorses. The cream, which strengthened and conditioned horses' hooves to resist splits and cracks, had the same effect on the nails of the jockeys who applied it! The cream was reformulated for human nails, and today you can still buy this cult favorite, Barielle's Nail Strengthener Cream.
The nail cream is pretty thick, so I recommend massaging it into your nails and cuticles and leaving a little bit still visible on your nails. Then put on cotton gloves and give the nail cream time to soak in. After at least 15 minutes, remove your gloves, and massage any visible nail cream fully into your nails, cuticles, and fingertips.
Best of all, Barielle's Nail Strengthener Cream is Pregnancy Safe, AND it adheres to the 7 Free Promise, meaning it's made without the following ingredients:
Formaldehyde
Dibutyl Phthalate
Toluene
Formadelhyde Resin
Triphenyl Phosphate
Xylene
Camphor
Use a Cuticle Oil
The process of removing a gel manicure or acrylic nails can dry out your natural nails and cuticles. Combat dry, damaged nails with ingredient-rich cuticle oil. Healthy cuticles are necessary for healthy nail growth! Rub cuticle oil on your cuticles and nails at least once per day.
Soak Nails in Oil
If your nails are really dry and damaged, try soaking them directly in oil. In a pinch you can use olive oil, but I really like 100% pure jojoba oil. Jojoba oil isn't actually an oil at all–it's actually liquefied wax esters derived from jojoba seeds. Jojoba esters' chemical structure is very close to the natural oil produced by humans! This makes it ideal to use on human skin. Jojoba oil also has natural anti-fungal properties, so using it on nails can help prevent fungal infections.
Soak your nails in oil for just 10-15 minutes. Then massage the oil into your nails, fingers, and hands. If you do this before bed, you can then wear cotton gloves to bed to help seal in the moisture. This is a great way to heal dry and damaged nails!
I've purchased this jojoba oil on Amazon twice now. I like it so much that I ended up writing a separate blog post to share all the ways I use it in my beauty routine!
How to Prevent Damaged Nails
It's a lot easier to prevent damaged nails than it is to heal damaged nails. The tips above will help you keep your nails healthy and strong while the tips below will stop you from damaging your nails!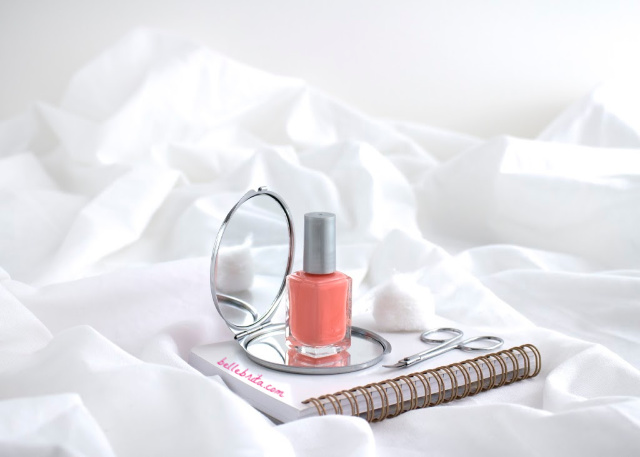 Wear Nail Polish
Believe it or not, but nail polish actually protects your nails! The idea that your nails need to "breathe" is just a myth (totally a myth I once believed). Water can dry out nails, so wearing nail polish protects your nails when showering or washing your hands.
Wear Gloves
If you're like me and you don't wear nail polish outside of special occasions, then you need to wear gloves. Gloves protect your hands from both the drying effects of water and the damaging effects of chemicals when doing household chores like washing dishes or cleaning surfaces. You can also wear cotton gloves while applying a moisturizing treatment. I bought these white cotton gloves on Amazon. I use them with my Barielle's Nail Strengthener Cream, with thick hand lotions, and with my eczema medication.
Avoid Soaking in Water
To go with the tips above, avoid soaking your nails in water. If you need to do a moisturizing soak, soak your nails in oil. Water dries and damages your nails. If you want to take a hot bath, either wear nail polish (a quick base coat of clear polish is fine) or keep your hands out of the water. If you swim frequently, keep your nails polished, and be consistent about using nail treatments.
Use Effective Nail Polish Remover
It might seem counter-intuitive, but you're better off using a strong nail polish remover than a gentle one. Acetone isn't great for nails, but neither are the alternatives. At least when you use acetone, you can quickly remove your nail polish with minimal soaking and rubbing. Then you can wash your hands and apply a moisturizing treatment. With gentle nail polish removers, the chemicals need to sit on your nails longer, and you need to rub at your polish longer and harder to remove it. The combination damages your nails.
Be Careful Buffing Your Nails
Buffing your nails before a manicure helps remove any natural oils that could mess up a manicure. Buffing your nails to a shine is also a natural alternative to a manicure. However, when you buff your nails, you're also stripping away part of your nails. If you do this too much, you'll damage your nails. Limit your buffing to once a week, and be consistent about using oils to moisturize your nails.
---
The next time your nails look a little rough, don't despair! It's easy to heal damaged nails. You just need to be patient and follow these tips consistently. Your nails will be beautiful and healthy after just a few weeks of TLC! Taking care of my nails is one little way I practice self-care. Check out my self-care blog category for more inspiration!