100% pure, organic jojoba oil has become a staple in my daily beauty routine. I use it to remove makeup, to moisturize my skin, and to prevent frizzy hair. The benefits of jojoba oil are truly awesome. I bought my first bottle in July 2019, and I've recently started on my second bottle. Jojoba oil is such a multi-purpose, all-natural beauty product that I wish I had discovered it sooner!
The benefits of jojoba oil go far beyond the few ways I use it at home. However, I don't want to oversell it! I've done my best to research the benefits of jojoba oil, plus the many ways to use jojoba oil. As always, I've cited my sources! And yes, many of these sources are scientific studies.
Note: This post contains Amazon affiliate links. I'm linking directly to the exact same jojoba oil I've twice purchased for myself! Read my full disclosure for more information on affiliate marketing.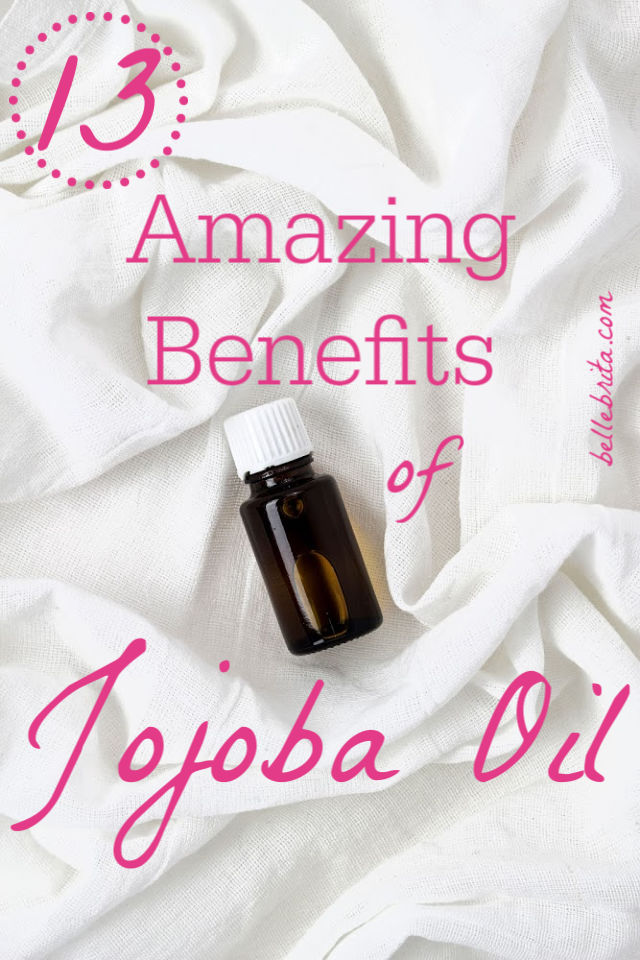 The Science of Jojoba Oil
Jojoba oil comes from the seed (nut) of the jojoba plant, a hardy perennial shrub native to southern Arizona, southern California, and northwestern Mexico. About 50% of the jojoba seed by weight is jojoba oil!
Jojoba oil isn't actually an oil. Confusing, I know. It's a wax ester. Why does that matter? The short answer is wax esters are a key component of human's sebum, which we produce naturally. This is not true of pure oils.
"Jojoba oil has a similar molecular structure and composition to sebum, which the skin naturally produces for moisturization," says Zain Husain, MD, a board-certified dermatologist practicing at the New Jersey Dermatology & Aesthetics Center.
This is why jojoba oil doesn't feel greasy on the skin like coconut oil does. Also, its similarity to sebum is why jojoba oil can effectively be used in many ways.
Plus, as a wax ester, jojoba oil has a relatively long shelf life. This means it won't go rancid before you have the chance to finish off the bottle!
Jojoba oil is rich in flavonoids, omega-6 fatty acids, and Vitamins A, B, C, and E.
All of this science aside… What are the benefits of jojoba oil?
8 Incredible Benefits of Jojoba Oil for Skin
Jojoba oil has many benefits in skincare. While some of these benefits require more conclusive research, other jojoba oil benefits are already proven.
Improves the skin barrier
If you want to learn more about the science behind the skin barrier, check out this helpful blog post. In simple terms, the skin barrier is in the topmost layer of skin. It has two primary functions:
To keep water from evaporating from skin
To keep allergens, irritants, and bacteria from being able to penetrate skin
Jojoba oil is an occlusive.
An occlusive is a type of moisturizer that creates a barrier on the skin. This barrier both prevents water loss from the skin and protects the skin from irritants. In other words, an occlusive helps the skin barrier! But that's not the only way jojoba oil improves the skin barrier.
Jojoba oil is rich in omega-6 fatty acids, a key component of the skin barrier. Combine that with the anti-inflammatory effects of the vitamin E, and jojoba oil packs a powerful punch in improving the skin barrier.
Soothes dry skin
While jojoba oil is an occlusive, it also has emollient properties. This means it smooths and softens skin.
According to Jennifer T. Haley, MD, a dermatologist practicing in Scottsdale, AZ and Park City, UT, jojoba oil balances the oil in the skin, rather than adding oil to it. "This makes it beneficial for all skin types since it won't clog pores or cause acne," she explains. "It adds moisture where it's needed, but can also help reduce excess oil production."
"Jojoba oil is rich in natural fats that mimic those in the outer layer of the skin," explains Joshua Zeichner, MD, director of cosmetic and clinical research at Mount Sinai Medical Center in New York City. "This means it can help the skin retain moisture and heal itself."
According to New York City dermatologist Marnie Nussbaum, MD, if you have eczema, rosacea, or sensitive skin in general, jojoba oil is ideal for reducing redness and calming skin.
Related: The Best DERMA E Products for Dry, Sensitive Skin
Treats acne
As mentioned above, jojoba oil mimics natural sebum. It won't clog pores or cause acne. However, there's also evidence that jojoba oil can treat acne. Again, the anti-inflammatory qualities help. In addition, jojoba oil also possesses antimicrobial and antifungal properties, which can also help clear up breakouts.
Offers antioxidant protection
As mentioned above, jojoba oil is rich in antioxidants like flavonoids and Vitamins A and E. By applying antioxidants to skin, you can boost your skin's ability to neutralize free radicals. In other words, you minimize skin damage!
"Jojoba oil is rich in flavonoids and vitamin E, a potent antioxidant that defends the skin against oxidative damage, which contributes to signs of aging," says Y. Claire Chang, MD, a board-certified dermatologist at Union Square Laser Dermatology in New York City.
Fights cold sores (not alone)
Jojoba oil alone isn't sufficient to treat cold sores, but it's the perfect carrier oil! Tea tree oil and peppermint oil both work to treat cold sores, but they need dilution with a carrier oil. Jojoba oil actually contains docosanol (the active ingredient in over-the-counter cold sore creams). Combine that with an effective essential oil, and voila! Cold sore treatment!
Removes makeup
I first bought jojoba oil to use as a makeup remover. Oils break down makeup more easily than soap and water. Previously I used DERMA E's Nourishing Rose Cleansing Oil to remove my makeup, but they don't carry that product anymore. While you can use many oils to remove makeup, I prefer jojoba oil for a few reasons. First, it doesn't feel greasy, and it won't clog pores. Second, it's gentle enough to use on sensitive skin. Finally, jojoba oil is really affordable, and a little goes a long way!
Encourages wound healing (maybe)
There is evidence that jojoba oil encourages wound healing. Preliminary research indicates that jojoba oil actually encourages your skin cells to bind together after separation by a scratch or cut. The antioxidants, the antimicrobial and antifungal properties, and the anti-inflammatory effects all potentially contribute to wound healing.
I've been applying jojoba oil to a small cut on my finger this week (after a day or so of wearing a bandage). I honestly don't know if the jojoba oil itself, or simply the passage of time, should get credit for the noticeable healing in just a few days.
However, I am neither a doctor nor a scientist, and I don't want to mislead anyone with the benefits of jojoba oil. Jojoba oil probably won't hurt a minor cut, but you should still use all best practices when treating minor wounds at home. My completely non-medical advice? Apply a bit of jojoba oil to the cut or scrape right before putting on a protective bandage.
Softens cuticles
Jojoba oil is great for softening cuticles, which is crucial for overall nail health. The small molecules of jojoba oil easily penetrate cuticles, nails, and surrounding skin for ultimate hydration. Hydrated cuticles mean softer nails. Softer nails are less likely to break. When nails don't break, they grow more quickly!
This nail expert on YouTube explains why jojoba oil is best for softening cuticles and nails. I've queued up her video to where she talks specifically about the importance of jojoba oil.
5 Fantastic Benefits of Jojoba Oil for Hair
Jojoba oil is great for your skin. You can also use jojoba oil for your hair and your scalp!
Conditions hair
Sebum is the body's natural oil that already coats your hair. Jojoba oil is quite similar. Thus it's great for hydrating your luscious locks! Best of all, since jojoba oil is lightweight, you can even use it on thin or fine hair.
"Applying it to your scalp and hair can hydrate individual hair strands and help lock in moisture, leaving your hair feeling soft and healthy," says Dr. Husain.
To condition your with jojoba oil, you have a few options. You can add a few drops of jojoba oil to your regular conditioner. For a deep-conditioning treatment, apply a good amount of jojoba oil all over your hair. Let it sit for several hours or overnight before rinsing out.
Finally, you can use jojoba oil the way I do! At the end of my shower, while my hair is still soaking wet, I apply jojoba oil to my hair. I use an entire dropper full of oil, sometimes two. Only after running the oil through my very wet hair do I wring out my hair. The jojoba oil locks in moisture.
Tames frizz
If your hair is a little frizzy, run a bit of jojoba oil over it. Jojoba oil is lightweight, so it won't weigh down your hair.
Treats dandruff and dry scalp
Dandruff and dry scalp are not exactly the same thing. In short, dandruff is usually caused by seborrheic dermatitis, although it can be caused by an overabundance of a fungus called malassezia. Dry scalp is like dry skin. For whatever reason, you don't have enough moisture on your scalp.
That said, jojoba oil can actually treat dandruff AND dry scalp!
When massaging jojoba oil into the scalp, the extra hydration can help prevent dandruff or a dry, itchy scalp. In addition, jojoba oil can help balance out sebum production in your scalp. If you use jojoba oil on your scalp frequently, this balancing effect can also prevent dandruff or a dry scalp.
Remember those antifungal properties? If your dandruff stems from too much malassezia, jojoba oil fights that.
The anti-inflammatory properties help too, especially if you apply jojoba oil as an overnight scalp treatment.
If you have just mild dandruff or dry scalp, try using jojoba oil as a pre-treatment before washing your hair.
Protects against damage
Thanks to its fatty acids, Jojoba oil protects against damage from heat-styling. With its antioxidants, jojoba oil also protects against damage from the sun and environment factors. To take advantage of these benefits, run a little jojoba oil through your hair both before and after styling.
Encourages hair growth (maybe)
This jojoba oil benefit doesn't have scientific studies to back it up. Or at least, I couldn't find any. However, jojoba oil definitely is rich in vitamins and minerals that nourish hair, including Vitamins A, B, C, and E, plus minerals copper, and zinc.
"The zinc that's found in jojoba oil, for example, is vital for the tissue in the hair to grow," says Dr. Husain. "It helps the follicles grow and maintains the functionality of the surrounding oil glands."
Remember those anti-inflammatory, antimicrobial, and antifungal properties? Well, inflammation, bacterial infections, and fungal infections call all contribute to hair loss. Treating (or preventing!) those causes can encourage hair growth.
Finally, if you use jojoba oil as a carrier oil, there are more potential benefits for hair growth. Studies indicate that both peppermint oil and lavender oil stimulate hair growth. Diluting one of those essential oils with jojoba oil could encourage hair growth!
Where to Buy Jojoba Oil
I've purchased this certified organic, Cliganic brand of jojoba oil twice from Amazon. It comes in a glass amber bottle with a glass dropper.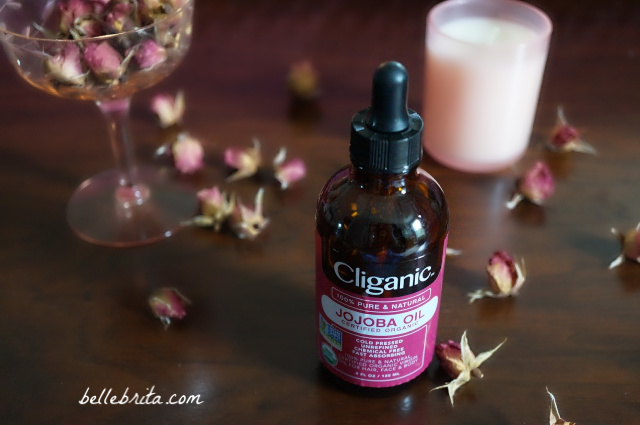 You might be able to find jojoba oil in your local supermarket or pharmacy. If not, try a vitamin store or natural living store. You want pure, cold-pressed, unrefined jojoba oil.
While oil blends certainly have their uses, 100% pure jojoba oil is affordable and hypoallergenic. You can use jojoba oil in all the different ways I've suggested above!
Have you ever tried jojoba oil before? What about other pure oils? Share your beauty secrets in the comments!