When Dan and I were researching unique activities to do in Tokyo last year, he found something that thrilled him and terrified me…
Real-life Mario Kart, in the streets of Tokyo.
Or rather, go-karting through the streets of Tokyo.
Keep in mind, I had never before driven a go-kart. Once, as a child, I was the passenger in a go-kart. And that's it.
So you can imagine my terror when Dan told me he wanted to try go-karting in Tokyo traffic.
Oh, did I not mention that little detail? Dan didn't just want to visit a go-kart track in Tokyo. Oh, no. He wanted us to take a tour of downtown Tokyo, in go-karts, amidst actual cars.
One more tiny detail… In Japan, you drive on the left.
Needless to say, I was terrified.
But Dan was just SO excited by the prospect that I agreed to try real-life Mario Kart in Tokyo. I mean, you only live once, right? And if we died in the streets of Tokyo, at least we would die happy… right?
Samurai Kart Asakusa Review
In Tokyo, it is actually legal to drive a go-kart through the streets, just like a regular car. Which at first seems a little ridiculous, but actually makes sense once you realize how low the speed limits are. Driving a go-kart in Tokyo doesn't hold up traffic because top speeds are comparable to the speed limit.
Multiple companies offer a real-life Mario Kart experience in Tokyo. After some research, Dan chose Samurai Kart Asakusa based on reviews and pricing.
Also, while tourists like me use the phrase "real-life Mario Kart," all the go-karting companies are careful to explain they're not affiliated with Nintendo. No worries, though, because Dan provided all the sound effects from the Nintendo games!
How to drive legally in Japan
To drive a go-kart in Tokyo, you need a driver's license. These are your options:
Japanese Driving License
SOFA Driving License for US Forces Japan (在日米軍個人車両操縦許可証)
Passport with a Foreign Driving License (issued in Switzerland, Germany, France, Taiwan, Belgium, Slovenia or Monaco) with a Japanese translation by an authorized organization.
Passport with an International Driving Permit (issued by a signatory to the 1949 Geneva Convention)
Dan and I were able to get our International Driving Permits from our local AAA office. We just filled out our applications, showed our Georgia driver's licenses, provided two passport photos, and paid a $20 fee. Very easy!
We carried our permits and passports while driving the go-karts through Tokyo.
Choosing a costume
Is it really a real-life Mario Kart experience if you're just wearing your regular clothes? Of course not! Luckily Samurai Kart Asakusa offers costumes and accessories to wear while go-karting. Our guide wore a full costume, but Dan and I opted for just hats because it was a hot day.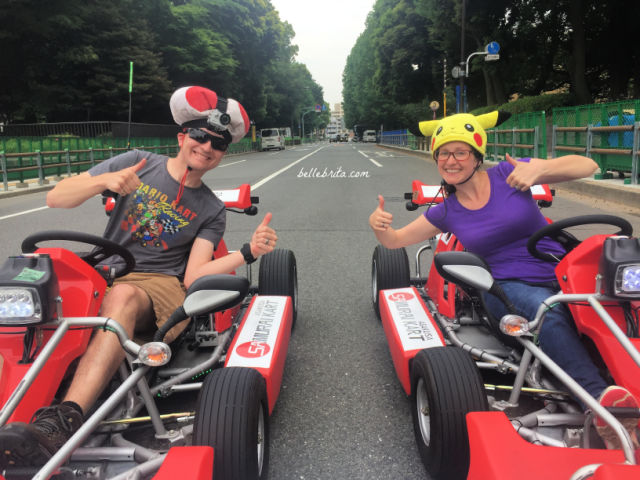 Costume options included superheros, Disney characters, Mario characters, Pokémon, and more!
Don't worry, the company does wash the costumes between customers! You can also bring your own costume if you want.
Our real-life Mario Kart experience in Tokyo!
Dan and I made our reservation for early afternoon to avoid dealing with rush hour traffic. Apparently the sunset tour is also popular, but I was concerned about breathing excessive fumes from other vehicles.
We expected to ride with other tourists, but we ended up being the only tourists who booked at our time. So we got a private tour for the regular price!
Like I mentioned above, I was really nervous about go-karting through Tokyo. However, it didn't take me very long to feel comfortable driving my go-kart. The guide was easy to follow, and the speed limit was never that high, so we easily kept up with the speed of traffic without going too fast.
At long stoplights, our guide took pictures of Dan and me.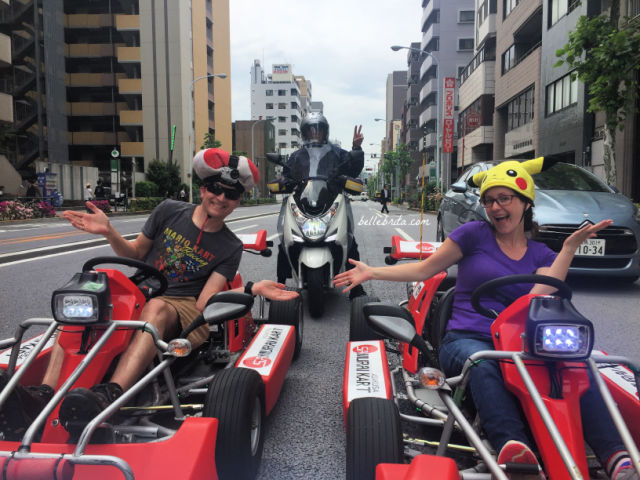 He wasn't the only one!
We were in Tokyo during Golden Week, so adults and children had the week off. They loved seeing us in our go-karts and costumes! So many people took photos of us, and even more waved at us. I couldn't stop grinning. It was such a cool experience. Dan and I felt almost like celebrities!
Our tour allowed us to do some quick and unique sight-seeing of Tokyo. These were the major attractions we saw during our go-karting tour:
Tokyo Dome
Ueno
Asakusa
Tokyo Sky Tree
Keep in mind that we were driving past these and not always paying close attention to our surroundings as we focused on the road. Neither Dan nor I specifically remember seeing Tokyo Dome. Even so, the go-kart perspective was a fun way to see the city from the road.
We also paused at one point to stretch our legs, stopping at Sumida Park. We could see Tokyo Sky Tree from there, plus the park itself was lovely.
Overall, Dan and I greatly enjoyed our tour with Samurai Kart Asakusa. Dan especially loved the opportunity to drive on the left side of the road!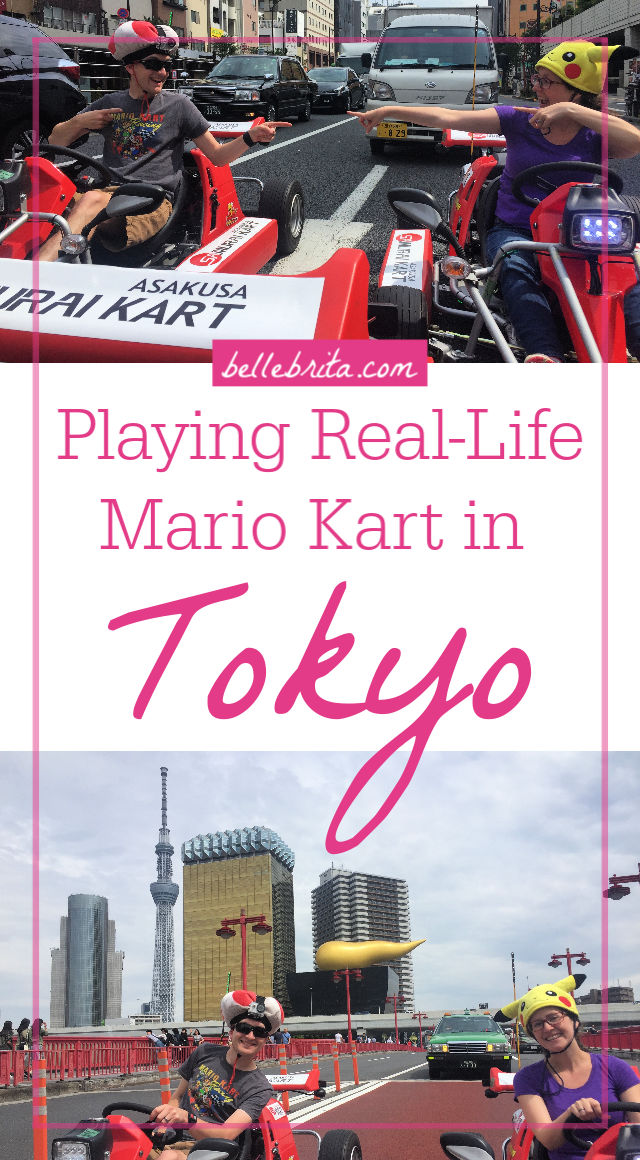 Other details about go-karting in Tokyo
Samurai Kart also has other locations if you're interested in a different tour. Each go-kart location offers a different route through Tokyo. Price varies based on the route.
The go-karting tour we took with Samurai Kart Asakusa cost 10,000 yen per person, which is roughly $100.
You can book your tour online.
Be sure to arrive at least 10 minutes early so you have time to put your personal items in the locker, go over the safety instructions, and pick out your costume!
Tokyo isn't the only city in Japan to offer go-karting tours. If you don't have the opportunity for a real-life Mario Kart tour in Tokyo, check out the options in Osaka, Kyoto, and Okinawa.
If only major US cities offered go-karting tours… Way cooler than a Segway tour!
Would you ever take a go-karting tour in a major city? What costume would you wear? Leave your comments below!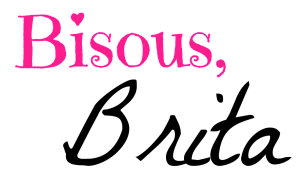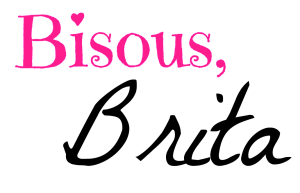 P.S. Looking for another unique Tokyo tourist attraction? Learn about pet cafes in Japan!