When Dan and I went to Japan last year, we knew we wanted to do one unique Japanese activity: visit an animal cafe. When researching our options, Dan discovered owl cafes! As a big Harry Potter fan, I immediately knew an owl cafe would be perfect for us.
What are animal cafes?
Also called pet cafes, animal cafes are establishments where people can interact with animals. Some animal cafes are for pet owners to get together with their pets. Others help facilitate pet adoption. However, I'm writing about animal cafes that provide the animals for customers to meet. They're a bit like petting zoos, but usually with cuter animals, like cats or owls.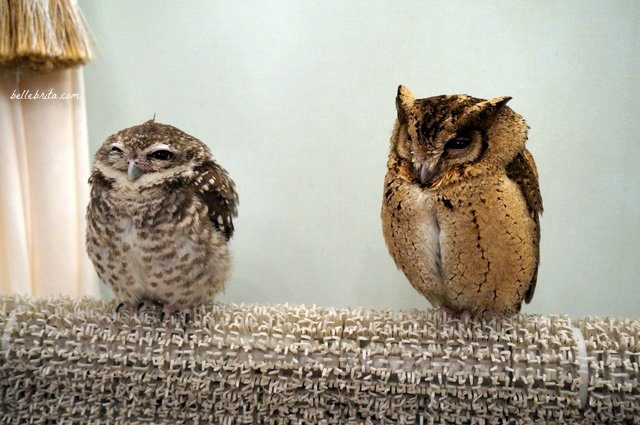 The first animal cafe started in Taiwan all the way back in 1998! Today, Japan is popular for their wide variety of animal cafes. Dan and I were so excited to experience an animal cafe firsthand.
Some animal cafes are like real cafes, offering food and drink options. Others just offer the opportunity to spend time with animals.
How much you can interact with the animals depends on the type of animal cafe and the particular rules of the animal cafe. Different animals have different needs, and the best pet cafes establish rules to protect their animals.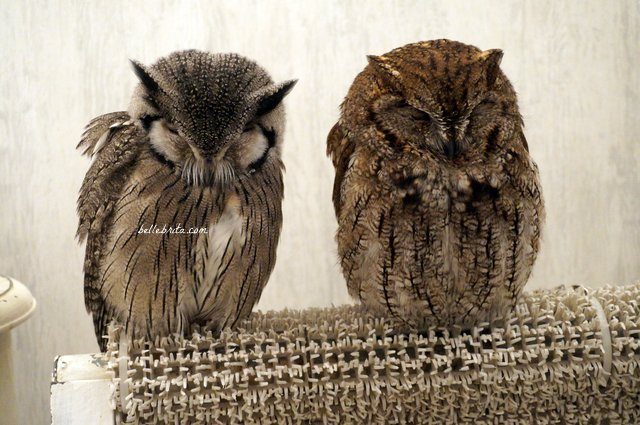 Are animal cafes ethical?
Animal cafes are not without controversy. Dan and I did a lot of research to pick an owl cafe that treated its owls well. Unfortunately, not all pet cafes are conscientious about caring for their animals.
If you want to visit an animal cafe, you need to do your research. A cat or dog cafe that facilitates pet adoptions is usually a safe choice. If you want a more exotic animal research, look at prices and read reviews.
Generally speaking, the cheaper animal cafes treat their animals poorly. Animal cruelty is the real price of cheap pet cafes. Reviews will give you a sense of whether or not an animal cafe takes good care of their animals.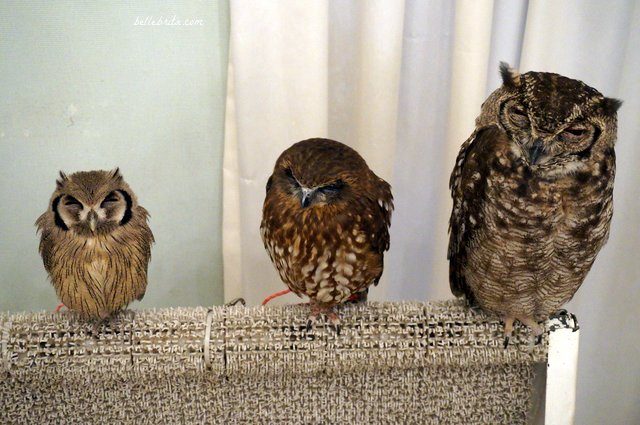 Choosing an owl cafe
Ultimately Dan and I chose Akiba Fukurou Owl Cafe because we thought they treated their owls well. This Tokyo owl cafe has almost 3,000 reviews on Google, with a 4.9 star rating. The Akiba Fukurou reviews all explain what the owl cafe does to take care of their owls, like limiting the number of customers at a time and requiring everyone to speak softly.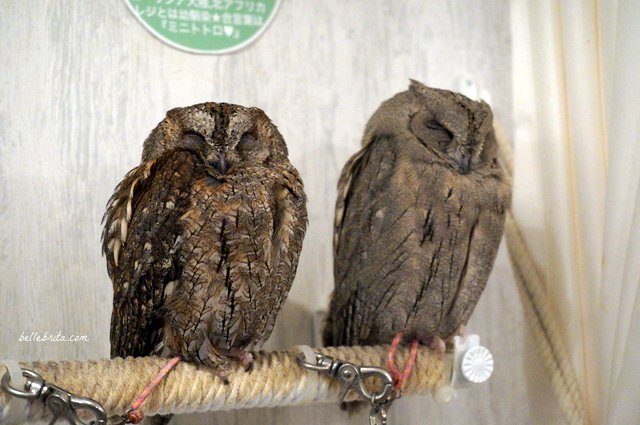 Akiba Fukurou is also one of the more expensive owl cafes, costing 2,000 yen per person. It's the same cost for children and adults. Dan and I both agreed that the higher cost was well worth it, especially since that money helps take care of the owls.
Akiba Fukurou review
Akiba Fukurou Owl Cafe was absolutely one of the highlights of our trip to Japan. Interacting with beautiful owls was just a remarkable experience.
What you need to know about Akiba Fukurou
First of all, you need to make a reservation in advance. Akiba Fukurou only allows a limited number of visitors at a time in order to avoid overwhelming their owls. Time slots fill up fast, so try to book at least a week in advance.
Akiba Fukurou will ask customers to arrive early. During this time, you wait outside and look through large pamphlets that explain the rules and introduce the different owls. This owl cafe is very protective of their animals, so they really want you to have time to understand the rules before you enter. Pamphlets are available in both English and Japanese.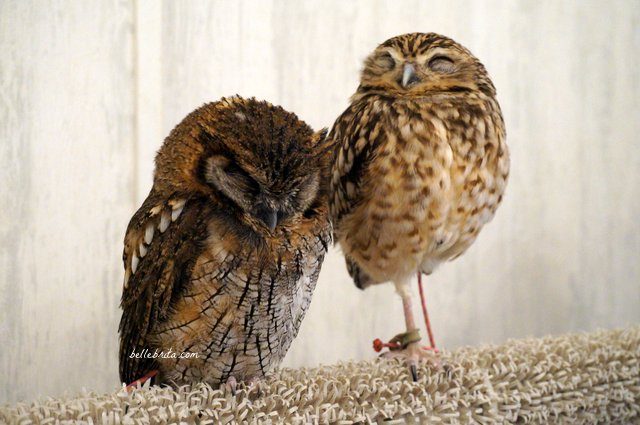 When it's time to enter the owl cafe, you're directed to put down most of your things on a shelf by the door, and then you cleanse your hands with hand sanitizer. The employees guide you into one of the small rooms. They then explain all of the rules. For example, each owl has a sign designating whether or not you can touch the owl, and if you can touch it, whether or not you can hold it.
After the employees are sure that everyone understands how to behave, the fun begins! If I remember correctly, you get a little less than an hour to spend with the owls. At the end of the visit, the employees will help you return your owl to its perch. Each visitor receives a laminated souvenir photo of themselves holding an owl, taken sometime during the hour.
Our owl cafe experience
At first, Dan and I just walked around, taking pictures of the owls (no flash) and gently petting their heads. There were so many variety of owls spread across three small rooms. All of them were simply gorgeous!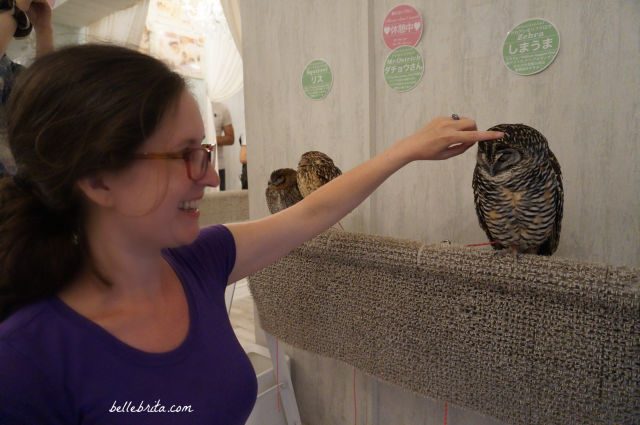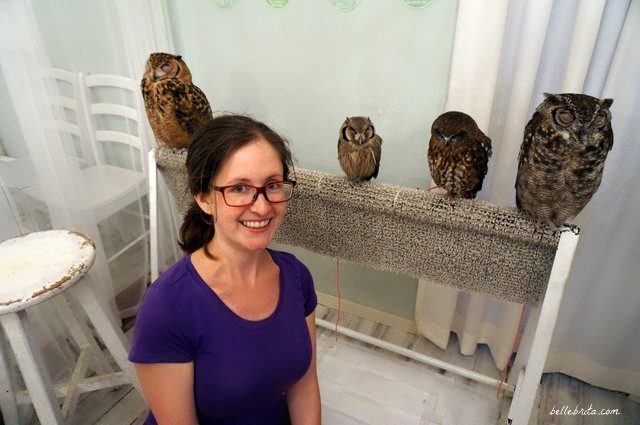 One by one, the employees helped customers choose an owl to hold. I appreciated the personalized attention. The employees obviously care greatly about the owls. Dan initially chose a large owl while I chose a small one. For our photo, we were able to stand together holding our owls, but then we sat in different rooms because our owls couldn't spend much time together.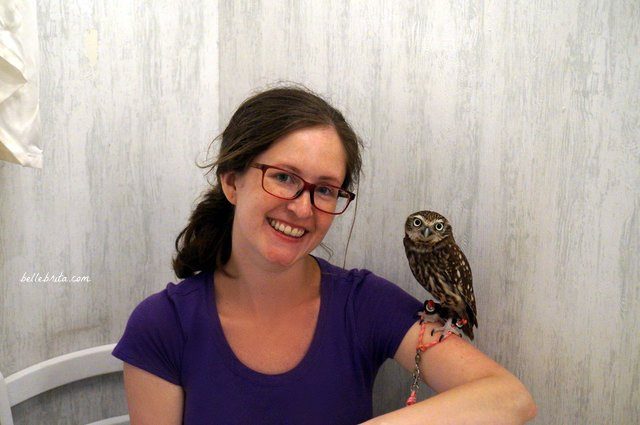 Later Dan switched to a smaller second owl. (You could hold two owls at different times if you wanted, but no more). Then he joined me where I was still holding my owl.
Honestly, it was such a surreal experience. Just very calm and peaceful. My owl's name was Caramel. Such a sweet little thing! I also enjoyed watching the other owls.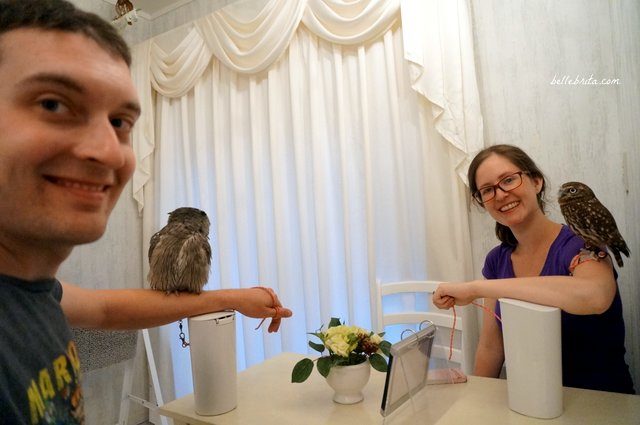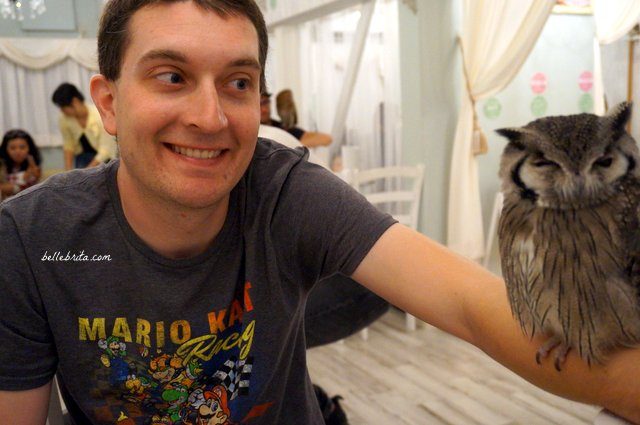 One little owl kept edging sideways to be close to its neighboring owl. The employees kept moving this owl over, but it stubbornly wanted to play with the other owl! I tried to get a video surreptitiously (you're not supposed to film any videos), but since I was being subtle with my phone, I wasn't able to catch the feisty owl in action.
Final thoughts on Akiba Fukurou Owl Cafe
Overall, everything about our visit to the Akiba Fukurou Owl Cafe was truly magical. Dan and I greatly enjoyed the experience. We highly recommend visiting an animal cafe if you ever get the opportunity. Just be sure to do your research first and only support establishments that take good care of their animals.
I can't believe it's been over a year since Dan and I returned from our two weeks in Japan! I have a few other Japan travel blog posts planned, so keep checking back to read those. Until then, you can check out my posts on Tokyo DisneySea and Tokyo Disneyland.
Have you ever been to an pet cafe? What kind of animals would you be interested in petting at an animal cafe? Share your thoughts in the comments below!