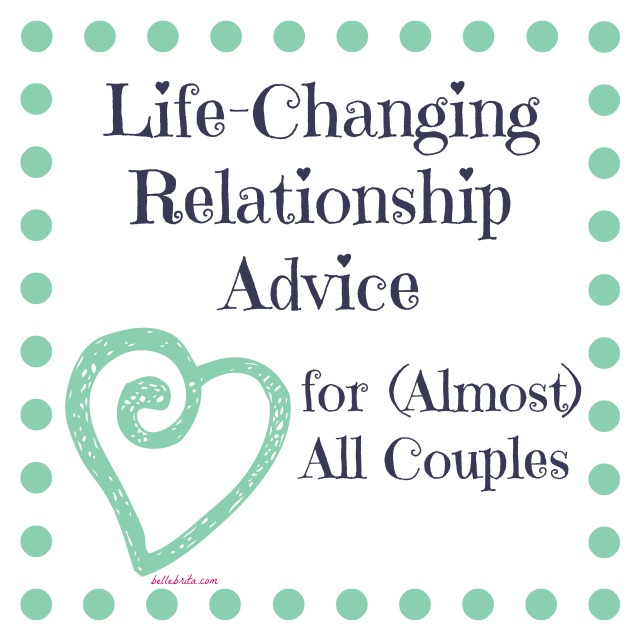 I did not mean to go almost two months without sharing my secrets for good relationship advice. "Can We Just Stop with the Bad Relationship Advice Already?" went up on January 19th, and it's almost halfway through March already… Oops.
While most relationship advice can be considered good or bad based on the individual couple, I have discovered a few pieces of good relationship advice that are almost universally applicable.
Good Relationship Advice that (Almost) Anyone Can Use
Don't compare your relationship to anyone else's.
Two different couples can have happy, healthy relationships that look nothing alike.
Some couples never get married. Some get married after a long time dating. Some get married very quickly.
Some couples show PDA. Others do not.
Some couples love doing all the same activities. Some couples prefer having separate hobbies. Others like a split between shared and solo pastimes.
Basically, just like each individual is unique, each relationship is unique!
Discuss your communication style with your partner.
Any relationship post will emphasize the importance of communication, including my "6 Lessons I've Learned in My First 6 Months of Marriage." But what no one ever really told me is the importance of learning different ways to communicate. Dan and I both have different communication styles, but knowing our strengths and weaknesses helps us both communicate more effectively.
For example, Dan told me very early on that he does not pick up on cues. I need to tell him very specifically how I feel and what I want him to do. I do not drop hints. I don't make passive-aggressive comments. If I am upset due to his actions, I spell out what he did, my understanding of why he did that, how I feel, why what he did resulted in me feeling that way, and what I need him to do in the future. I had to learn how to do that, but it has made a huge difference in our relationship.
For his part, Dan has learned to let me talk longer. There were times at the beginning that he would interrupt me, and I would put my hand over his mouth to stop him. If he's not sure whether or not I'm done talking, he asks me.
You and your significant other can avoid a lot of heartache and miscommunication by learning the best way to communicate with each other.
Trust each other.
This is another tip that's on many lists, but the suggestion doesn't go far enough. Usually it's related to jealousy issues–trust your partner not to cheat. Yes, trusting each other's fidelity is important. But trust is so much bigger than that.
Trust each other's intentions. Going back to Dan and me, even when his action upsets me, I always give him the benefit of the doubt in why he did something. (Hence the step on explaining my understanding of why he did something). I trust that his intentions are always good, even if the actions are misguided. I trust that he is always considering me when he makes decisions, even if I disagree with his decisions. I actually think this is a key part of why we rarely fight, even if we work through disagreements often.
Trust each other's words. When Dan tells me something, I believe him. Not only do I believe his words, but I believe that he's representing himself or the situation accurately. I believe that he's giving me the whole story, or at least all information he genuinely believes is pertinent.
You might need to compromise on what you want, but you should never compromise on who you are.
I'm actually working on a whole post on compromise, but I wanted to mention this here. Compromise is absolutely a key component of relationships. But you should never compromise your values, your beliefs, or anything that is key to who you are. You might not love every compromise you make in a relationship, but you should feel confident and comfortable making each compromise.
---
What would you add to my list? What good relationship advice do you know that you think would be applicable to most couples? Share your thoughts in the comments! And stay tuned for some BAD advice on everyone's favorite topic: SEX!