Tomorrow we celebrate a great day in history…
The day Belle Brita launched.
Yes, my first-ever blog post here was on July 4, 2014. If I could do it over again, I would not have my first blog post be on a holiday. Hence why I'm blogging about my 3rd blogiversary a day early.
Related: 7 Lessons I Learned in My First Year of Blogging
I'm amazed at how far I've come as a blogger. I don't think I even started using my Instagram account to promote my blog until maybe 6 months into Belle Brita. Now I have over 30,000 followers! (Are you following me?!)
I never dreamed of writing for The Huffington Post… Nor did I imagine I'd be successful enough to limit how much I write for them, since they don't pay writers.
But more than the numbers and the bragging rights, I'm humbled by my readers, especially those of you who keep coming back. I read every single comment y'all leave me. Every tweet, every email, every direct message. I only wish I could reply to all of them!
My primary goals with Belle Brita are to inspire and to inform. Without readers, I could never meet those goals.
From the bottom of my heart, thank you.
Now that I've thanked you… will you do me a favor? Fill out my reader survey! I would love to know more about what YOU want to see on the blog.
In other news, it's a new month. Which means looking back at my June goals and setting July goals.
Related: June 2017 Goals // May Recap
I actually feel really good about June, even if I checked off few of my goals.
I had some Crohn's issues, surprise, surprise.
Plus I was only home one weekend of the entire month–the weekend I celebrated my birthday with my friends Candace and Chelsea.
And my trip to Ohio was go-go-go the entire 6 days. I think I spent a combined 2 hours on my laptop during that entire time.
All in all, I progressed in my intentions for improvement, even if I fell short of the goals themselves. Let's look at what I did!
Note: This post contains affiliate links. If you click on them, and buy something, I might earn a small commission at no cost to you. I would never promote something I don't genuinely like. All products in my Blogger Mail section are PR samples, sent to me to review.
June Recap
For my career:
I haven't published Muddling Through Again. That said, I could have forced it in June… But it wouldn't have been as good. It will be available for sale on Amazon in August!

I clearly haven't submitted the book yet.
While I made great progress with the new website, it's not done yet.
I have the contact information of 3 Christian women bloggers to write guest posts, but I haven't reached out to them yet.
I have not lined up book bloggers to review the book. However, that's more because I don't have the final polished product to send them.

I didn't reach 32,500 Instagram followers. However, once I reached 32,000 Instagram followers, I actually chose to block roughly 350 followers (and then unblock them). Why? They're all following more than 6,750 people, meaning they're unlikely to see my content and engage with it. If they genuinely want to keep following me, they'll notice they're not following me now that I've unblocked them. Blocking and unblocking an account forces them to unfollow you, so now I have about 31,700 followers.
Yes, I reached over 9,000 Twitter followers, coming in at 9,100+.
Eh, I sort of worked on my editorial calendar, but not as well as I needed to do.
I created July's editorial calendar for Muddling Through Again.
I didn't finish SEO client work.
While I did finish attending webinars before conference, after my group met, I feel like I need to watch the webinars again for a greater understanding.
I didn't find photos for Santa Monica and Burbank blog posts.
I haven't looked at any of the tools from the Work-at-Home bundle, although I did print off the rest of my year's calendar pages from my Homemaking bundle.
June 2017 Blog Posts
June 2017 Blogger Mail
I received soooo many PR samples this month. With as much traveling as I did, though, I honestly haven't tried most of these products yet. Keep watching my Instagram stories for thoughts as I use them.
Also! Please excuse my photography. Our townhouse in Duluth had great lighting for product shots. I've tried taking pictures all over this new house, and there's just not a good spot for photography. Dan and I are looking into lightbox options, but until then, I'm stuck with what I can get next to a window.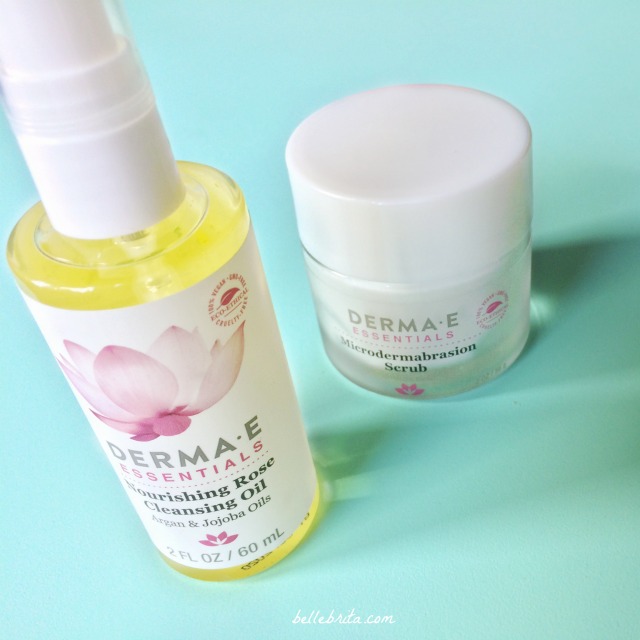 DERMA E
DERMA E sent me 2 products from their Essentials line: Nourishing Rose Cleansing Oil and Microdermabrasion Scrub. Have I used either of them yet? Nope. I'm still using the Purifying line I reviewed a few months ago, although occasionally I use the Hydrating night moisturizer before bed.
Edit 07/30/2017: I love both of these. The scrub gently exfoliates my skin. I use the oil in lieu of a face wash, rubbing the oil into my skin, and then wiping it clean with a warm, damp washcloth. It's great for washing my face in the morning, since I don't feel like my face gets that dirty overnight!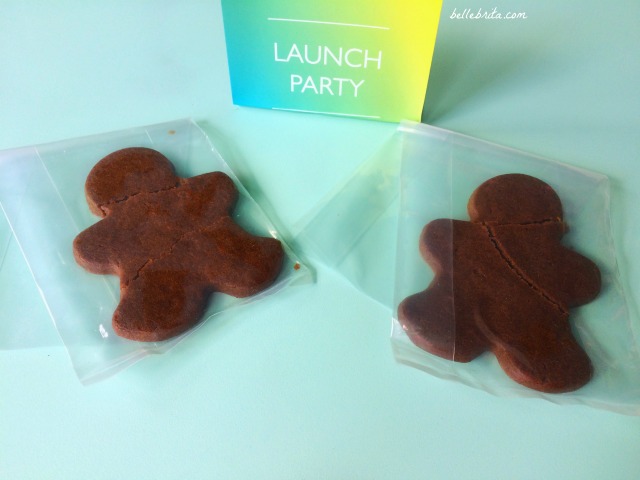 Get Fresh Baked
Get Fresh Baked just launched this summer! To celebrate, they sent me 2 gingerbread cookies to decorate. Alas, they arrived decapitated. I still ate them–they were so yummy!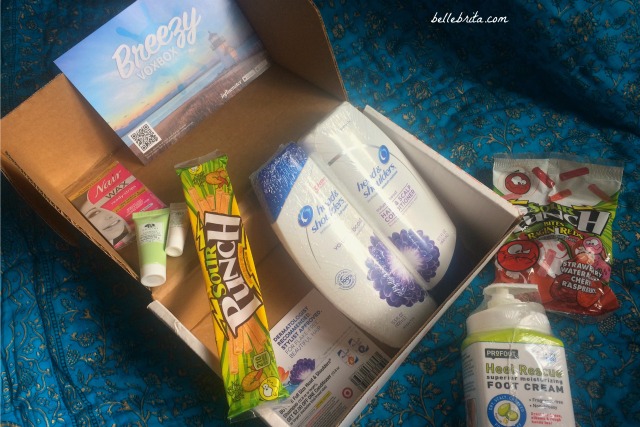 Influenster
Influenster sent me a box full of goodies try in their Breezy VoxBox. These products are:
ProFoot Heel Rescue Foot Cream (haven't tried it yet)
Origins moisturizer and eye cream (haven't tried these yet)
Sour Punch candies (I gave these to Dan)
Head & Shoulders (I've used both the shampoo and the conditioner twice. It's too soon to tell if it will help my poor, dry scalp, but I'm pleasantly surprised with how happy my hair itself is).
Nair Wax Ready-Strips (I probably won't try, because I don't wax)
I'm excited to try the foot cream on Dan's feet, though. I already baby my feet, but his get dry and cracked more often.
Edit 07/30/2017: The Head & Shoulders didn't do anything for my dandruff. However, after a few washes with Trader Joe's Tea Tree Tingle shampoo and conditioner, my scalp returned to its dry-normal state. Using the Head & Shoulders since then has been great for my hair. I just didn't fix my scalp.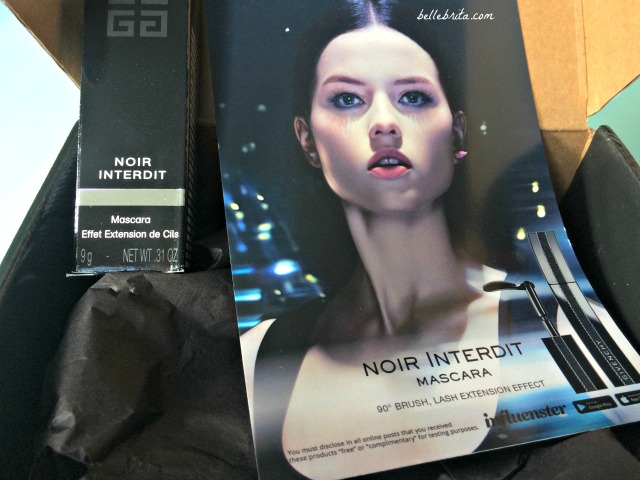 Influenster also sent me Givenchy Noir Interdit mascara. For those of you who don't speak French, that's translated as "Forbidden Black." I haven't tried this yet because I had an eye infection last month which meant I couldn't wear any eye makeup for weeks. I'm better now, but I'm still avoiding mascara and eye liner for another month, just to be on the safe side. Other lifestyle bloggers have raved about this, though, so I'm looking forward to trying it out!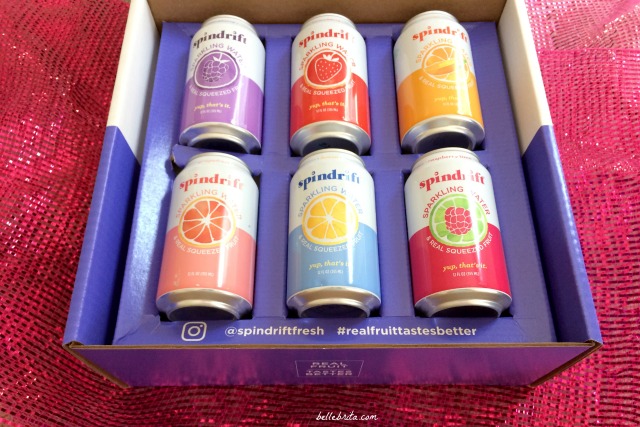 Spindrift
I am SO excited about trying this sparkling water. It's rained for a week straight, so I didn't get photos until yesterday, which means I haven't been able to drink any yet. They're in the fridge now, though, so I'm having one today with lunch!
Edit 07/30/20717: Yeah, I'm obsessed. It's delicious. However, it's hard to find and expensive. This won't replace our regular seltzer water, but it's great for special occasions. I bought more of the raspberry lime and used it to make a pink sparkling sangria. Delicious!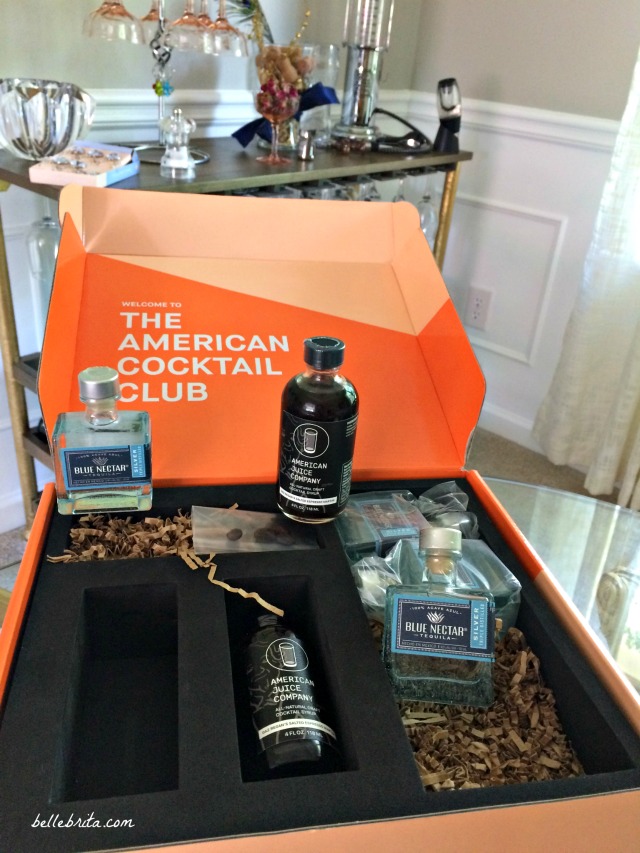 Blue Nectar Tequila
I received July's American Cocktail Club box, which came with Blue Nectar Tequila and Gaz Regan's all-natural Salted Espresso Martini craft cocktail syrup, plus 4 espresso beans for garnish.
Neither Dan nor I like coffee, so we haven't made the signature cocktail recommended. However, we have enjoyed the Blue Nectar Tequila in our margaritas!
For my health:
I both scheduled and went to my next Remicade infusion. Plus I've scheduled my next appointment already.
I scheduled my MRE.
Y'all, I really struggled with my no alcohol and no soda Monday-Thursday. This was a complete fail.
I ate so many salads in June! I'm proud of this one.
I did find an eye doctor, but I otherwise didn't find any new medical professionals for Dan and me.
For my marriage:
Yes, I was mostly good about communicating with Dan while I traveled. I had very little down time at the conference, but I texted him several times.
For our household:
While I didn't actually measure the space in the bathroom, Dan and I bought drawers for it anyway that are a perfect fit. I'm counting this as a win.
I put away more of the non-office stuff in my office. However, there's still more to be done.
I mostly meal-planned every week.
Unfortunately, I did almost no weeding all month.
Nor did I choose plants for the butterfly-rain garden, although I did buy another butterfly bush.
While I'm pretty good about following my monthly cleaning schedule, I tend to slack on the daily and weekly cleaning lists.
I still have not sent out overdue wedding gifts… But I finally bought all the cards I need! It's a tiny bit of progress.
30×30:
I did nothing new from my 30 Before 30 list, although I worked more on getting my mom's book done.
July Goals
July 13 marks the second anniversary of my mother's death. With that in mind, I'm keeping my goals for this month minimal. I need to focus on self-care and healing.
Long-term:
Self-publish my mom's book of prayers.
Market this book:

Blog posts about prayer
Opt-in freebies
An email series on prayer

Earn affiliate commissions on Breakthru Branding
Market this course:

At least two blog posts
An opt-in freebie
Instagram

Teach SEO for lifestyle bloggers

Create a course?
Write an ebook?

Earn affiliate commissions on Blog Boss Babe
Market this group:

At least two blog posts
An opt-in freebie
Instagram
For my career:
Launch the new website for Muddling Through Again!

Set up all the plugins.
Finish writing all the permanent content.
Blog at least 4x.
Line up guest bloggers.
Invite more people to the Facebook group.
Build the Instagram account.

Go through Instagram Decoded step-by-step to do it right.
Create at least 15 days worth of content in advance.
Create a form on the website for Instagram takeover sign-ups.

Finish SEO client work.
Stay on track with my new Kappa volunteer position.
Reach 33,000 Instagram followers.
Reach 9,600 Twitter followers.
Blog at least 4x on Belle Brita.
For my health:
Eat at least 3 salads per week.
Go 5 days in a row without alcohol or soda.
Learn more about the Specific Carbohydrate Diet and the Low-FODMAP diet.
Find new medical professionals for Dan and me.
For my marriage:
Stay in close contact with Dan when I'm traveling. I'll be in Greenwood for a week with my dad.
Give Dan at least one back or foot rub every week.
For our household:
Plan what should go where in my office.
Meal-plan every week.
Plant new butterfly bush.
Follow my new cleaning checklists to the best of my ability.
Send out overdue wedding cards/gifts.
---
I'm still a little nervous about getting all these career goals done this month. My only travel for the month is to Greenwood, though, and I can make myself focus on work at my dad's house. Maybe. For a few hours a day, at least.
What are your goals for this month? Don't forget to fill out my reader survey!