Dan and I recently continued our world tour of Disney parks with a Saturday split between the original Disneyland and California Adventure. For those of you keeping track at home, in less than a year we've visited EPCOT and Magic Kingdom in Orlando, Disneyland and Walt Disney Studios in Paris, and now the two parks in Anaheim, California.
Related: Disney World: Two Parks in One Day
Note: I received 2 1-day park hopper passes to Disneyland and California Adventures in exchange for media coverage. All opinions are my own.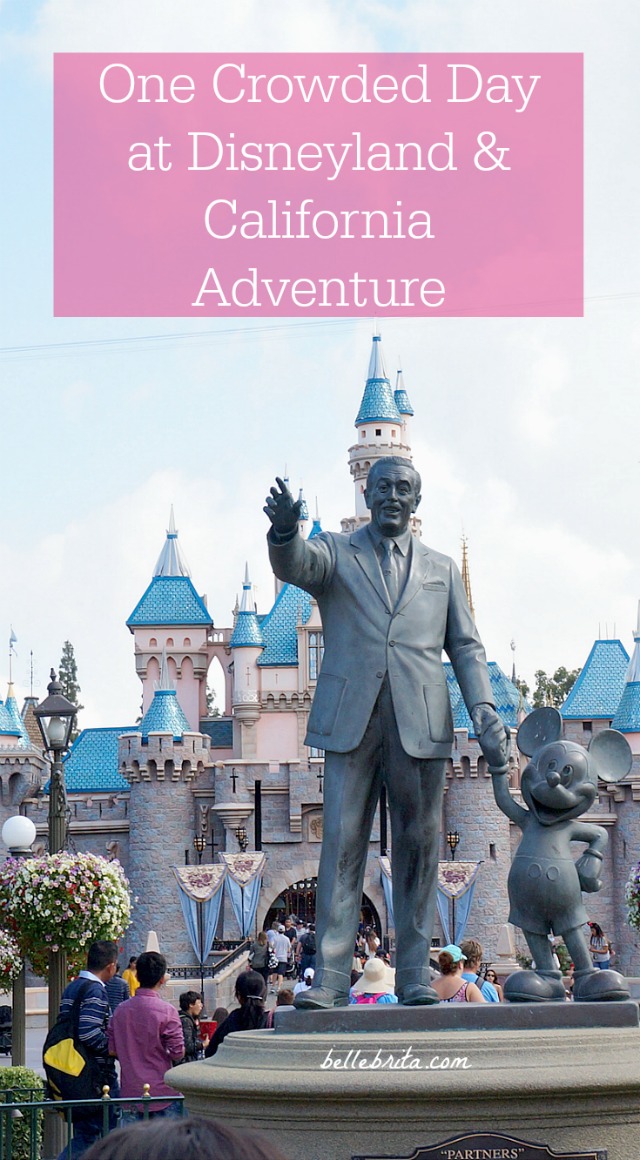 How to Survive a Crowded Saturday at Disneyland and California Adventure
Dan and I were in southern California for a work trip, meaning we had little control over our travel schedule. We ended up going to Disneyland and California Adventure on Saturday, May 13th… Which happened to be the same day as some sort of Tinkerbell run. During Mother's Day weekend.
Both parks were absolutely PACKED, but Disneyland was especially crowded. Even Magic Kingdom on a Saturday in August didn't attract this many people!
If you can choose your own Disney dates, avoid race days. Skip Saturdays during peak months. And don't go during holiday weekends.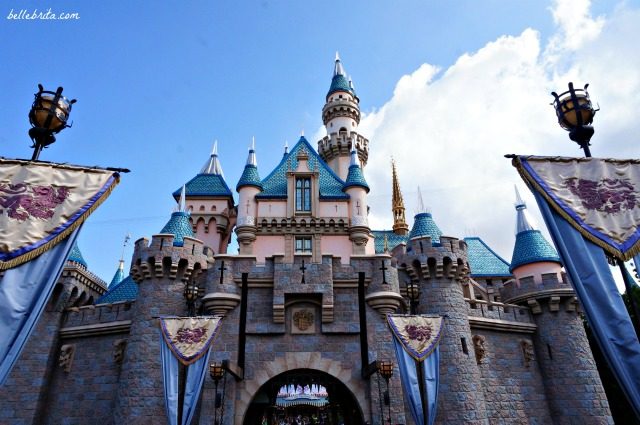 Our Biggest Disneyland Mistake
Until recently, you could hold a FastPass for 1 ride in Disneyland and 1 ride in California Adventure at the same time. That changed just a few weeks before our trip, but we didn't know it. We screwed up by going to Disneyland, grabbing our first FastPass, riding 1 ride, and then going to California Adventure to get another FastPass.
Obviously, we couldn't get a second FastPass. We then spent about an hour at California Adventure before going back to Disneyland.
Do not park-hop so early. It's a huge waste of time. The lines to check tickets at Disneyland were still pretty long at this point. Plus, even though the park entrances are near each other, you lose time navigating to the front of one park and across to the other park.
If we could do it again, we would spent the first half of the day at Disneyland and the second half at California Adventure, entering each park just once.
Disneyland FastPass Tickets
On a crowded day at the Disney parks, you simply can't do every ride. You will still have an amazing day, I promise!
To get the most out of your FastPass tickets, you need a plan. What's your Disney priority? Dan and I chose to prioritize the Disney attractions unique to Disneyland and California Adventures. In 2016, we visited both Magic Kingdom and EPCOT at Disney World, plus Disneyland and Walt Disney Studios in Paris.
Related: For Love of Disneyland Paris at Christmas
You might want to prioritize thrill rides, or photos with characters. There's not a wrong approach to seeing Disney attractions, but you want to have a general idea in mind of what you want to do. With a plan in place, using the FastPass system will help you optimize your day at Disneyland and California Adventure.
California FastPass vs. Florida FastPass
Disney FastPasses themselves generally work the same at all the Disney parks I've visited. When you receive a FastPass for a ride, you have a window of 1 hour to use the FastPass. If your FastPass is for 10:20am-11:20am, then you can arrive at any point during that window and enter the FastPass line, which moves more quickly than the regular line.
However, how you get FastPasses is not the same at each Disney location.
At the Disney World parks in Orlando, you can make up to 3 FastPass reservations in advance of your visit. You are limited to 3 reservations per day at the parks, and each day's FastPasses must be at the same park.
For example, when Dan and I spent just 1 day split between EPCOT and Magic Kingdom, we could only make 3 FastPass reservations for Magic Kingdom OR for EPCOT, but not reservations for both. On the day of your visit, after you use all 3 FastPasses, then you can get a 4th if any rides still have FastPasses available.
The FastPass program in the California Disney parks is completely different.
You can't make reservations in advance. You can only hold 1 FastPass at a time–sort of.
Like I mentioned above, a FastPass has a 1-hour window of usage. The bottom of the FastPass ticket gives a time for when you can get a new FastPass. Dan and I noticed that this time was usually about the same time that the 1-hour window started.
So if we had a FastPass for Haunted Mansion for 2:05-3:05pm, then at 2:05pm, we could pick up a FastPass for Roger Rabbit's Toon Town Spin for a time later that day. Even if we hadn't used the Haunted Mansion FastPass yet.
I promise, the FastPass system is a lot easier than it sounds. You can read more about FastPasses for Disneyland and California Adventures on the Disney website, but it's not very helpful.
How to Maximize Your FastPasses
Now that you know how FastPasses work, you can choose where to start your day. I personally don't think you should over-plan your Disneyland itinerary. Dan and I prefer to go with the flow. But you can plan out the very beginning of the day.
For us, that meant that we first grabbed FastPasses to HyperSpace Mountain before jumping in line for Star Tours: The Adventures Continue. You will want to choose two popular attractions near each other and do the same. Get a FastPass for one and ride the other.
Always compare wait times to FastPass return times if you are able to get a new FastPass. Several times Dan and I skipped waits of 60-90 minutes and got FassPass tickets instead… With return times almost identical to the wait times!
Just Spend the Whole Day at Cars Land
Dan loves cars. He does most of the maintenance on our two cars. He even does high performance driving a few times a year at the track. Dan LOVES cars.
Me, I think cars are a way to get from Point A to Point B.
Dan also loves Pixar movies, which pairs rather well with my love of Disney films.
I had a feeling he would love Cars Land, a recreation of Radiator Springs from the Disney-Pixar film Cars. I just had no idea Cars Land would captivate me so completely!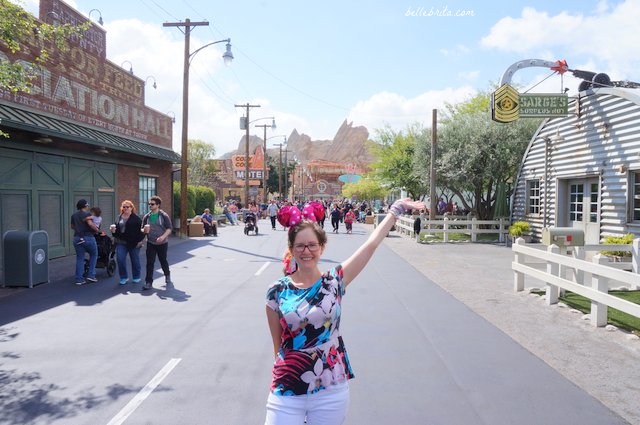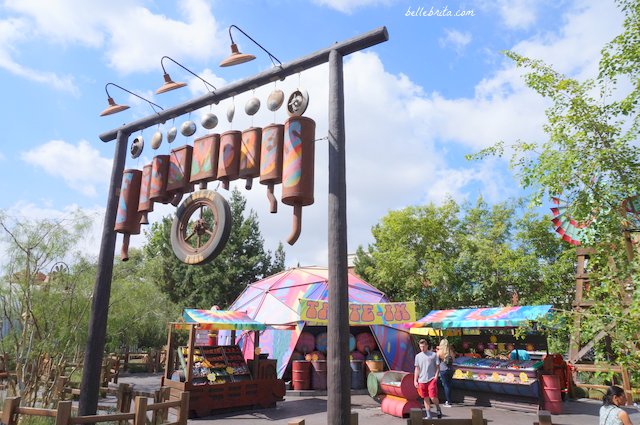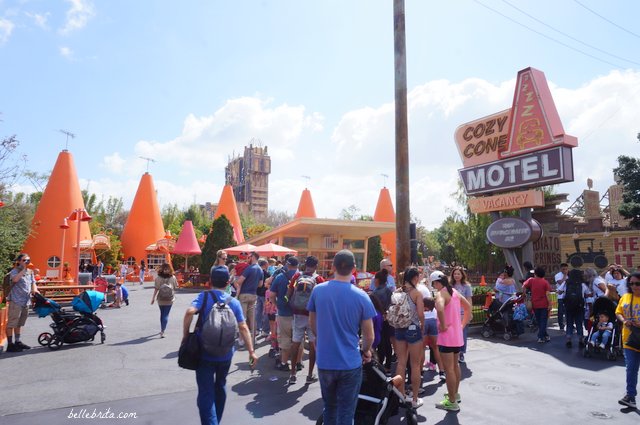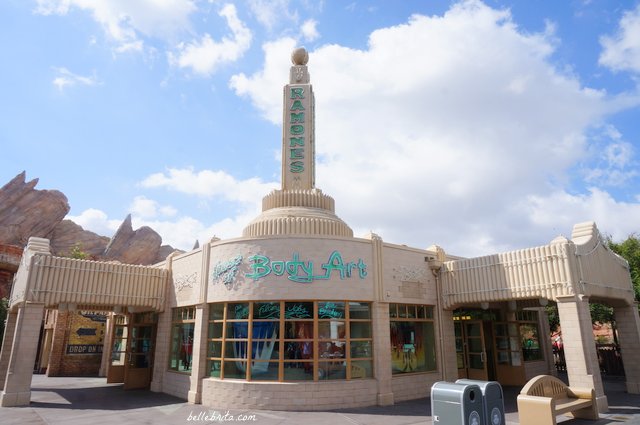 Dan and I walked around the whole land slowly, marveling at the attention to detail. While all the recreated stores are just incredible, nothing beats the beauty of Ornament Valley and the Cadillac Mountain Range, especially at sunset.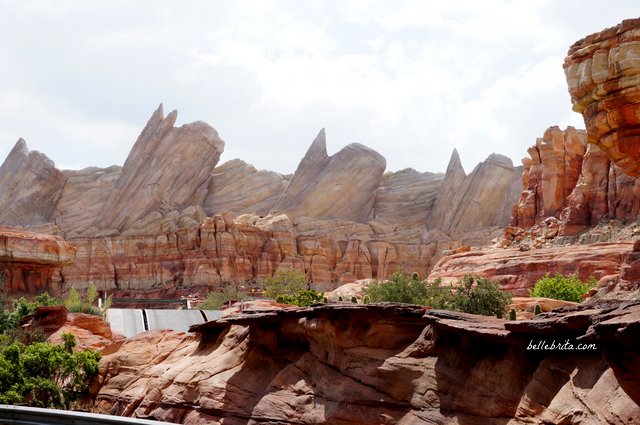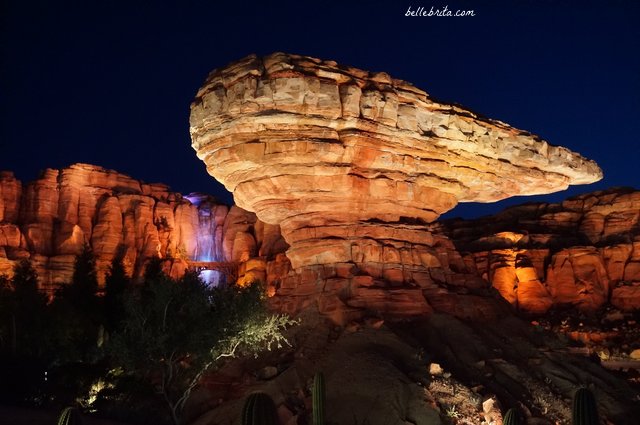 Maybe there's not quite enough to do for an entire day at Cars Land, but Dan and I honestly spent an hour just walking around and taking pictures. If the parks hadn't been so crowded, I would have stopped to try the food at Flo's V8 Café.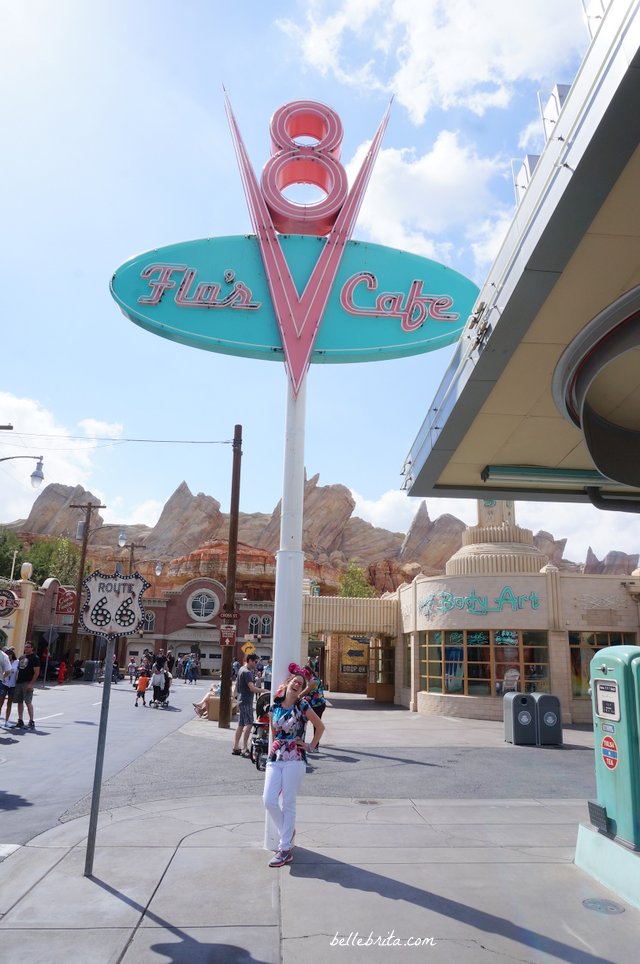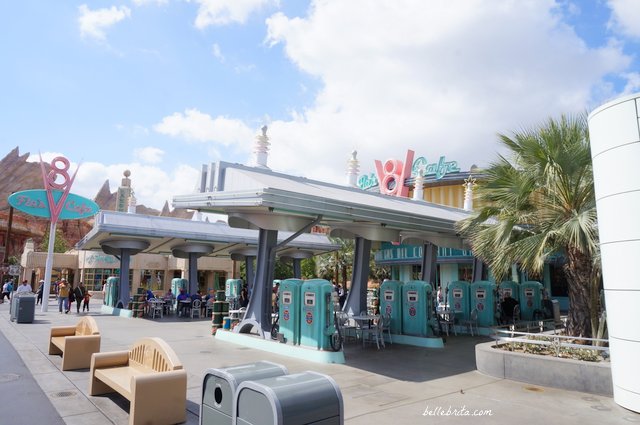 Cars Land Rides
Cars Land features 3 separate rides:
Mater's Junkyard Jamboree
Luigi's Rollicking Roadsters
Radiator Springs Racers
All 3 of these rides are fun, but don't wait more than 15-20 minutes for Mater's Junkyard Jamboree or Luigi's Rollicking Roadsters. We rode those attractions in the evening, when crowds had thinned out just a little.
I've never seen anything like Luigi's Rollicking Roadsters. You get in a cute car, and then all the cars dance! Even watching the rides amused Dan and me since each cycle is a different song and different choreography.
ALSO! The ride itself is on a trackless system. It truly felt like magic. After badgering a Disney cast member, all Dan and I could find out is that the ride is wifi-operated, and cars dock in charging stations between cycles. Pretty cool imagineering.
Radiator Springs Racers was absolutely the highlight of our day. Hands-down. It's one of the best rides that Disney has ever designed.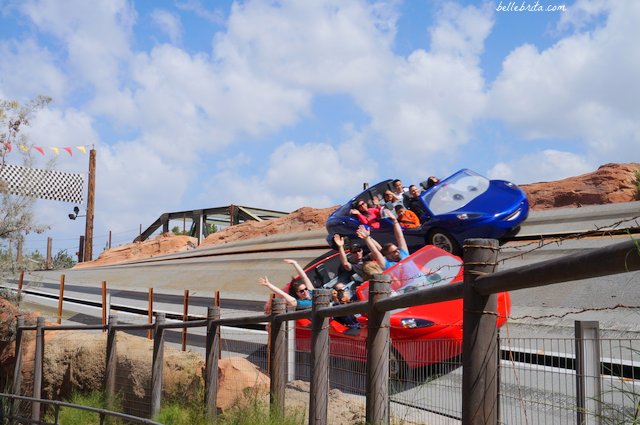 Dan and I rode it first in the morning, using the Single Rider Line. We waited about 10-15 minutes.
We rode it again as our last ride of the day, again using the Single Rider Line. This wait was longer, maybe 25-30 minutes.
Radiator Springs Racers is a completely different experience by day and by night, so I recommend doing both if you can. And it's such a good ride that it was truly a great way for us to finish our day.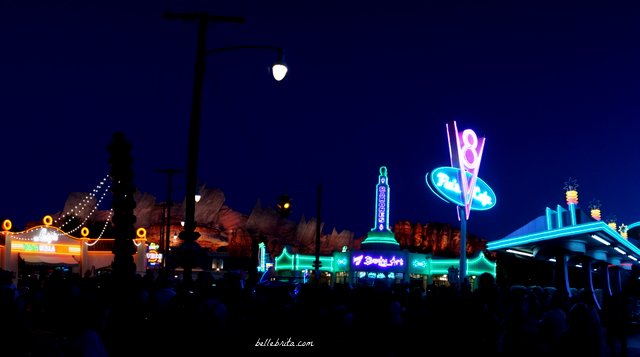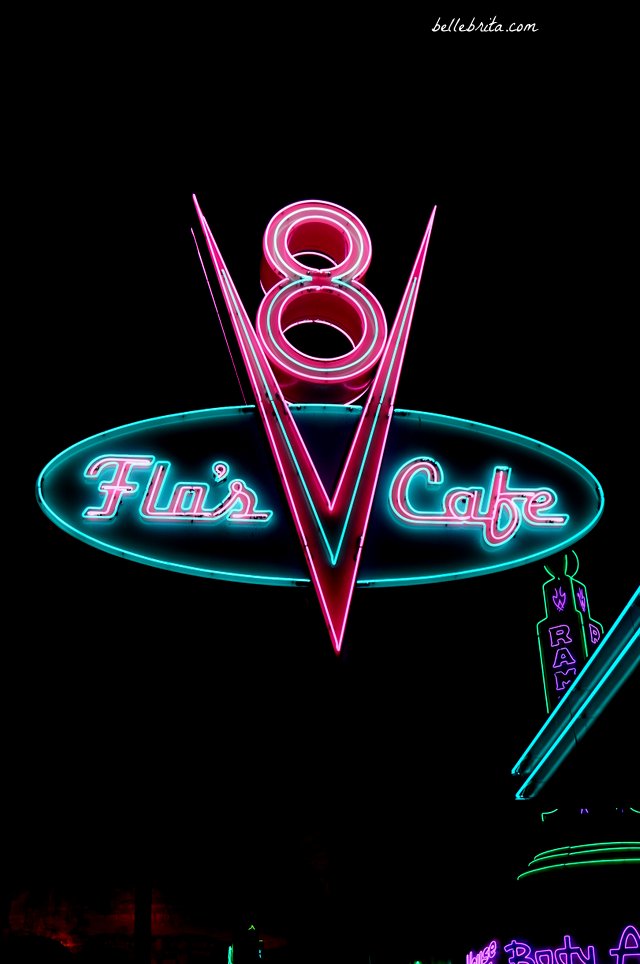 Other Disney Highlights
Dan and I did a lot in our one day at Disneyland and California Adventure. I've listed our favorite rides below.
Keep in mind we prioritized what we didn't do last year at the Paris parks and the Orlando parks. This meant we skipped a few of my usual favorites, like Peter Pan's Flight and Pirates of the Caribbean.
Disneyland Favorite Rides
Star Tours: The Adventures Continue: Star Tours has been one of my favorite rides for over 20 years. It's a combination of animatronics, 3D effects, and vehicle movement. The queue is one of my all-time favorites, with droids and other fun Star Wars details to admire. Now the ride includes multiple storylines, giving riders a new experience each time.
Hyperspace Mountain: Space Mountain received a Star Wars makeover. It's now even better than it was before. The music, dialogue, and special effects are just incredible.
Haunted Mansion: Each Haunted Mansion is slightly different. I love them all. It's a not-too-spooky ghost ride with so many details that I wish I could ride it multiple times in one day just to absorb everything. It's ghostly, not gory, but it could frighten children.
Alice in Wonderland: A delightful romp into the world of Alice in Wonderland. I've never done this before, so I was excited for it. My one complaint is that the cast members didn't load full carts. Each caterpillar cart had 2 rows that could seat 2 adults, or 2 adults and 1 child. But the cast members loaded 1 party to a cart, meaning a lot of couples like Dan and me rode our own carts. The line would have moved a lot faster if they had put parties together.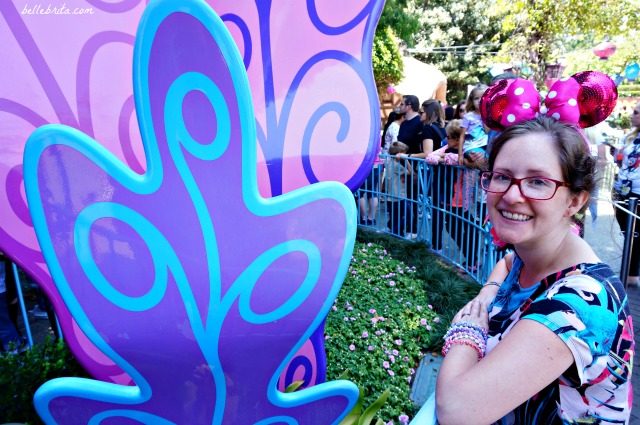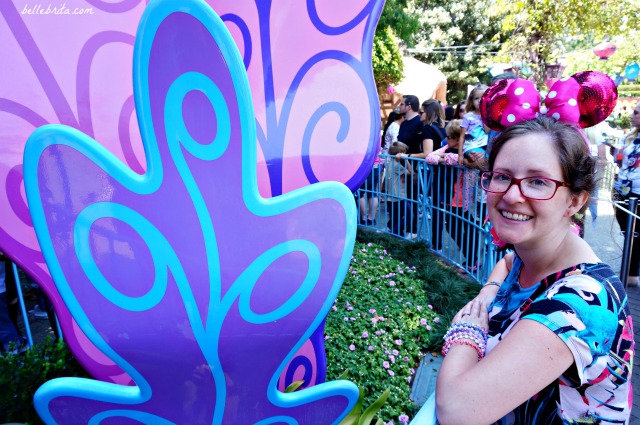 Roger Rabbit's Car Toon Spin: Dan was so excited to find out Disneyland had a Roger Rabbit ride! He loves the film Who Framed Roger Rabbit?
California Adventure Favorite Rides
California Screamin': One of the best roller coasters I've ever ridden, period.
The Little Mermaid ~ Ariel's Undersea Adventure: Classic dark rides will always be my favorite. The queue is better at Disney World, but we still enjoyed this ride.
Mickey's Fun Wheel: A classic Ferris wheel, but with a twist. Some of the carts glide back and forth, which is surprisingly thrilling.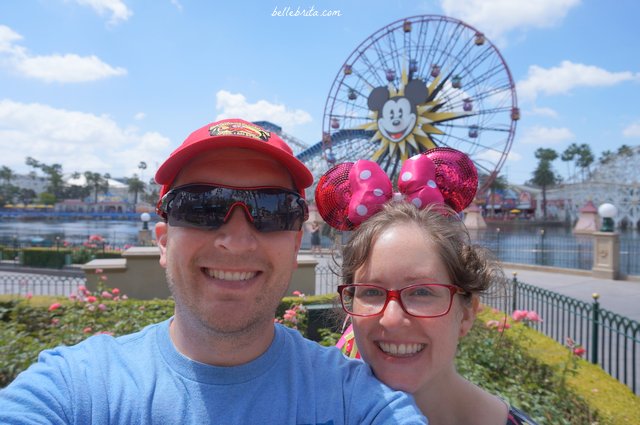 Monsters, Inc. Mike & Sulley to the Rescue: Another fun dark ride.
Where to Eat at the Disney Parks
During our crowded day at Disneyland and California Adventure, Dan and I ate 2 regular meals plus 1 snack. Because we were so hungry, we only remembered to photograph one meal. Blogger fail.
For lunch, we dined at the French Market Restaurant in New Orleans Square. Dan and I split a meal, and it was plenty of food for the both of us. We ordered the French Market Chicken with a double side of mashed potatoes. Normally the sides are mashed potatoes and seasonal vegetables. Honestly, the quality and serving size were comparable to what you would get at a non-Disney restaurant, for about the same price. I highly recommend it!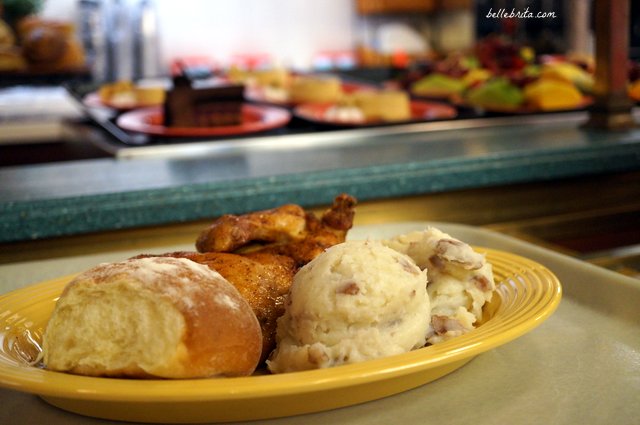 Later in the afternoon, we snacked on a Disneyland classic: churros. I insisted on getting my own instead of splitting one because I love them that much.
For dinner, we split an entree at Boardwalk Pizza & Pasta in California Adventure. We ordered the 5-cheese ravioli. They made ours to order since we requested no pine nuts. This was again delicious, although the serving size was a tad on the small side.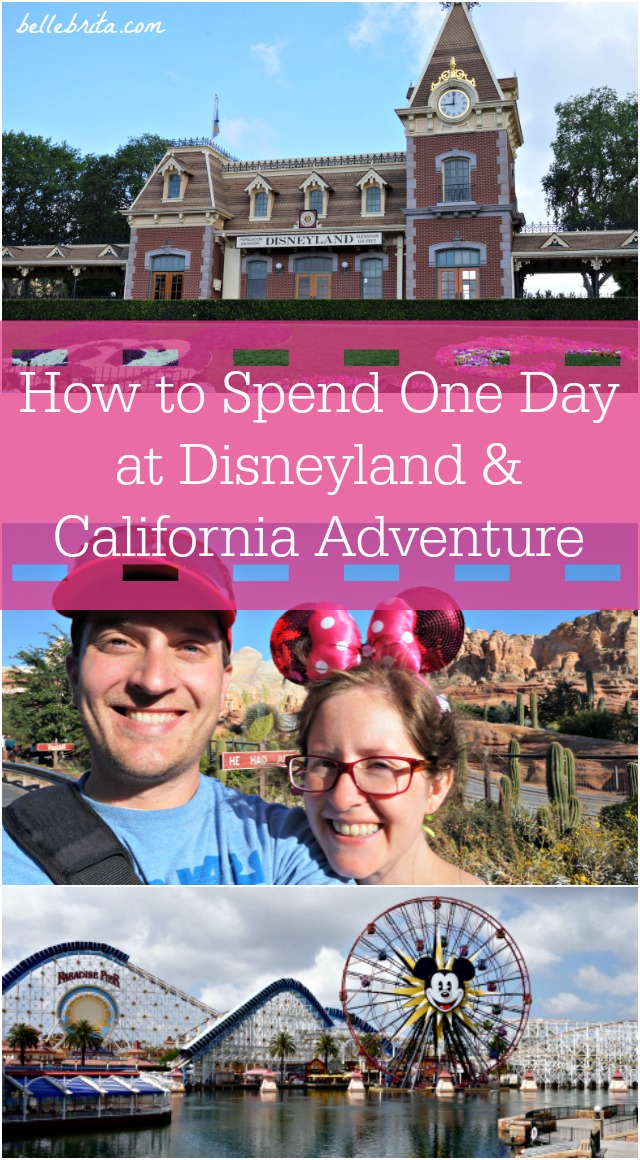 Despite the heavy crowds, Dan and I absolutely loved our trip to Disneyland and California Adventure. I only wish that we hadn't had an early flight the next morning. We left before the fireworks display at either park.
I hope that we will return to the California Disney parks some day! Until then, we're already planning our 2018 Disney adventure… to a whole new country. Any guesses where we're headed?