Wow, May flew by. I feel like I say this every month, but where did the time go? How is it already MY BIRTHDAY MONTH?!
Even though I only blogged three times in May, I accomplished so many of my goals. Sometimes behind-the-scenes blog work dominates my time. You might not be able to see everything I did, but I worked on several important projects that will (hopefully) pay off later.
Like… I forgot to blog on Tuesday about my own link-up. I had planned on May being the last month for Getting to Know You, but I've been so sick/stressed in the last week that I completely forgot to write up one last interview with Dan and me.
Plus Dan and I went to CALIFORNIA!!!! Who wants to work when they can go to Disney parks and the beach?!
Let's jump into what I accomplished last month!
Note: This post contains referral links, which means I might make a little bit of money if you buy something, at no cost to you.
May Recap:
For my career:
I have not published Muddling Through Again. However, I've checked off many of the sub-goals to get there.

I wrote my editor's note.
My dad wrote an introduction.
I sent off the book to an editor who is also doing my book cover.
While I'm still writing the content, and I'm still giving feedback to my web designer, I have built most of the Muddling Through Again website.
Alas, I did not contact any Christian women to write guest posts.
Nor did I contact any book bloggers… But I really can't do that until the book is 100% done.

I have just under 31,000 Instagram followers! This means that since reaching 10,000 Instagram followers exactly one year ago, I've gained over 20,000 new followers.
Bonus: I reread some of Instagram Decoded.
I did pitch one PR rep for a Father's Day collaboration. While I had intended on pitching more brands, I'm still happy with this goal.
Not only did I reach 8,000 Twitter followers, but I surpassed the goal by reaching 8,400 followers.
May 2017 Blog Posts:
May 2017 Blogger Mail:

BOX OF HAPPIES:
This will be an Instagram collaboration this month. Anna is a mompreneur based out of Atlanta, GA who created a fun subscription box filled with little things that bring a smile to your face. She put together a custom box full of PINK items just for my pinktastic Instagram feed.
For my health:
I actually ended up having lab work done three times this month, if that tells you anything about my life.
I successfully went 5 whole days without soda or alcohol.
Almost every night I was off my laptop by 9:30pm or earlier. Just not last night (she writes at 1opm).
I ate a salad at least 2 times every week, often even more.
For my marriage:
It turns out that coming up with a surprise for your husband every week is harder than it seems. Especially when you're in California for 1/3 of the month and sick on a semi-regular basis.
For our household:
While Dan and I still need to buy some additional drawers for the bathroom, I did organize quite a bit. Dan installed an over-the-toilet storage unit, which I completely filled with extra paper products and my extra toiletries. We also already had a small stand with a drawer and shelves that just fits between the bathroom vanity and the bathtub. I organized my frequently-used toiletries here, freeing up the counter for Dan's toiletries. Finally, Dan installed two floating corner shelves above the garden bathtub, where I arranged our many fun bath supplies.
Dan and I both put away tons of non-office things that were in my office. I still need to do more, but we made a lot of progress here.
While I did meal-plan every week, getting sick several times screwed up several meal plans. Luckily we didn't have to throw away much food that spoiled before I could eat it, but we do have a bit too much in the freezer at the moment!
I planted basil! It's just another container garden for this summer, but I hope to have raised garden beds for herbs and vegetables next year.
I spent time weeding the front garden… not that anyone except for me can tell.
I also spent time weeding the mulched area in the back, which Dan did notice! But there are so many weeds there that our eventual plan is to rake out all the mulch, pull up the worst of the weeds by hand, and possibly use weed killer on the rest.
I planted my Easter lilies. Here's hoping they bloom beautifully next year. I planted an Easter lily two years ago in Duluth. It bloomed last year, and the green was growing when we moved this year.
Following my cleaning checklists was very hit or miss this month. Needing to unpack things hindered my cleaning at times, as did getting sick a lot. But I'm impressed at my deep-cleaning of the kitchen, and my frequent quick cleaning of the bathrooms. It's a step in the right direction for maintaining a clean, organized home.
30×30:
I didn't write a single letter. Oops.
I am on track to publishing Muddling Through Again by the end of June, if not quite by my birthday itself.
So… I think I only did about 7 days of the plank challenge, and they weren't even consecutive.
My in-laws and I did go to Dahlonega to enjoy a wine tasting, but we didn't go to a winery itself, just a tasting room.
Bonus: Dan, Paul, and I designed the structure of a butterfly-rain garden for the front yard. Dan and I planted my butterfly bush yesterday! Even if I don't get anything else planted by my birthday, I'm so happy to have this done.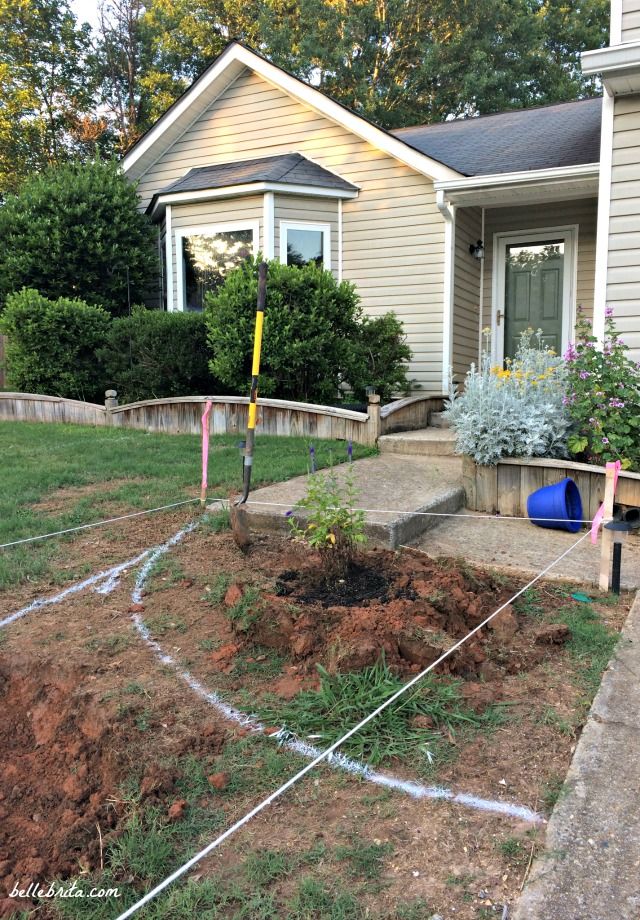 Related: 30 Before 30 Update, with 5 Months to Go
June Goals:
Long-term:
Self-publish my mom's book of prayers.
Market this book:

Blog posts about prayer
Opt-in freebies
An email series on prayer

Earn affiliate commissions on Breakthru Branding
Market this course:

At least two blog posts
An opt-in freebie
Instagram

Teach SEO for lifestyle bloggers

Create a course?
Write an ebook?

Earn affiliate commissions on Blog Boss Babe
Market this group:

At least two blog posts
An opt-in freebie
Instagram
For my career:
Publish Muddling Through Again.

Submit the book to Amazon as a Kindle single!
Finish new website dedicated to Muddling Through Again.
Line up Christian women bloggers to write guest posts.
Line up book bloggers to review the book.

Reach 32,500 Instagram followers.
Reach 9,000 Twitter followers.
Redo editorial calendar for Belle Brita. Only blogging three times in May totally threw me off my schedule, even if it was necessary.
Create an editorial calendar for Muddling Through Again.
Finish SEO client work.
Finish attending webinars before conference.
Find photos for Santa Monica and Burbank blog posts.
Use the tools in the Work-at-Home bundle to help me prioritize! Only $47 for over $2,000 worth of material!
For my health:
Schedule my next Remicade infusion. Normally I do this at the end of my appointment (which was yesterday), but the scheduler wasn't there when I left.
Schedule my MRE.
I really like my challenges to drink less soda and alcohol. For June, with the exception of today and my birthday, my goal is to forgo both beverages Monday-Thursday, only partaking on weekends.
Eat at least 3 salads per week.
Find new medical professionals for Dan and me. Since we moved, we need new everything except for my gastroenterologist and my dermatologist.
For my marriage:
Stay in close contact with Dan when I'm traveling. I'm spending extra time this month in Greenwood with my dad. Later I'm going to Ohio for a conference. It's easy not to text, call, or skype when I'm having fun, but I know how lonely I get when Dan travels for several days at a time.
For our household:
Measure the space in the bathroom that needs plastic drawers.
Put away the non-office stuff currently in my office.
Meal-plan every week.
Weed front garden.
Weed mulched area in the backyard.
Choose plants for the butterfly-rain garden.
Follow my new cleaning checklists to the best of my ability.
Send out overdue wedding cards/gifts.
30×30:
Write 5 letters.
Publish Muddling Through Again.
Write a content upgrade for this.
Complete a 30-day plank challenge.
Start an SEO support Facebook group.
Host or co-host a Twitter chat…?
---
I feel like my June goals are really ambitious. My birthday is June 8th, so I definitely don't think I'll cross everything off my 30 Before 30 list actually by the 8th. But I think it's possible to finish these mini goals by the end of the month.
Like last month, I probably won't blog too much this month. Getting my mom's book done, the website done, the email set up, and everything else is my #1 priority! I'm using the tools in the Work-at-Home Bundle to help me focus!
What did you do in May? What are your summer goals? Leave a comment below!