Earlier this month, I celebrated my 30th birthday! In fact, the celebration continues today as the last day of my birthday month.
I created my 30 Before 30 list shortly after my mother died. At the time, I was still in this weird limbo of grief, a combination of numbness and denial. I was both productive and ambitious during this time period, but then my grief really hit me, and I've struggled to stay organized and productive ever since.
In my 30 Before 30 Update 5 months ago, I changed some of my goals to reflect my reality. Even with those changes, I still didn't check off everything from my list.
That said, I'm quite pleased with what I did manage to accomplish in the last 2 years. Plus, I'm still working towards most of the goals not quite done. I feel confident I'll get to most of them in the next year!
Note: This post contains affiliate links, which means that if you click a link and buy something, I might receive a small commission. Running a blog costs money, so thank you for supporting Belle Brita!
30×30 Travel Goals
Go to France with Dan
Status: Done! November 17 to December 3, 2016.
Motivation: I lived and worked in France for the better part of 2 years after I graduated Furman University. Those years greatly shaped who I am today. I wanted to share a location that means so much to me with my husband.
Details: Dan and I had a magical trip to Paris and London. We spent quality time with my cousins in Saint Germain-en-laye, visited all the major Paris tourist attractions, and enjoyed reliving my expat days. Plus we met up with several of my friends in both Paris and London!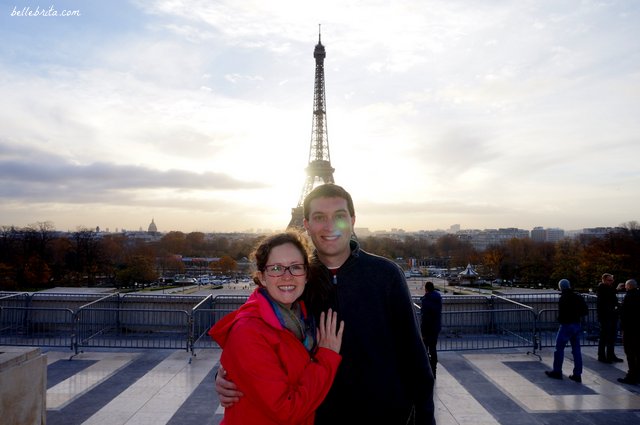 Go to Disney World and the Wizarding World of Harry Potter
Status: Done! October 17-25, 2015. Plus we went to Disney World again on August 5, 2016. And we went to the Wizarding World of Harry Potter in California on May 7, 2017.
Motivation: I am young at heart. I set this goal for 2 reasons. 1) Dan had never been to a single Disney park before, and I wanted to share that experience with him. 2) I had never been to the Wizarding World of Harry Potter, even though I'm a huge Harry Potter nerd.
Details: Luckily I recapped both Disney World trips! And subsequent Disneyland trips. I never actually blogged about the Wizarding World of Harry Potter because we didn't get many pictures since I was sick on that trip. In summary, Hogsmeade and Diagon Alley are both magical. Butterbeer is delicious. Walking through Hogwarts is one of the coolest things I've ever experienced.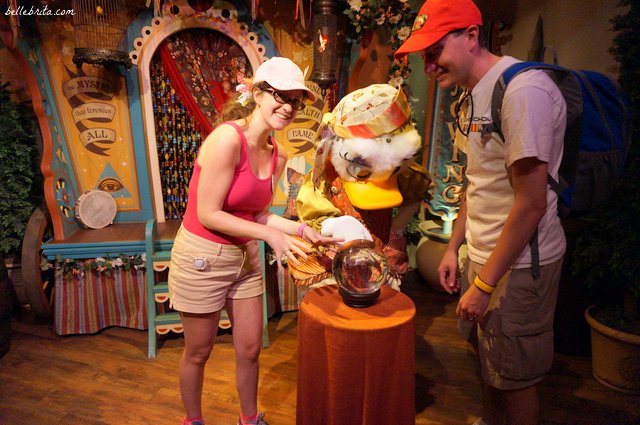 Spend Christmas with Dan in Greenwood
Status: Done! Christmas 2015 and Christmas 2016.
Motivation: Even though Dan and I have spent every Christmas since 2012 together, we had yet to celebrate the holiday in Greenwood. In 2012, we celebrated with my family, but in Denver, with my mom's side of the family. I wanted to introduce Dan to my family's holiday traditions. Also, I wrote my original 30 Before 30 list after my mom died, and I knew I wanted to spend my first Christmas without her in my hometown.
Details: Dan and I celebrated our last 2 Christmases in Greenwood. They were definitely hard without my mom, but it was good to be with family.
Go to Savannah with Dan
Status: Done! September 25-27, 2015. We also went again with Dan's parents October 21-23, 2016.
Motivation: I hadn't been to Savannah since I was in high school. Once Dan and I moved to Georgia, I knew I wanted to experience Savannah as an adult, with my sweet husband.
Details: I recapped our first Savannah weekend on the blog, so be sure to read that! With Dan's parents, we finally visited Forsyth Park, plus we enjoyed a dolphin-watching boat ride.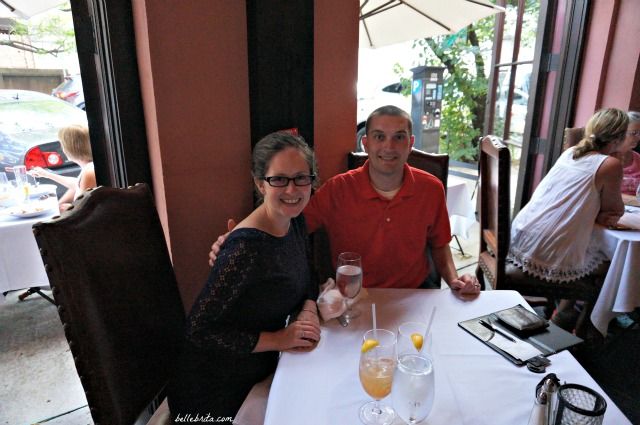 Visit all of the vineyards along Georgia's Wine Highway
Status: A work-in-progress (WIP)
Motivation: I really like wine… Do I need any other motivation?
Details: Before I set this goal, I had already visited many vineyards/wineries. Too bad I didn't write down which ones I visited! It turns out that a goal of drinking a lot of alcohol is not easily accomplished when you prioritize stuff that actually matters. While I have enjoyed trying Georgia wines and seeing what local wineries produce, visiting each individual vineyard or winery is not an urgent goal of mine.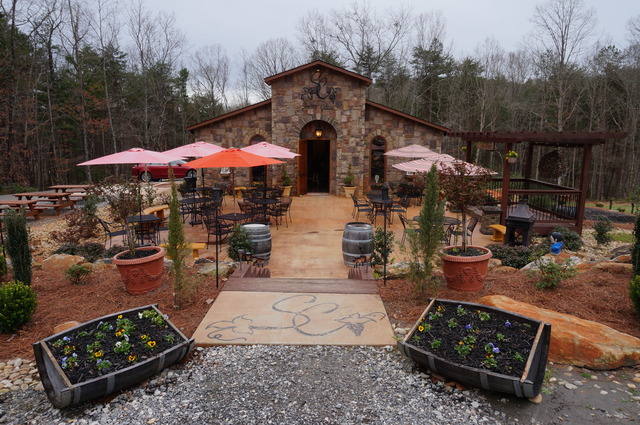 Go to Charleston with Dan
Status: To be done (TBD)
Motivation: I haven't been to Charleston in years, and Dan has never been. I wanted us to go together.
Details: With all of our other travels, a trip to Charleston just hasn't happened yet. This is still a goal of mine, though.
Discover Georgia. Visit small towns, go hiking, explore.
Status: WIP
Motivation: This original goal was to discover Atlanta, but I realized that Dan and I prefer small towns and easy hikes to the city attractions. I've always valued being a tourist in your hometown (or home state), hence this goal.
Details: Dan and I have done a lot in Georgia, but we need to do more. I keep revisiting Dahlonega, for example, instead of going to new small towns. Dan and I did spend a long weekend in Toccoa back in January, but with our move from Duluth to Cumming, we haven't explored much lately.
Visit Harry and Celia in Charlotte
Status: Done! January 31, 2016. And again November 4-6, 2016.
Motivation: Once Dan and I moved to Georgia, it seemed silly not to make it up to Charlotte to visit my brother and his wife.
Details: For the first visit, Dan had a work trip near Charlotte, and I tagged along. We went out to a nice restaurant with Harry and Celia. The recent November trip was an early Long family Thanksgiving substitute since Dan and I wouldn't be in the States for the actual holiday. We went to the Renaissance Fair!
30×30 Career Goals
Self-publish Muddling Through Again, the second edition of my mother's self-published book of prayers.
Status: WIP
Motivation: I wanted more people to experience my mother's faith and wisdom. The original goal was to finish writing and self-publish The Gifts of Brain Cancer, but I've been unable to work on that due to the emotional aspect.
Details: The website launches in 2 weeks! The book release date is definitely set for August, with the exact date still pending. So even if I didn't get this done in time for my 30th birthday, I'm pretty darn close.
Write at least two content upgrades to promote Muddling Through Again.
Status: WIP
Motivation: My original goal was to publish my own Kindle single. I changed this because I hadn't progressed enough on her book or started my own as of 5 months ago. Writing content upgrades still requires the same sort of skill and work as writing a Kindle single, though, so the spirit of the goal remains the same.
Details: I've written a short collection of prayers. I still need to write another content upgrade.
Sell 1,000+ books
Status: TBD
Motivation: This is simply a reasonable metric of marketing my books.
Details: Since I haven't published a book yet, I haven't sold any books either.
Attend a blog conference
Status: Done! Maidae Mixer, October 4, 2015
Motivation: Going to a blog conference just feels like being a legitimate blogger.
Details: The Maidae Mixer was a small event, so not exactly a proper blog conference. But it was in Georgia, and I could afford it, so it counts! Sadly the hosts haven't done it since then, when it used to be an annual event.
Join a Mastermind group
Status: TBD
Motivation: This original goal was to mentor someone. The motivation for both goals remains the same, however. I've been blessed to receive guidance and support from people both online and offline. I want to help others with my knowledge.
Details: I have an idea for starting a sort of mastermind group. I'm being vague until it gets done.
Launch my own business website
Status: Done! Check out Brita Media.
Motivation: At the time of setting my 30 Before 30 list, I was really interested in freelance copywriting and social media marketing. I needed a website to promote my services.
Details: I ordered business cards for the Maidae Mixer which included both my blog website and my business website. So I was very motivated to get my business website done!
Host or co-host a Twitter chat
Status: TBD
Motivation: This just seemed like a good way to connect with like-minded people and grow my Twitter following.
Details: I have some ideas to still do this as part of the new website I'm launching for my mom's book.
Give a talk or presentation
Status: Done! April 2017.
Motivation: I wanted to share my expertise with other people.
Details: As the SEO mentor for Blog Boss Babe, I created a webinar that's exclusive to members.
Create my own 30-day blog or social media challenge
Status: Done! #LoveBlog, February 2016.
Motivation: I love community challenges for blogging and social media. I wanted to create my own.
Details: Only the inaugural #LoveBlog was a full month long. Technically it wasn't 30 days, but February 2016 was 29 days, so close enough. I hosted an adapted form this year, and a new form of #LoveBlog will be back for 2018!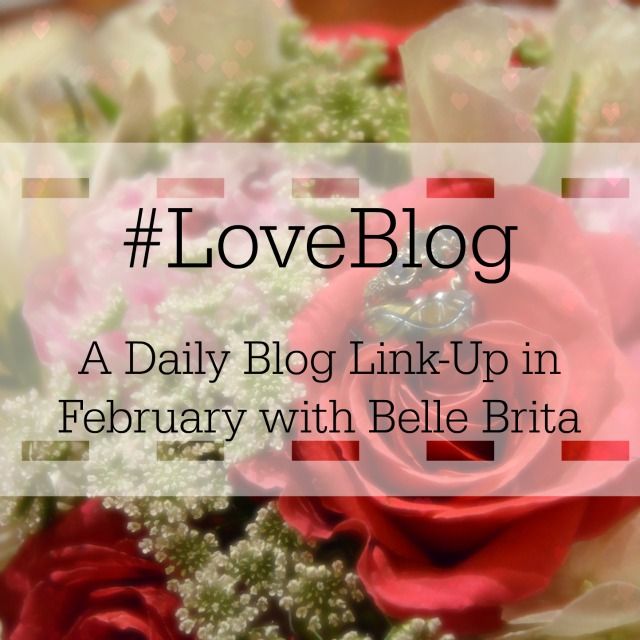 Write for xoJane
Status: Done! March 31, 2016
Motivation: xoJane was a feminist-friendly website with fairly open contributor guidelines. It seemed like a good way to start as a freelance writer.
Details: To be honest, after the initial thrill wore off, the experience of being published on xoJane kinda sucked. The editor changed my tagline, which changed the tone and framework of my entire article, even though most of the original article stayed the same. So the comments were pretty terrible. Also, $50 for about 1,000 words and 5 photos is not great compensation.
Go viral (for me, at least 1,000 social shares)
Status: Done!
Motivation: I'm a blogger. Of course I want to go viral.
Details: Slow viral counts, right? 30 Lessons My Parents Taught Me about Marriage has over 1700 pins on Pinterest and over 200 shares on Facebook.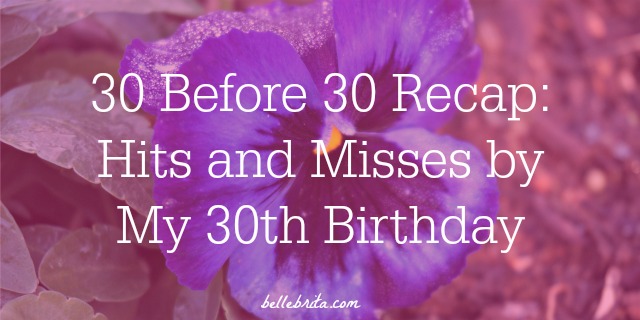 30×30 Lifestyle Goals
Throw (another) Harry Potter party
Status: Done! I didn't write down the exact date, but it was a Sunday in March 2017.
Motivation: Who doesn't want to throw a Harry Potter party?
Details: Dan and I invited a married couple for dinner and a Harry Potter board game. They ended up having a houseguest with them, who we invited to come along. Honestly, it was a great evening of laughing and nerding out.
Host a dinner party
Status: Done! December 17, 2016.
Motivation: Hosting a dinner party felt like such an adult and glamorous thing to do. Spoiler alert: it's not glamorous at all.
Details: I'm counting our family's Christmas dinner for this goal, even if we ate at my dad's house. I put together the menu, and I did most of the grocery shopping. I also cooked most of the food, although Jeremy contributed 2 dishes.  Finally, I hand-washed all the fine china and crystal afterward, by myself. If that's not hosting a dinner party for 9 people, then I don't know what is.
Hold a plank for 60 seconds
Status: Abandoned for now
Motivation: The original goal was to run a 2k. The motivation for both is to improve my long-term fitness.
Details: I did try with this, honestly. But the problem with Crohn's is that when it takes up so much of your time, you don't want to spend any additional time working on your health. All of my healthy motivation gets sucked up by Crohn's management. It will get better, eventually, and I can return to improving my fitness. Just not now.
Send out 50 handwritten notes, letters, or postcards
Status: Done…?
Motivation: I used to write letters all the time. I wanted to start up again.
Details: Honestly, keeping track of handwritten letters is really hard. So I think I probably sent out 50ish handwritten notes, letters, or postcards, especially if you include all the holiday cards I sent out with extra notes on them for my besties.
Read 10+ nonfiction books
Status: Done!
Motivation: I love reading novels, but I wanted to expand my literary horizons.
Details: I've read quite the variety of nonfiction books, many of them on blogging and homemaking. I've actually read more than the list below, but I didn't track most of the books I read through my homemaking bundles.
Attend an important/upscale social event
Status: Done! Hearts for the Arts, February 6, 2016
Motivation: I like dressing up.
Details: Every February, the Greenwood Arts Council hosts a large fundraiser: Hearts for the Arts. It's evolved over the years, but it started as a progressive dinner. When Dan and I attended, guests had the option of paying for the full event (the progressive dinner followed by dessert, beer/wine, and music at the Old Federal Building), or just the latter part. My sweet dad dropped off Dan and me so we could enjoy the beer and wine safely. We had so much fun dancing, drinking, and noshing on sweets in our fancy clothes.
Plant herbs other than basil and mint
Status: Done! I planted cilantro Fall 2016.
Motivation: To be a better gardener.
Details: I'm actually ready to plant cilantro again, but when I was at Lowe's to buy cilantro and mint, all the cilantro plants were dead.
Create a butterfly garden
Status: WIP
Motivation: My mom had a beautiful butterfly garden, and I wanted to create my own.
Details: Dan and I have started a rain-butterfly garden. The top tier is the butterfly garden. The lower tiers are the rain gardens. He has already made great progress in arranging the brick. We also planted my butterfly bush before my 30th birthday! I still need to pick out more plants and plant those. This picture is about a month old, before the bricks arrived.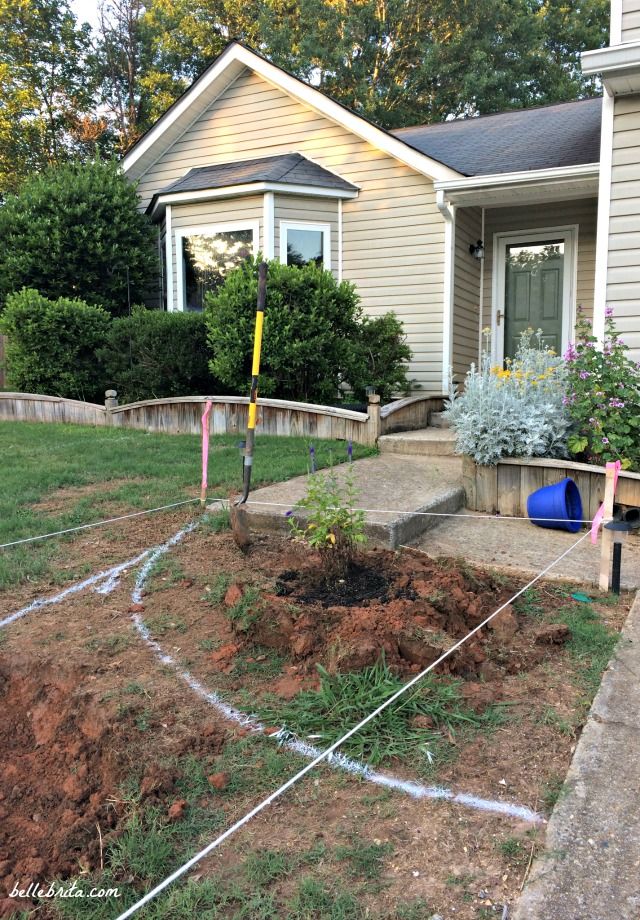 Try Whole30
Status: Done! January 2016.
Motivation: To see if dietary changes would help my Crohn's.
Details: I recapped my entire Whole30 experience on the blog, including everything I ate for a month, recipes, and why I won't do Whole30 again.
Drink real champagne (not sparkling wine)
Status: Done! March 22, 2017.
Motivation: Sparkling wine is my favorite, and I wanted to try the real deal.
Details: Dan and I bought a bottle of champagne in Paris which we shared for our anniversary this year. Yes, it was just as delicious as I had imagined.
Throw myself a fabulous birthday party
Status: Done! June 2016 and again June 2017.
Motivation: I celebrate my entire birthday month… of course I want to throw myself a fabulous birthday party!
Details: Thank you to Libbi and Chelsea who helped make my 29th birthday special with a day-long celebration. Thank you to Dan, my in-laws, my uncle, my great-aunt, Rachel and her boyfriend Scott, and of course, my dad, for attending my pinktastic 30th birthday pool party and cookout. Plus thank you to Candace and Chelsea for celebrating with me as well. I hope to one day have a party where all of my friends attend at the same time, but for now, I enjoy my multiple small birthday parties.
---
Thank you to my readers for following my 30 Before 30 journey! I'm going to wait a few years before making a new set of long-term goals, but I see a 40 Before 40 bucket list in my future…
Do you have any sort of long-term goals list, like a bucket list, a 101 things in 1001 days, or a 30×30? Tell me about your plans and dreams for the future!