This is a sponsored post through Brandbacker. I received a full-size Purifying 2-in-1 Charcoal Mask and 
a full-size Purifying Daily Detox Scrub plus additional compensation in exchange for my review. I am also a DERMA E brand ambassador, which means they send me products periodically to try out, but I am not obligated to review those products. All opinions are my own for any DERMA E review that I write.
Regular readers know that I started using DERMA E skincare products back in 2015. Usually I stick with their Hydrating line because I have dry skin.
Related: Skincare Line DERMA E Gets a Facelift
However, over the last few months, DERMA E has sent me multiple products from their Purifying line. Even though these products are designed for oily, active, or urban skin types, I decided to test them thoroughly on my own skin.
I started the test a week after I had a facial, which I hoped would be enough time to differentiate between any effects. First I went two days without washing my face or moisturizing it. Then I spent two weeks using DERMA E Purifying Skincare products on my face, nothing else. While I tried to wash my face both morning and night, I did skip a few face cleanings. While this was unintentional, I do think it provides an accurate, imperfect usage of the skincare products.
DERMA E Purifying Skincare
DERMA E carries several distinct product lines for different skin types and concerns. This is how DERMA E describes their Purifying Skincare:
It happens day in and day out. Oil, sweat, bacteria and micropollutants build up on skin and clog pores, leading to visible damage such as acne, blemishes, sensitivity, fine lines, wrinkles, thinning or sagging skin.

That's why DERMA E brings you Purifying Skincare. Doctor developed and clinically tested, it's like a deep detox program to cleanse and reboot skin every day so it glows with pure health for years to come.

Specially designed for oily, active or urban skin types, Purifying formulas work naturally to draw out toxins, replenish vital nutrients and restore skin's resistance to oxidative stress.

Plus, the line is synthetic fragrance-free, allergy tested and made with minimal ingredients, so it's safe for even sensitive skin.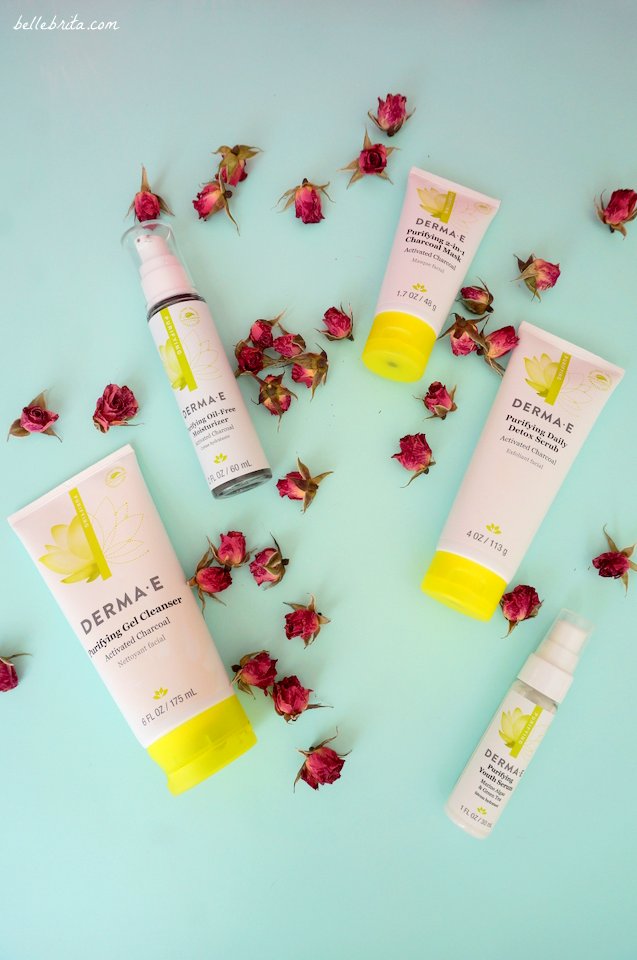 The full line of DERMA E Purifying Skincare includes the following products:
Prices are accurate as of 03/04/2017 according to the DERMA E website. Prices at retail locations may vary.
I used all of these except for the Toner Mist.
My Purifying Skincare Routine
"Routine" might be too strong of a word since I varied exactly which products I used on my face. I mostly followed the same basic routine, however.
First I washed my face with lukewarm water and the Purifying Gel Cleanser. Then I dried my face.
Next I applied a single pump of the Purifying Youth Serum to my face. I mostly rubbed the serum into my skin in a circular motion, with some upward strokes. (Yes, I'm paranoid about pulling my skin downward and creating wrinkles). One pump of serum was enough to moisturize my upper front neck as well.
My skin felt fairly moisturized with only the Purifying Youth Serum, so sometimes I just stopped with that. Usually, however, I gave it a minute or two to sink in.
Then I applied a single pump of the Purifying Oil-Free Moisturizer. Again, I rubbed it into my skin with circular motions and upward strokes. Again, one pump of the moisturizer included enough product to extend to my neck as well.
Usually, my morning and evening skincare routine was just the application of these three products. However, just like I sometimes used the serum without the moisturizer, I also sometimes used the moisturizer without the serum.
About twice a week, I also applied the Daily Detox Scrub after washing my face. I massaged the scrub into my skin with circular motions, spending about a minute exfoliating my face before rinsing with warm water.
Finally, once a week I applied the Purifying 2-in-1 Charcoal Mask after washing my face. I left it on for about five minutes. I used a wet washcloth to remove the mask from my face.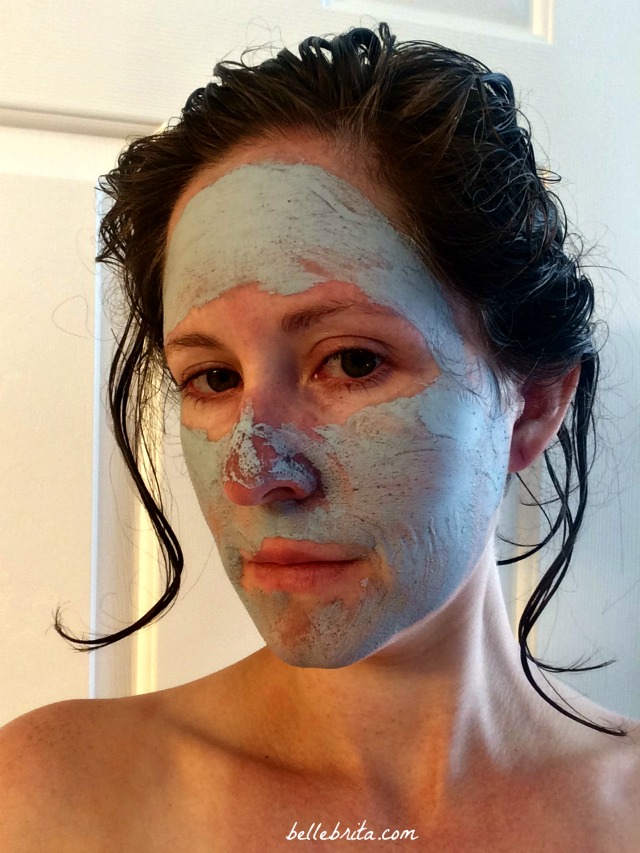 DERMA E Purifying Skincare Review
When I started using my DERMA E Purifying Skincare products, I wasn't sure they would be moisturizing enough for my dry skin. Patches of dry, flaky skin showed up after just a few hours of washing my face and applying both the serum and moisturizer.
However, after about four days of usage, dry patches stopped appearing on my face, with the exception of my eyebrows. That might sound weird, but I'm not comfortable using the cleanser, the scrub, or the mask so close to my eyes. While I do apply the serum and the moisturizer to my eyebrows, they lack the benefits of cleaning and exfoliating to remove dead skin.
I have always raved about every DERMA E product that I've tried. Their Purifying Skincare is no exception. I like two things in particular.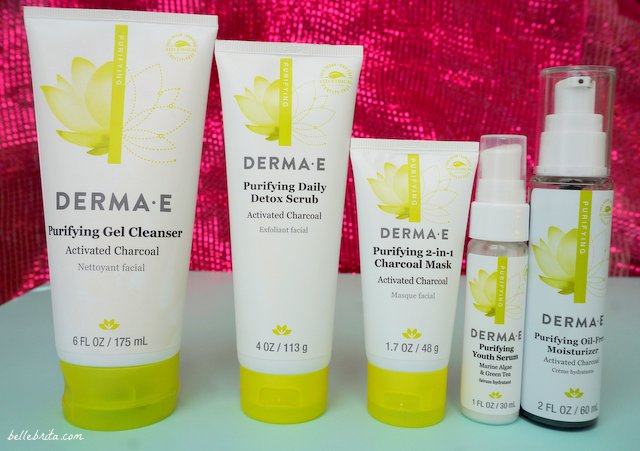 One, I love having a scrub that doesn't irritate my sensitive skin. Dry skin needs exfoliation too!
Two, my skin feels incredibly soft after using DERMA E Purifying Skincare. Seriously, it is SO smooth!
Can you detox your skin?
Here is my quibble with DERMA E Purifying Skincare. Honestly, my criticism has more to do with their marketing than how I feel after using these products exclusively for two weeks.
To accept that a product can "detox" your skin, you first have to define toxin. I googled "toxin," and I came up with this.
an antigenic poison or venom of plant or animal origin, especially one produced by or derived from microorganisms and causing disease when present at low concentration in the body.
The best mask in the world can't remove real toxins from your skin.
Related: The Skin Myth You Need To Stop Believing
In the beauty world, however, toxin takes on a new meaning. When DERMA E claims their Purifying Skincare "work naturally to draw out toxins," I assume they mean it works to draw out "oil, sweat, bacteria and micropollutants."
Certainly I feel the products achieved that during the two weeks I tried them out exclusively. My skin always looked and felt great, very clean and clear.
Research is also limited on the benefits of antioxidants in skincare products. I love natural products like green tea in my skincare, but that doesn't mean it definitely 100% helps "fight free radicals, prevent oxidative stress and protect skin from UVA and UVB radiation damage."
Related: Myth vs. Reality on Anti-Aging Vitamins
Basically, don't skip your sunscreen just because you're using DERMA E Purifying Skincare.
Overall, I continue to love DERMA E products, and I recommend them whenever friends or family ask for skincare suggestions. I genuinely love how my skin looks and feels whenever I use DERMA E skincare products, regardless of which product line.
Have you tried DERMA E products? What do you think?