It's time for another rendition of NO Buy Style Challenge! This is a collaboration with three of my blogging friends. Every month, we each take inspiration from the same outfit to create our own look. The catch? We can only use clothes and accessories we already own!
I started this collaboration for two reasons.
Blogging collaborations are fun (and good for SEO).
I wanted to encourage our readers to take a sustainable approach to fashion.
The easiest way to start a sustainable lifestyle? Stop buying new things! Instead, be creative with what you already own, or shop secondhand.
This month, Charlene shared the outfit inspiration for all of us.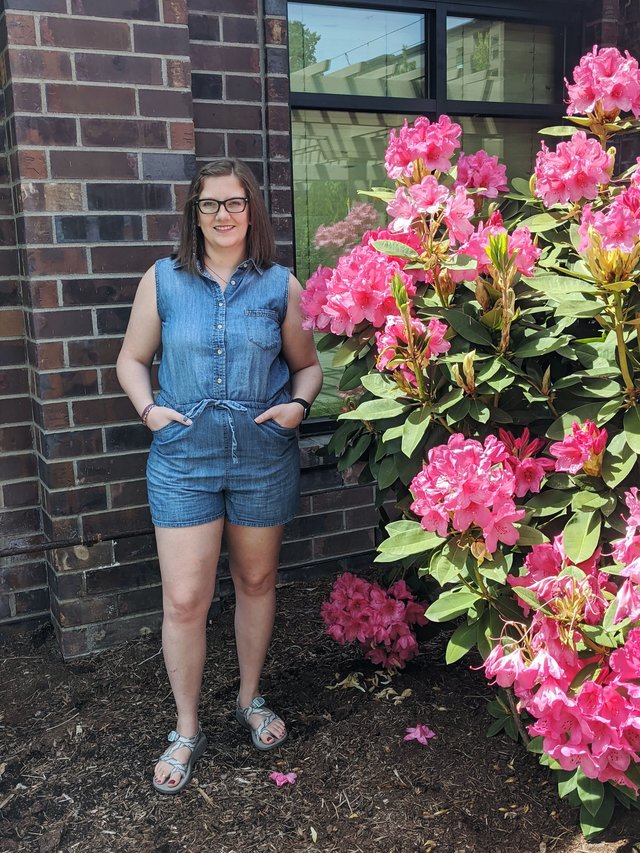 When she emailed us, she shared this information about her outfit.
June makes me think of quirky festivals, parties and parades here in Portland and this is basically my festival uniform in the summers. Unfortunately the annual rose festival was cancelled this year along with all the other smaller beer, food, and themed festivals in the area. But I'm still channeling the fun of Portland in the summer by wearing comfy rompers and Chacos!
Before I show my own festival outfit, I have a confession. I forgot to take photos in advance, so Dan and I ended up doing a quick photoshoot just this past Sunday… In my hometown of Greenwood, SC. So, not only did I create my outfit using all things I already own, but I was limited to my suitcase!
Summer Festival Style
To put together my own summer festival style, I focused on comfort in hot weather. Of course, I added a little braid to my hair just like Charlene!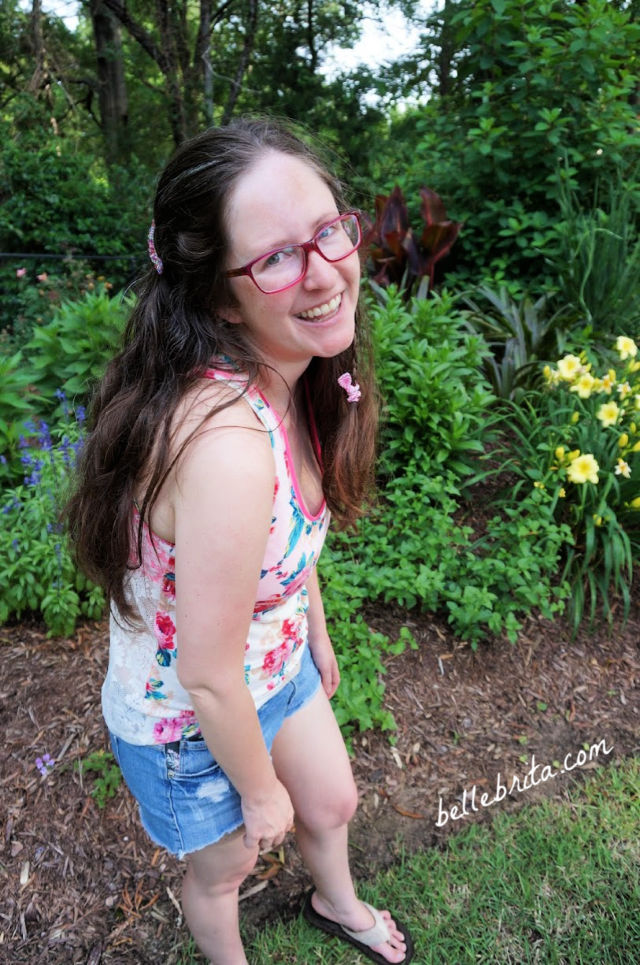 My floral tank top is a favorite of mine, featured all over my old Instagram account AND my new one!
I even wrote an entire blog post centered on this floral tank top. That's how much I love it!
A sports bra is a must for hot and humid weather like we're enjoying in Georgia and South Carolina.
I bought these denim shorts way back in 2010, when I was working part-time at JC Penney between jobs in France. They were on super-clearance, plus I used my employee discount to save even more!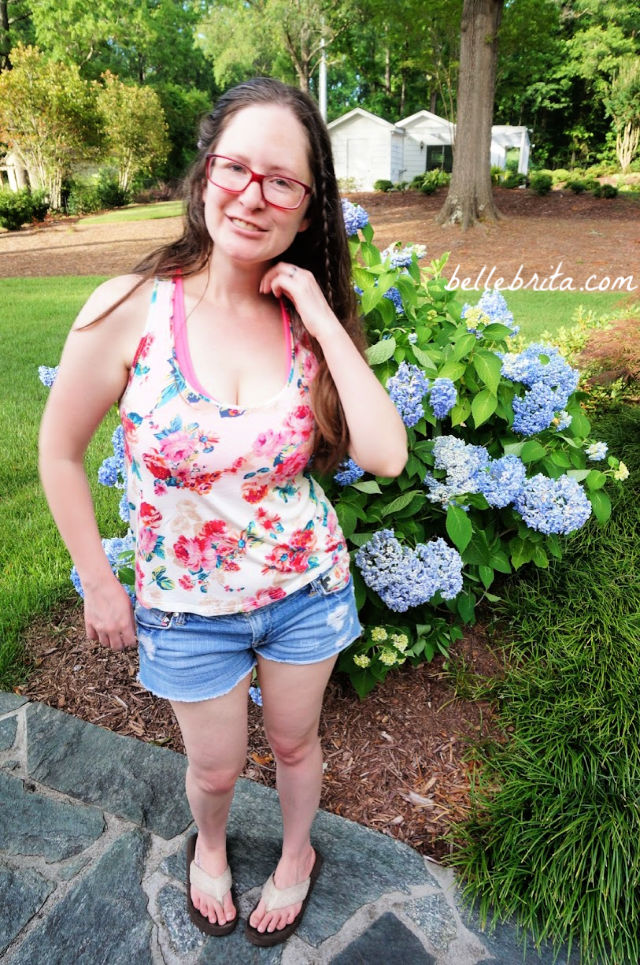 Finally, I love flip-flops for summer. Really, any sandals. These sandals aren't as supportive as my ones gifted from Wiivv, but I need to fix the straps on those after wearing them almost daily for several months.
Buy Custom Wiivv Sandals (affiliate link)
I kept my accessories very simple, almost bare. Instead of my usual assortment of sparkly rings, I wore just my plain wedding band.
This month's No Buy Style Challenge was definitely harder than last month since I was limited to a suitcase of clothes, but I still like the summer festival outfit I put together.
No Buy Style Challenge
To see the results from the second No Buy Style Challenge, visit my fellow bloggers! Charlene provided today's outfit inspiration, but check out her post for more cute photos.
Charlene at Enduring All Things
Callie at Hot Pink and Glitter
Look for our posts on Instagram with the hashtag #NoBuyStyleChallenge. If you decide to try the challenge for yourself, please post your outfits on Instagram so we can see!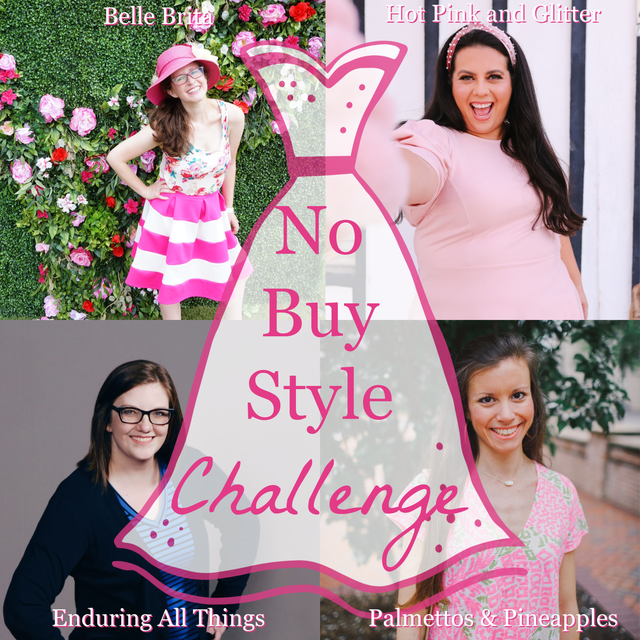 No Buy Style Challenge Rules
Writing out rules for the No Buy Style Challenge is almost unnecessary because the concept is so simple. But if you want guidelines to do your own No Buy Style Challenge, here they are!
Find an outfit online for inspiration. You can use Charlene's outfit this month if you really want to join the fun, but any outfit is fine.
Shop your closet to put together your own outfit based on the outfit inspiration. Interpret however you like. Have fun with it!
Don't buy anything new for this outfit.
Post a photo of your outfit online! You can also post the outfit inspiration. (Tag the original person model/stylist for credit). If it's on Instagram, tag me @bellebrita and use the hashtag #NoBuyStyleChallenge
And that's it. Easiest style challenge ever. Nothing new. That's the only real rule.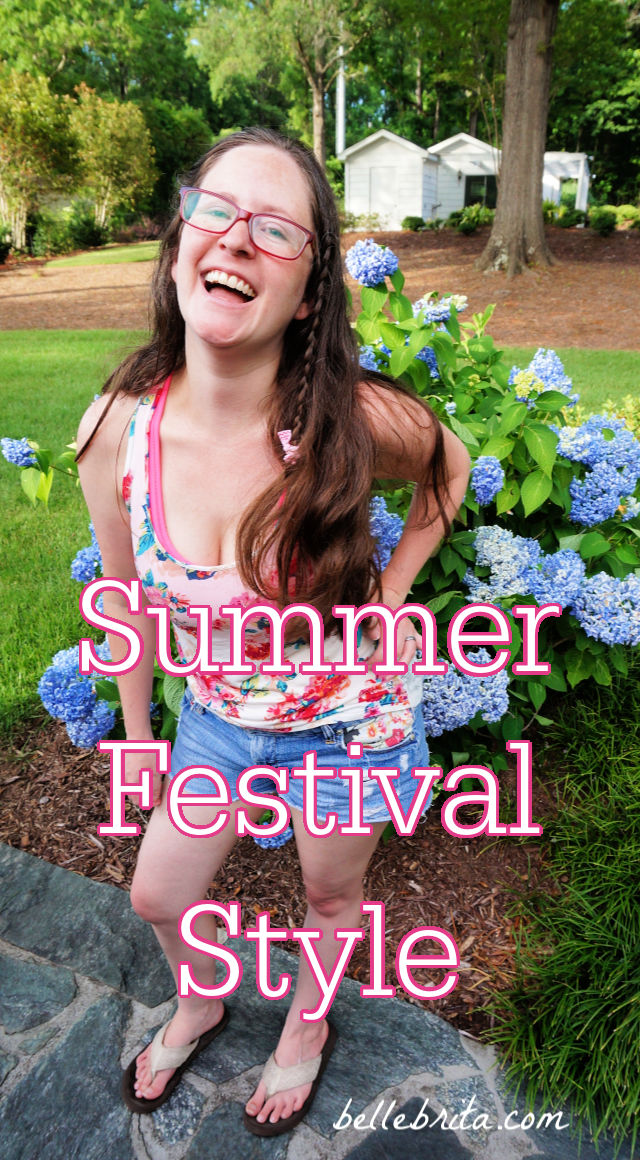 What's your festival style? How do you stay cute and comfortable in the summer? Share your fashion tips in the comments!