I'm trying  something new! A few months ago, I paid for an annual subscription to the Allure Beauty Box. I intended to do unboxing videos on Instagram for every month, but that definitely hasn't happened. After some technical difficulties, I finally uploaded my February 2020 Allure Beauty Box unboxing video to Instagram!
But I'm ultimately a writer. So here's a quick look at everything I received in my Allure Beauty Box. ALSO I like math, so I'm breaking down the value of the February 2020 Allure Beauty Box.
Note: This post does contain affiliate links. If you click on one and make a purchase, I might earn a commission at no cost to you. Of course, this post also contains tons of product links that aren't affiliate links. You're still welcome to make a purchase, even if I don't benefit!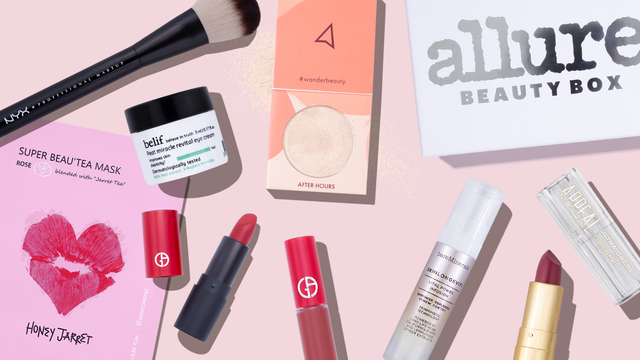 February 2020 Allure Beauty Box Products
February's Allure Beauty Box includes 7 different products. While there was some variation among boxes, these are all the beauty products I received. I've also shared their retail price, plus I've done the math the see how much the deluxe samples are worth.
If I've tried the product, I'll also share my review. I have sensitive skin, so I patch-test most skincare products for several days before using them on my face. And then I only use the products on my forehead for several days before trying it on the rest of my face.
BareMinerals Skinlongevity Vital Power Infusion Serum
Supposedly the BareMinerals Skinlongevity Vital Power Infusion Serum "helps reduce visible signs of aging and damage, improves skin's resiliency and suppleness, and protects the skin against age accelerating factors."
This is $58 for 50 ml. The deluxe sample is 7.5 ml, making the value about $8.70. I have not tested this yet. On the BareMinerals website, this serum averages 4.2 stars with over 375 reviews.
NYX Multi-Purpose Buffing Brush (03)
Beauty tools are a great addition to any subscription box because they're automatically full-size products! This NYX brush retails for $17. I haven't worn full makeup in the past month, so I haven't tried this out yet. The bristles are incredibly soft, though!
You can actually order NYX brushes on Amazon, with free Prime shipping. Amazon combines reviews for similar products (very frustrating), so the average 4.5 stars with almost 300 reviews is for all the NYX brushes available on Amazon, not just the buffing brush.
Wander Beauty Wanderess Glow Highlighter
The retail price for a full-size highlighter is $30. However, I can't find anywhere on their website what quantity of product that is. Resellers are selling this deluxe sample size for $6-10.
I haven't swatched the Wander Beauty Highlighter in shade After Hours yet. It's a pretty champagne pearl color. With over 2200 reviews and an average of 4.5 stars, it's clearly beloved!
The sample size that I have is available on Amazon… from a seller named Wander Beauty… but buyer beware. It's hard to know for sure if this is legit or not.
Honey Jarret Super Beau'Tea Mask
Sheet masks are by default a regular, full-size product. This sheet mask retails for $3.
I love sheet masks, to the extent that I probably own too many of them, considering I only use about one sheet mask per month. I have not used this one yet.
An average of 4.2 stars on the the Honey Jarret website, with 20 reviews.
Update 05/26/2020: I used this during a hot bath and loved it! It smelled amazing. My skin absolutely glowed afterwards, and my skin continued to look amazing the next day. I didn't see any significant difference from using other sheet masks, though.
Belif Peat Miracle Revital Eye Cream
Supposedly the Belif Peat Miracle Revital Eye Cream will "increase skin elasticity, visibly smooth fine lines, and nourish."
I've been patch-testing this, and it's been a slow process. After my patch test on my neck being fine, I applied this to the skin under my eyes. I also continued with my patch test. After two applications under my eyes, my eyes were fine, but I had some mild redness and irritation on my patch test on my neck. Of course, I get eczema all the time without any provocation! So I started a new patch test on my neck and applied my eczema cream to the breakout on the first patch test. I also stopped applying this on my face. My new patch test is completely clear so far, but I haven't resumed trying this on my face yet. I will update this post once I know more!
This eye cream is $58 for 25 ml. The deluxe sample is 5 ml, making the value about $11.60. On Sephora's website, it averages 4 stars with 140 reviews.
On Amazon, this eye cream is available for a discounted price from a seller named belif. You can absolutely find genuine skincare products on Amazon, but it's hard to judge if the seller is the actual brand or not.
Update 05/26/2020: After multiple patch testing, I determined this eye cream to be safe for use on my eyes. I don't apply it every single time I wash my face, but I do use it several times per week. While it seems fine with my eyes (suitably hydrating), it's not any better than my holy grail products from DERMA E. In fact, I prefer my Hydrating Eye Cream from DERMA E.
Appeal Cosmetics Luxurious Lipstick in Muse
This is a full-size lipstick, retailing at $21.
Appeal Cosmetics has a terrible website. It's hard to navigate, and it's not helpful. Their Instagram page is all just reposts of makeup looks. If I were shopping for new makeup, I would be highly skeptical of this brand.
That said, I love this lipstick. It's creamy and moisturizing, and Muse is a great color, a rosy nude.
Look for a legitimate reseller if you want to try this lipstick for yourself. Lots of people who get subscription boxes sell the products that don't work for them.
Olay Regenerist Retinol 24 Night Face Moisturizer
Supposedly you will see "visible improvements in fine lines & wrinkles, smoothness, brightness, firming, dark spots, and pores" when using this moisturizer.
This moisturizer retails for about $29 for 1.7 oz. The deluxe sample is 0.18 oz, making the value about $3.07. The Olay website has over 1500 reviews for this product with an average 4.6 stars.
Is the Allure Beauty Box a Good Deal?
If you pay for a monthly Allure Beauty Box subscription, then you pay $15/month. I bought the annual subscription, so my cost is $13.75/month. Allure claims that each beauty box is worth at least $70.
Before adding in the value of the highlighter, the other products are valued at approximately $64.37. Assuming the deluxe sample of the highlighter is worth at least $6, then the February 2020 Allure Beauty Box just comes in at a $70 value.
If you're interested in trying the Allure Beauty Box for yourself, I encourage you to use my referral link!
I will try and review March's Beauty Box a lot sooner. The 2020 Love Blog Challenge did take up a lot of time.
Do you get any subscription boxes? Which ones?