As a long-time player of Pokémon GO, I know how quickly augmented-reality (AR) games drain a phone battery. Even when you play with AR turned off, your phone battery goes quickly. I haven't done any formal side-by-side testing with Harry Potter: Wizards Unite, but I've heard casual reports that it drains a phone battery even more quickly.
So what's a player to do?
Carry around a power bank!
My husband and I have amassed quite the small collection of power banks in the last three years, primarily from Amazon. (I did just buy a cute one from Lidl the other day).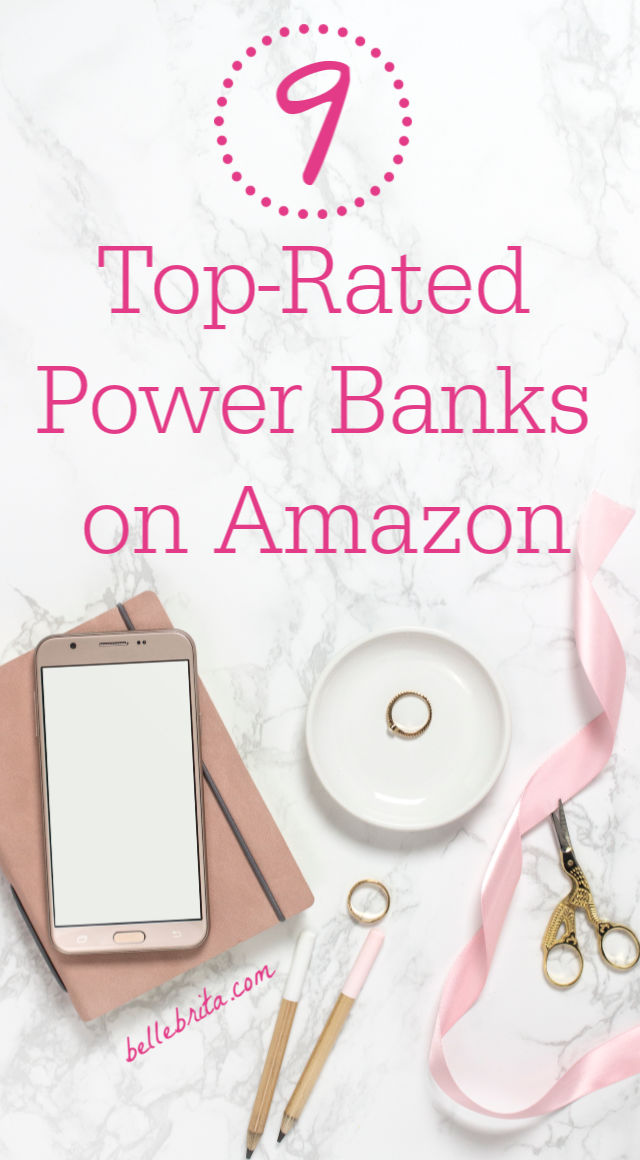 With Prime Day coming up, I thought I'd share the top-rated power banks on Amazon!
Note: This post contains Amazon affiliate links. If you make a purchase, I might earn a commission at no cost to you. 
Top-Rated Power Banks on Amazon
Before I jump into the best power banks, first let me share what I've bought on Amazon.
Dan bought me this pink lipstick power bank three years ago. It's still going strong! It only holds enough to charge my iPhone 7 about once, but it's great when you don't want to carry a full purse. I haven't used it to charge my Pixel 3 yet.
Dan and I also use this larger power bank. It's a great deal heavier, but it fits nicely into our camera bag, my purse, or a backpack when we're traveling. It can charge up both of our phones simultaneously. Most of the power banks recommended in this list will be about this size with similar power capacity. With over 500 reviews and a 4-star rating, Dan and I aren't the only fans!
Best Power Banks Under $100
You might be thinking that even power banks under $100 might be too expensive… But these top-rated power banks have ridiculously good reviews! Plus they offer a great deal of power and reliability. Paying a bit more for an incredible power bank is worth it if you need a great deal of smart phone or smart device power, especially while traveling.
Oh, and if you're also a YouTuber? You can charge up your camera too!
With over 500 reviews and a 4-star rating, this external battery pack includes built-in cables AND it doubles as a wall charger! In fact, you can simultaneously recharge this power bank while charging your phone or devices.
This all-in-one device is perfect for frequent travelers.
You can charge up to three devices simultaneously using the built-in cables and the USB hub.
With over 700 reviews and 4 1/2 stars, this power bank features two USB ports, one micro-USB port, and one Type-C port (this is what works with my Pixel 3). This external battery pack charges an iPhone 6S 10 times, a Samsung S6 6times, or an iPad Air 2 times. You can even fast charge!
With over 15,000 reviews (yes, you read that correctly), this high-capacity power bank still maintains an average of 4 stars on Amazon. This charges the iPhone 7 almost seven times, the Galaxy S6 five times, or the iPad mini 4 twice. That's incredible!
Plus the Anker PowerCore 20100 Portable Charger comes with an 18-month warranty, just in case something happens.
Best External Battery Packs Under $50
If you can't imagine dropping over $50 for a power bank, then these external battery packs might be better for you. There are still plenty of strong options that are more affordable.
This power bank is an updated version of the one Dan and I had. While the new one has less than 100 reviews with an average of 4 1/2 stars, the older one that we own has over 500 reviews.
This power bank fully recharges when plugged into another power source in less than 4 hours! It's slim enough to fit in your back pocket.
With over 500 reviews and 4 1/2 stars, this portable charger is ridiculously slim, especially considering how much power it stores. While this external battery pack doesn't hold as much charge as the others on this list, it's still a good value for the price and the slim design.
Anker PowerCore 10000, One of The Smallest and Lightest 10000mAh External Batteries, Ultra-Compact Portable Charger, High-Speed Charging Technology Power Bank for iPhone, Samsung Galaxy and More
This external battery boasts over 10,000 reviews, with a 4 1/2 star rating. This power bank provides over 3 iPhone 8 charges or about 2 1/2 Galaxy S8 charges.
Oh, and you can't beat an 18-month warranty! A smart choice for witches and wizards.
Best Portable Chargers Under $25
Do you need a budget-friendly power bank? Don't worry, Amazon still has multiple external battery packs for under $25! These power banks are still top-rated while offering great bang for your buck.
With over 1,200 reviews and 4 1/2 stars, this power bank is an amazing deal. It has two USB ports AND an LED flashlight. This battery pack holds enough charge for 3 iPhone 8 charges or 2 Samsung S8 charges. It's perfect for two Wizards Unite players to share!
With over 2,000 reviews and 4 1/2 stars, this power bank is possibly the best deal in this blog post! Another slim design, with great power capacity. This battery pack also holds enough charge for 3 iPhone 8 charges or 2 Samsung S8 charges. It features 2 USB ports AND an LED flashlight. While this photo shows the black power bank, it also comes in gold and silver tones so you can charge your phone in style!
Omars Battery Pack Power Bank 10000mAh USB C Battery Bank Slimline Portable Charger with Dual USB Output Compatible with iPhone Xs/XR/XS Max/X, iPad, Galaxy S9 / Note 9, Huawei Mate 20 Pro
With over 200 reviews and 4 1/2 stars, this power bank is another great budget-friendly option for Wizards Unite players. This is another slim design with 2 USB ports and a Type-C port.
This external battery pack hold enough power for 2 iPhone X charges or 2 Samsung Galaxy S9 charges.
---
If you play Wizards Unite or any other AR game, then you need a power bank to keep your phone charged! Amazon offers so many power banks that you can definitely find the right one for your budget and your needs.
Now is a great time to try a free 30-day trial of Amazon Prime! Prime Day is going on RIGHT NOW, and you can find all sorts of amazing deals.
What do you love about Amazon Prime?