I cheated just a little bit and let myself count anything I did in the first few days of March. February is so short, and it's so busy, that I'm still proud of finishing any goals a few days late. Plus after completing my Love Blog Challenge, I was too worn out to get this blog post up by March 1st!
Overall, February was a great month. Completely jam-packed with activity, and a little stressful at times, but a good month overall.
My overall intentions for this year are to improve my health and to live with less. My sleep habits were not great this month, but other than that, I took some positive steps towards healthier choices.
Let's take a look at February!
Note: This post contains affiliate links. 
February Recap
The highlight of the month was definitely seeing Dancing with the Stars Live with my dad and Vickie. We had so much fun! I knew the show would be good, but it was even better than I could have imagined. I hope the next tour comes to Georgia or South Carolina so we can all go see it again!
Dan and I also spent a weekend in Greenwood to attend a Phantom of the Opera fundraiser with my dad and Vickie. I finally had a chance to wear my floor-length black gown that I haven't worn in years!
February did bring one truly sad event. My sorority sister, Karrah, died this month. We were in the same pledge class. It's still hard for me to believe she's gone. I drove to Greenville for her service and spent some time with other Kappas. It was a bittersweet reunion for us. I'm just grateful that we could be there for each other.
To end on a high note, Dan and I spent plenty of quality time together. He really is the best husband, and I'm so grateful to have him by my side!
February Blog Posts:
Since I blogged 20 times this month, I'm not going to list them all! The following aren't necessarily my favorite posts from the month, but they represent the best range of my writing.
Books I Read in February:
I might have failed my dual goals of reading more nonfiction books and reading more books I already own… But I still had a LOT of fun reading this month! My local library just has so many great books! I also read a good variety of books in different genres by diverse authors.
Also, I forgot to give star ratings last month. My primary consideration in how I rate books is how much I enjoyed the story. Literary merits, writing styles, etc. are all secondary.
For my health:
I didn't reach 80 stars in my self-care tracking chart. That goal was a little too ambitious.
After 50 stars, I treated myself to a gel manicure!
I bought new vitamins, which I've been taking diligently.
Bonus: I followed through and called a new mental health facility to set up an initial appointment.
For my marriage:
Dan and I had so much fun on Valentine's Day! First we met at Barnes & Noble and treated ourselves to a few things on clearance. Then we had a romantic dinner at Waffle House! At home we relaxed in a bubble bath and drank wine.
Bonus: Gibbs Gardens opened early this year, so we visited the second weekend. We spent a few hours walking around and admiring the early daffodils.
For our household:
Technically we didn't clean out the mugs or the cupboard by the sink until this weekend, but we did get it done before I wrote this post. Totally counts.
Bonus: We also cleared out the top shelf in another cupboard. Small parts of our kitchen are so much more organized now!
We finished setting up the whiteboard on the fridge! We're still figuring out the best ways to use it, but so far, it's been great having a central location with tasks and appointments.
I did not start rereading Sink Reflections. Managing household chores was a bit inconsistent this month.
I did really well with the "low-spend" mentality, although Dan had to rein me in a little. My only fun purchases were:

color-correcting primer, which I had already researched in January
a daily planner to help me organize blogging/writing/editing tasks (75% off)
two scented candles (75% off)
a hot pink Coach purse (this was on clearance at the Coach outlet, and Dan convinced me to wait a few days to make sure I really wanted it before buying it)
two pink champagne flutes (50% off)
For my career:
While I still need to be more proactive in my emails, overall I did a lot of work with my Kappa volunteer position this month.
I blogged for all 20 days of the Love Blog Challenge! I was late with two posts, for the first time ever, but that was largely due to my sorority sister's death. Understandable, for sure.
I created 2 YouTube videos this month! Intense with everything else, but fun.
I didn't do anything with my Blog By Number course.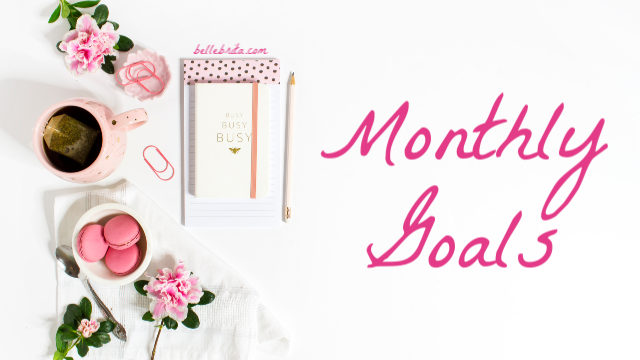 March Goals
After spending so much time on the Love Blog Challenge, this month is about all the small things I let slide. Plus Dan and I are celebrating our five-year wedding anniversary, which is pretty big!
For my health:
Earn 50 new stars on my self-care tracking chart this month, starting from yesterday.
Attend my initial psychiatry appointment and any follow-up appointments.
Start a health journal.
Take a walk once a week.
For my marriage:
Enjoy a low-tech anniversary weekend in the mountains!
Surprise Dan with something nice once a week.
For our household:
Start rereading Sink Reflections, and implement the recommended cleaning routines. Or at least start to implement them.
Clean out alcohol glasses.
Clean out the drawers in the living room.
Find somewhere that will accept our donation bags of clothes/home goods. Follow through and finally get rid of these bags.
Continue with the "low-spend" mentality, even if we won't follow specific rules this month.
For my career:
Stay on track with Kappa volunteer positions. Yes, I've taken on a small second volunteer role too!

Host town hall.
Reach out to advisee.
Send out two separate group emails to VPs and Directors.

Create 2 YouTube videos.
Continue Blog By Number course.
Work on Pinterest.

Belle Brita
Muddling Through Together
Wizards Unite Hub

Blog at least once on all three websites (same as above).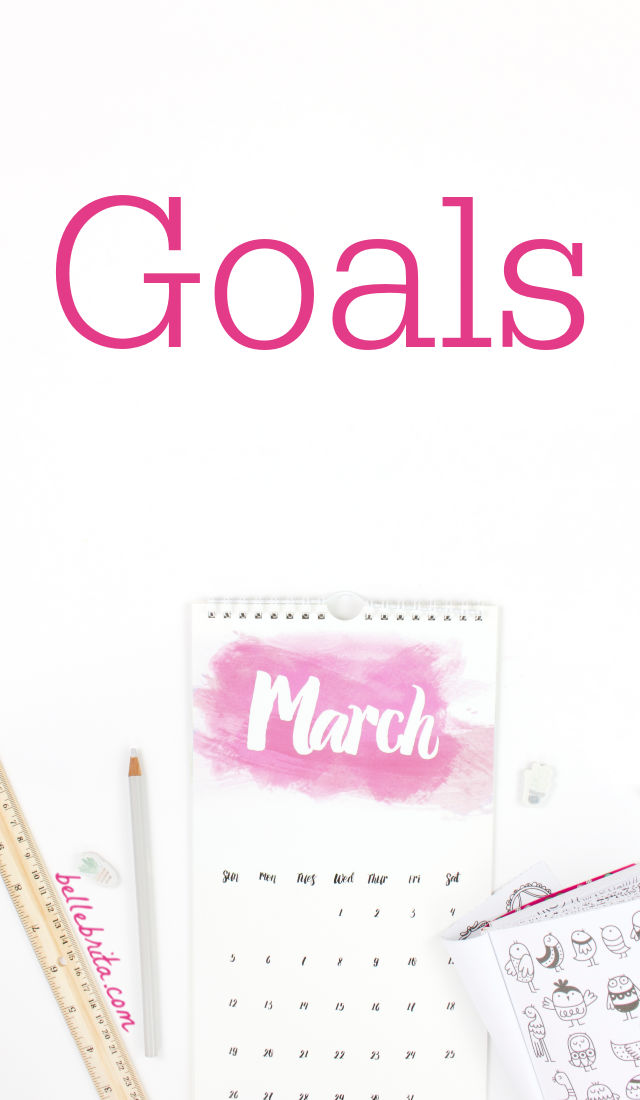 As usual for this year, I'm sticking with simple goals. Having too many goals negatively impacts my depression and anxiety, and then it's harder for me to accomplish anything! Focusing on just a few things means I'm more likely to get it done.
What are your goals this month? What did you accomplish in February?