Ah, winter. Shorter days and longer nights. Colder temperatures and drier air.
You probably bundle up in layers to protect your body from the cold, but what are you doing to protect your skin?
Biting winds, low temperatures, and indoor heating can all dry out your skin, causing it to look dull and feel itchy or flaky. But you don't have to resign yourself to dull, dreary skin this winter!
I've researched multiple ways to brighten dull skin–and I've tested them for myself. I hope one or more of these skincare tips will help you brighten your skin!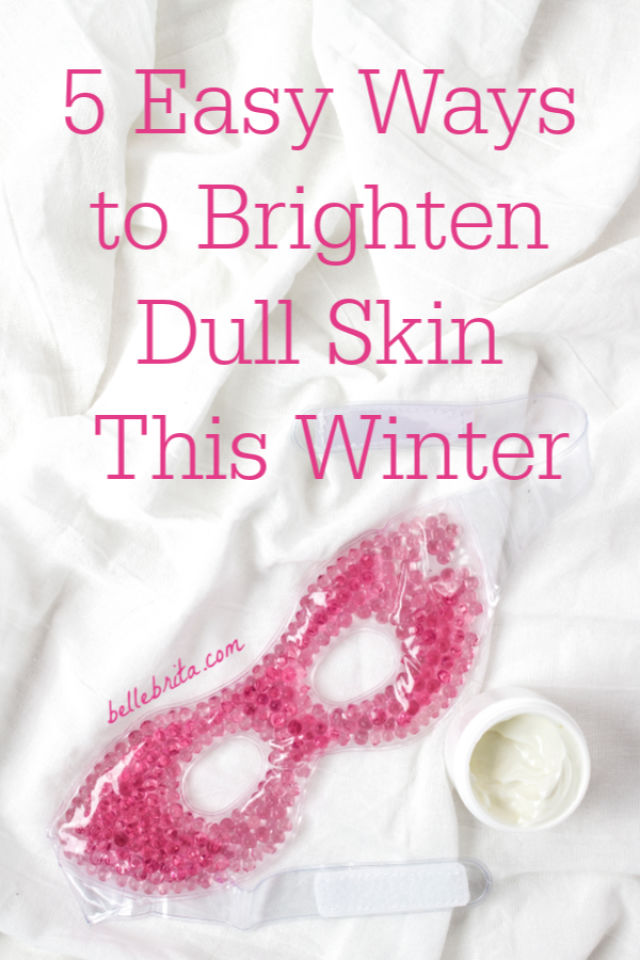 This post is sponsored by the brands mentioned below. I received all these products to test and to review. The Farmacy product came through Influenster. All other products came from the brands directly. As always, all opinions are my own. 
Winter Skincare Tips
Keep in mind that while these general skincare tips apply to most people, the specific products I review won't necessarily work on all skin types.
For reference, I have sensitive, normal to dry skin with some redness. My complexion is fair with freckles.
Also, I'm neither a dermatologist nor an esthetician. I'm just a woman who likes to take care of her skin!
Dermaplaning with StackedSkincare
About two years ago, I received my first professional dermaplaning treatment at Atlanta Face and Body. This was a completely new skincare treatment to me–I had never even heard of it before. Are you familiar with dermaplaning? It's a technique of using a tool to scrape peach fuzz and dead skin cells off your face.
I loved how soft and smooth my skin looked after having an esthetician dermaplane my face–but the cost of regular spa treatments can be steep. I've been interested in trying dermaplaning at home for awhile now, but I wasn't sure where to start. My skin is sensitive, so I didn't want to use a cheap tool.
I was thrilled when StackedSkincare contacted me to try out their Dermaplaning Tool, designed by Kerry Benjamin, founder of StackedSkincare. This Dermaplaning Tool has some sweet features.
PATENTED SAFETY FEATURES: Allow for maximum blade surface while safeguarding skin from injury
REPLACEABLE BLADE: Unique design cuts down on waste and makes it easy to use a fresh blade
COMFORTABLE CONTROL HANDLE: Designed to have the perfect weight for blade control
Before using the StackedSkincare Dermaplaning Tool, I learned as much as I could. I was a little nervous about trying dermaplaning at home, even with the safety features. Fortunately, StackedSkincare has a YouTube channel with instructional videos.
StackedSkincare also sent me an instructional guide with the Dermaplaning Tool. I followed this while dermaplaning for the first time.
There's definitely a bit of a learning curve to dermaplaning at home. I had to go over a few spots a third time to get all my peach fuzz. It was particularly difficult to remove my peach fuzz effectively around my mouth, which is where it's thickest.
That was the FIRST time I tried dermaplaning at home with StackedSkincare's Dermaplaning Tool. The second time, it was much easier.
I love love love the results of dermaplaning! My skin is so soft and smooth. Skincare products sink into my skin more deeply. The few times I wear makeup, it looks even more natural!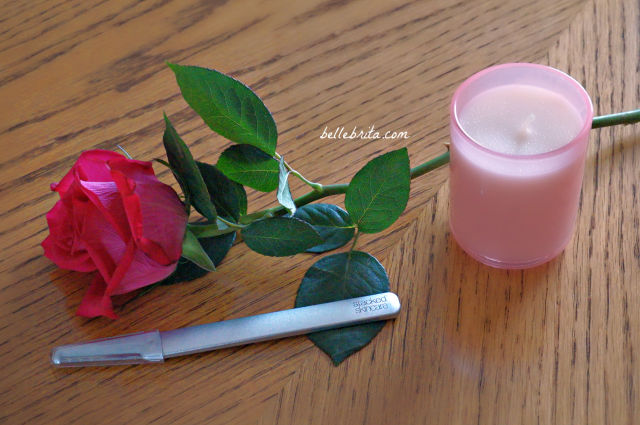 Is dermaplaning right for you?
Dermaplaning works for all skin types. It's gentle enough for sensitive skin–I'm proof of that! Just don't try it during an active outbreak of acne. Overall, it's an excellent way to exfoliate your skin while also getting rid of peach fuzz.
Is StackedSkincare's Dermaplaning Tool right for you?
A quick Google search indicates that a professional dermaplaning treatment costs anywhere from $40 to $150 per session. It's $75 at the Spa on Maxwell in my hometown of Greenwood, SC. Paying $75 for your own Dermaplaning Tool that you can use multiple times is certainly more cost-effective! Plus the Refill Trio is only $23.50. That's three more blades for three more months of dermaplaning at home.
If it's in your budget, I highly recommend dermaplaning, and I genuinely love StackedSkincare's Drmaplaning Tool. However, dermaplaning isn't a necessary skincare treatment, especially if it's not in your budget. Exfoliating your skin is generally a good idea, especially in winter, but you do have other options.
Exfoliating with Acids
Exfoliating with acids sounds like a scary idea, but I promise it's perfectly safe! You just need to choose the right product for your skin type.
The two exfoliating acids are alpha and beta hydroxy acids, or AHAs and BHAs. The subreddit SkincareAddiction makes the following suggestion:
If your skin is oily, acne-prone or clog-prone, start with a BHA (salicylic acid). If your skin is combination and/or acne-prone, and you want the humectant benefits of an AHA, try mandelic acid because it's a partially oil-soluble AHA. If your skin is sensitive or you have eczema and/or rosacea, start with lactic acid because it's the gentlest AHA.
DERMA E Overnight Peel
With sensitive skin, it's also good to start with an acid at a low percentage. DERMA E's Overnight Peel is a perfect starter AHA. According to the DERMA E website, this non-abrasive blend of 5% Alpha Hydroxy Acids exfoliates overnight to help visibly smooth skin, giving a healthy, youthful and glowing appearance.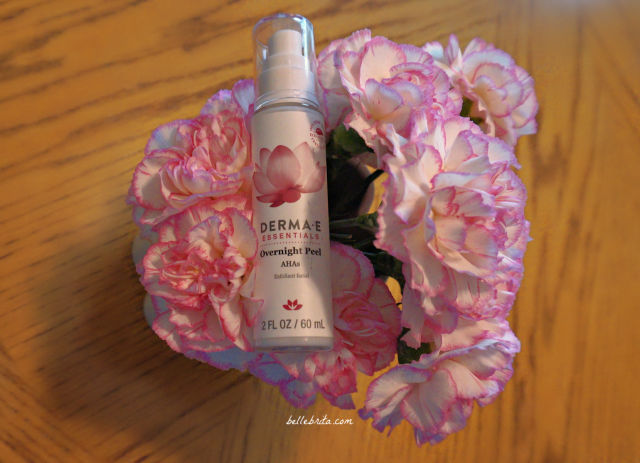 I started using DERMA E's Overnight Peel several months ago. My skin tingled a little bit the first few times I tried it, but it didn't sting. I worked my way up to using it twice a week without any tingling or irritation.
Farmacy Beauty's Honeymoon Glow AHA Resurfacing Night Serum
At this point, I started using Farmacy Beauty's Honeymoon Glow AHA Resurfacing Night Serum. The first few times I tried it, my skin tingled, but it didn't sting. However, the third or fourth time, the skin between my nose and my mouth stung considerably. I had to wash my skin immediately and apply my prescription ointment to soothe it. Since then, I haven't applied this AHA serum to that area on my face. I still use it on the rest of my face, though.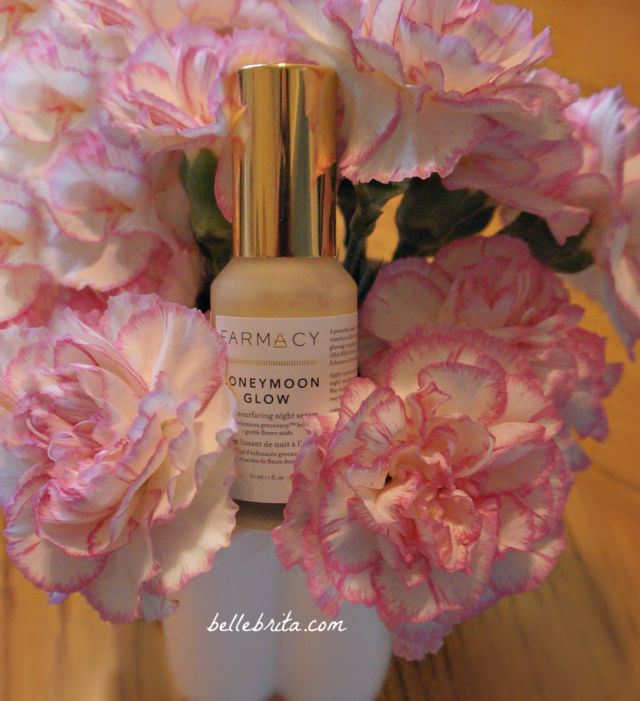 For awhile I only used the Farmacy AHA serum once per week. Then I started to use it once a week and the DERMA E product once a week. Only recently did I work up to using this serum twice a week.
I haven't consistently used my AHA products since July. Any time my skin has been irritated, I've paused using AHAs for at least ten days.
To be honest, I haven't noticed a huge difference since starting AHAs. That said, my skin does look smooth and healthy. Is it bragging if I describe my own skin as glowing? But it's hard to say if my skin looks good due to using AHAs or due to an increased consistency in my skincare routine.
Hydrating with VIIcode Skin Care
What does the skin look like around your eyes? Dark circles? Wrinkles?
I'm 31. I have fair skin. My only fine lines are on my forehead, and they're so fine that I can't get them to show up in photographs. Not that I'm complaining! The only issue I have under my eyes is the occasional sunken appearance. Like the skin will look a little hollow instead of full and plump.
I say all of this as a preface to my review of VIIcode's O2M Oxygen Eye Mask. I received a box containing six foil packets, with each packet containing two eye masks. I've used six eye masks so far for a total of three treatments.
The purported benefits of VIIcode's O2M Oxygen Eye Masks are:
Helps eliminate dark circles and puffiness
Brightens skin and evens out complexion
Minimizes signs of aging and damage
Firms and hydrates skin
You wear the masks under your eyes for up to eight hours.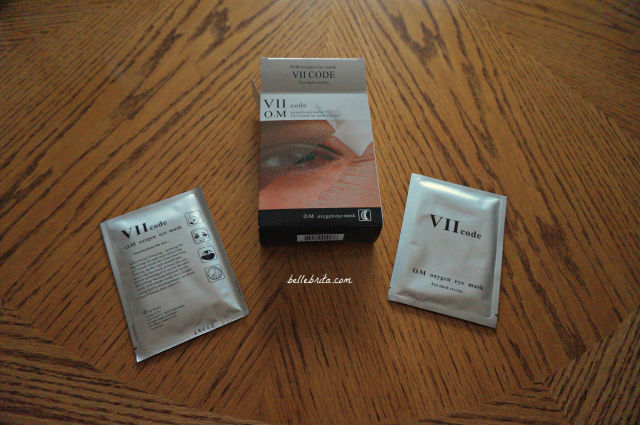 The first time I tried these, I wore them overnight. That didn't really work for me because I was too aware of the masks on my face. I kept waking up, worried I had messed up the masks. (For the record, the masks stayed in place all night long). In the morning, my skin was slightly brighter and definitely plumper. (Remember what I said about sunken eyes?) However, my photos don't show a difference from usage.
The second time I tried these, I wore them during the day for about six hours. Again, my skin looked slightly brighter and definitely plumper.
For my third use, I went a little off-label. I used one mask on my forehead. The other mask I cut in half and placed under each eye. I didn't notice any difference on my forehead, but the skin under my eyes again looked slightly brighter and definitely plumper.
Each time I used these eye masks, they felt amazing on my skin. Cool and relaxing. The third time I refrigerated the masks first, and the cool feeling was even better. The masks easily stay on my skin the entire time, even while I was moving around in my sleep. Removing the masks is easy and non-irritating. The gel gently clings to my skin and keeps the masks in place, but it's easy to peel off when I'm done.
I've read reviews on Amazon and on VIIcode's website. It seems as though these are most effective for people who have dark circles under their eyes and/or puffiness. I'm certainly happy with the noticeable (to me) results, but for my current skin condition, the cost of these masks isn't worth it to me.
Are VIIcode eye masks right for you?
VIIcode recommends using three boxes of eye masks for the best results. That's over $150 to hydrate and brighten the skin under your eyes. Should you invest in these?
YES… if you have dark circles and/or wrinkles under your eyes.
YES… if you have the money to spend on quality skincare products.
Otherwise, I would wait until your budget can accommodate the cost and your skin actually needs this boost of hydration and firming. At this point in my life, my skin doesn't really need these benefits. However, ask me how I feel in another five or ten years!
Wearing Sunscreen
You know what contributes to dull winter skin? Sun damage. Yeah. Just because it's cold outside doesn't mean you can forego sunscreen! This is even more true if you're trying dermaplaning or exfoliating with acids. These can increase your sensitivity to the sun, so wearing sunscreen is an absolute must.
Washing Face Nightly
More than anything else on this list, following a consistent skincare routine will brighten dull skin. Wash your face every night before bed! Air-borne pollution can damage your skin and cause discoloration. Washing your face nightly gets rid of any pollutants from the day.
Plus this is the perfect time to moisturize. Hydrated skin is healthy skin, and healthy skin glows!
---
If your skin is looking dull this winter, you have multiple options to improve it. Try one or all of these suggestions to brighten your skin!
How do you take care of your skin in the winter?