Where did 2017 go?! One minute I was planning my 30th birthday, and the next, I'm planning my Christmas vacation!
While it's already halfway through November, it's not too late to plan a fabulous Christmas soiree. The perfect holiday party starts with the perfect holiday party invitations.
Whether you're planning an office party, a kid-friendly Hanukkah party, or an intimate Christmas Eve dinner party, you can set the scene with appropriate invitations. To help your party planning, I've partnered with Basic Invite to review their holiday party invitations! As always, all opinions in this Basic Invite review are my own.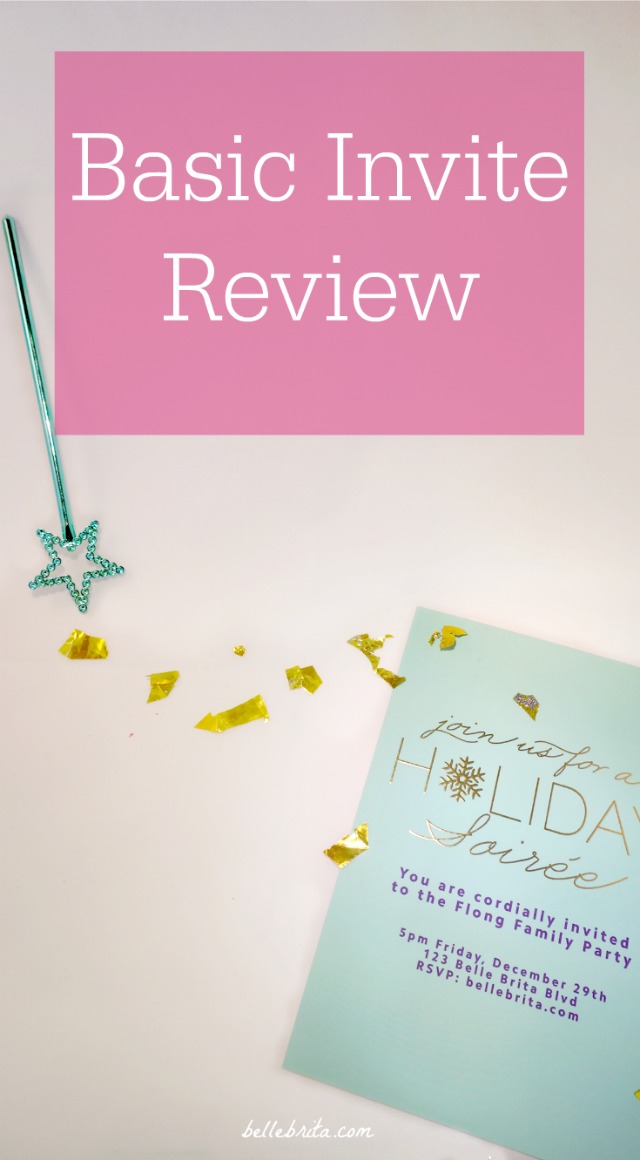 Basic Invite Review
I'm spending the holidays in Ohio this year, so I have no need for customized party invitations. That said, I do love the idea of throwing my own glamorous New Year's Eve bash or hosting a casual Christmas cookie party.
My friends know I enjoy sending out paper invitations for parties. If I were hosting a holiday party this year, I would definitely order Basic Invite invitations. Just for fun, I designed 3 different holiday party invitations for fictitious balls.
First I looked through all the holiday party invitation designs. Basic Invite offers a bit of everything, from retro holiday party invitations to office christmas party invitations. You can even order holiday photo cards for that personal touch. Choose from over 30 Thanksgiving designs, over 25 Christmas designs, and over 60 general holiday designs, not to mention the Hanukkah and New Year's holiday party designs.
Personally, I'm a sucker for foil invitations, especially since Basic Invite offers rose gold foil along with gold foil and silver foil.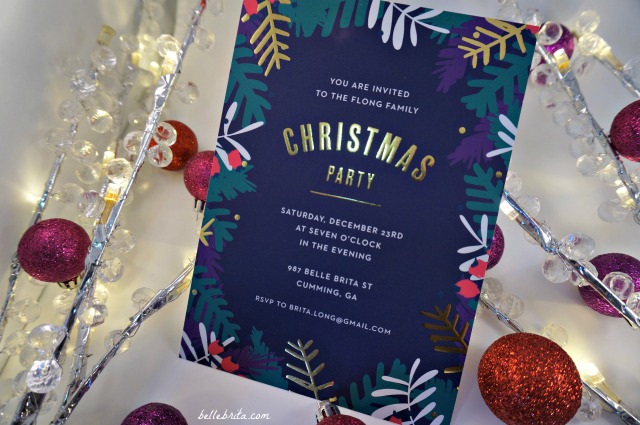 I chose 3 different Basic Invite foil holiday party invitations:
Then I played around with the different customization options until I had my own perfect holiday party invitations!
Basic Invite Customization Options
Over 180 Colors – Basic Invite is one of the few websites that allows customers a large selection of color options with instant previews online. Once you select a design, you can change the color of each element on the card to your favorites among the many different color options. I updated my designs with different shades of pink, purple, and blue! These customized color options set Basic Invite apart from many other online stationery companies.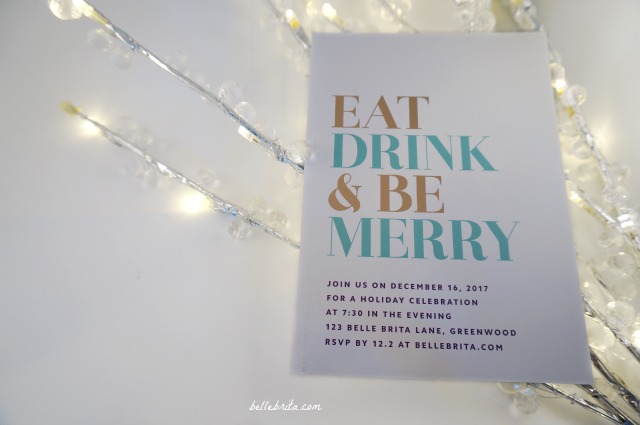 Foil – Foil holiday cards are available in gold, silver, and rose gold. Customers can choose flat or raised foil on all of Basic Invite's foil designs. I kept the original gold foil on 2 of my invitations, but I changed the other design to rose gold!
Fonts – Colors and foils aren't the only customization options. Choose from dozens of fonts to personalize the text of your party invitation designs. For my Snowflake Soiree invitation, I liked the original sans-serif font except that it was all capital letters. I easily found another sans-serif font and changed the text.
Envelope Options – Basic Invite offers over 40 different colors to customize your envelopes. These include shimmer options and foil-lined envelopes! Plus you can choose from 100s of different envelope liners, including solid colors, patterns, flowers, and more. Most of those liners can then be customized with different colors. To get an idea of all the different Basic Invite envelope options, I ordered 3 different options with my invitation samples.
White – Gold Foil Lined
Amethyst, with Wreath Envelope Liner
Pewter Shimmer
Plus the envelopes are all "peel and seal." No gross envelope glue to lick!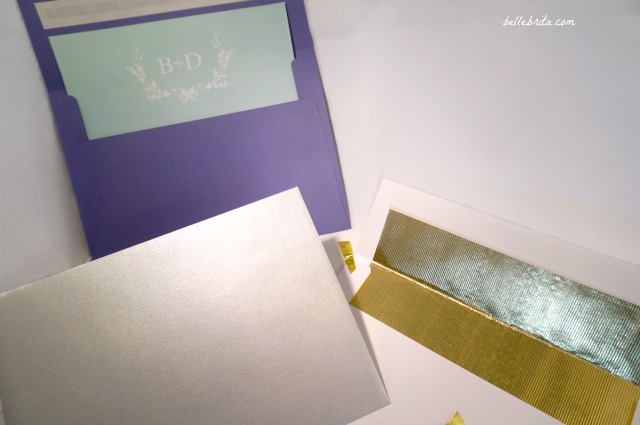 Basic Invite Extra Features
Custom Samples – Basic Invite allows customers to order a printed sample of their actual invitation. I ordered a custom sample of each my 3 holiday party invitations so I could write this Basic Invite review. I love that customers can see exactly how invitations will print as well as feel the paper quality. This is especially helpful if you're like me and make a color mistake! I didn't use enough contrast after changing the colors in the Blue Branches design.
Address Capturing Service – Basic Invite offers an address capturing service that allows customers to share a personal link on social media to request their friends' and family's addresses. These are then stored in the customer's account, which you can then use during the design process. Basic Invite even offers recipient address printing at no cost on all Christmas card orders. Since I was just ordering samples, I didn't use this service, but it's pretty cool!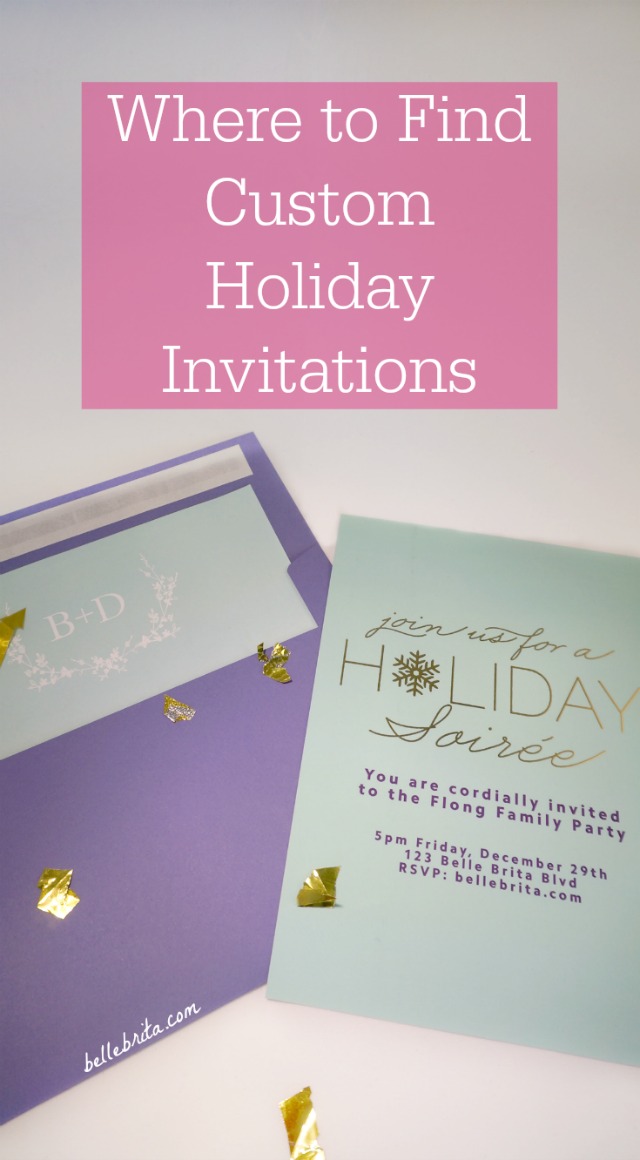 My Basic Invite Review: Final Thoughts
I've really enjoyed working with Basic Invite! Their holiday party invitations are truly good quality. I love their collection of holiday designs.
And the rose gold foil? Seriously, so pretty!!! Normally I don't follow trends, but I'm obsessed with rose gold, along with the rest of the blogosphere.
Customizing my invitations was easy. The only hard part was choosing among all the options!
If you want to order custom party invitations this holiday season, check out Basic Invite. Right now they're offering 30% off their entire holiday collection with coupon code: holi30
I also have a special code to take 20% off the entire website! No expiration date.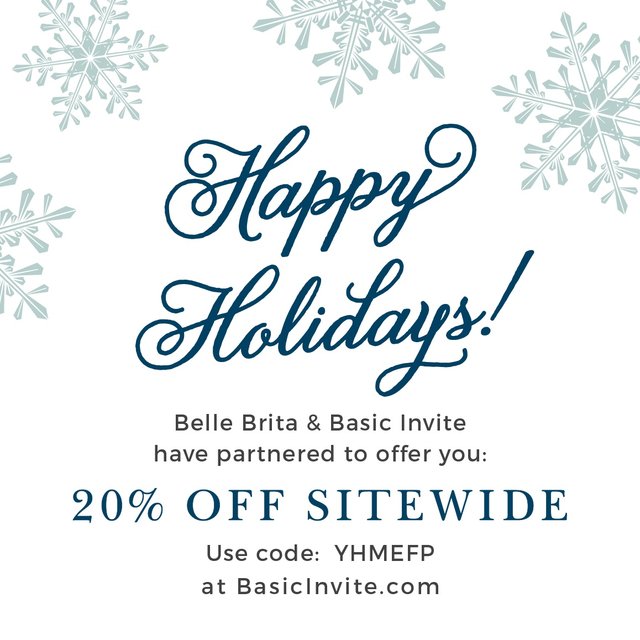 Are you hosting any parties this holiday season? Will you send out paper invitations? Tell me your plans!