The best part of visiting Denver so often is the freedom to explore new neighborhoods and not just stick to a tourist itinerary of museums (although I love that too!).
Our first day in Denver, Dan and I met up with my best friend McPhee at a cute little hipster coffee shop, Steam Espresso on Pearl Street. I ordered an iced green tea with pistachio macarons. McPhee's assessment that they were almost as good as the ones we had together in Paris was correct.
We then meandered down Pearl Street to check out all of the little shops, and McPhee led us down some nearby streets where we admired the houses and their gardens. It was so nice catching up with McPhee, but we forgot to take a picture together! Fail. In fact, the handful of pictures I have from that afternoon are all from Instagram.
http://instagram.com/p/sVao5MLo2q/?modal=true
http://instagram.com/p/sVhII-ro1g/?modal=true
My favorite shop was this adorable flower shop that also sold hats and adorable home decor. I had forgotten to pack a hat for our trip to Denver, but with the high altitude, a hat is a fashionable necessity to protect my fair skin. Their hats were on sale, so I treated myself to a wide-brimmed gold and tan straw hat that I wore the rest of our vacation.
I noticed signs on the street for a farmers' market on Sunday. After checking in with my family, Dan and I decided to return the next morning to check it out. We invited Jeremy to come with us. I had totally misread what time the market started, so we arrived while some vendors were still setting up. It was actually quite nice being so early since the crowds hadn't shown up yet. By the time we left a few hours later, the entire street was packed with families shopping.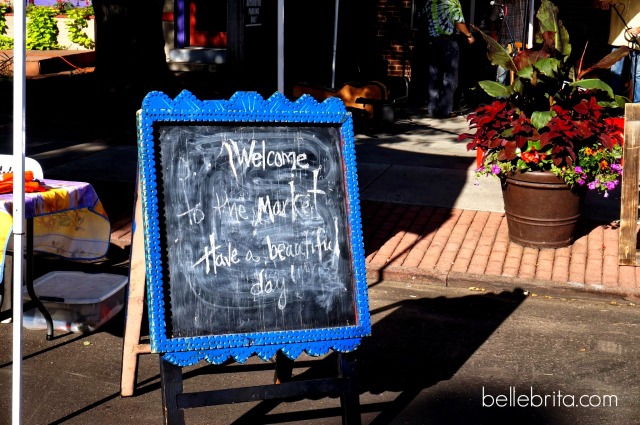 The three of us split a cinnamon and sugar pretzel for our first breakfast, and we bought a regular pretzel for later. Jeremy got a great deal on a record from a vendor. Dan bought some locally-made beef jerky for our road trip to Salt Lake City. I picked up a nice oil dipping sauce for Kari and Steve as a thank-you gift for hosting us. We also went back to Steam Espresso for our second breakfast, where I again had iced green tea, but this time, with pain au raisin.
http://instagram.com/p/sXiS-YLo6G/?modal=true
I hadn't had pain au raisin since leaving France in May 2011, so I was really excited. Alas, it was a bit dry and disappointing. Jeremy waited an unusually long time for his iced coffee, but the manager (owner?) more than made up for the oversight. Besides apologizing profusely to him when giving him the coffee, he later came by our table to apologize again. And he came by a second time with a plate of macarons as a thank you for our patience. Everyone makes mistakes in the service industry, especially in a coffee shop that busy and crowded, but how a person makes up for those mistakes is how certain shops distinguish themselves from others. I was very impressed at the customer service at Steam Espresso and their sincere desire to satisfy their customers.
Both days on Pearl Street in Denver were absolutely wonderful. I'm so happy that McPhee suggested we meet there!
Have you ever discovered a wonderful, local favorite while traveling? What sort of non-touristy things do you do while traveling? Let me know in the comments!