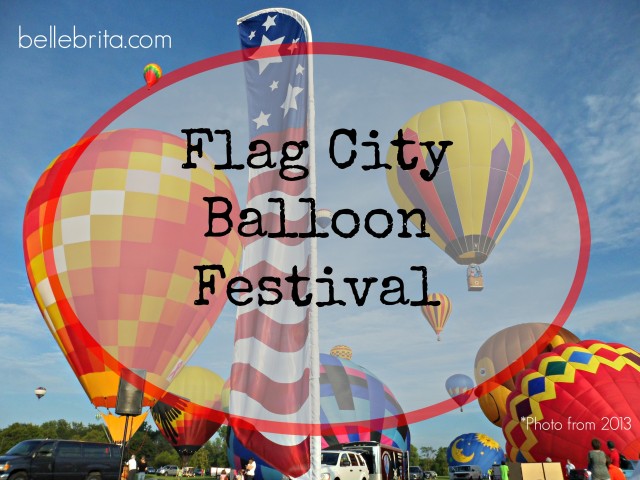 I was SO excited for Findlay's balloon festival again this year. I had a great time last year, but weather stopped me from taking a tethered balloon ride. Not only did I plan on finally getting a balloon ride this year, but I was excited to share the weekend on my blog! Alas, not everything went as expected, but at least my blog won't suffer. Dan quite sweetly offered to write a guest post about this weekend, since our full weekend plans dwindled down to only the car show.
Brita and I had some well-laid plans for Findlay's Flag City Balloon Festival this year. We planned to be at the festival Friday night and all-day Saturday. Alas, luck was not on our side. One of the things on both Brita's and my bucket lists is to go up in a hot air balloon. Sadly, our plan of going on a tethered ride on Friday night AND our contingency plan of going on a tethered ride on Saturday night were both canceled due to windy conditions. Thinking we could see the balloon glow Saturday night, and not wanting to do nothing for another two hours, we left the festival Friday as soon as they canceled the tethered balloon rides. Then the balloon rides AND the balloon glow were canceled Saturday night. We decided not to wait around for the fireworks Saturday since we didn't want to hear the same ol' spiel from the announcer again this year, and we felt we'd enjoy our evening more at home. However, the one part of our weekend that did go as planned was my ingenious plan for getting a good parking spot… Entering my Miata in the Classic Car Show.
Now, I know what you are going to say… The Miata isn't a "classic car," and while you are probably right, the car is celebrating its 25th year anniversary this year. My car isn't quite that old, but with any luck, will be getting historical plates in 2022. Plus there were like 50 Corvettes, Mustangs, Camaros, and other regular cars that were all 5-years-old or less. It's not like there were any rules at all for the show… There were plenty of nice old cars, though, and I enjoyed walking around and seeing some automotive history even if it was heavily swayed towards American muscle.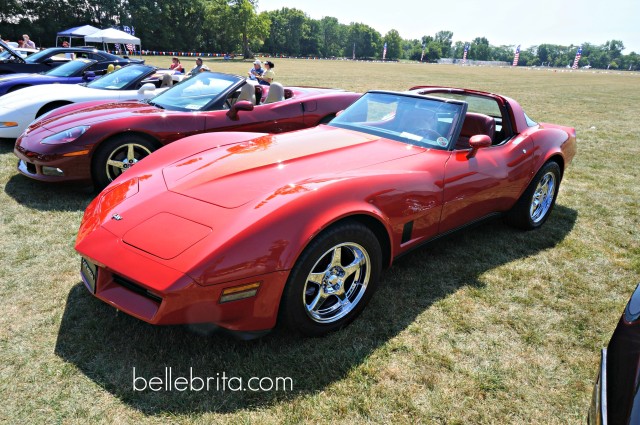 Which brings me to my next point. This was my first time entering my Miata into a car show, but even I could tell it wasn't well-organized. I never got a confirmation of my registration, nor did I ever receive any materials beyond the flier about the event. I didn't even know what the planned schedule was or where to show up. So the morning of, I pretty much drove through the grass wherever I pleased and just parked next to a tree to walk up to the registration tent. After being told to park anywhere, I found a nice looking spot at the end of a row and set up shop.
It wasn't all bad, there was a DJ just for the event that was playing better music than the festival itself. There were door prizes given out constantly… In fact, I'm pretty sure everyone got one. Brita lucked out and got a gift pack from a local beauty shop. The gifts were pretty basic, but it was worth more than the entry fee, so that's a plus. I got to talk to quite a few car people who were happy to see a Miata, including my brand buddy who brought the only other Mazda (a very nice green RX-8).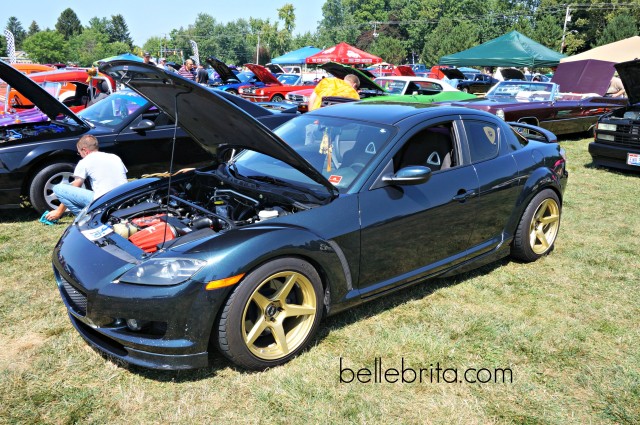 Brita and I spent most of the afternoon in lawn chairs reading books. We were supposed to get some wedding thank-yous done, but that didn't pan out… We had snacks and drinks to enjoy and even a planned picnic lunch. We didn't end up eating our sandwiches (hey, there were deep fried Oreos!), but a day of sitting doesn't really get your hunger running. We did get a very good picture of the two of us, the car, Mackenzie Bart (Miss Ohio 2014), and a participant in the Special Olympics (which the whole car show was sponsoring).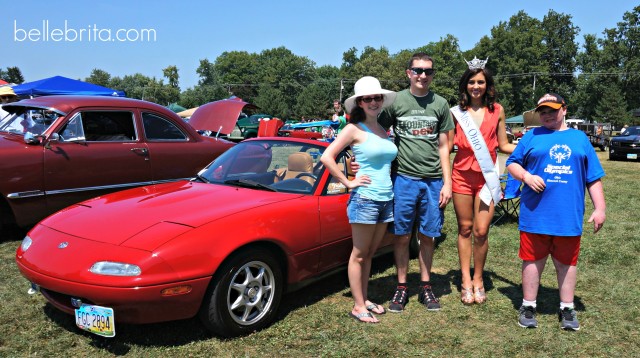 So some things we learned about the car show… One, there are people walking around the whole time dropping trash in your car. Well, they didn't think it was trash, but I ended up with around 8 fliers for other car shows. The people handing them out didn't bother handing them to me or talking to me about them, rather they just drop them right on your seats/floor and move on to the next car. Two, we seriously should have brought some shade. It was a bright, sunny day with not a cloud in the sky, and we were under it right during the heat of the day. Brita sought some shelter in some trees off to the side of the event to read a bit, but still ended up a bit burnt. I fared a bit better with my generous application of high SPF lotions, but it was a hot day for sure.
When it came to the end of the show, they called us all over for the awards to be handed out. Except this wasn't any more organized than the start… The awards were in no order, there were large gaps where they were confused as to the categories, the trophies, and the recipients. They called out the winners by car numbers, not names and didn't even mention the car that won. Thankfully Miss Ohio 2014 showed off her leadership and public speaking skills by taking command and organizing the award announcements. There were still some weird errors (a non-Mustang winning the best Mustang award, for example), but once the one category I was eligible for (Best Foreign Car) was announced (sorry, I didn't win), I left the awards mob.
It should come as no surprise that we were then dismissed with no information about where we could move to park for the event or which exit we should leave from if we weren't staying. So there were all these classic cars driving around in circles and trying to leave via the balloon support vehicle entrance, dodging vans and trucks along the way. Brita and I decided to head home, hit the restroom, and grab some cool treats before the later events, and then on the way out my parents showed up, thinking the car show was still going on, because it was supposed to go until 5pm, except that it didn't.
We talked to them, told them we would be right back, and asked them to save us a good spot around the balloon area. When we got back, we found them (how did anyone ever keep track of their parents before cell phones?) and enjoyed some good catching up as we hadn't seen them in awhile. We walked around, saw the sights, but unfortunately the wind was picking up, making the balloon events less and less probable. We eventually gave up on the events, but it was still a fun day.
We look forward to the Flag City Balloon Festival in Findlay next year, another car show, and, Mother Nature permitting, finally getting to ride in a hot air balloon.
Dan might have to guest-blog for me more often! Have you ever taken a hot air balloon ride? What local festivals are hosted in your hometown? Let me know in the comments if you want Dan to blog again!