Earlier this year, Dan and I spent a week in Asheville, NC with his family. Among other activities, we planned on visiting Biltmore. I crunched some numbers, and I realized that it made sense for Dan and me to buy annual memberships to Biltmore, especially since we live less than four hours away by car. To make the most of our annual passes, we recently spent a weekend at Biltmore for Christmas!
I've toured Biltmore twice before at Christmas, but this was my first chance visiting more than just Biltmore house. Everything was so beautifully decorated! If you get the opportunity, I highly recommend you visit Biltmore for Christmas.
Biltmore House Tour at Christmas
Even though we just toured Biltmore house back in September, Dan and I were excited to tour it again for Christmas. The entire house is lavishly decorated! Christmas trees bursting with beautiful ornaments, wreaths and garlands adorned with bows, a stunning Nativity scene, colorful Poinsettias, brightly wrapped packages, and so much more.
The two photos below are from opposite ends of the same room in Biltmore!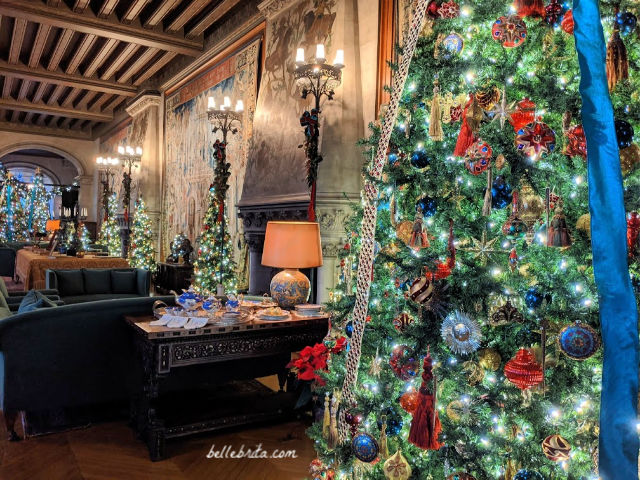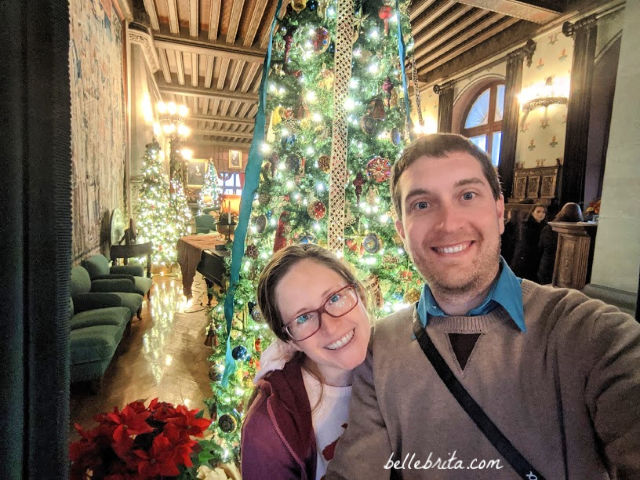 Our house tour reservation was for the afternoon. We hoped that it would be dark enough that we could still fully appreciate the twinkling Christmas lights. It was a gray dreary day on our visit, but that did add to the charm of all the lights inside!
The two photos below are both from Mrs. Vanderbilt's bedroom. While the gold and purple decor isn't quite my style, I do love how lavish and feminine this room is!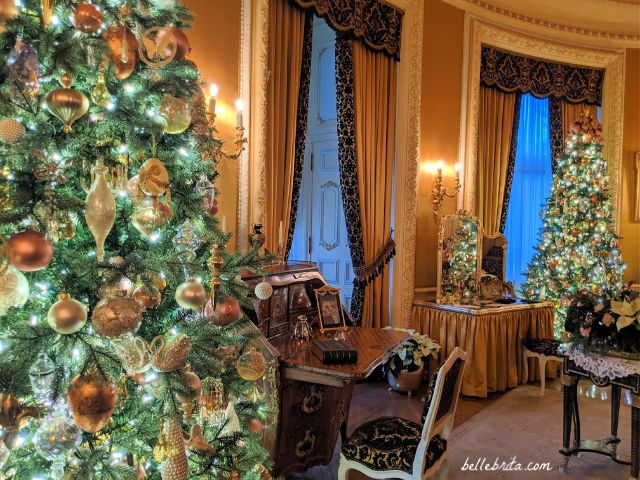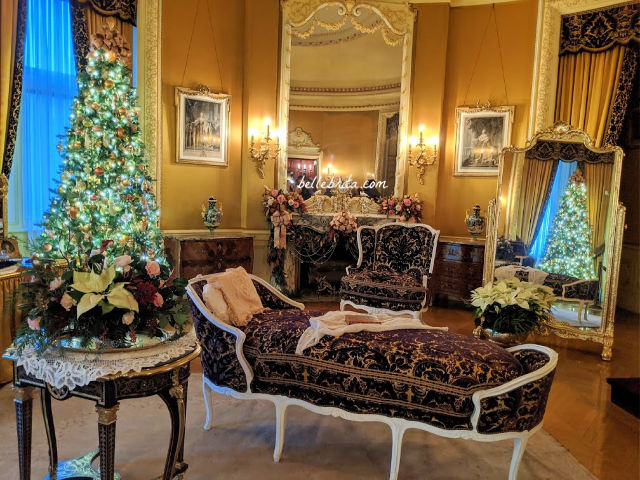 Biltmore house tours are included with an annual pass. However, if you want to do the special Candlelight Christmas Evening tour, that costs extra, even for annual passholders. We didn't want to pay the extra costs, hence our late afternoon tour.
Candlelight Christmas Evening
I've done the Candlelight Christmas Evening tour twice before, both with a group of Furman students. In addition to the Christmas lights, candles (a combination of real and fake) are lit all over Biltmore house. It truly is a magical experience… But it's not worth the extra expense if you've already paid the small fortune for an annual pass.
Antler Hill Village at Christmas
Antler Hill Village opened in 2010, and it's a charming addition to the Biltmore estate! There are multiple restaurants and shops, plus my favorite establishment: the winery!
Friday
On Friday, Dan and I had lunch at Cedric's Tavern followed by dessert at The Creamery. And because I'm a terrible food blogger, we didn't get any photos of our food! At Cedric's Tavern, we split the poutine. At The Creamery, I had a cheese danish while Dan had vanilla ice cream. Then it was time to visit the winery for a free wine tasting!
Most of the wines available to taste were the same we tried back in September, but we also tried two Christmas wines, a white and a red.
Saturday
Saturday was all about walking around Antler Hill Village. Community Day was going on for both Harry Potter: Wizards Unite and Pokémon GO from 11am to 2pm. This means special bonuses in the games. On this particular Community Day, some bonuses rewarded walking! You can learn a bit more by watching my video recap of playing Wizards Unite at Biltmore.
After Community Day, Dan and I visited Bistro for a late lunch. We both warmed ourselves with pots of hot tea and split the Artisan Meats pizza.
After lunch, we toured Downton Abbey: The Exhibition. This is a two-part exhibition on display until April. Costumes and accessories from the show are on display in The Biltmore Legacy at Antler Hill Village. This is included with our annual pass. There's a separate exhibition space in Deerpark that costs extra for annual passholders. While I love fancy clothes, I've never seen Downton Abbey, so admiring the costumes satisfied me.
We stopped by the winery for another free tasting, but the line was so long that we decided to buy a bottle of wine and take it back to our hotel to drink with dinner.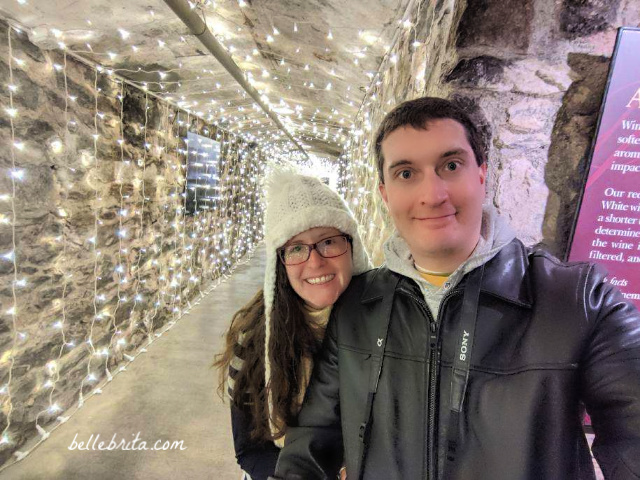 Sunday
On Sunday we returned to the winery for a second free wine tasting shortly after they started serving at 11am. We then played a bit of Pokémon GO while again walking around and just soaking up the holiday ambiance of Antler Hill Village. Our final stop before lunch was at Traditions, a shop with charming home decor, jewelry, and more. We bought a Biltmore Christmas ornament for our tree and a sparkly barrette for my hair!
Then it was off to The Inn on Biltmore Estate for lunch.
The Inn on Biltmore Estate
Dan and I did not stay overnight on Biltmore Estate. While I would have loved a luxurious weekend at The Inn on Biltmore Estate, we save our hotel splurges for our anniversary. Instead we managed to stay in a new Holiday Inn & Suites about 20 minutes away on points. And we got a free upgrade to a two-room suite because Dan is a platinum member.
All that said… The Inn is one of the most beautiful hotels I've ever visited. We first visited it back in September, and I just knew it would be lavishly decorated for Christmas.
I was right.
A giant Christmas tree, wreaths and garlands, massive toy soldiers, a stunning gingerbread house, and so much more!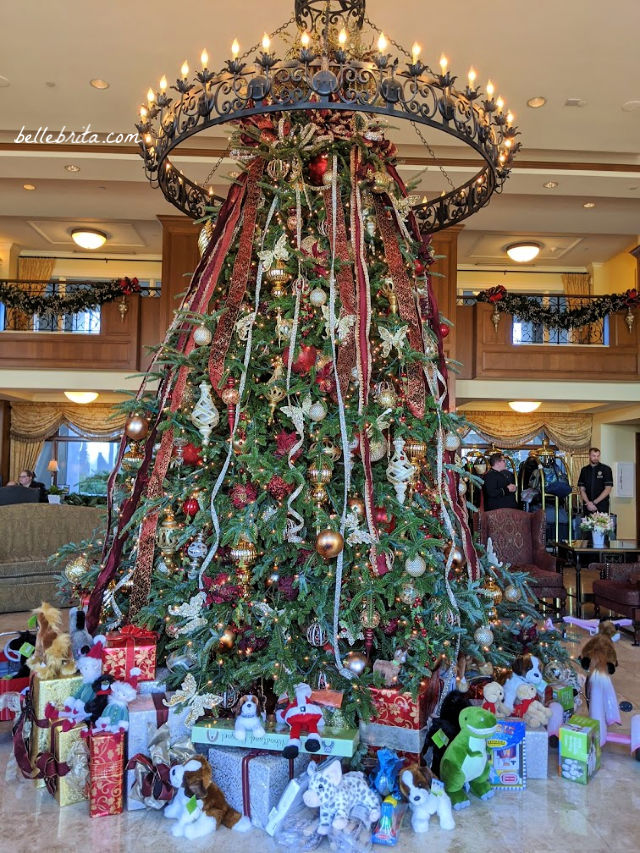 Lunch at Library Lounge
The Inn has two of its own restaurants. Dan and I had dined at Library Lounge back in September.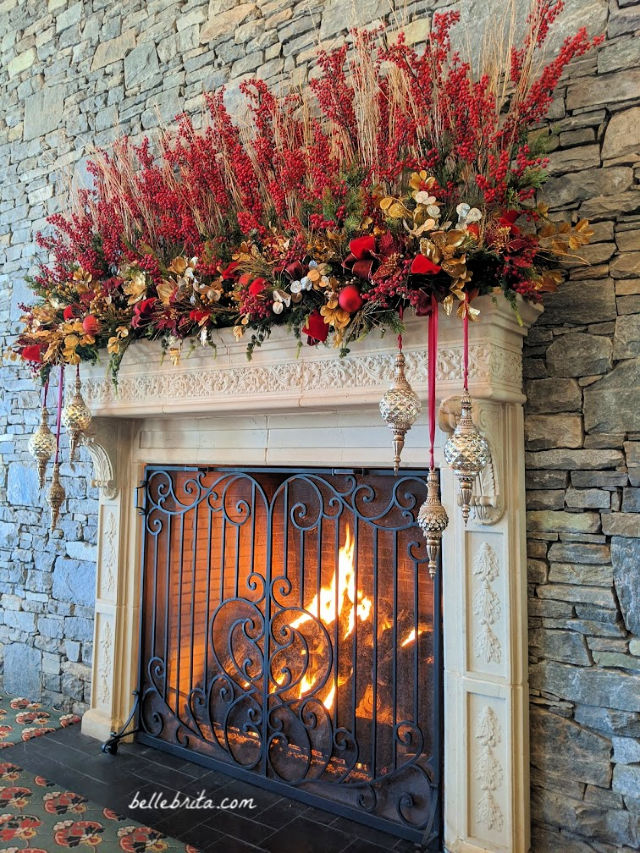 While the decor is still elegant, and the service is still impeccable, the menu offerings are more suitable for picky eaters will small appetites… Like Dan and me!
We split the Pit Ham & Cheese Panini with a side of Hand-Cut Truffle Fries. It was absolutely delicious. The fries are possibly the best I've ever had.
Even sharing a lunch portion, we still couldn't finish our food. Like I said, we have small appetites!
About halfway through our meal, the gentle ambient music changed. A pianist had begun playing at the grand piano!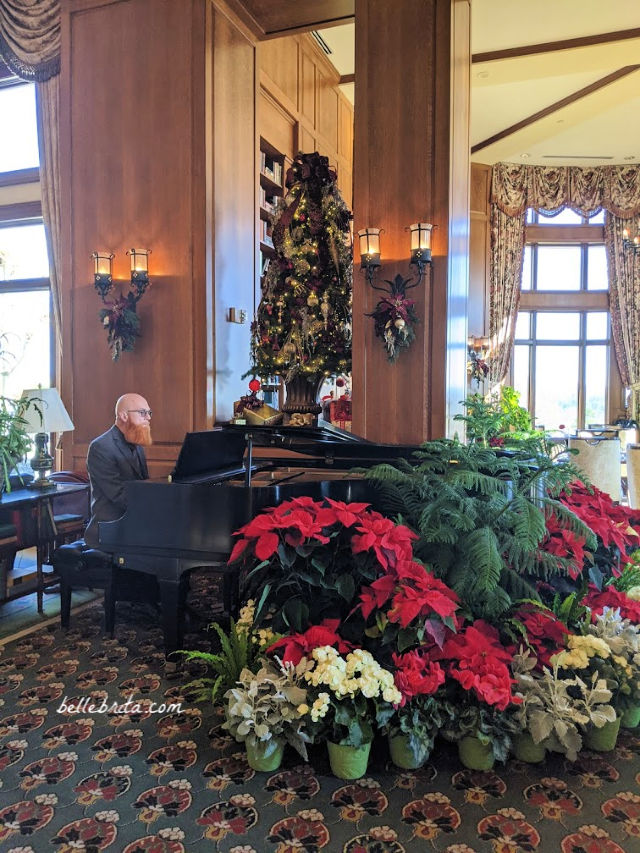 Our lunch was absolutely charming. I can't wait to dine at Library Lounge again when we return for our anniversary in March.
Biltmore Tickets, Hours, and More
Biltmore tickets and pricing can be a little confusing. They use seasonal pricing, so you will pay more during popular times.
For adults, tickets are as low as $59 and as high as $99. Tickets for youth aged 10-16 are half the price of adult tickets.
Discounted tickets are available for individuals with disabilities. This is because not all of the Biltmore house is accessible. If you qualify for a reduced rate, one person with you also gets the reduced rate.
Daytime admission includes a self-guided house tour, access to Biltmore estate for the day, free wine tastings, and access to the full Downton Abbey exhibition. You need to make a reservation for the house tour. Do this well in advance since certain times, and even entire days, will sell out!
If you book a tour or excursion that costs extra for the day AFTER your house tour, then you can visit Biltmore estate a second day without an additional ticket for estate admission. Biltmore offers multiple tours to learn even more about the house and the estate. Dan and I enjoyed the rooftop tour back in September.
Hours at Biltmore vary by season, so check their website before your visit to learn more.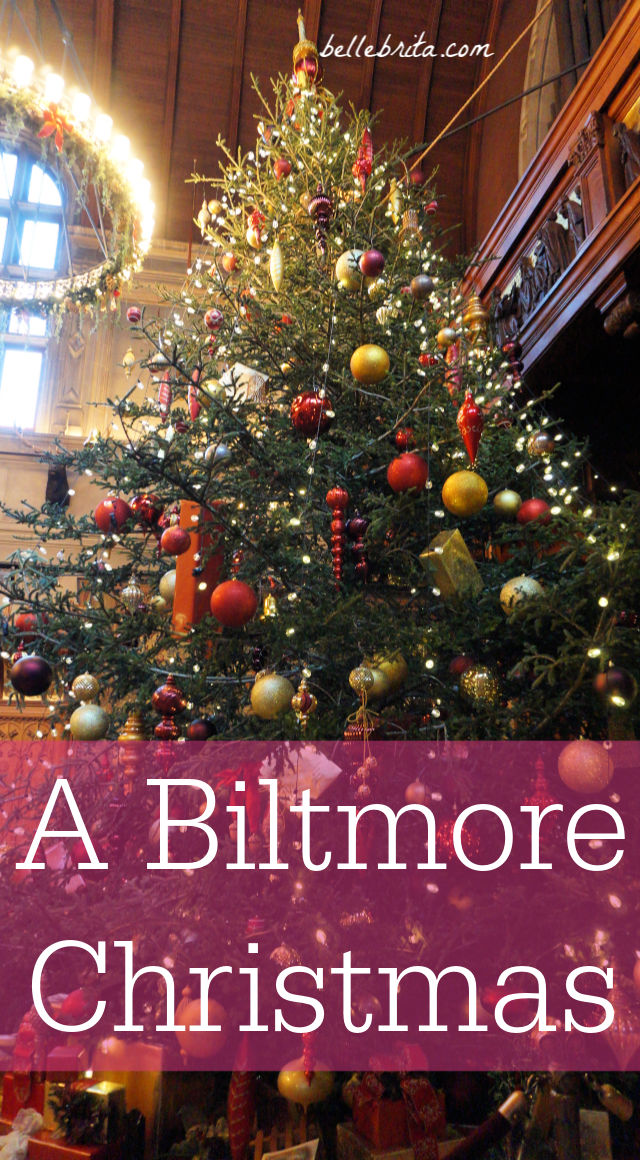 A weekend at Biltmore was just what Dan and I needed. It was a romantic weekend just for us, away from the stresses of the holidays. We enjoyed all the Christmas decorations, the delicious wines, the yummy food, the beautiful architecture–it was really the perfect weekend to spend quality time with each other.
Have you ever visited Biltmore for Christmas?
If you enjoyed this post, check out my other holiday travels!
For Love of Christmas Lights in Paris
For Love of Disneyland Paris at Christmas
Celebrating Christmas in Ohio 2014
Pittsburgh Travels: the Magic of Christmas