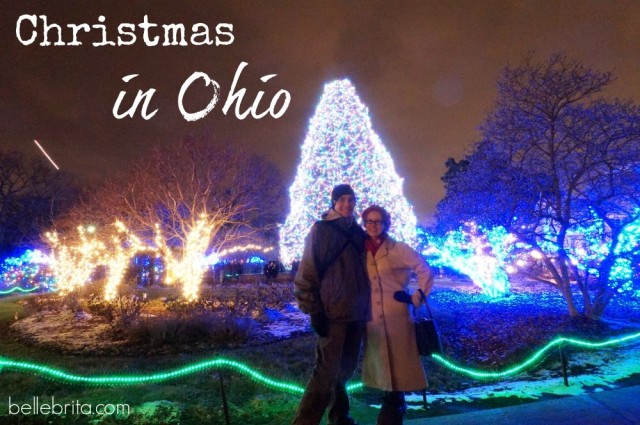 Merry Christmas, my dear blog readers!
I don't know about y'all, but I celebrated with quite a few computer-free days. I didn't use my laptop at ALL on Christmas Eve and Christmas, and I had pretty limited usage of it during the days leading up to Christmas Eve.
Did my blog promotion and blog writing suffer for the time off? Yes, but celebrating Christmas with Dan and the Flecks was more important. Besides, my biggest priority this month has been to take care of my health. Oh, and I read three books this week!
Christmas in Ohio started early when the Long-Fleck-Martinis (aka me, Dan's family, and Emily's family) got together Friday, December 19th. The original plan was to visit Greenfield Village for their holiday lights, but apparently they were completely sold out until December 26th.
Plan B resulted in a trip to the Toledo Zoo for The Lights Before Christmas. Dan and I LOVE going to the zoo, so this was perfect for us.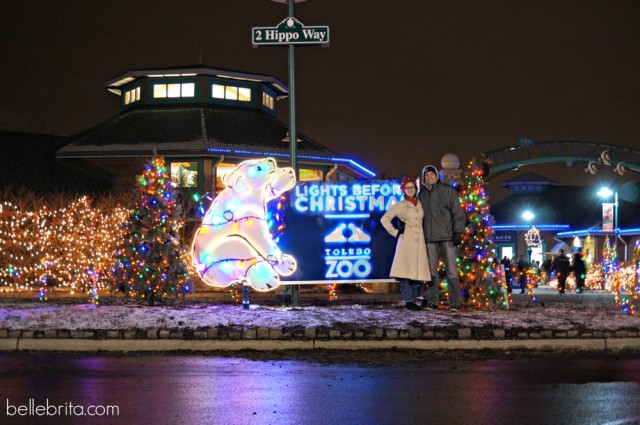 The lights were absolutely beautiful, and the animals were perfectly adorable. Surprisingly, it wasn't nearly as cold as we thought it would be.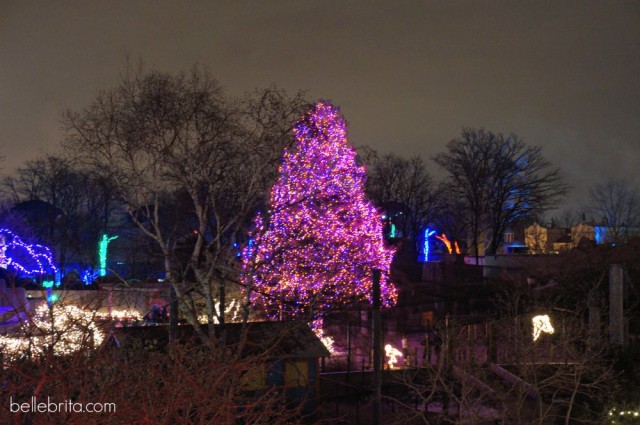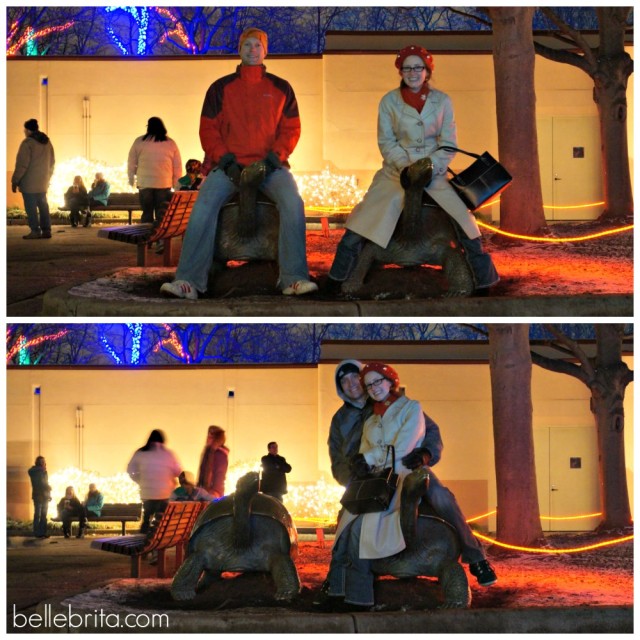 Saturday continued the family adventures with a day at the Henry Ford Museum! (Not in Ohio, but next door in Michigan). I can't even begin to describe all the cool stuff we saw there. Huge old trains. Every cool old car you can imagine.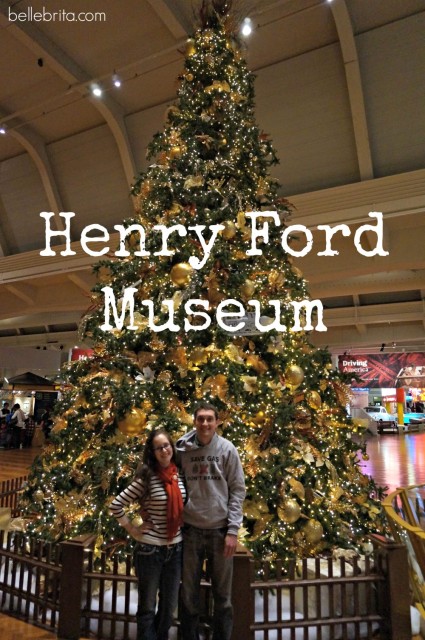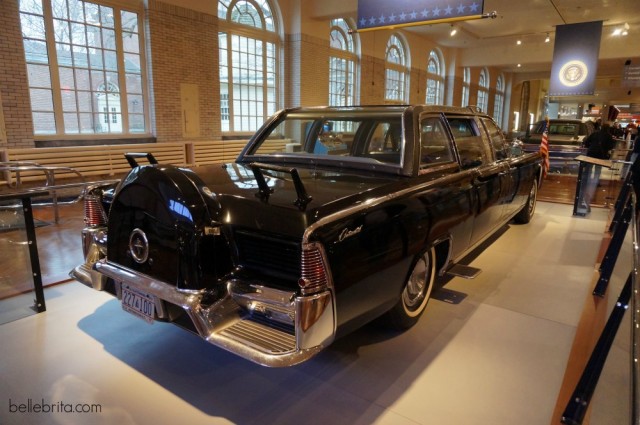 A beautiful model train set, all decorated for Christmas. An amazing city built out of Legos, with too many tiny little Santa Clauses to count.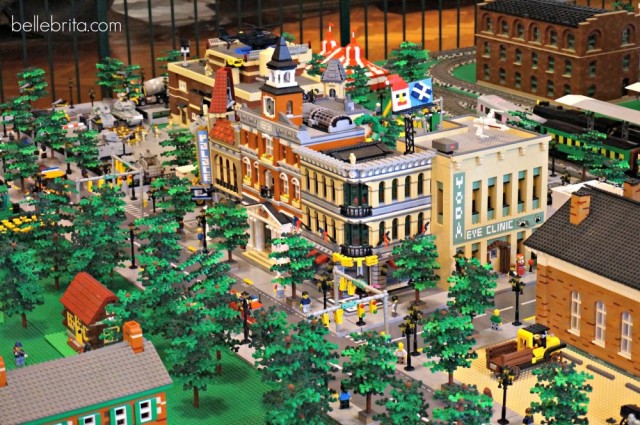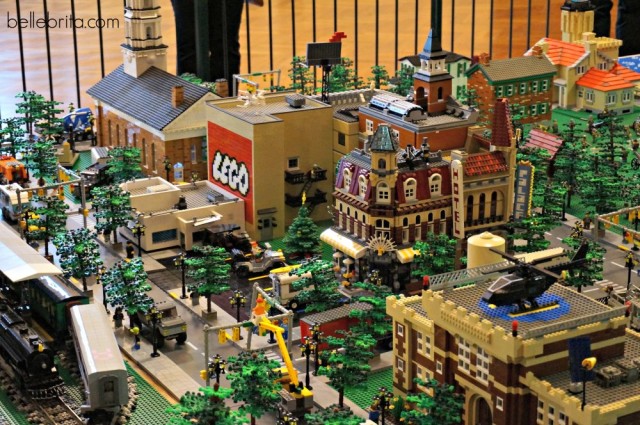 An awesome history exhibit focusing on American fights for independence: from the British, from slavery, for women's right to vote, and from segregation.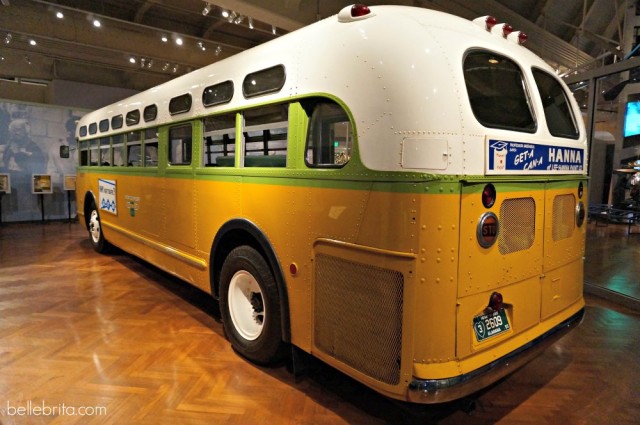 Oh, and Dan and I even made our own little light-up Christmas ornaments. I think we were the only adults at the craft station, but I love making things!
The Christmas tree at the museum was absolutely stunning. I can't get enough of Christmas trees!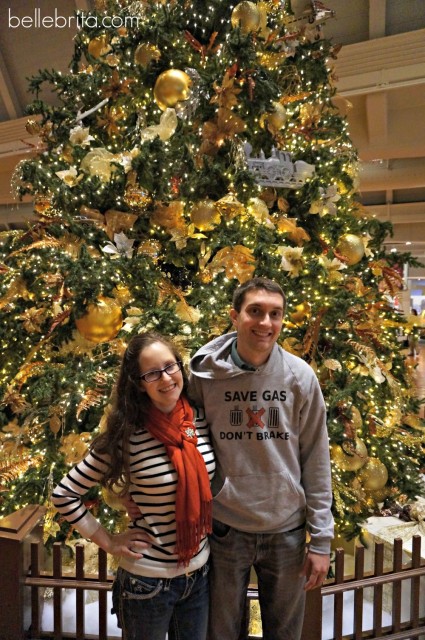 ---
On Sunday we had our Fleck family Christmas. Dan and I drove to Bluffton where his parents live to feast on a delicious holiday meal of ham, mashed potatoes, pureed beets and carrots (a Long family tradition!), green beans, broccoli, crescent rolls, and pie. All with sparkling wine, of course!
Then we exchanged Christmas presents! This year we did a Secret Santa exchange, which cut down on the number of presents we all gave and received. While I love the thought of picking out presents, none of us really needs a lot of stuff. I'm glad we did a Secret Santa since it cut down on the materialistic side of the holidays.
Paul and Mary Kay (Dan's parents) still bought a few little things for everyone. They just couldn't resist!
Nick loved the books I gave him. One on how to swear around the world, another all about beer, and a third snarky book about the holiday season.
Emily loved the board game Dan picked out for her. We played a few rounds, and it was so much fun!
Dan and I are both excited about the beautiful set of scented candles Paul picked out for me. We burn candles basically all day long at home.
We all cracked up at Mary Kay and Paul's gag gift for Dan: a small bag of veggie chips! If you haven't had the privilege of eating with my husband, he's notorious for his aversion to vegetables.
Dan and I finished the perfect Christmas celebration by driving around Bluffton to look at the lights. A local group puts together a light show every year. We tuned our radio to the right station and watched the 15-minute performance of Christmas lights!
No pictures of our day in Bluffton, though. I wanted to be in the moment with my family, not distantly thinking about my blog.
---
On Christmas Eve, we attended the entire Fleck family party. Basically Aunt Ruth (one of Paul's older sisters) organizes a holiday reunion every year on Christmas Eve. I'm still working on learning all the names, but considering my husband doesn't quite have them all straight, I think I'm okay. I definitely know Paul's three siblings and their spouses, but I'm working on the next generation. Emily has that generation figured out, so she helped me by pointing out all the cousins and their spouses. Everyone is still working on the first cousins once removed, though.
This is what happens when you marry into a Catholic family. The Brown side (Mary Kay's family) is even bigger. I'm still trying to learn all ten of her siblings and their spouses.
After the party, Dan and I started what could be our first Christmas traditions. In our house, the fireplace normally doesn't have much furniture by it. For Christmas, we set up an air mattress with blankets, a coffee table, and our TV all by the fireplace. Basically we combined our couch-bed-table activities into one, by a nice roaring fire.
Dan cooked us a romantic meal of filet mignon, baked potatoes (mine was a sweet potato), and bread with olive oil. Paired with sparkling wine, of course. The air mattress turned into chairs, and the coffee table transformed into a dining table.
We ended the night with a cheesy Christmas movie. Next year I hope we'll have a DVD copy of It's a Wonderful Life, but I survived without it this year.
Watching Christmas Bounty and drinking sparkling wine! #perfection #romance

— Brita Long (@belle_brita) December 25, 2014
---
Christmas morning, we found our gifts left by "Santa." The Long family LOVES Santa. My parents have a beautiful wooden sign up in their house, year-round, that says, "We believe in Santa Claus." I might be an adult, but I'm pretty sure if we celebrate Christmas next year with my parents, Santa will leave us presents to discover on Christmas morning.
Santa brought Dan two beautiful amethyst geodes, a polar bear ornament, and peppermint stirrers for tea or hot chocolate. Santa plans on bringing Dan a polar bear ornament every year, a tradition Santa started last year.
Santa brought me an R2-D2 charm for my Pandora bracelet. Clearly Santa knew about our recent trip to Comic Con! Santa also surprised me with a seasonal book pillow of A Christmas Carol. Finally, clearly Santa had listened to my frequent complaints about not having a good travel mug since he brought me a geeky stainless steel one.
After finding our presents, Dan made us cinnamon rolls and mimosas!
http://instagram.com/p/xCJdWsro0o/
We then had a lovely Christmas nap, followed by a visit to Dan's grandmother in Lima.
Dan and I finished Christmas with stories, snuggles, snacks, and Star Trek.
By "stories," I mean books, but Dan prefers the alliteration (or consonance–we just looked that up; alliteration is a form of consonance) of "stories."
And all of that is the short version (I swear!) of how we celebrated Christmas in Ohio.
Tell me about your Christmas! Did you spend it with your family? Were you overseas? What family traditions did you start or continue?