2018 was another great year for the books–and yes, I mean that literally. I did a better job of setting aside time to read. I visited my local library more often while also working my way through my dozens of unread Kindle books. Overall, I'm quite happy with how I balanced out reading new books and rereading favorites.
In 2018, I also resumed writing the occasional book review, even if I read too many books to review them all (a good problem to have!). These blog posts were far from popular, but I enjoyed writing them. I plan to keep writing my inconsistent book reviews in 2019 when I'm able.
So what did I read in 2018?
Inspiration for this annual book review comes from The Perpetual Page-Turner!
Note: This post includes Amazon affiliate links.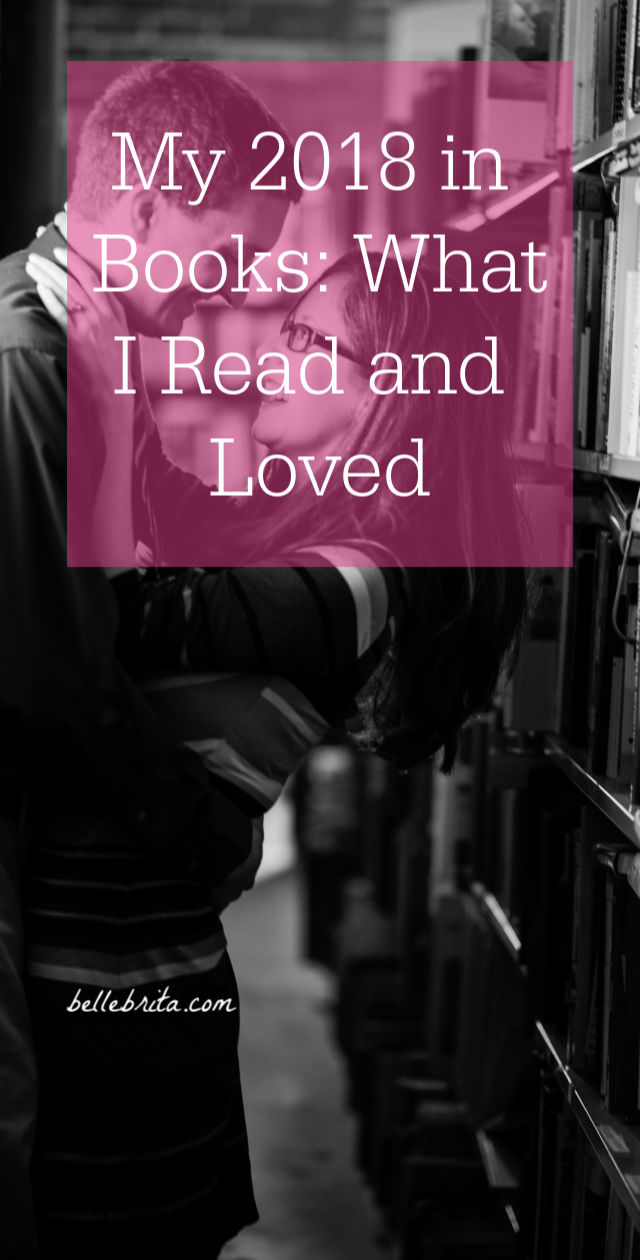 2018 Reading Stats
Number of New (to You) Books You Read: Not counting the short ebooks not listed on GoodReads, 35.
Number of Re-Reads: 22 (I think)
Genre You Read The Most From: It's roughly a tie between Fantasy and Young Adult, especially once I factor in my rereads. I also read a lot of Dystopian books.
Number of Fictional New Books: 35
Number of Non-Fictional New Books: 0. Oops. It's only as I look over my books that I realize I didn't read any nonfiction books. Or at least, I didn't read any nonfiction books that I tracked on GoodReads. I did read ebooks on homemaking, faith, and blogging, but I didn't track any of them.
Shortest New Book: 226 pages, Midair by Kodi Scheer
Longest New Book: 640 pages, The King's Curse by Philippa Gregory
Breakdown of New Books by Gender: 27 books by women, 7 by men, 1 co-authored by a man and a woman. I mostly reread books written by women, but I also reread the entire Artemis Fowl series, written by a man.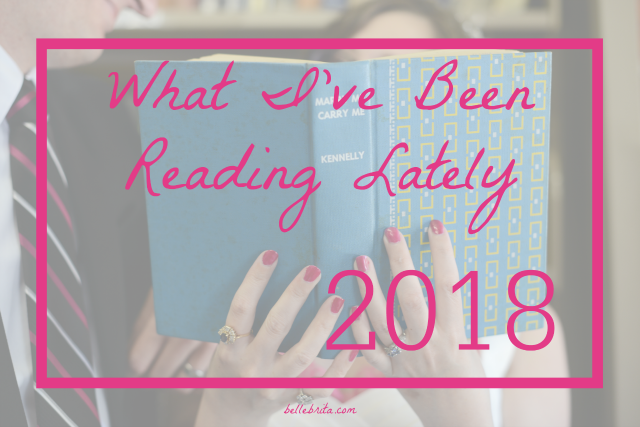 2018 Belle Brita Book Awards
I read so many great books this year that I can't choose just a single favorite. Last year I created my own categories for "Best," but this year I'm borrowing these categories. Also, since I already shared book summaries and reviews for almost everything below, I'm not giving full explanations like I did in my 2017 Belle Brita Book Awards.
Best Book You Read In 2018?
The Girl Who Drank the Moon by Kelly Barnhill
This is one of the most beautiful and magical books I've ever read. It will put wonder and merriment into your soul. Read my full review here.
Book You Were Excited About & Thought You Were Going To Love More But Didn't?
The Good Fairies of New York by Martin Millar
It has magic and a protagonist with Crohn's Disease, but it just wasn't amazing.
Most surprising (in a good way or bad way) book you read?
Jane, Unlimited by Kristin Cashore
A genre-defying  novel that was unlike anything I've read before. Read my full review here.
Best series you started in 2018?
The Selection by Kiera Cass
Total fluff that had me itching to read the entire series all at once! Read my review of the whole series.
Most action-packed/thrilling/unputdownable book of the year?
Ready Player One by Ernest Cline
I read this almost nonstop until I finished it. Just that enthralling. It's the only book that got a book review all to itself… Well, the book review is combined with a film review.
Favorite cover of a book you read in 2018?
All of the Kiera Cass novels. Gorgeous covers.
Most beautifully written book read in 2018?
The Girl Who Drank the Moon by Kelly Barnhill
Book you can't believe you waited UNTIL 2018 to finally read?
A is for Alibi by Sue Grafton
Most Unique Book You Read In 2018?
Jane, Unlimited by Kristin Cashore
The Blogging Bookish Life of Belle Brita
Like I mentioned above, I wrote quite a few book reviews this year. I'm quite proud of doing that, even if those blog posts didn't attract many page views. I frequently rely on reviews and recommendations to choose new books for myself, so I try to help other people find books for themselves.
These questions only refer to bookish creations, not my entire blog and social media presence.
Favorite post you wrote in 2018?
Ready Player One Review: Book vs. Film – Dan and I wrote this post together. We don't often read the same books, so it was fun that we both read and enjoyed this book.
Favorite bookish related photo you took in 2018:
I started a Harry Potter Instagram account in 2018! I don't update very often, but this is my favorite bookish post there.
Best bookish event that you participated in (author signings, festivals, virtual events, etc.)?
Dan and I met Gregory Maguire!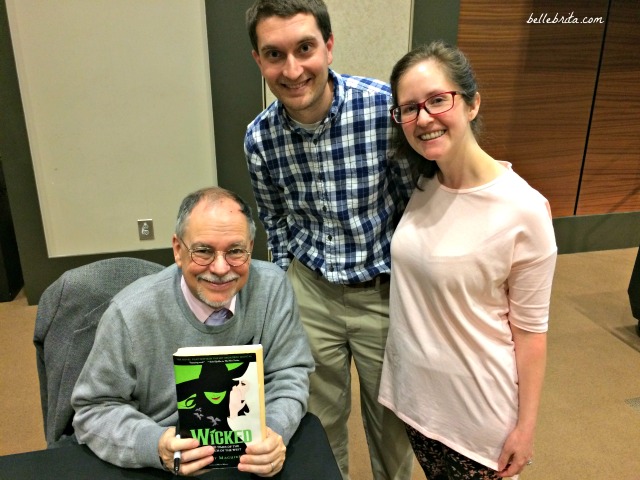 Best moment of bookish/blogging life in 2018?
I didn't just start a Harry Potter Instagram account–I also started a Twitter account. Technically I started my YouTube channel in 2017, but I didn't really do much on it or its social media accounts until 2018. Anyway. Something huge happened on Twitter.
J.K. Rowling retweeted me.
In the same day, @jk_rowling retweeted one of my tweets and liked another. This is definitely an amazing start to a new week! #potterhead #FantasticBeasts #ProtectTheSecrets pic.twitter.com/QrpfTLJnpq

— Witches Unite (@HPwitchesunite) November 4, 2018
Most challenging thing about blogging or your reading life this year?
I definitely mostly read books for escapism, not for personal or educational growth. Escapism is fine and all, and I certainly don't fault anyone who reads just for the fun of it. But I am a little disappointed in myself for not tackling any of the nonfiction to-read pile that's slowly stacking up on my bookcase. I'm giving myself grace, though. Overall, I read and reread an impressive number of books, even if they were all fiction. Coming to grips with my depression and anxiety has been really hard on me, and I think it's only natural that I would turn to books to relax.
2019 in the Books?
I don't set New Year's resolutions. They're just not for me. However, I do want to set a series of small, repeatable goals for 2019. Some of those goals revolve around my reading life.
Series ending/sequel you are most anticipating in 2019 (non-debut)?
I want to reread Ender's Game and then read the rest of the book series. I also want to watch the movie with Dan and co-write a blog post review together.
One thing you hope to accomplish or do in your reading/blogging life in 2019?
I want to read at least six nonfiction books this year. I started two of them in 2018, even if I didn't manage to finish either of them.
Anything else?
Two final things, both about Harry Potter!
First, if you haven't already, subscribe to my YouTube channel.
Second, I want to try a new thing when I reread Harry Potter this year. I tend to reread the entire series every 6-18 months, depending on if I feel like reading the books in the summer or around Christmas. I didn't do either in 2018, which means I'll most likely reread all the books this summer.
A Harry Potter YouTuber I follow started a series on journaling as she rereads Harry Potter. I absolutely LOVE this idea and want to try it for myself. I might even film some of it, although I'm not sure I'll film the entire journaling process of my reread.
This might sound silly, but I'm hoping that the process of taking physical notes while rereading my favorite book series will also inspire me to do more handwritten journaling in general. I spend so much time writing on my laptop and on my phone, but part of me misses the ritual of writing things out by hand.
These are all my bookish thoughts finishing out 2018 and beginning 2019! Add me on GoodReads to see all my mini book reviews during the year.
Tell me about you! What were your reading highlights of the year? What reading goals do you have for this year?