It's that time of year again, when your favorite lifestyle bloggers put together sponsored blog posts and affiliate links in the form of gift guides. We already saw the swarm of Mother's Day gift guides. Now I'm joining in the fun with a Father's Day gift guide!
Unlike my fellow 20-somethings (and almost 30-somethings), my Father's Day gift guide is for your actual father, not for your significant other who fathered your children. Those dads are totally special and all, but what about our own fathers?
I'm not entirely sure they want wooden watches…
I received PR samples from Thoughtfully, Sweet Thing Caramels, and Headed for the Country. Also, my cousin runs Headed for the Country. As always, all opinions are my own, and I would never recommend something I don't like. This post also contains affiliate links for Amazon and for other companies, which means I might make a tiny amount of money if you click on them and buy something, at no cost to you.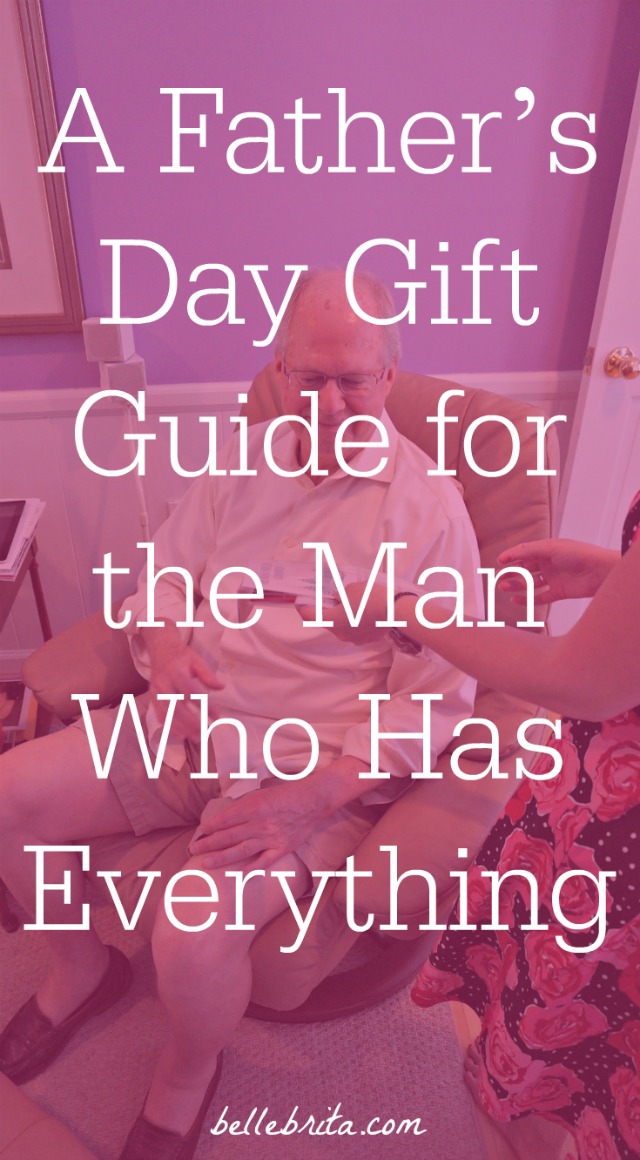 What do men in their 50s and 60s want? Those damn kids off their lawn, for starters. Other than that, I have a few ideas of presents for your dad this Father's Day.
Father's Day Gift Ideas: The Classics
These are all the stereotypical things men want. I assume some men really do want these gifts, which is why I'm suggesting them.
Golf Gear
My own father doesn't golf, but my father-in-law does. What do you buy for a golfer?
Golf balls. Check out the funny inscriptions, or create personalized golf balls!
A hat or visor. Choose from many great designs, or customize your own hat!
A collared shirt to wear to the club. Keep it classy.
Grilling Gear
My dad is the family grillmaster who uses a proper charcoal grill. No one makes burgers quite like he does. Even though my family loves the classics, sometimes my dad likes to spoil us with a mixed grill of multiple meats and vegetables with new spices and marinades. Luckily Thoughtfully offers several gorgeous gift packages for the expert grillmaster in your life!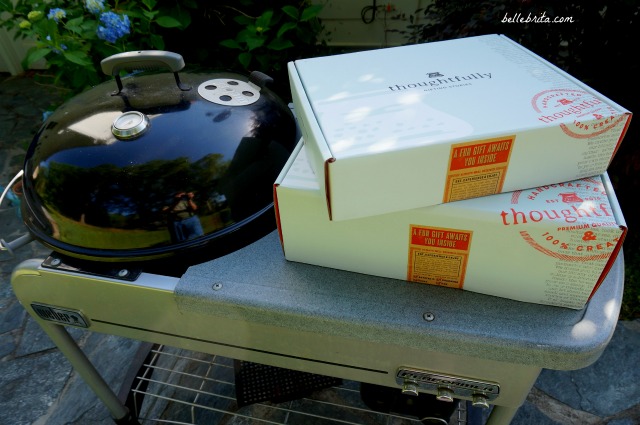 Master Skewer Set
This is the perfect BBQ gift for anyone who loves a mixed grill. Skewers allow guests to pick and choose their meats and vegetables for a delicious mix and match experience. From Thoughtfully's website:
Asado. Have you heard of that Argentinean debauchery? Maybe the ultimate BBQ ceremony on earth! Giant pieces of meat spiced by heavy white smoke that brings on the most divine flavors. The first time we experienced it, we knew immediately the spirit of this "all the way meat experience" must become part of our future BBQ parties. We wanted the real deal, so we brought some of that original grilling art to our table with this skewer set. We also added bold, aromatic rubs: Jamaican Jerk, Cayenne and Southwest. Put on the bib—it's going to be a juicy one!

This set includes a wooden kabob station with six stainless steel skewers. There's a serving fork and three different rubs for fish, chicken and beef. We even included plastic bibs. Because great BBQ means wearing the mess with pride.

The Big BBQ
This is the perfect BBQ gift for anyone who loves trying new flavors on the grill. This combination of sauces and rubs will appeal to any foodie grillmaster! From Thoughtfully's website:
This was definitely our carnivore summer. In the backyard of our offices, we fired up a gigantic grill daily. Everyone knew that around 11 am the cooking would begin. Different cuts, different grilling levels and an endless amount of rubs and sauces were tested so we could narrow down our favorites for our curated classic Big BBQ collection. We chose the ones that we believe every grill artist must have. We also added a wrench-shaped bottle opener just for fun. So, open a cold one, eat some barbecue and enjoy!

Our Real Sweet BBQ sauce, 2 Classic Smoky sauces and two spice rubs will keep them focused. And our wrench-shaped bottle opener means they don't have to walk away from the grill.

Sports Memorabilia
Does your dad love football? Has he memorized a bunch of baseball stats? Is he obsessed with any particular team or athlete? Does he still attend sporty alumni events in his hometown?
This Father's Day, surprise your dad with sports memorabilia. Buy him a Braves jersey. Commission a piece of athletic art.
My dad's gift for Father's Day is a vintage Pepsi bottle featuring Clemson's football team. It's the season after my dad graduated, but it's the same year, so I figured it was close enough.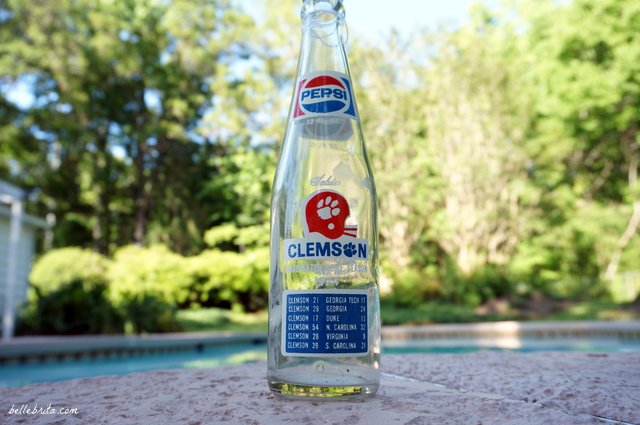 Gag Gifts
Does your dad have a good sense of humor? Or does he already own so many real gifts that he doesn't need any more? Give him the gift of laughter with a gag gift!
Help your dad plan for his retirement out in the country. Give him his very own DIY Log Cabin Kit. This comes with almost everything he needs to build his retirement home: a log cabin out in the country!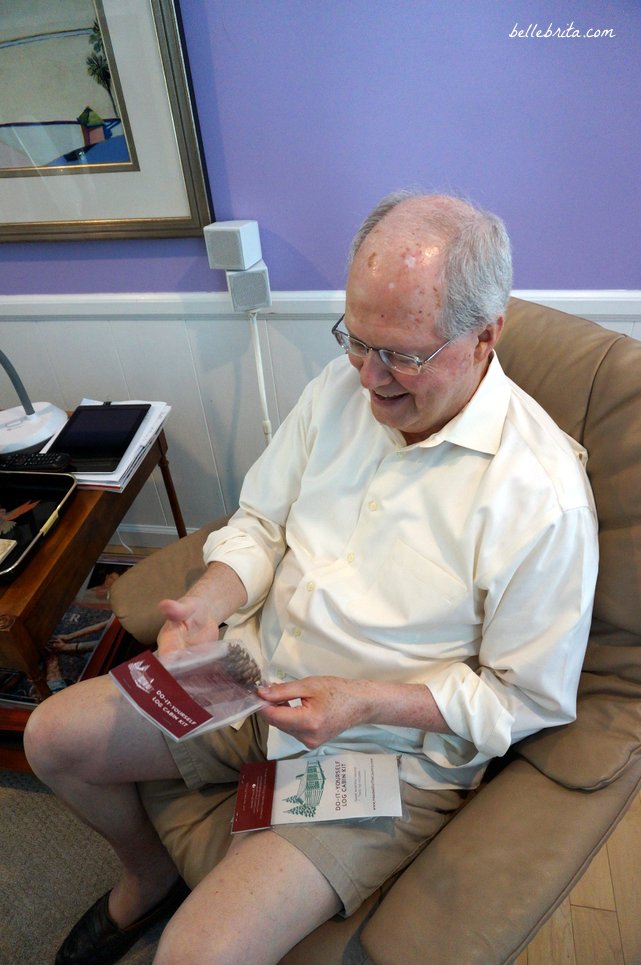 You might want to check out the disclaimer on the kit…
This is a gag gift and there is no explicit or implied guarantee that any pine seeds, should they even exist in this package, will ever germinate or grow. Growing/assembly time, should your pine seeds actually germinate, is substantial, at least 30 years. Tools not included. Seek professional assistance for any "erection" that lasts more than four hours.
Father's Day Gift Ideas: The Consumables
Not all fathers want more stuff. If your dad is at the height of his career, or even nearing retirement, then he might already have all the material goods he wants. This adds a new challenge to finding the perfect Father's Day gift. What do you buy for the man who has everything?
Food.
The answer is food.
And beverages. Alcoholic beverages if your father is into that sort of thing.
Gourmet Dessert
Mothers are not the only ones who enjoy fancy sweets. Fathers have sweet teeth (tooths?) too! Obviously what sort of treat you give to your dad will depend on his personal tastes.
Baked Goods
If you're on a tight budget, you could bake your own selection of cookies, brownies, and cakes for your dad. He will appreciate the time you put into it, as well as the yumminess.
If you have more money than time, or you're just a terrible baker, order a selection of cupcakes from your local bakery. A cupcake sampler is a fun way to try different flavors.
Decadent Candies
If you're lucky enough to live near a candy shop, pick out a few delectable goodies like chocolate-covered pretzels, pecan pralines, and divinity. For those of you shopping at regular grocery stores, pick out a sampler of Ghirardelli chocolates.
Or you could order gourmet caramels online. Sweet Thing Caramels sells the most decadent caramels in the prettiest packaging. To really treat your dad this Father's Day, surprise him with a monthly subscription box of caramels. Sweet Thing Caramels offers both a 6-month and a 12-month plan.
Or pick out a gift box with 8 ounces or 16 ounces of caramels. Whatever you gift your dad from Sweet Thing Caramels will be delicious.
Get 10% off with code BELLEBRITA. You won't regret it!
Ice Cream
Findlay, Ohio has a famous candy store and ice cream shop called Dietsch Brothers. I swear, everyone buys ice cream there for every single special occasion. And not-so-special occasions.
If your father is anything like Dan's dad, he would love a pint of gourmet ice cream for Father's Day.
Gourmet Beverages
The selection of quality beverage options is almost unlimited.
Coffee, tea, hot chocolate.
Beer, wine, liquor.
Your dad probably has enough coffee mugs and beer mugs, so skip the glasses.
You hopefully know what your dad likes. Put together a nice sampler of his favorite beverages. If he likes fine wine or liquor, buy him a single nice bottle of his favorite.
What Your Dad Really Wants for Father's Day
The gift of time.
Seriously. Your dad just wants to hang out with you.
If you live nearby, take your dad out for a meal. Watch last season's Dancing with the Stars together on his DVR.
If you don't live near your dad, call him! Tell him what's going on in your life. Ask your dad about his life. Reminisce about old times.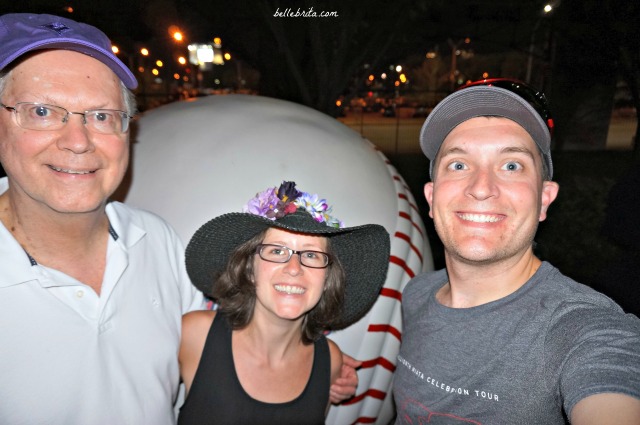 I feel incredibly blessed to have a good relationship with my dad. After losing my mom almost two years ago, I don't take quality time with my dad for granted.
Share this post with your friends and family so all good dads will receive good Father's Day gifts this year!