A few months ago, I started to include a 30×30 section in my Monthly Goals. I had hoped this would help me work more towards my 30 Before 30 list.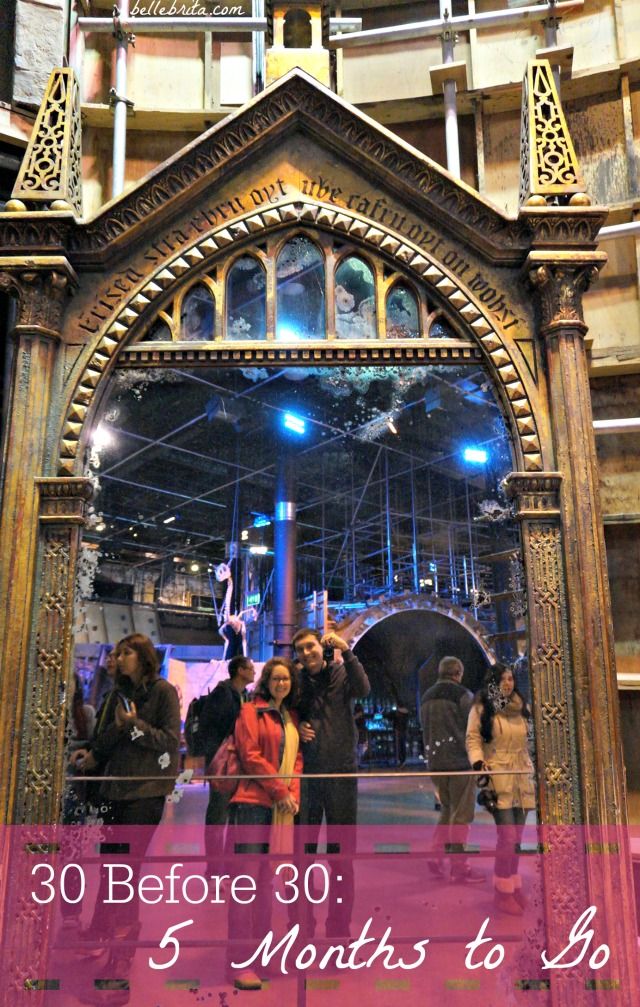 My blogging friend Charlene recently revisited her own 30 Before 30 Bucket List. She has a few more years to accomplish her goals, so her list is more ambitious than my own. I like that she changed a few of her goals based on her own change in priorities.
While I've progressed quite nicely in my own 30 Before 30 list, I'm following Charlene's lead and changing a few goals. Some of these reflect a change in priorities. Others reflect my Crohn's-caused limitations.
Items I've completed are crossed out. Anything else I changed or added this year is in bold.
30×30 Travel
Go to France with Dan (Done! November 17 to December 3, 2016)
Go to Disney World and the Wizarding World of Harry Potter (Done! October 17-25, 2015)
Spend Christmas with Dan in Greenwood (Done! Christmas 2015)
Go to Savannah with Dan (Done! September 25-27, 2015. Read the recap!)
Visit all of the vineyards along Georgia's Wine Highway
Go to Charleston with Dan
Discover Atlanta. Discover Georgia. Visit small towns, go hiking, explore. I changed this because Dan and I spend way more time hiking and visiting small towns than we do checking out Atlanta tourist destinations.
Visit Harry and Celia in Charlotte (Done! January 31, 2016)
30×30 Career
Finish my mom's book and self-publish it. This has been too emotional for me so far. I wrote this goal about The Gifts of Brain Cancer. However, I'm working towards releasing Muddling Through Again, the second edition of my mother's self-published book of prayers. I still think I can get this done before my 30th birthday.
Write my first Kindle Single. This just will not happen in time. I'm changing this to help with my mom's book. Write at least two content upgrades to promote Muddling Through Again. 
Sell 1,000+ books. These will be mother's book and not mine plus her book, but I think I can do it.
Attend a blog conference (Done! Maidae Mixer, October 4, 2015)
Mentor someone. I'm adapting this slightly. Join a Mastermind group.
Launch my own business website (Done! Check out Brita Media)
Host or co-host a Twitter chat
Give a talk or presentation
Create my own 30-day blog or social media challenge (Done! #LoveBlog, February 2016)
Write for xoJane (Done! March 31, 2016)
Go viral (for me, at least 1,000 social shares) (Done! Sort of. Slow viral counts, right? 30 Lessons My Parents Taught Me about Marriage has over 1700 pins on Pinterest and over 200 shares on Facebook).
30×30 Lifestyle
Throw (another) Harry Potter party (okay, so I've thrown three already)
Host a dinner party (I'm counting our family's Christmas dinner for this goal, even if we ate at my dad's house. I put together the menu, and I did most of the grocery shopping. I also cooked most of the food, although Jeremy contributed two dishes.  Finally, I hand-washed all the fine china and crystal afterward, by myself. If that's not hosting a dinner party for nine people, then I don't know what is).
Complete a 2K race. I have no idea why I wanted to start running. Ridiculous. Hold a plank for 60 seconds.
Send out 50 handwritten notes, letters, or postcards (At least 7/50, but I might have done more)
Read 10+ nonfiction books (6/10)

Attend an important/upscale social event (Done! Hearts for the Arts, 02/06/2016)
Plant herbs other than basil and mint (Done! I planted cilantro Fall 2016)
Create a butterfly garden
Try Whole30 (Done! January 2016. Check out my recaps!)
Drink real champagne (not sparkling wine)
Throw myself a fabulous birthday party (Done! While my 29th birthday party was not exactly what I wanted, I spent a great day with Libbi, Chelsea, and Dan. My Crohn's did not cooperate, and I expected more friends to come, but I'm still counting the day-long party for this goal).
---
Even with my changes, I still think this is a reasonably ambitious list. My 30th birthday will be this June, so I have about 5 months to accomplish everything.
I hope this list reminds you that it's okay to change your goals. Not checking something off your bucket list doesn't mean you failed. You just discovered new priorities!
Sign up for life.love.latitude. and receive a monthly dose of inspiration!