Are you tired of 2016 recaps yet? I promise this will be my last one, although I do have several travel posts to write on where Dan and I visited in 2016.
Last week, I shared my top 10 most popular posts written in 2016. Today I analyze 5 blog posts that I loved from 2016, but that didn't receive many page views.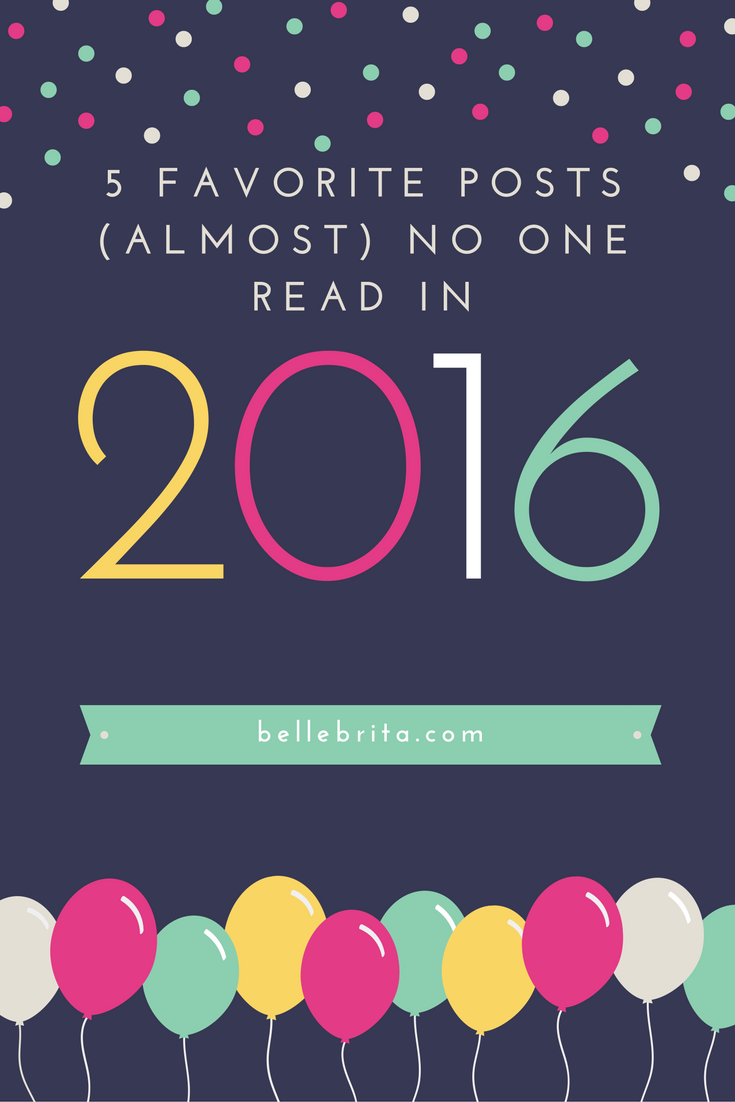 Choosing the criteria for these posts is more difficult than choosing my top posts. If I go by straight page views, the entire list would be from Thankful Thursday or Monthly Goals. I love those posts, but I write them almost every month. Naturally they don't receive high page views in a year.
I also decided not to include any posts written in December. Otherwise my blog post on Disneyland Paris would have made this list. But since it's less than a month old, it feels unfair to compare it to blog posts from much earlier in the year.
All of these posts were written in 2016. Their status is based on page views from 01/07/2016 to 01/07/2017. Since none of them were written in the first week of January last year, their inclusion on this list is still appropriate. While technically page views could come from 2017, those page views are negligible.
Similar to my Top 10 list, I used WordPress Stats to determine page views.
None of these posts have more than 79 page views or 4 comments, not counting my own. All of the posts are ones that I'm proud of writing, and that I thought would perform better. Finally, each one is unique from the rest of the list. Like I mentioned above, many unpopular posts are similar.
Date: 02/13/2016
Comments: 4
Page views: 79
Hindered by: Honestly, I'm not entirely sure. In previous years, my blog posts on blogging didn't perform well. I assume most of my blog readers are not bloggers themselves. However, last year, my other posts on blogging did reasonably well. Plus it was part of #LoveBlog. Most of my blog posts from that month received decent page views. It's possible that since I published this on the Friday of Valentine's weekend, that less people were reading? And they didn't want to catch up since I was blogging daily?
Why I love it: I love this post for 2 reasons. 1) I love the love languages (hence the many prompts in last year's #LoveBlog). 2) I felt this was a creative application of a love language.
Date: 02/22/2016
Comments: 4
Page views: 61
Hindered by: Even though I wrote a good blog post, I completely slacked on creating a pinnable graphic.
Why I love it: Honestly, I just think the advice I wrote is helpful and right.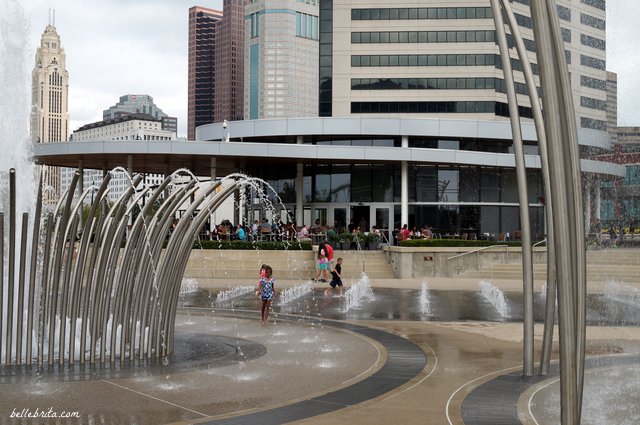 Date: 10/10/2016
Comments: 3
Page views: 59
Hindered by: My travel posts just don't do as well as I'd like. I really thought this would be an exception since I have so many friends and family in Ohio.
Why I love it: This was my first media trip. I pitched Experience Columbus, and they agreed to work with me. I wrote a genuine blog post about Columbus, a city I love and truly miss. Time will tell if the SEO eventually picks up.
Date: 07/15/2016
Comments: 2
Page views: 58
Hindered by: I don't think people google much on political commentary. Most of my political posts are very SEO-friendly, hence their popularity.
Why I love it: My dad and my husband helped me put this together. When you spend too much time listening to politicians, you start to notice all their bullshit. This list is a tongue-in-cheek guide to deciphering political commentary.
Date: 10/19/2016
Comments: 1
Page views: 56
Hindered by: It's a sponsored post. No matter how well I write sponsored posts, I just can't convince my regular blog readers to read them.
Why I love it: Go look at my pictures. Can you tell me they aren't beautiful?! Also, I tried a new approach with this blog post since my previous DERMA E blog posts all tanked too. I thought going for SEO instead of brand storytelling might work better long-term. Granted, SEO can take several months, so it's not too late for me to get more page views. Regardless, I'm pretty sure DERMA E only still works with me because of my Instagram account. They didn't choose me for two campaigns last year. When pitching for this campaign, I decided to include my Instagram following, and whaddya know, they selected me again. I do genuinely love their products, and I want them to succeed as a company.
---
I would be remiss if I didn't mention that 2 posts came from October, so they haven't had much time to garner page views. Plus 2 posts came from February, when I blogged every single day. Even my most faithful readers couldn't keep up with me!
Do you have any blog posts that deserve more love? Share your links, and I'll read them!