eShakti sent me the Amara dress in exchange for my review. L.Alexandra Designs sent me the hair ties in exchange for my review. All opinions are my own.
Belle Brita is a Christian feminist lifestyle blog. What does that mean? As a lifestyle blogger, I write about whatever I want! I share stories and tidbits from my own life. The Christian feminist modifier explains my unique POV, but I still regularly write about subjects not related to faith or feminism.
Like fashion.
I like wearing pretty clothes. I like doing quick photo shoots with Dan (my Instagram husband) to provide pictures for my blog and social media.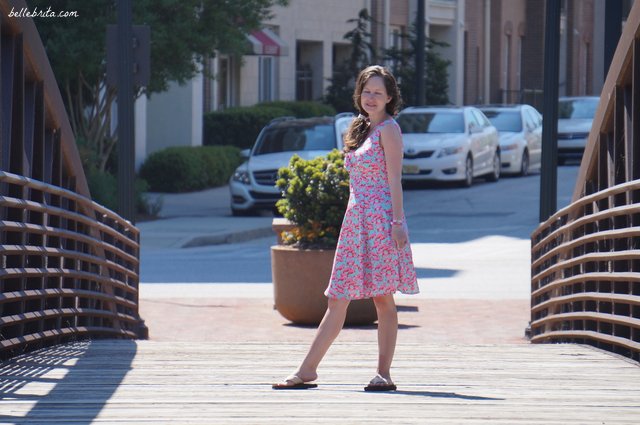 Dan and I took some photos on Sunday in Atlanta. It was a gorgeous day with the sun shining brightly. Dan took a few dozen photos of me in different scenic spots with me posing to best show off my new Amara dress from eShakti and my new hair ties from L.Alexandra Designs.
As usual, only a handful of the photos turned out just as I'd envisioned. Dan is a great photographer, but there's only so much he can do with a half-blind model who won't wear her transition glasses in pictures on a sunny day.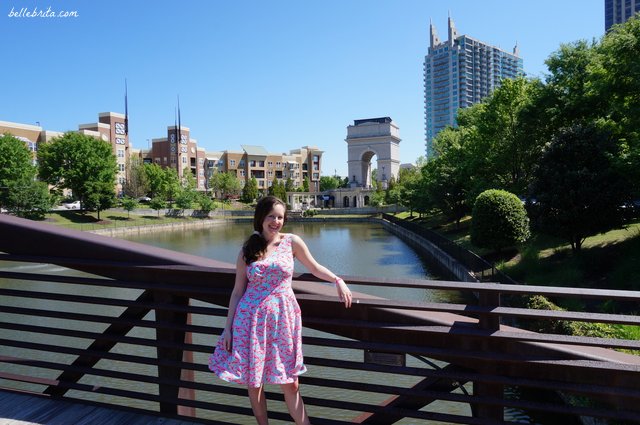 Instead of sharing the beautiful photos, I thought it would be more fun to publish all the mishaps.
These fun fashion shots are why I will never be a fashion blogger.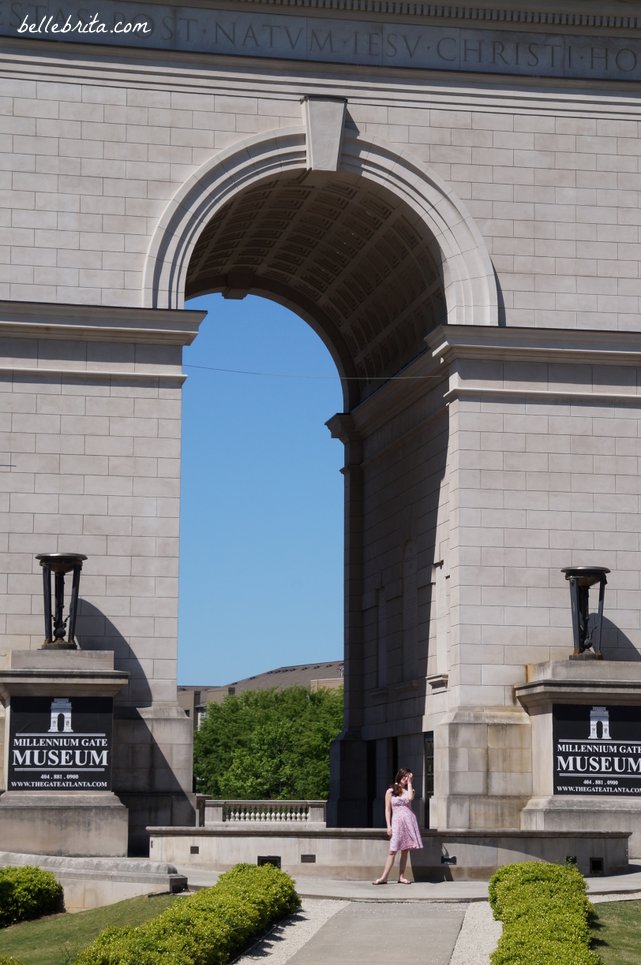 Yeah, I enjoy creating the occasional post on fashion. I like reviewing my favorite stores. I hope to inspire the average woman with the average budget to dress creatively.
But I don't have the skill or the patience to do this every week.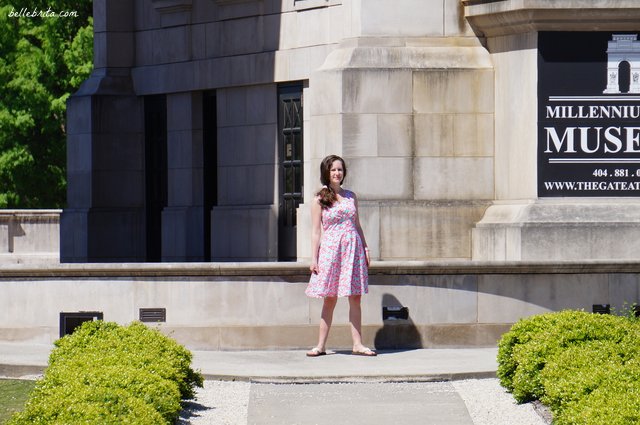 Dan and I did have a few fun stories from our day.
Like the driver who slowed down and asked Dan how much he charges for video. My husband had to explain he's not a professional photographer.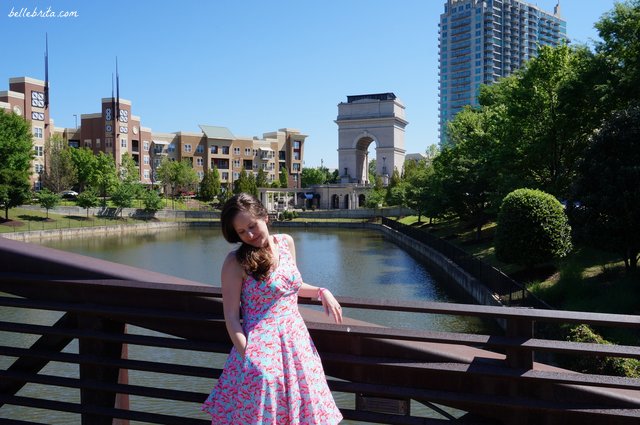 And the other driver who yelled out, "She's a keeper!" to us.
And the other woman having headshots done with her own photographer, who remarked that she should have thought to bring makeup, and maybe she should ask the model over there to borrow some.
So apparently my husband is a professional photographer, and I'm a professional model.
If you ignore my awkwardness as a model, my eShakti Amara dress is amazing. As a petite woman with boobs, I often struggle to find clothing that fits. I spend a lot of money getting my clothes altered.
eShakti lets you send custom measurements, which I did. I live across the street from an alterations place where I've had work done before, so I asked the seamstress to take my measurements so they would be most accurate. I also customized the neckline for a V-neck instead of the sweetheart neck.
eShakti then sent me a custom-fit Amara dress in their flamingo print. It is perfect. It fits like a dream.
Best of all, you can't see my bra under my armpits. This is usually what I need to have altered when I buy clothes. Unless I'm buying a petite size, arm holes are designed for taller women. They're also usually designed for women not wearing bras that fit properly (yeah, I went there). So then I have this awesome gaping dress that shows several inches of my full-coverage bra that actually fits my boobs properly.
The flamingo print is the cutest thing ever, and I can't wait to wear it next time Dan and I go to the zoo. eShakti offers a few flamingo dresses, and I kind of want all of them.
Like this navy dress with embroidered flamingos. Or the same print as my dress, but with cute bow details on the bodice. Or this fun white shirt dress with a flamingo pattern.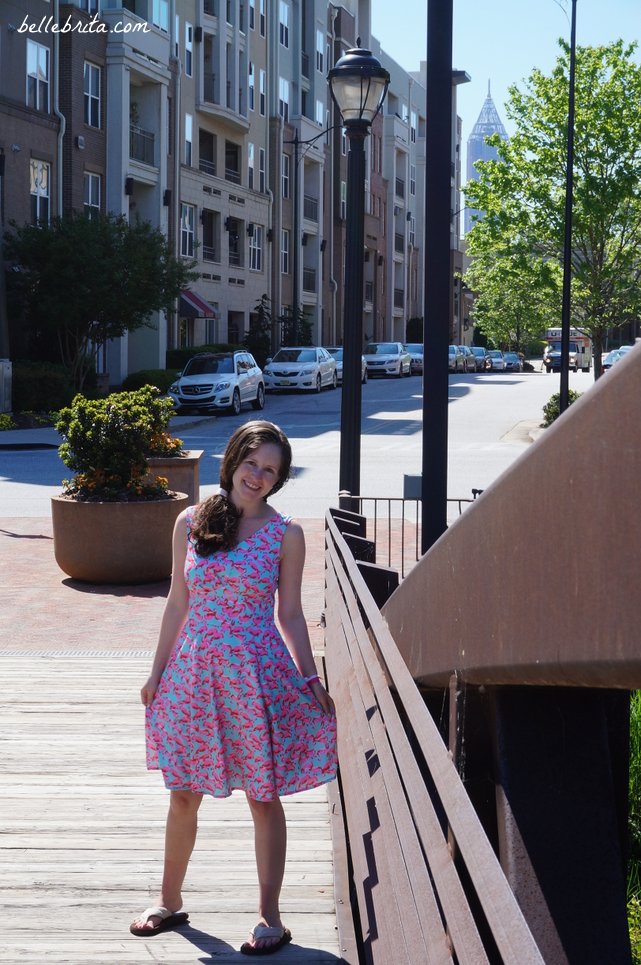 I also love that my L.Alexandra Designs hair ties match my dress so perfectly. I mean, it was kind of expected, since I chose both the dress and the hair ties to match my Instagram color scheme. (What? That's a perfectly logical thing to do!). But the colors match even better than I'd expected.
My one critique of the hair ties is that with my thick hair, I can't wrap the tie around my hair twice. It's fine for a loose ponytail, which is how I'm modeling it here. I also have tiny wrists, and the hair ties were fairly tight around my wrist. The glittery ones are tighter than the non-glittery ones.
I wore a L.Alexandra Designs hair tie again on Monday, but I used a regular hairband first to pull back my hair. Then I just wrapped the hair tie around the hairband. I have a lot of hair accessories that don't work to actually hold back my thick hair, but they're cute, so I just wear them around a hairband.
Overall, I'm pretty happy with this new outfit!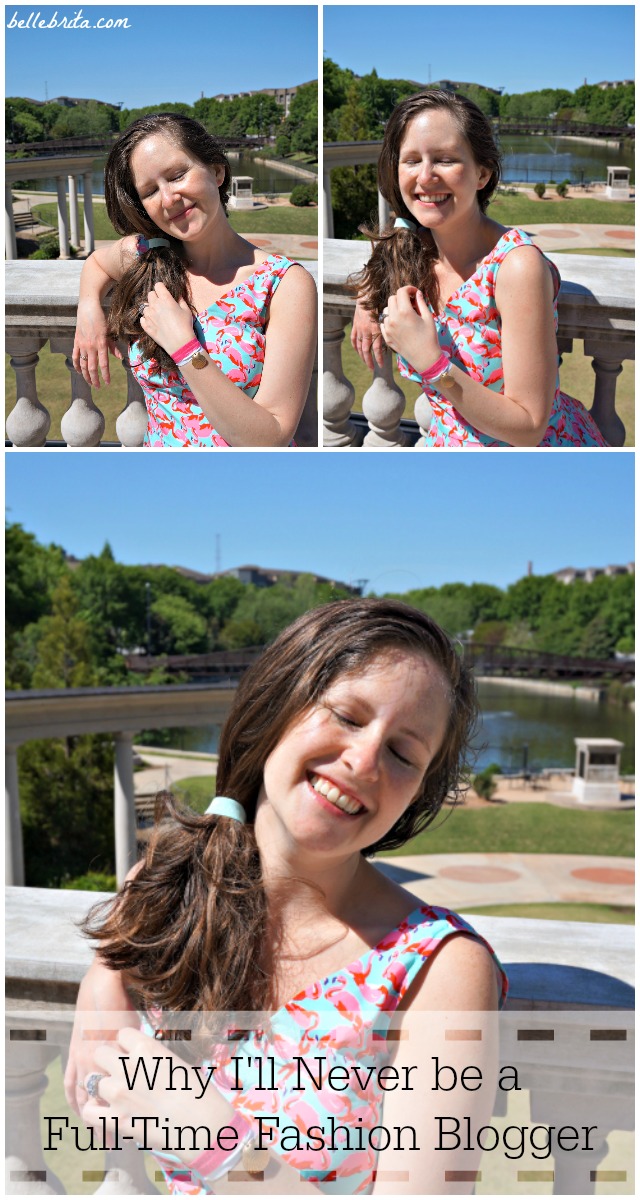 ---
L.Alexandra Designs is offering my readers 10% off your purchase! Use the code BELLE10.
Have you ever shared bloopers on your blog or social media before? I like the imperfect photos! If you like my flawed fashion pictures, share them on Pinterest! Just hover over your favorite photo and a "Pin it" button will pop up.