Post contains affiliate links. I might make a few pennies if you click on them and buy something.
This post is proof of why I need Dan to take pictures for my blog. He did a marvelous job with the last four weeks of White Tee Tuesday.
Alas, I was lazy over the weekend while he was in town (I'm still in Greenwood), and I didn't feel like putting together a cute outfit. That left me scrambling yesterday to take self-portraits of my latest white tee ensemble.
I naively thought I could use Dan's fancy camera. I figured I would be fine using the auto mode. Too bad I didn't realize that the lens was in manual mode, which is not overridden by the main auto mode.
So today I have three whole pictures of what I wore yesterday. One of them I managed to salvage with some extreme photo-editing in PicMonkey. The other two are slightly better, but still not of the caliber of my husband's photography.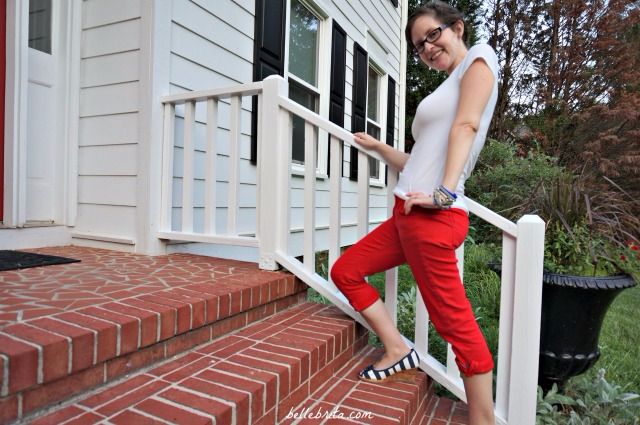 I reused elements from two previous installments of White Tee Tuesday. After all, the point of this series is to inspire women to create new and fun outfits with clothes already in their closet.
I wore my skinny red ankle jeans for my Montreal fashion shoot. This outfit differs by pairing with navy blue instead of black. I also unzipped the ankle zippers and rolled up the jeans for a cuffed, cropped look. Finally, I wore my white t-shirt untucked, with no belt, for a more casual look.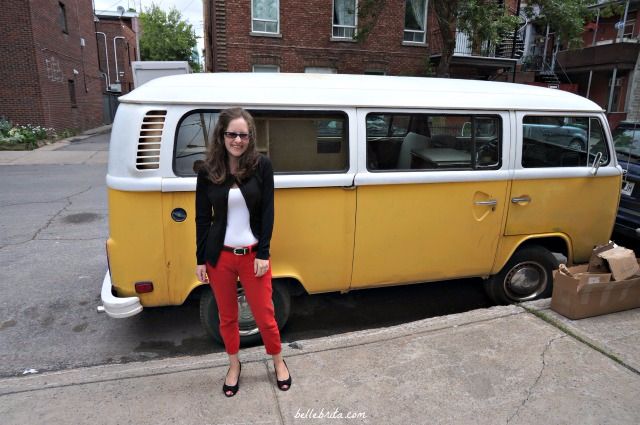 Since I couldn't figure out how to focus my camera's lens to take a close-up of my bracelets, you might not recognize them as easily as my red jeans. I wore this assortment of bracelets in my very first White Tee Tuesday post.
My Pandora bracelet holds one more charm than in the photo above from last month. My mom let my sister-in-law Celia and me each choose a charm from my mom's bracelet to add to ours. I picked one that represents the Long family. The bead features a mother and a father, one daughter, and two sons.
My new shoes are my favorite part of this outfit. These white and navy striped wedges are another Payless find. I bought them as a little birthday present to myself. I'm pretty much obsessed with them!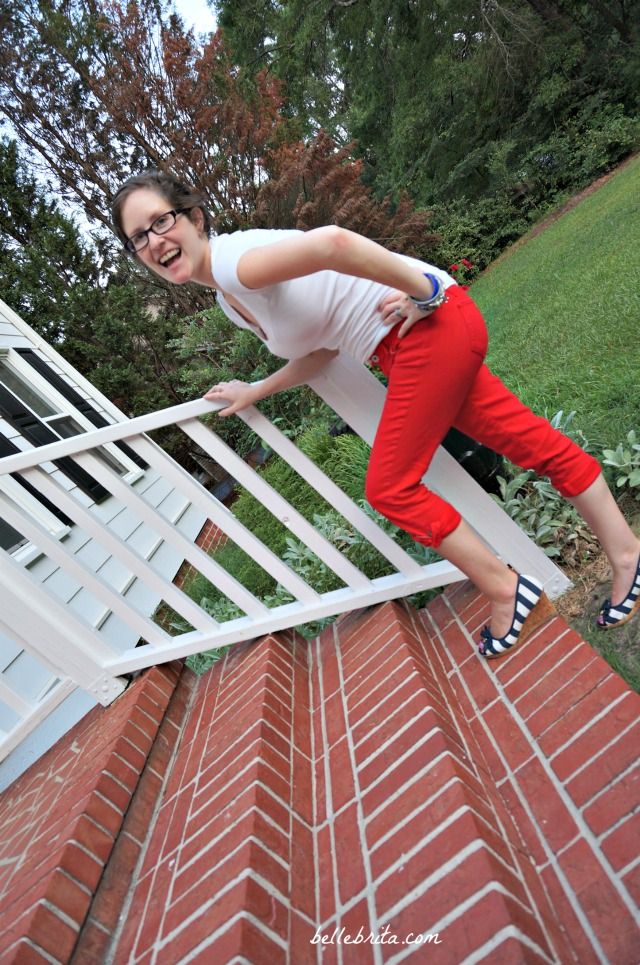 Anyway, lesson learned. Dan should take all of my fashion pictures from now on. The photo above? I managed that by balancing Dan's camera at an angle on the opposite porch railing. I was seriously struggling to get pictures with both my head and my feet in them.
---
Your turn to share! How do you remix the clothes in your wardrobe? What's the most interesting ensemble you've put together?