Note: Post contains affiliate links. See my Disclosure policy for more information.
Welcome to the inaugural edition of White Tee Tuesday! This is a short summer series that will run through June and July 2015.
I enjoy reading fashion blogs, but so often, they model expensive clothing they received for free, or they put together outfits that would be difficult for most people to replicate at home. By doing an entire series centered on white t-shirts, I hope to provide some inspiration for the everyday woman. Most of us are on budgets and need multiple ways to wear the same basic pieces. What's more basic than a plain white t-shirt?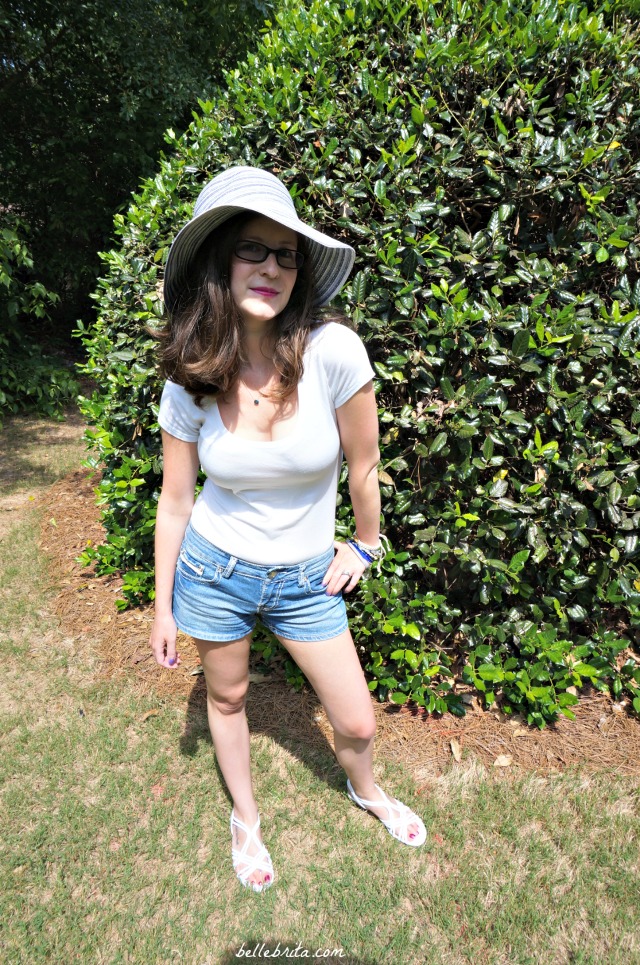 I bought my white t-shirt from JCPenney. Their petite selection is amazing. I particularly love a.n.a. petites, which is the specific brand of my white tee.
This is what I wore when Dan and I spent the afternoon in downtown Duluth for an arts festival. That day was hot and sunny, but my hat kept the sun off my face. I also bought this hat at JCPenney about a million years ago, on clearance at the end of summer. Originally about $30, it was a steal for around $4. Buying straw hats in August or September is the trick behind my large hat collection.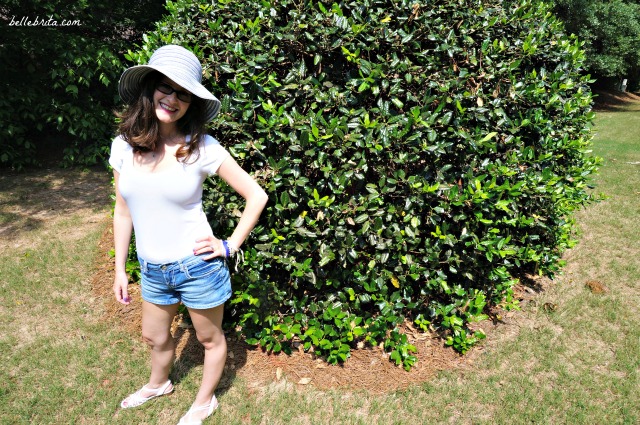 I own a ridiculous number of bracelets, and I have fun putting them together in new combinations. While I did wear my silver ID bracelet and my silver Pandora bracelet, the eclectic mix of hemp and stretch bracelets kept my accessories casual.
The bright blue one is for Crohn's and Colitis. It says Got Guts? The gray bracelet supports my mom in her fight against brain cancer. It says Prayers Healing Lee Long.
My brother Jeremy gave me the black bracelet and the white bracelet after visiting Haiti. The other hemp bracelet I made 10 years ago–I can't believe it hasn't fallen apart yet! I made the blue beaded bracelets when I was a camp counselor many years ago.
I love the detailing on these shorts. They were a steal from the clearance rack in the juniors' department at JCPenney. I used to resist shopping in juniors, but after yet another person assumed I was in high school while I worked there (I was 26 at the time), I decided I might as well start buying the clothes of teenagers.
These are ridiculously comfortable sandals I bought just this spring. I wear them several times a week. I also bought them in black, but for some weird reason, the center strap on the black ones rub my feet wrong. I'm still trying to wear them in, with hopes they'll become as comfortable as these white ones.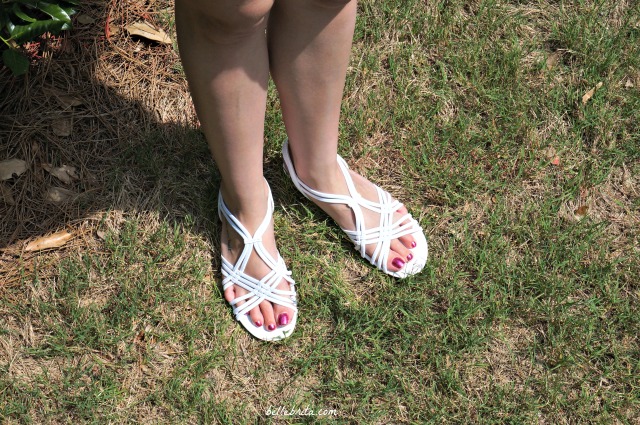 ---
This is just my first post in White Tee Tuesday, and I'm already having so much fun with it! I hope you enjoy this blog mini-series over the summer.
If you've done a fashion post featuring a white t-shirt, leave your link in the comments. I plan on doing a round-up post for The Huffington Post at the end of the summer, and I want to feature other bloggers' outfits!