A million years ago (or last summer), I put together my first reader survey. I asked my readers for their questions on feminism. Finally, now, I am answering some of those questions!
My first feminist question is:
How do I introduce feminism to my tween?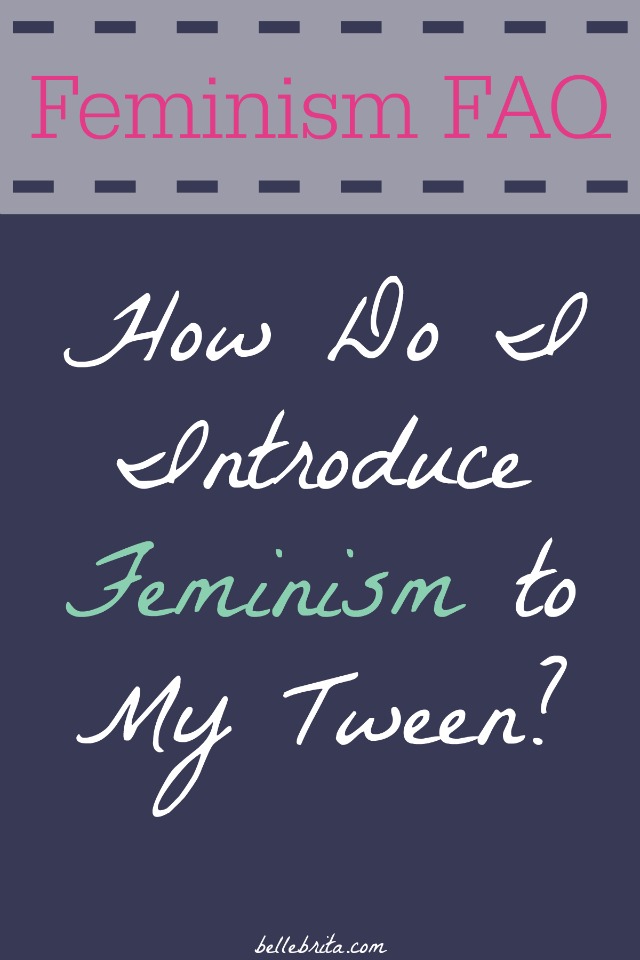 My earliest introduction to feminism was through modeled behavior, not conversations about feminist theory. My parents did things like teaching both my twin brother and me how to do the same chores. My mom bought me books that featured interesting, diverse female characters. My parents were my earliest feminist role models, so definitely check out what I wrote about them last year.
More specifically, though, how can you introduce feminism to your tween?
An easy way to introduce feminism to your tween is through the media she (or he) consumes. The Disney Channel has some great shows right now with feminist messages. Check out K.C. Undercover, Girl Meets World, and Liv & Maddie. The latter two are available on Netflix. The latter two are also heavily white, but K.C. Undercover stars a black family. Other than featuring interesting female characters, the stars of these three shows are all majorly feminist. Check out a few of their Instagram posts!
Zendaya, Rowan Blanchard, and Dove Cameron all give me hope for the future of feminism! These young women totally get it, and they're introducing feminism to tweens & teens.
Books are my preferred form of media. Luckily, there are tons of great tween-appropriate books on feminist subjects! Bustle has a great short list of feminist reads for teenagers. I've read 7 of the 12 books on the list, and they're definitely great. I do recommend reading the summary of each book to make sure your tween can handle it. Topics do include abusive boyfriends and rape, which not every tween is equipped to handle. You could even read the book first and then give it to your tween to read. Afterwards, discuss the book together!
Other ways to introduce feminism to your tween?
Share stories from your own life when you've encountered sexism and how you handled it.
While having The Talk, include a lesson on consent and sexual assault. Make sure your tween knows she (or he) can always say no to sex. Furthermore, make sure your tween also knows not to pressure a partner into sex.
Finally, you can always just ask your tween, "Do you know what feminism is?" I discovered feminism in middle school, although I started noticing sexism (and speaking out against it) at a much younger age. Depending on what your tween says, you'll know how to continue the conversation. Start with the basics, if necessary. Feminism is the belief that men and women should have equal rights and opportunities.
Depending on your tween's age and maturity, bring up more complex issues, like privilege and intersectionality. A tween who can understand the basics of sexism will also understand the basics of racism.
In the end, your tween will appreciate your willingness to hold an adult conversation on real issues, however you bring it up.
---
I have decided to end The F-Word blog link-up, although the Facebook group, Twitter list, and weekly newsletter will continue. Participation has dwindled over the last several months. I feel like my feminist fervor could be put to better use! Thank you to all of you who have linked up over the last year and a half. It's been a wonderful feminist adventure!
---
How would you introduce feminism to children, tweens, or teens? I'd love to hear your thoughts!