Today is the first Thankful Thursday in a whole month of Thankful Thursdays! Get excited for a whole month focusing on gratitude! (Which we should really be doing daily, year-round, but none of us are perfect).
This week, I want to focus my gratitude on:
Smelling so many hot teas and hot soups. While in Greenwood, I drank up to five cups of hot tea every day. Daddy even bought me soy milk to add to my brewed chai. I also enjoyed an herbal mint tea and a relaxing lavender tea. For soups, I made beef stew one night. I devoured a chicken tortilla soup on a lunch date with my dad. My last night in town, I made us grilled cheese sandwiches with tomato soup. I'm very thankful for hot drinks and hot soups this fall!
Loving my best friend Rachel and her parents, Susan and Randy. Ever since Rachel and I met our freshman year at Furman, her parents' house has been my home away from home. Yesterday I attended an amazing seminar at Furman, but it started first thing in the morning. Rachel and her parents graciously allowed me to stay with them Tuesday night. I am so thankful for Rachel's friendship and for Susan and Randy's open arms.
Wanting more snuggles with my husband! Several opportunities lined up in a row for me between Greenwood and Greenville. I left Duluth last Wednesday for Greenwood and only returned last night. God has a sense of humor, because Dan was gone for work, meaning I still haven't seen him yet! I see lots of cuddles and maybe even our first fire of the season in our immediate future. I'm thankful that Dan and I love each other as much as we do.
Missing my mom, every single day. Her death is sad, and it's hard, but my grief is also good. I miss my mom because I love my mom. I grieve her death because she is so important to me. I'm not thankful she's gone, but I am thankful that we had such a good relationship while she was alive.
---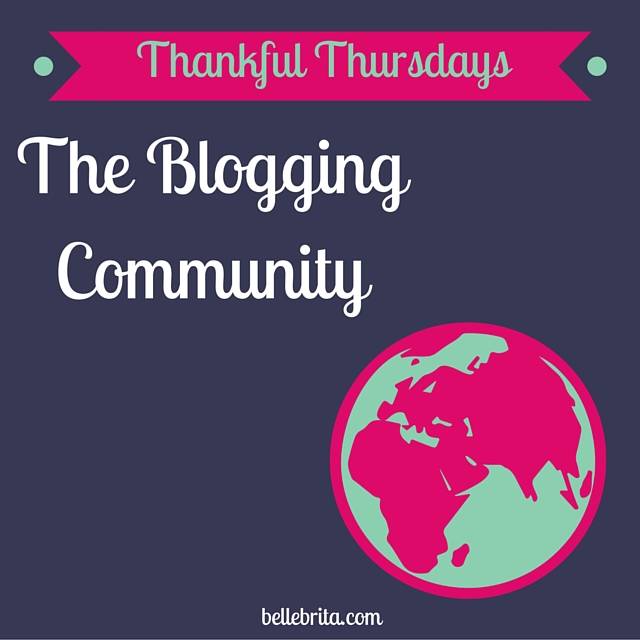 Today I want to focus on how much I love the blogging community. It's not perfect, because humans are not perfect, and bloggers are mostly human. But the blogging community is pretty sweet.
Obviously, you can't connect with every single blogger out there. You can't even connect with every single blogger in your niche out there.
For me, the "inner circle" of my blogging community consists of about 20 lifestyle bloggers. I do my best to read these women's blogs regularly, to comment on at least half of their posts, to engage with them on social media, and to promote my favorite posts of theirs. These are the same women who comment regularly on my blog.
Many of these bloggers, albeit not all of them, I have known online for much longer than Belle Brita has existed. I started reading their blogs and interacting with them on social media long before I launched Belle Brita. When I launched this blog in July 2014, they were among my first readers.
Most importantly, these women (among many others) have been so kind and encouraging to me while I've grieved the loss of my mom. How can I not be thankful for their outpouring of love?
Outside of my "inner circle," I'm also part of a larger blogging community. I've been blown away by how helpful and supportive so many bloggers have been. This is especially true in the several blogging groups I've joined on Facebook. Most bloggers seem happy to help each other out. I've heard about bloggers being really competitive with each other, but so far, I haven't come across those ones.
I'm thankful that the blogging community exists. I'm thankful that we all have this opportunity to share our thoughts with the world. I'm thankful that most of us work to support each other in our shared passion.
---
What are you thankful for this week? I'm also linking up for A Grateful Heart with Ember Grey!