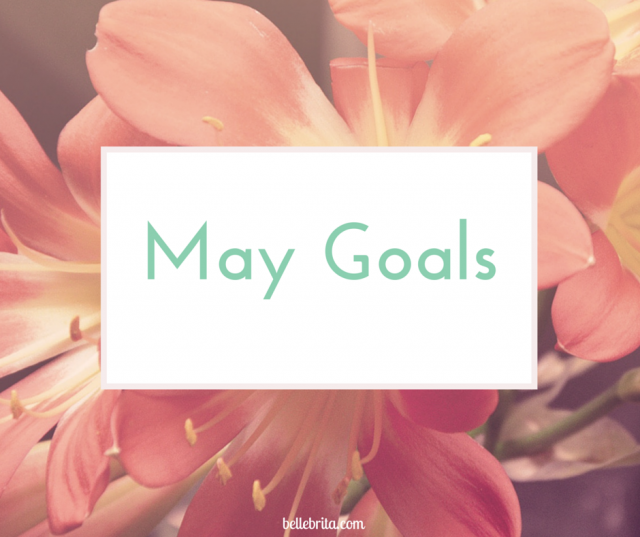 April was an incredibly busy month! While I feel very accomplished in everything that I did manage to do, I only met some of my April goals. Take a look at what I did and did not complete last month.
April Recap:
For my blog:
A big shoutout to my friends Dana, Amanda, Kelly, and Carolynn for piloting my sponsorship program. I definitely learned a lot this month–like don't go on semi-vacation the last week of a sponsorship agreement. I also realized I was a little idealistic to think I could code everything myself and keep up with that. I've signed up with AdProval to manage my sidebar ads. It's not too late for YOU to buy an ad! Use code MAY for 15% off a medium or large ad (small ads are available for swapping!).
I actually posted three times to The Huffington Post in April, although none of them brought me the expected page views. I have a few plans for May that should increase my page views and readership.
I know stats aren't everything, but I was disappointed in my slight drop from March to April. My March stats were just over 10,000 page views, but my April stats were just under 9,000 page views.
I only planned out my editorial calendar through June 12th… but I did plan out a weekly post through the middle of August. So that sort of evens out. Plus I have a great new idea for a blog series which means I need to adjust my May editorial calendar anyway.
For my health:
My MRI is scheduled, but not my colonoscopy. I plan on scheduling that today, though! I ran into the roadblock of needing to arrange other people to drive me to these appointments, or having Dan take off work. So that delayed scheduling things.
I spoke with my gastroenterologist on the phone, but he agreed that I don't need to seem him again until after my MRI and colonoscopy.
I've been very good about taking my prescriptions and vitamins daily.
I was amazing at going to bed by 10:30pm and waking up by 7:15am about 75% of the time. On weekends, I slept in until about 8am. At the beach last week, unfortunately, I was up until midnight most nights.
For my marriage:
I was definitely patient with Dan, but honestly, he's been such a supportive husband lately that he hasn't tried my patience!
Okay, we didn't have Date Night every single week, but we spent quality time together all month. Our date at the gun range was pretty amazing, and I loved our romantic walk on the beach last week.
https://instagram.com/p/18TYl-Lo9Q/
For our household:
Wow, I was ambitious in my goals for April! We definitely still have boxes of books, boxes of clothes, boxes of office stuff, and who knows what else left to unpack. Yes, Dan and I have made considerable progress, but the boxes still exist.
Again, I was really ambitious for my goals! My home office is definitely coming along. Dan built me a beautiful desk, and we bought a beautiful office chair for me. That said, we still have boxes left to unpack. Our bedroom has the furniture mostly organized, but I am undecided on where to hang the art. Plus we still have boxes in here!
https://instagram.com/p/1MEajAro8p/
May Goals:
For my blog:
Fix my Google Analytics code. This is a problem that just showed up last week, and I'm trying different things to fix it. For now, though, a lot of my pages are missing the code.
Get my first paid sponsors (or find new bloggers interested in swapping).
Clean up my Pinterest boards. I've slowly started changing my board names and deleting old pins that are unattractive or didn't receive any repins.
Plan out my editorial calendar through August, with no more than 3 scheduled posts each week.
For my health:
Have my MRI, colonoscopy, and follow-up appointment.
Continue with current prescriptions and vitamins until any changes at my follow-up appointment.
Continue my sleep schedule. Go to bed by 10:30pm and wake up by 7:15am.
Practice self-care to ward off stress.
For my marriage:
Thank Dan regularly for everything he does for me, big and little.
Do what I can to alleviate his stress.
Do at least one social activity with new people.
For our household:
Meal-plan every week.
Make dinner 5 nights a week.
Keep up with the laundry.
Clean all the bathrooms. (No, this hasn't been done since we moved in, since we either haven't found or need to buy more cleaning supplies).
Unpack all of my clothes.
Decorate my new bookcase.
Once again, Dan and I have a lot going on this month, so hopefully I devised reasonable goals.
There will be one major change in our lives halfway through the month. This will result in a new category of monthly goals! I'm not sure when exactly I'll announce it, though. More needs to be done first.
The last weekend in May, I reunite with Amelia, Jessica, and Chantal for Chantal's wedding! Dan and I will fly into Montreal for a long weekend. While I'm most excited about being with my best friends for the first time since July 2010, I'm also looking forward to exploring Montreal. I've never been there before!
What are your goals this month?