While Influenster provided me with the Vaseline Intensive Care Advanced Repair lotion, the L'OCCITANE Shea Butter Light Comforting Cream, the Montagne Jeunesse Peel-Off Masque, and the Boots Botanics Shine Away Ionic Clay Mask, my opinions are my own. Also, while Influenster requests its members review the products, these reviews are optional and not a condition for receiving complimentary products. Finally, these products were given to me via three different VoxBoxes. Post contains Amazon affiliate links. See Disclosure for more information.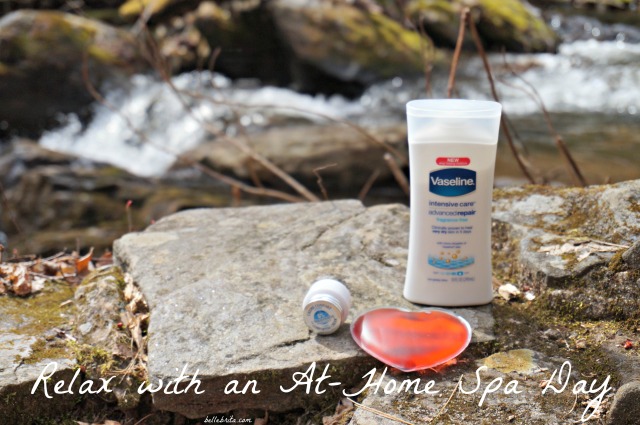 Relaxation and Romance at the Spa
Dan and I LOVE to treat ourselves to couple's massages, sometimes with a facial add-on. Yes, the relaxation and the intimacy are nice, but I also like how good my skin looks afterward! Dan and I have just recently discovered how much better hot stone massages are over the regular kind. It's worth the extra charge!
Dan and I were so lucky to go away for our anniversary weekend and treat ourselves to a 90-minute hot stone couple's massage. Our stay at Lucille's Mountaintop Inn & Spa was a wonderful opportunity for us to relax, rejuvenate, and rekindle our marriage. (Yes, even just a year in, rekindling is necessary after the year we had!)
As wonderful as our anniversary weekend was, it was also expensive. It was a budgeted splurge, but not something we can do that often. Unfortunately, Dan and I need to take the time to relax and rejuvenate more than once a year. Luckily, we have figured out how to do that at home!
At-Home Couple's Spa Day
With just a few skin care products, you too can have a romantic and relaxing at-home spa day! What Dan and I use at home:

Hot Bath, Facial Masque, & Face Cream
Dan and I have been very lucky with nice bathtubs. Our rental house in Findlay had a large Jacuzzi tub. Our rental townhouse has another large bathtub, even if it doesn't have jets. Even with a normal bathtub, you can enjoy an at-home spa day–it might just be an extra-intimate experience sharing the small space.
Add your favorite bath salts or bubble bath and soak for 20-30 minutes. While you do that, wash your face and then apply one of the peel off masques from Montagne Jeunesse. Once the masque dries, you can also sip on sparkling wine or hot tea.
Note: Dan told me to look like the woman on the Montagne Jeunesse packaging for the photo below. I think I did a good job!
Unfortunately, I did not like my Black Seaweed Peel Off Masque. It stung above my lips where I have eczema. While most of it peeled off easily, I spent a good 10 minutes scrubbing at my face to get the remaining masque off. I also didn't notice any difference in my skin.
Dan helped me apply the masque and described it as "like crude oil." I felt like Venom from Spiderman.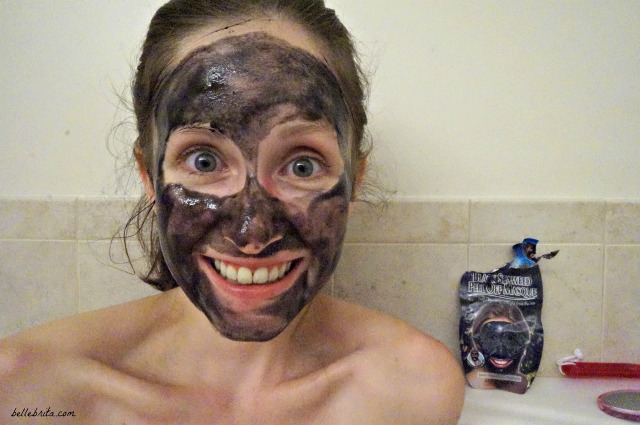 (For the record, Montagne Jeunesse is bad French. I think they want to say "Youthful Mountain," or "Mountain of Youth," but Montagne Jeunesse is literally just "Youth Mountain," with "youth" as a noun, not an adjective. For comparison, "Fountain of Youth" is "Fontaine de Jouvence").
Another masque/mask you might want to try instead is the Botanics Shine Away Ionic Clay Mask, which I actually tried over a year ago via Influenster. I LOVE this mask. It's usually what I use during our at-home couple's spa days.
After peeling off (or washing off) the masque, apply a light layer of L'OCCITANE Shea Butter Light Comforting Cream to your skin. I have dry skin, but I found that I didn't need to apply a thick layer to get the moisturizing properties. This left my skin soft and hydrated, even hours later.
Protip: If your man is anything like mine, then he doesn't understand the importance of good skincare. During your at-home spa day, give him a nice little facial massage while applying a light moisturizer like the one offered by L'OCCITANE. No one can resist a good massage!
At-Home Couple's Massage
While I certainly don't advocate keeping score in a relationship, reciprocity in marriage can be a beautiful thing. For example, when you take turns giving–and thus receiving!–massages at home.
Obviously it's a wonderful experience to lie side-by-side at the spa, with two professional massage therapists giving you and your significant other a hot stone massage.
But like I said above, that can get expensive! Giving each other massages with Vaseline Intensive Care Advanced Repair lotion and heat packs is also relaxing (and romantic).
Dan and I both have dry skin, but he won't treat his regularly. Giving him a massage is also how I help hydrate his skin. He likes that Vaseline's lotion is fragrance-free–it's some sort of masculine thing with him. I like that my skin is so nice and moisturized afterward that I don't have to apply lotion every single day.
Our reusable heat packs have been a great investment. We own 8 or 10 of them, including a big heart one from Pure Romance. They're great for warming the bed on cold nights and for soothing my cramps during my period. During an at-home spa day, though, heat packs make a great substitute for hot stones during a massage!
Cuddle and Drink
After you've both given (and received) your massages, take some time to recover from all the relaxation. Pour another glass of sparkling wine or brew another cup of tea. (Alternate with water, though, to stay hydrated!) If you're anything like us, this is time to cuddle and watch Star Trek.
---
How do you practice self-care? What are your at-home spa tips? Share your thoughts in the comments!