I haven't written a monthly goals recap in over a year! This month felt pretty good, though, following my monthly goals once again. Even though I didn't accomplish everything, I followed through with my intentions of bettering myself.
As a reminder, my overall intentions for the year are to improve my health and to live with less.
My mantra for the year is, "Just breathe. Focus." It's already helped me calm down when I've felt overwhelmed!
Note: This post contains affiliate links. 
January Recap
January was pretty good. My mental health was definitely up and down though. Some days I totally kicked butt and got tons of stuff done. Other days I cried on the couch and barely convinced myself to eat.
The highlight of the month was plenty of quality time with Dan. I love our marriage so much. Even just running errands with Dan feels like fun!
January Blog Posts:
Books I Read in January:
My overall reading goal for the year is to read more books I already own! I also want to read more nonfiction books this year. I didn't read any nonfiction this month, but I did read two books from my bookcase. Plus I read two library books and one Kindle book that I bought this month.
For my health:
I found a new mental health medical practice, one with two psychiatrists and multiple therapists. I haven't scheduled an initial appointment yet, but I will ASAP!
Even though this only happened in the last few days, I started a self-care tracking chart! I bought a chore chart, hung it up on the mirror in our bathroom, and wrote out a few basic self-care goals.
For my marriage:
Dan and I enjoyed a wonderful date night! We saw Mary Poppins Returns and went to dinner at a hibachi grill.
Bonus: Dan and I also enjoyed a yummy sushi dinner in Atlanta one night before attending an event for influencers.
Bonus: Dan and I also attended a Furman alumni event at the World of Coke. Yummy appetizers, good wine and beer, and plenty of Coke products!
For our household:
Dan and I mostly succeeded at cleaning out our clothes. We both cleaned out our socks and underwear. Dan also went through his undershirts. I didn't go through my bras, but I've decided that since they're all still in good condition, I should hold on to them. With Crohn's Disease, my weight fluctuates, as does my bra size.
Unfortunately, I totally failed at cleaning my office. At all.
I started figuring out a system for maintaining the home, but I'm not done yet. Dan and I put a white board on our fridge, but we haven't finished setting it up yet.
Dan and I loved our low-spend guidelines! I only cheated a tiny bit by buying a Kindle book for $2.99. I figured it still followed the spirit of not wanting to fill my house with unnecessary things. Also I've already finished the book! Dan and I did order a few things online this week, but they were things we had discussed thoroughly.
For my career:
I fell a little behind in my Kappa volunteer work, especially with email. However, I did accomplish a few important things, including phone calls and written reports.
Plan the 2019 Love Blog Challenge.

Yes, I lined up all co-hosts!
I've only completely written and scheduled 2 posts so far, but I have planned out most of the topics and even outlined a few posts.
I created a group Pinterest board.

I'm really bummed that I didn't create a YouTube video this month. I have ideas. I'm working on a few videos. But I didn't get anything posted this month.
I think I'm most proud of starting the Blog By Number course! It's really helped me plan out what I want to do with Belle Brita in 2019.
February Goals
This month, my primary focus is the Love Blog Challenge! It's a lot of fun, but it's also a lot of work. I also have some fun plans for the month, including tickets to see Dancing with the Stars on tour with my dad.
The actual goals are less important than following through my overall intentions. Happiness and health matter more than checking off a list!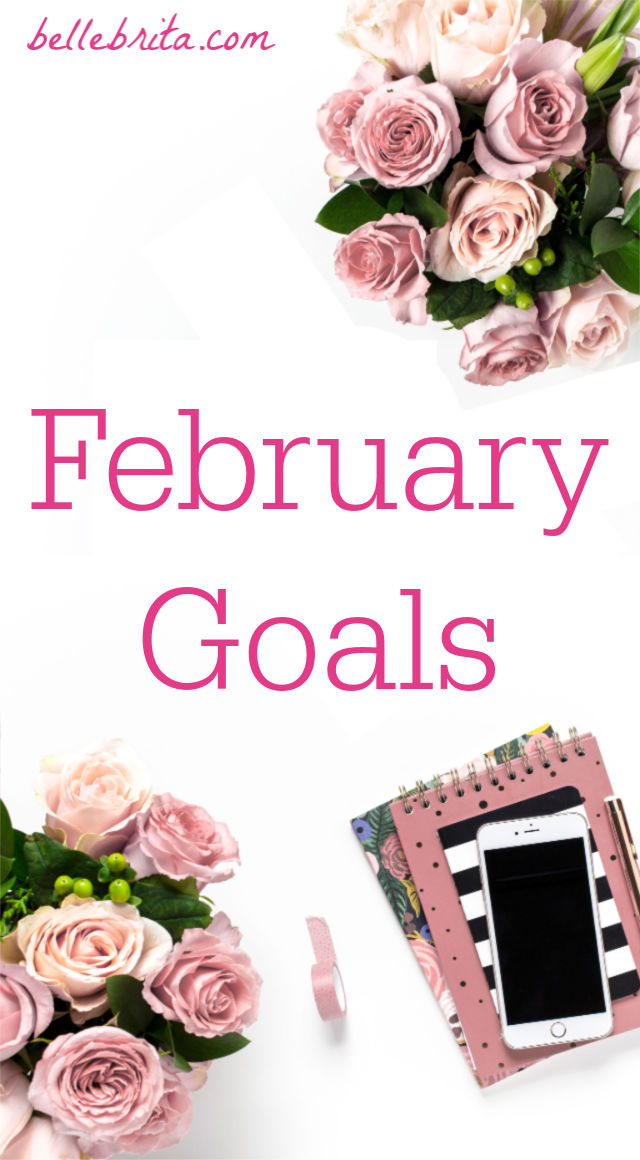 For my health:
Earn 80 stars in my self-care tracking chart, including the stars I've earned this week.
Treat myself to a manicure after earning 40 stars!
Buy new vitamins.
For my marriage:
Celebrate Valentine's Day at Waffle House!
For our household:
Clean out our mug collection.
Go through the kitchen cupboard to the right of the sink. Get rid of anything unnecessary and organize everything else.
Finish setting up fridge white board.
Start rereading Sink Reflections, and implement the recommended cleaning routines. Or at least start to implement them.
Continue with the "low-spend" mentality, even if we won't follow specific rules this month.
For my career:
Stay on track with Kappa volunteer position.
Keep up with the 2019 Love Blog Challenge.
Create 1 YouTube video.
Continue Blog By Number course.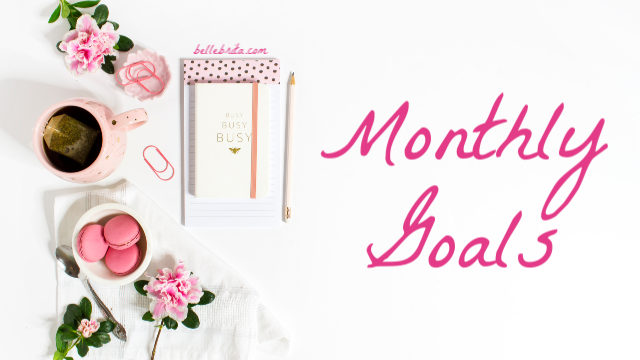 Once again, I'm sticking with simple goals. Certainly I have intended sub-goals under each of these main goals, but I've learned that including them in my Monthly Goals overwhelms me. Weekly lists and daily to-do lists are easier to follow. Plus if I don't get everything done, I don't feel like a failure.
What are your goals this month? What did you do in January? Leave a comment!