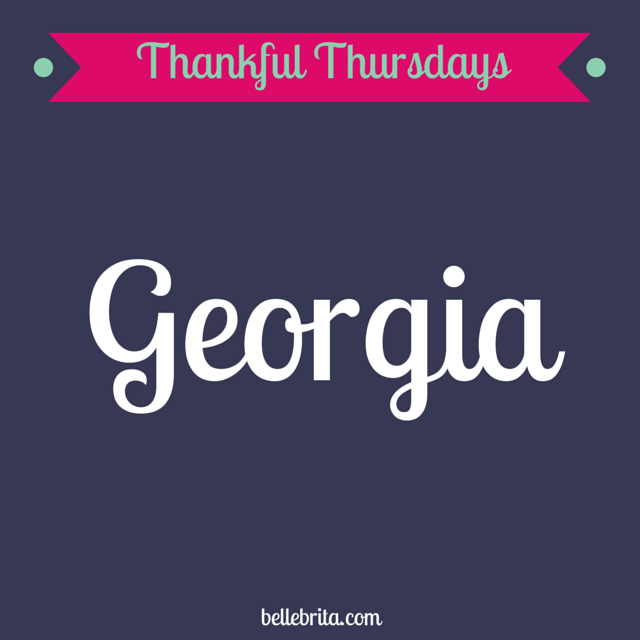 This weekend will mark four weeks since I finally moved from Ohio to Georgia. I am already so thankful to be here!
I'm thankful to be with my husband every day.
I'm thankful Dan has a job again, one he enjoys doing.
I'm thankful that I saw Wicked with my Furman friend Leah. I'm also thankful that Dan and I will be local for her wedding in August.
https://instagram.com/p/z3WkbVro6U/?taken-by=belle_brita
I'm thankful that I grabbed dinner with my Furman friend Chelsea, who I hadn't seen since we graduated!
I'm thankful for the romantic weekend Dan and I spent in the Georgia mountains, celebrating our one-year wedding anniversary.
I'm thankful for our beautiful temporary housing in Suwanee and our awesome landlord & friend Richard. Yes, Dan found us somewhere to live off Craig's List. Richard owns a beautiful and comfortable home, and, like me, he works from home. It's nice not being alone all day. Plus Richard likes to cook for us!
https://instagram.com/p/0WaOVyro1i/?taken-by=belle_brita
I'm thankful Dan and I are signing a lease TODAY for a beautiful townhouse! It's a little pricier than we'd hoped, but we can easily readjust our budget. It has three bedrooms, so I get my own home office separate from the guest bedroom! The master bathroom and walk-in closet are too perfect for words. Plus it's within walking distance of a Kroger with a Starbucks inside and several hair & nail salons.
I'm thankful to spend Easter with my parents in a few weeks, the first time I've been home for Easter since I was in college!
Finally, I'm thankful for the beautiful weather Georgia has kindly had these last few weeks! Dan and I can't spend enough time outside.
---
This is my second month linking up for Thankful Thursdays with Charlene! Share your gratitude for the good things in your life in the comments!