Don't you just hate it when women wear cute, figure-flattering outfits and then have the audacity to suggest men should treat them with respect?
I mean, hello! If a woman doesn't want men staring at her tits or grabbing her ass, then she should cover up! Amirite?!
If you're new to my blog, imagine those two comments written in your favorite sarcasm font. I've written about Purity Culture and Modesty Culture and bikinis before, so I'm hardly about to judge other women for what they wear.
Too bad the same can't be said for people on social media.
A few years ago, a Kappa I was following on Twitter retweeted the following.

Tweet reads: You can't dress like a slut and want to be treated like a princess.
Isn't it a shame that the Internet is forever? Dude eventually deleted all of his replies to my tweets and then blocked me, but apparently he thought his original tweet was still good enough to keep.
That was on a different account of mine that I don't use anymore, so I can't link to my replies. I had screenshots of them, but I can't find them in my files. How about screenshots of screenshots?




I know it was "just" a joke, but when does a "joke" become something more sinister?
"You can't dress like a slut and want to be treated like a princess."
"Respected ladies don't get raped."
"The act of the rapist is made easy because it would be easy to remove the half-cloth worn by the women."
"Don't dress like a whore" (or you might get sexually assaulted).
"When you see some of the 13 year old young ladies strutting their stuff as they walk through the mall there is only one word of description, Jail Bait."
Not so funny, is it.
I'm not alone in criticizing the deplorable things men say about women.
Yesterday morning I discovered the most glorious Twitter account, with the most glorious hashtag. Lindsey tweets from @CardsAgstHrsmt, with at least one tweet a day tagged #ShirtlessShamers2016. She's taking these terribly depressing misogynistic attitudes and finding a small way to laugh about them.
You're right about one thing: I am gagging a little. #ShirtlessShamers2016 #wifematerial pic.twitter.com/DB32qOXnaq

— Lindsey (@CardsAgstHrsmt) August 31, 2016
Who are the #ShirtlessShamers2016? They're the half-naked dudes berating half-naked women on social media. Because obviously it's okay for all dudes to do whatever the fuck they want, but all women must meet the exact "modesty" standards of all men.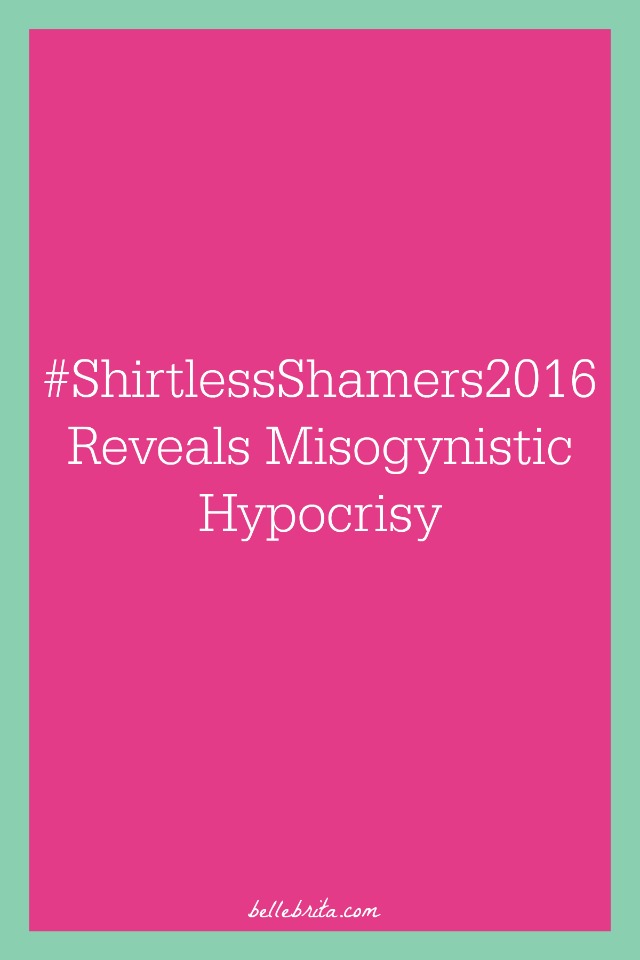 If you go through some of the examples Lindsey has tweeted, you might laugh. I laughed. The hypocrisy and the total lack of self-awareness are pretty hilarious.
But after you've had a good laugh, you should read Lindsey's essay on why this double standard is so disturbing. (Emphasis my own).
When I started using the #ShirtlessShamers2016 hashtag, I expected things to stay funny. Light. Playful. Sexism and gender-based double standards aren't really funny, of course, but lampooning shirtless broskies who are heavy on ego and light on self-awareness has a certain silliness to it. They flex their pecs and regurgitate some casual misogyny, and we marvel, bemused, that they aren't in on the joke…

Many of the featured guys frame their disapproval in the most punitive way they can imagine for young women in 2016: she will never be "wifed" (as if being legally bound to a misogynist is better than staying single.) Many extrapolate further: because a girl or woman who is half-naked lacks self-respect, she's not entitled to respect from men. Some take it to its worst logical conclusion: if she is not deemed respectable, or if she disrespects me as the man in her life with a vested interest in her purity and respectability, she will be beaten; she will be raped; she will be killed.
Lindsey reiterates the same point I tried to make years ago. This overall culture of controlling women's clothing has real-world consequences of men committing violence against women.
Next time you see someone judging women by their attire, call them out on it. Let them know that misogynistic bullshit isn't okay. Oh, they're "just joking"? Nope. Casual misogyny isn't a joke.
And to that guy who still thinks his tweet is okay?
"You can't dress like a man-whore and want to be treated like a prince."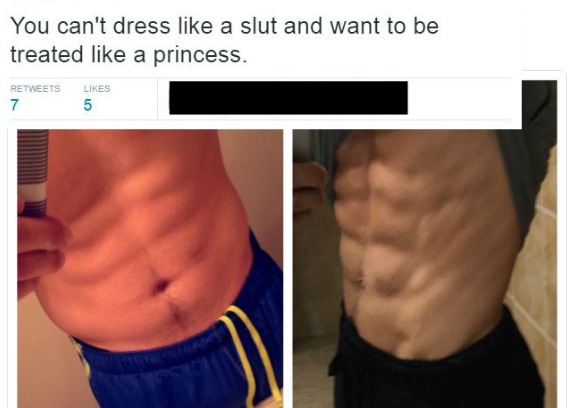 How's that for #ShirtlessShamers2016?
---
If you find this post helpful or informative, please share to Facebook or Twitter!
Have you come across any #ShirtlessShamers in your own life, online or otherwise?